2017 New Balance Nationals Outdoor
Sydney McLaughlin Splits 49.85 At New Balance Nationals
Sydney McLaughlin Splits 49.85 At New Balance Nationals
Sydney McLaughlin helped set a national high school record in the Swedish Relay at the 2017 New Balance Nationals Outdoor
Jun 16, 2017
by Johanna Gretschel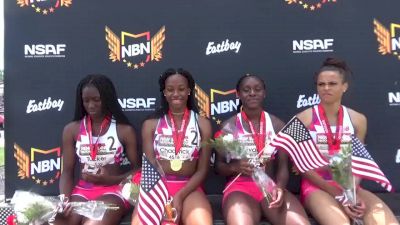 2016 Olympian Sydney McLaughlin is ending her high school career in style this weekend at the New Balance Nationals Outdoor in Greensboro, North Carolina. This afternoon, she split 49.85 for 400m on the anchor leg of Union Catholic's Swedish Medley Relay (100m/200m/300m/400m), as the Vikings not only won the national title but set a new national high school record of 2:05.93.
Her time is believed to be the
fastest split ever
by a high school girl.
The previous national record was set just last year at 2:07.99, also by Union Catholic with McLaughlin on the anchor. The first four teams today ran faster than that mark: Union Catholic (2:05.93), Miami Northwestern (2:06.33), South Dade (2:06.96) and Nansemond River High/"Team War" (2:07.78).
McLaughlin is also entered in the sprint medley relay, 400m hurdles, and 4x400m relay this weekend in Greensboro.
She broke her own national record and world junior record in the 400m hurdles
earlier this season in 54.03; she is a three-time defending champion at New Balance in the event.