2017 USATF Outdoor Championships
USA Men's 800m Preview: The NCAA Final We Never Got To See
USA Men's 800m Preview: The NCAA Final We Never Got To See
Preview of the men's 800m at the 2017 USATF Outdoor Championships
Jun 20, 2017
by Johanna Gretschel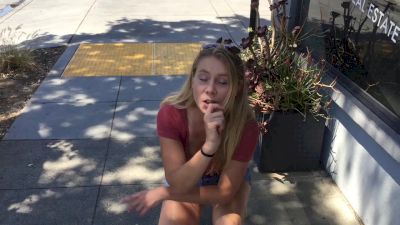 The USATF Outdoor Championships start this Thursday in Sacramento, California, and continue through Sunday afternoon. Viewers in Canada can watch the action
live on FloTrack here
.
Prelims:
Thursday, 4:00 PM PT
Semis:
Friday, 8:11 PM PT
Final:
Sunday, 1:20 PM PT
The Favorites: Clayton Murphy vs. Donavan Brazier, The NCAA Final We Never Got To See
Rio bronze medalist Clayton Murphy is trying to do what no man in 84 years has accomplished: win both the 800m and 1500m at the U.S. Championships. Glenn Cunningham was the last man to do so in 1933.
The schedule at USAs is favorable for the double; if he makes both finals, Murphy would race the 1500m final on Saturday and have 24 hours to recover for the 800m final on Sunday afternoon. Here's where things get interesting: His biggest competition in the half mile will likely come from Donavan Brazier, who, like Murphy, vacated the rest of his NCAA eligibility early to turn pro last summer. Despite the fact that both stars were in the NCAA last year, they have never raced each other!
Brazier entered the 2016 NCAA Indoor Championships as the 800m title favorite after setting the American junior record early in the season. However,
he shockingly pulled out of the prelims with a back injury
, leaving Akron junior Murphy to win the final over Eliud Rutto of Middle Tennessee State, who, it should be noted, is also competing in Sacramento
after joining the U.S. Army and earning American citizenship
.
Murphy shifted focus to the 1500m during the outdoor season and won his second NCAA title convincingly. Brazier, still just a freshman at Texas A&M, famously broke Jim Ryun's storied NCAA record in 1:43.55 to win his first NCAA title in his first NCAA final. It would also be his last, as
he signed a Nike contract just a few weeks later
. Murphy did, too.
​Watch Donovan Brazier break Jim Ryun's NCAA record as a freshman at Texas A&M:


Of course, Brazier would endure a tumultuous few weeks after turning pro and
fail to advance from the 800m prelims at the Olympic Trials
, while Murphy would go on to shock the world in winning the Olympic Trials and
earning a bronze medal at the Rio Games in 1:42.93
, the third-fastest time ever for an American.
This year, the world is Murphy's oyster. I expect him to make the team in both events and, with some luck, possibly even squeeze by Brazier and Olympic champion Matt Centrowitz for the double gold. Brazier has adjusted well in his first year as a pro and most recently placed third in his Diamond League debut in Rome. With a year of experience under his belt, he'll definitely be more than ready to make up for last year's disappointing turn at the Trials.
And speaking of the 2017 NCAA final we never got to see... Murphy's 1:43.6 ranks No. 1 in the world this season, Brazier's 1:44.53 ranks No. 3, and the No. 2 man right now is none other than NCAA champion Emmanuel Korir, who ran 1:43.73 in April.
Sorry, U.S. fans. Korir, who runs for UTEP, represents Kenya.
​Watch Clayton Murphy's world-leading 1:43.6 at the Mt. SAC Relays:


The Contenders: Almost Everybody
Behind Murphy and Brazier, the race for the third spot in London is wide open. Of the men who made the Olympic last summer, Boris Berian has been hurt all season and will not race in Sacramento, and Charles Jock's season best is 1:46.54, which makes him the No. 18-ranked American this year and about half a second shy of the world standard of 1:45.9.
Former DII star Drew Windle of the Brooks Beasts ranks No. 3 in the U.S. this year with his 1:45.02, a lifetime best by more than half a second. He led three others under the world standard at the Georgia Meet of Champions: Erik Sowinski, Shaquille Walker, and Jesse Garn. Of this group, 27-year-old Sowinski has the most experience. The University of Iowa alum earned a spot on the 2015 Team USA contingent to the Beijing World Championships, where he made the semifinal; he's also won two U.S. indoor 800m titles and earned bronze at the 2016 IAAF World Indoor Championships. He has twice won gold as part of Team USA's 4x800m relay at the IAAF World Relays, including the event held this past April.
​Watch Drew Windle lead Erik Sowinski, Shaquille Walker and Jesse Garn under the world standard at the Georgia Meet of Champions:
Sowinski was fifth in the Olympic Trials last summer, behind Craig Engels -- who will race the 1500m in Sacramento -- and ahead of Isaiah Harris of Penn State, who was runner-up to Korir at the NCAA Championships. Making the Olympic Trials final as a freshman in college is no small feat, and Harris has at least as good a chance as Sowinski and Windle to take third. Harris ranks No. 4 in the U.S. this year with his PB of 1:45.12.
Collegians Devin Dixon of Texas A&M and Joe White of Georgetown also have the standard and could sneak into third.
Prediction:
1. Clayton Murphy, 2. Donovan Brazier, 3. Erik Sowinski