2017 USATF Outdoor Championships
USA 1500m Preview: Five Huge Favorites And One Open Spot
USA 1500m Preview: Five Huge Favorites And One Open Spot
Matt Centrowitz faces off with Clayton Murphy in the USATF men's 1500, while Shannon Rowbury, Jenny Simpson, Kate Grace are big favorites in the women's race.
Jun 21, 2017
by Dennis Young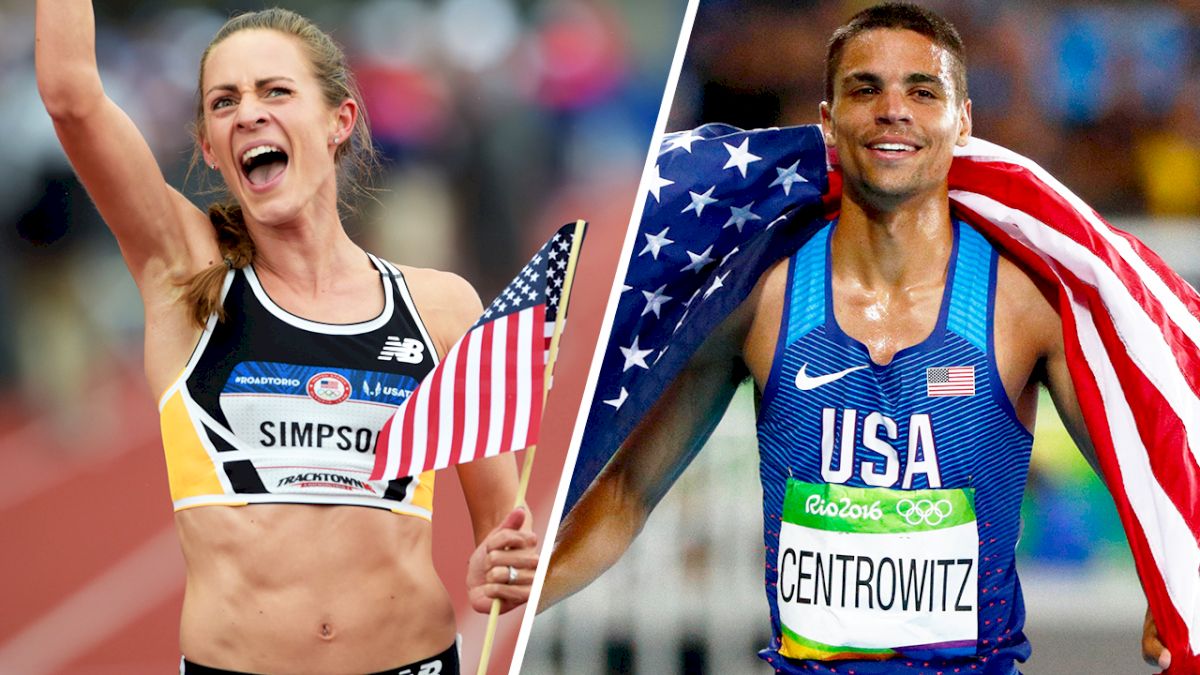 Two Olympic medalists highlight the 1500 fields at this weekend's USATF Outdoor Championships, which you can watch
live on FloTrack in Canada
. We break down the men's and women's races below. All times local/Pacific.
Men
THU 8:44 pm (Semifinal)
SAT 2:41 pm (Final)
The heavy favorites

It would be a major upset if either Matt Centrowitz or Clayton Murphy, both 2016 Olympic medalists, didn't finish in the top three on Saturday. There are minor question marks about both, though. Centro has only raced three times this outdoor season, with only one result where he looked like the Olympic champ: a 13:48 5K at Payton Jordan, a 1:49 800 at BYU…and a 3:33 1500 win over Mo Farah at Oxy. That last mark, run on May 18, is the last time that Centrowitz raced. But it's faster than every other man in the field has ever run except for Leo Manzano and Andrew Wheating's 3:30 PRs.
While we're here, it's silly that the IAAF gives byes to worlds to the 2015 world champions instead of the 2016 Olympic champions. Centro shouldn't even have to be racing for this spot this weekend, though him against Murphy will obviously be a treat.
Murphy is in the opposite situation: he raced as many times between April 23 and 29 (three) as Centrowitz has all outdoor season. He's clearly in great shape, with a 3:51 mile at Pre and a 1:43 800 at Mt. SAC. The only things stopping Murphy from being the clear favorite are Centrowitz's gold medal and the fact that Murphy is trying a 1500/800 double.
Here's Murphy's schedule for the weekend in Pacific time:
Thursday

5:00 PM 800 prelim
8:44 PM 1500 semifinal
Friday
8:11 PM 800 semifinal
Saturday
2:41 PM 1500 final
Sunday
1:20 PM 800 final
That's a brutal schedule in any conditions, and particularly rough in Sacramento's heat. But Murphy's kick is so much better than the rest of the field's that he should still make the team on tired legs. Beating an Olympic gold medalist to pull off a 800/1500 double that hasn't been done since 1933 is hard to imagine, and I'm revising my pick---Centro for the win.
But who grabs the third spot?

The third man to qualify for London (assuming he hits the world standard in the next month) will probably be one of these runners:
Ben Blankenship
Robby Andrews
Johnny Gregorek
Leo Manzano
Andrew Wheating
Craig Engels
Andrews, Blankenship, and Manzano finished in that order behind Centrowitz at the Olympic Trials last summer. Let's examine how each of them has looked this year:
-Manzano, who made every U.S. outdoor 1500 team for a decade before last year, has not looked like a world-class runner this year. His three outdoor 1500s have gone 3:52, 3:41, 3:41 (in fact, both were 3:41.68) and his two outdoor miles have been 4:02 and 4:00. But Manzano has made teams off questionable results before. In 2013, his pre-USAs outdoor results were only slightly better: three miles at 4:04, 4:00, and 4:00, and one 1500 at 3:37. In 2011, his only pre-USAs outdoor races were 1500s in 3:38 and 3:39; he ran a 4:07 mile that indoor season. And last year, he ran 3:43, 4:00 (mile), and 3:39 before finishing fourth at the Olympic Trials. The man shows up at U.S. championships, and that is true until it isn't.
-Andrews isn't quite Manzano-status in terms of waiting for USAs to turn it on, but he's getting there. He only ran one outdoor 1500/mile before the Olympic Trials last year, and only one the year before. He made teams both years. So his 2017 outdoor season shouldn't be too concerning, though it has entirely consisted of a 3:38 1500 at Swarthmore and two 1:47 800s---all races in which Andrews finished outside of the top three.
-Gregorek came in hot, running a 3:53 mile indoors and a 3:36 1500 at Swarthmore. And while Drake was an incredibly slow race, he battled Murphy to the line and only lost to him by .09 seconds. The odds on Gregorek making the team would be much shorter if not for his Prefontaine result, where he ran 4:03 and lost to high schooler DJ Principe by two and a half seconds. And that's the last time he raced a mile or 1500. (An editing error earlier caused this section to say that that was the last time Gregorek raced. He beat Andrews in an 800 last week in Philadelphia, a race he won in 1:47.)
-Blankenship has raced sparingly this year. His only three races since winning a U.S. indoor title in March are a 3:42 1500 at Doha, a 3:53 mile at Pre, and a 4:01 road mile win. By virtue of that mile at Pre, though, Blankenship might be in the best form of anyone in this group.
-Wheating is showing signs of life this year with a third-place 1K finish at U.S. indoors, a 3:55 mile at Pre, and a 3:37 1500 at Oxy. Those are the two-time Olympian's best times in those events since 2013; if his curve continues to head the right way, he could provide a blast from the past in the final.
-After a slow start in 2017 thanks to a broken clavicle in a snowboarding accident, Engels has been running well the last two months. His 3:37.75 at Bryan Clay is tied with Wheating for the sixth best SB in the field. He was fourth in the 800 and fifth in the 1500 at the Olympic Trials a year ago, but just third in the 1500 at NCAAs two weeks ago.
The pick: This is completely different than what I submitted to the FloTrack picks, and I'll probably change my mind three times between now and the final, but:
1. Centrowitz 2. Murphy 3. Manzano
Women
THU 9:05 pm (Semifinal)
SAT 2:12 pm (Final)
There is much less uncertainty in the women's race, assuming that Shannon Rowbury elects to run the 1500 and not the 5K. The 5K final is Friday night in between the rounds of the 1500, and would be a grueling triple for anyone. Rowbury is currently entered in both, but she has said in interviews this season that she is likely to choose just one.
The big three

The three women with the best pedigrees---Rowbury, Jenny Simpson, and Kate Grace---also have the three fastest (converted) season bests in the field, so if Rowbury runs, this is an easy race to predict. Simpson and Rowbury were third and fourth in the Olympic 1500 final last summer, while Grace made the Olympic final in the 800. No one else entered is close to that level.
Grace, Simpson, and Rowbury have run 1500s 4:03.5 and 4:04.6 in the 1500; no other woman entered has run under 4:05.8 in 2017. There are minor quibbles to be had with all three: Grace has never made a senior team in the 1500, and Rowbury and Simpson were only eighth and ninth in the 1500 at Pre. But when the only three Olympic finalists also have the three fastest season bests by far, they are the obvious three picks to make the team. Rowbury and Simpson far from their best are still better than the rest of the United States at the event.
Who can pull off an upset?

The next woman on the 2017 U.S. descending order list is Lauren Johnson, who did make the world championship team in 2015. (However, she finished fourth at those USAs, and the U.S. had four spots at worlds because Simpson had won the Diamond League the year before.)
Two women to watch are Shannon Osika and Amanda Eccleston. Osika has cut her PR from 4:09 to 4:06 this year, while Eccleston is the No. 3 returner from last year's Olympic Trials because Brenda Martinez is opting for the 800 this year. Both Osika and Eccleston are coached by Michigan's women's coach Mike McGuire, who is clearly a wizard at coaching the women's 1500 meters. Jaimie Phelan took down a loaded field to win an NCAA title earlier this month, and Eccleston nearly making the Olympic team last summer was one of the biggest upsets of the Trials. Keep an eye out for these two this weekend.
What about Gabe Grunewald?

Grunewald is competing between rounds of chemotherapy. Her resilience in the face of her fourth cancer diagnosis is inspiring enough to melt even the absolute stoniest hearts. Grunewald has raced five 1500s this spring, running 4:20, 4:21, 4:15, and 4:17 before chemo, and 4:28 after. That last race was less than a week removed from her first round of treatment; she'll have an extra two weeks of recovery for this weekend. Grunewald has made every single U.S. outdoor 1500 final since 2010, and making her eighth straight would be astonishing.
The pick: 1. Grace 2. Simpson 3. Rowbury