2017 USATF Outdoor Championships
American Record Holder Molly Huddle Wins Third Consecutive U.S. 10K Title
American Record Holder Molly Huddle Wins Third Consecutive U.S. 10K Title
American record holder Molly Huddle wins her third consecutive USATF Outdoor Championships title in the 10K.
Jun 23, 2017
by Johanna Gretschel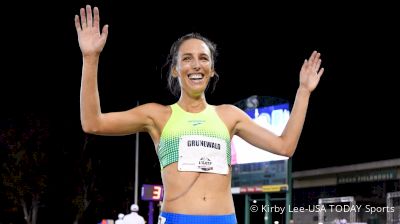 American record holder Molly Huddle of Saucony ran to a dominant victory in the women's 10K final on Thursday night in Sacramento, pulling away at 600m and splitting 65.0 over the final lap to finish in 31:19.86. She has now won three consecutive national titles in the 10K.
Huddly won by three seconds over Emily Infeld of the Bowerman Track Club, who set a new PB of 31:22.67. Emily Sisson of New Balance claimed third place in 31:25.64, also a new PB. Early leader Shalane Flanagan finished in fourth in 31:31.12,
coming up just short in her bid to make the world team after battling a back injury earlier this year
and focusing on marathons for the past year and a half.
Molly Huddle talks to the press after her third consecutive U.S. 10K victory:
"I just wanted to pour it all out on the last lap," Huddle said to the press after her win. "It's good preparation for worlds. Winning is never a given. This is an amazing year depth-wise. The younger kids get faster every year. I didn't run well in my last race, so this one was a good sign. I think I'm going in the right direction. I've still got a month to get ready."
Her "last race" referenced was an eighth-place, 15:09.09 run at the Prefontaine Classic in May. Huddle pulled off the double 10K/5K win at the Olympic Trials last year before opting to focus on just the 10K at the Olympics. She is entered in the 5K tomorrow night.
#TeamUSA women's 10K
Molly Huddle 31:19
Emily Infeld 31:22
Emily Sisson 31:25 pic.twitter.com/89aXIcvObN

— FloTrack (@FloTrack) June 23, 2017
Flanagan, the 2008 World Championships silver medalist for 10K who made the field here thanks to a
31:38.68 world standard run just two weeks ago at the Portland Track Festival
, took control of the pace from the beginning. At 5K, she led the lead pack of Huddle, Sisson, Infeld and Natosha Rogers through in 15:47.1.
By then, 2014 U.S. 10K champion Kim Conley had fallen off the back of the pack. She would drop out by 6K, likely to save energy for the 5K finals tomorrow night, in which she is also entered.
At 3/4 of the way, Huddle tries to take over the lead but Shalane isn't going to let her have it that easy. #USATFOutdoors pic.twitter.com/CEoKR2DUcJ

— FloTrack (@FloTrack) June 23, 2017
The 1K split through 6K was the slowest yet, 3:12.09, and it was at this point that Huddle ran up to Flanagan's shoulder and the two ran side-by-side until 8K. The duo passed the mark in about 25:23, as Sisson and Infeld still followed but Rogers dropped off. An interesting team dynamic was also at play here, as Ray Treacy of Providence coaches both Huddle and Sisson, while Flanagan and Infeld work with Coach Jerry Schumacher of the Bowerman Track Club.
Just under 3 to go, it's Providence vs. Portland. #USATFOutdoors

Huddle, Flanagan, Sisson, Infeld pic.twitter.com/JQfWzd4wbM

— FloTrack (@FloTrack) June 23, 2017
With four laps to go, Huddle made a decisive move to take the lead from Flanagan, and the women ran in a new single line formation of Huddle, Flanagan, Sisson and Infeld. With 600m to go, Huddle truly blew the race open and moved easily away from the pack. On the home straight, Infeld passed Sisson and teammate Flanagan into second and Sisson followed her rival past Flanagan, who was now in fourth and would keep that position to the end of the race.
After the race, Huddle addressed the crowd as a now three-time U.S. champion for 10K. "[With Shalane],you always have to bring your 'A' game," she said. "I knew my speed is my strength, so I wanted to use that at the end."
Huddle, Sisson and Infeld are all entered in tomorrow night's 5K finals. Both Huddle and Infeld competed with Flanagan in the 10K at the 2015 World Championships 10K, where Infeld nipped Huddle at the line for the bronze medal and Flanagan was sixth.
This is Sisson's first world track and field team
.
"This was a very deep field and all the girls I expected to be there [were there]," Sisson said to the media after the race. "I had doubts creep into my mind. There were five of us and only three spots, and these girls can kick. I gave it everything and if that's enough, then that's enough... I was really hopeful and I have been training hard hoping it [would] pay off."
#USATFOutdoors women's 10,000m full results. pic.twitter.com/OLEoeXl0g7

— FloTrack (@FloTrack) June 23, 2017
Infeld and Flanagan's teammate, Amy Cragg, the 2016 U.S. Olympic Trials marathon champion, was a late scratch from the race. USATF announced earlier this season that she would race the marathon at the IAAF World Championships in London. If Cragg were to have placed top three tonight, she was not planning to compete in the 10K in London and the third spot would have gone to the fourth-place finisher.