Christian Coleman Won't Run The 200m At Worlds
Christian Coleman Won't Run The 200m At Worlds
Christian Coleman has pulled out of the 200m to focus on 100m at the IAAF World Championships.
Jul 7, 2017
by Johanna Gretschel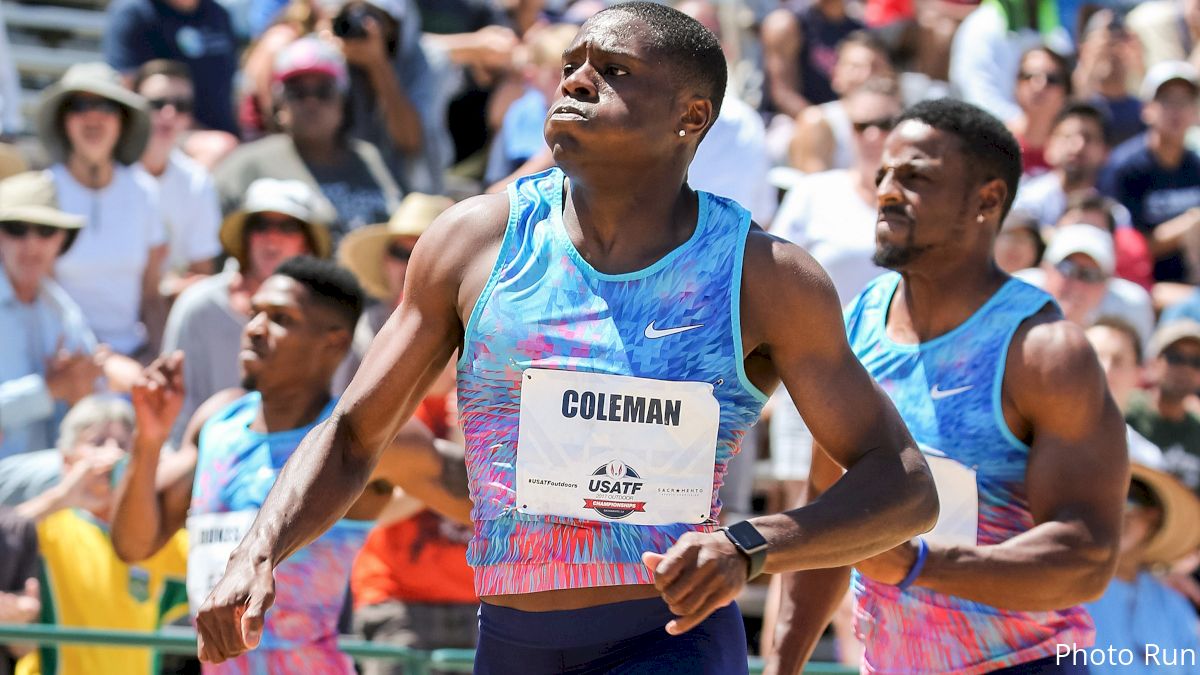 Christian Coleman will skip the 200m to focus on the 100m at the IAAF World Championships in London next month,
HSI Sports Management announced today
.
The 21-year-old placed runner-up in both the 100m and 200m finals at the USATF Outdoor Championships last month in Sacramento and was qualified to compete in both events in London. His agency's release cited the toll that 48 total races had taken on his body over the course of the indoor and outdoor track seasons in 2017.
Coleman only recently signed a professional contract with Nike
, forfeiting his final year of NCAA eligibility, after competing for the University of Tennessee this year.
The release reads:
"Coleman has put an immense amount of pressure on his body, which is something that should be closely monitored as a professional athlete. In an effort to produce the most favorable outcome at this years [sic] World Championships, Coleman along with his team, Coach Tim Hall and HSI Sports Management, have decided that it is best to bow out of the World Championship 200m dash, so that he can best prepare his mind, body, and soul for the 100m dash. At World Championships, Coleman's competitors will likely include a field of sprinters with world-leading times and veteran athletes. All of whom have run far fewer races than Coleman this season. In the weeks leading up to World Championships, Christian will be doing some fine-tuning in perfecting his 100m dash mechanics in order to place him in the best position to succeed."
Coleman will likely still compete on the 4x100m relay.
​Watch Christian Coleman break the NCAA record and set a world-leading mark of 9.82 in the 100m:


Coleman was nearly undefeated in collegiate competition this year and won a total of four individual NCAA titles in the 60m, 100m, and indoor and outdoor 200m. He broke the NCAA record for 100m by clocking 9.82 (+1.3) in the preliminary round in Eugene, and ran the second-fastest times ever recorded in the NCAA for the 60m (6.45), indoor 200m (20.11) and outdoor 200m (19.85).
Coleman's 100m time ranks No. 1 in the world this season as no one else has run faster than 9.90; 400m world record holder Wayde van Niekerk is the only man to run a faster 200m this year. He lost to Justin Gatlin in the 100m at USAs and Ameer Webb in the 200m.
​Christian Coleman said he felt tired after the USATF Outdoor Championships:
Kyree King will likely take Coleman's 200m spot on the world team as he placed fourth at USAs. The University of Oregon senior placed fourth in the 100m and 200m finals at NCAAs in June.
Representatives from USATF said they have not submitted or announced the team yet, but anticipate doing so on July 22.