2017 AAU Junior Olympic Games
Throwing Dominance Continues For Kevin Adams II At AAU Junior Olympic Games
Throwing Dominance Continues For Kevin Adams II At AAU Junior Olympic Games
Kevin Adams II set a new AAU national championship record of 169 feet, 6 inches in the 13-year-old boys discus.
Jul 31, 2017
by Cory Mull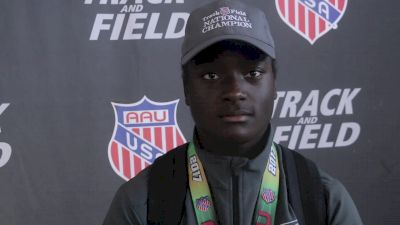 Kevin Adams II has been dominating the shot put and discus at the AAU Junior Olympic Games for as long as he can remember.
The Cedar Park, Texas, native has won six straight shot put titles -- with a potential seventh coming on Wednesday -- in age group categories over the last six years, and on Monday he added his second championship in an as many years in the boy's discus for 13-year-olds.
There was one special bonus this year.
He earned an AAU national record after throwing a mark of 169 feet, 6 inches. He surpassed a mark of 167-4, which was accomplished by Reece Goddard in 2012.
"I just work hard as much as I can," he said. "I just came here to do what I do."
And that Adams did, hammering a winning throw during his first round.
"When I was going up, I was pretty confident going up there," he said. "I threw and I almost fouled out, but I got out there and threw it out there."
While Adams uses the glide technique for the shot put, he has perfected the spin in the discus.
It's led to some pretty significant throws. One recent win, for example, came at the AAU Club Championships recently in Florida.
But winning is becoming normalcy lately for Adams.
"It's different," he said. "It's just another win, too. But it's different because you have a title around your belt."
And crazy enough, he's got four more years and potentially many more championships to come.
"Just feeling the joy of getting it out there," he said.
How to Watch The 2017 AAU Junior Olympic Games

On TV:
Available on Roku and Apple TV 4 -- download the FloSports app now.
Streaming:
Only on FloTrack with a PRO subscription. A yearly PRO subscription provides access to ALL FloSports sites.
JOIN NOW

BONUS:
Yearly subscribers on any of our sites get access to all premium content throughout our network. On MileSplit.com,
Universal subscribers get premium access
to all sites. Existing monthly subscribers can upgrade to an annual subscription in their account settings.
MileSplit now offers Club Rankings, the definitive guide to the 2017 boys and girls outdoor leaders in every track and field event.
Get all the hype!
Sign up for the FloTrack newsletter for instant access to: Breaking News, Results, Rankings, Archived Race Footage, Live Broadcasts and more!