2017 Chicago Marathon
Chris Derrick Is Just Hoping Not To Shit The Bed In His First Marathon
Chris Derrick Is Just Hoping Not To Shit The Bed In His First Marathon
Chris Derrick will run his debut marathon in Chicago this weekend.
Oct 5, 2017
by Johanna Gretschel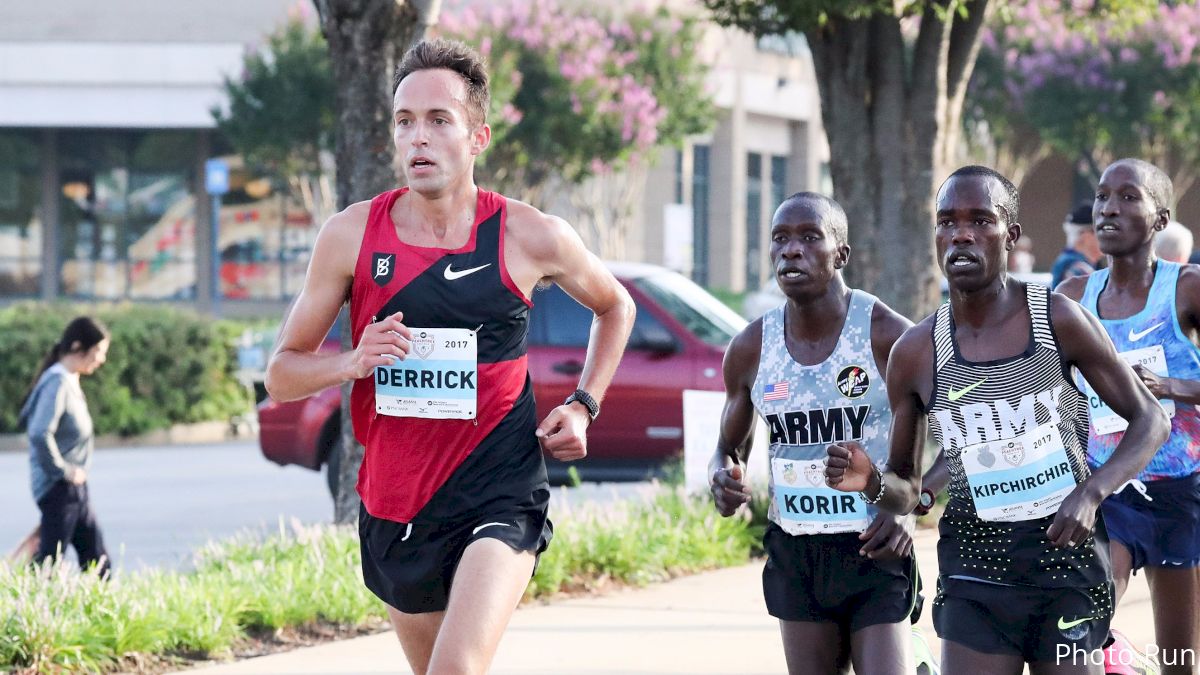 Literally.
"I really hope I don't have to poop," Chris Derrick said of this Sunday's
Chicago Marathon
, his career debut at the 26.2 mile distance in which he'll run against a star-studded lineup that includes Dennis Kimetto, the world record holder, and Feyisa Lilesa and Galen Rupp, the Rio Olympic marathon silver and bronze medalists.
"I'm prepared to pee on the run if it comes down to that. But the poop emergency, obviously, it's just . . . that would be devastating. Unless I was gonna run 2:08, I don't think I could poop myself. I think I'd have to go to one of the bathrooms."
In anticipation of such a crisis, the 26-year-old has prepped the same meal before all of his long runs: a simple dinner of brown rice and chicken, which he believes will be served at the meet hotel on Saturday evening. He actually started purchasing rice and chicken from Chipotle (no tortilla, but "sometimes a little salsa and guacamole") before every long run to get accustomed to eating the chain restaurant as a backup in case the hotel serves something different.
"Hopefully it all comes together and stays together for race day," he said over the phone on Tuesday from Portland, Oregon, where he lives and trains (mostly) year-round with the Nike-sponsored Bowerman Track Club (BTC).
But, still: his main objective in Chicago isn't to win, or to run a specific time (although he does say maintaining 5:00 pace would be nice), it's to finish the dang thing without -- ahem -- shitting the bed. (My words, not his.)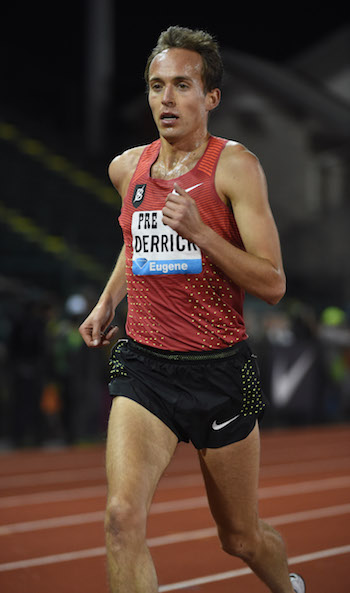 "Ideally, I'd like not to blow up in the last 10K," he said. "Everyone says, 'You don't really know what it's like past 20 miles until you've done it.' Looking at people's progressions in a marathon, a lot of people go into it with expectations and if it goes really bad at the end, it's a long time before you can do another one and that can play into your head a little bit. If the second one goes bad, that's tough to come back from because now you're talking about at least a year later."
The marathon debut is a long time coming for Derrick, who planned to race the 2016 U.S. Olympic Marathon Trials but
scratched after missing training time due to injury
. He went on to place fifth in the 10K at the Olympic Trials, one spot lower than he finished as a
21-year-old Stanford graduate at the 2012 Trials
. At this year's USATF Outdoor Championships, he courageously took the lead in the 10K final with 400m to go but ran out of gas as a flurry of quick kickers flew past him, and wound up eighth.
While Derrick had hoped to finish in the top three and make the world championships team, he wasn't completely disheartened. He had nearly 12 months of healthy, consistent training under his belt, a blessing after dealing with a recurring achilles injury for much of his professional career.
"Maybe in years past -- when I was younger and kind of rolled from having good season to good season -- by the end of each season, I'd be ready to be done and play golf and drink some beers," he said. "But I think ever since last summer and when I actually started stringing together healthy months, I've had a hunger to have a performance I could be really be proud of. I think the fitness is there but each time I've had an 'almost race,' or I've 'almost been back,' it's made me hungry to just achieve something on a level that I'm capable of."
It was after last summer that Derrick first started training with Andrew Bumbalough, or "Bumbi" as he refers to the man with whom he logs miles while debating sports, politics, fantasy football, and, sometimes, nothing at all.
"At this point, there's definitely been some silent runs because we've just run out of things to say to each other."
The duo joined forces "from a pretty low point in our careers," as Derrick recalls it. Both were a bit banged up and riding out the disappointment of not being in peak fitness during an Olympic year.
They traveled to Japan together that fall for a 10K race, where
Derrick ran 27:38 for third, his fastest time in four years
, and Bumbalough ran 28:09, 13 seconds off his PB in his second race since recovering from a sacral stress fracture. Bumbalough returned to Japan earlier this year to make his own marathon debut to the tune of a 2:13:58 in Tokyo, and he'll be on the line with Derrick in Chicago on Sunday morning.
Both Derrick and Bumbalough were missing from many spring race results due to their participation as pacers in the Nike Breaking2 event in Monza, Italy, where
Kenya's Eliud Kipchoge ran 2:00:25
, more than two minutes faster than the official world record set by Kimetto in 2014.
Derrick says he was a little disappointed to miss the Payton Jordan Invitational hosted by his alma mater, but otherwise thrilled to contribute to what was "a watershed moment in running history" that has "certainly got me more publicity than I've ever had before."
When asked how Breaking2 influenced his own relationship with the sport, Derrick was quick to cite his interactions with the other pacesetters in Monza.
"Obviously, Kipchoge is an inspirational figure in his own right, and then getting to know some of those guys who have run pretty fast, the pacers," he said. "Seeing how they frame things and how they think about performances in the marathon, how high their expectations are. I don't think that that applies as much in the first marathon for me, because it's more about the experience. But long-term, very few guys in the U.S. break 2:10 in the marathon at any one time, but given where our track performances are, we should have more. As I'm setting long-term goals for the event, I should set them high and shouldn't hold myself back in that way.
"[Breaking2] generally got me excited to compete in the [marathon] besides being intimidated, because obviously I ran the pace and it's too fast. In some ways, that's dispiriting because I know I'll never run that fast . . . but that's neither here nor there."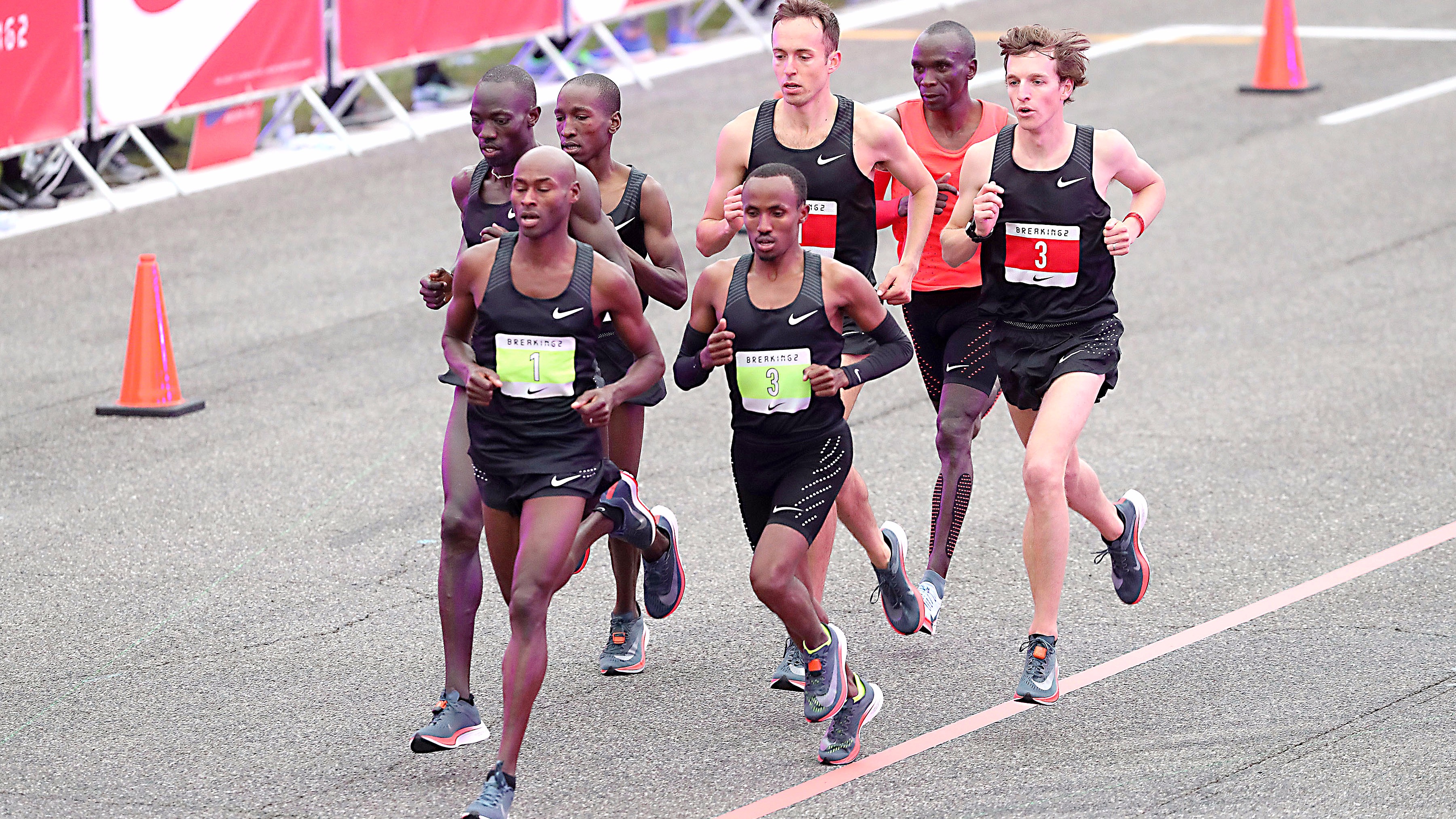 Still, Derrick can't be that starstruck by world-beaters. His BTC teammates, coached by Jerry Schumacher, make for one of the top training groups in the world. Evan Jager has earned world bronze and Olympic silver over the past two years in the steeplechase, while Courtney Frerichs and
Amy Cragg
earned silver and bronze in the steeplechase and marathon, respectively, in what were two of the most surprising performances of this summer's IAAF World Championships in London.
"We're operating on the same general training plan that Amy had before the marathon," he said. "And Jerry's always tinkering with things, so when we had fewer workouts at the beginning of the buildup, I was like, 'I don't know, Jerry, are you sure we should do that here?' And then
Amy got third
and I texted Jerry, 'All right, fine, I believe you now.'"
----
There's also a little something more at stake for Derrick here. He's hoping to breathe some new life into his career, sure, but to race in Chicago means a homecoming of sorts for the Illinois native,
who led Neuqua Valley High School to the Nike Team Nationals title in 2007
. The school's long-time coach, Paul Vandersteen, will be out on the course along with some current members of the team.
"We had a team of 130 guys," Derrick recalled. "And it was kind of a joke that he told every kid he could make the top seven the next year. The thing with coach Vandersteen is that he really believed that. I started running at a time when I was in a school of 4,000 kids, I was 13, I wasn't super good at anything except school -- which is a terrible thing to be good at -- and I wanted something to belong to. Vandersteen convincing me, without even really doing all that much but telling me what I could do if I trained hard, it really changed my life in a profound way. I think he's used my story and a lot of other stories like it to get kids to commit to the program.
"I hope that racing Chicago and doing well can add to the story of Vandersteen."