Edward Cheserek is in the midst of gaining his U.S. citizenship. This means that the former University of Oregon standout won't compete in any national team events. The situation has prompted an interesting test case in what athletes do when they don't have national championships or international championships to anchor their schedule.
For Cheserek, the answer appears to be run insanely fast and cause as much havoc to the record book as possible.
This past weekend, he ran a 3:53.85 mile on the flat 200m track at the Camel City Invitational. Allowing for conversions, this would be the second week in a row in which Cheserek has run at or below 3:50 in the mile. And with no U.S. or world championships, Cheserek is all spiked up with nowhere to go.
But there is an upside to a championship-free schedule. With no peaking to worry about, there's no reason why Cheserek won't continue his winter pursuit of fast times. This Friday, he will try to take a step further. At the BU David Hemery Valentine Invitational, he'll race in a special section of the mile with goal of becoming the fourth person to break 3:50 in the mile indoors.
An Afternoon Of World Records
Two world records were set at the Millrose Games. In the women's 4x800, the U.S. team of Chrishuna Williams, Raevyn Rogers, Charlene Lipsey, and Ajee Wilson delivered. Wilson's final 800m split of 1:58.37 was enough to carry the U.S. to a time of 8:05.69 and duck under the existing world record of 8:06.24.
Even more impressive was that Wilson got the math wrong during the race; she thought she only needed to run 2:00 to set the record.
She still ran 1:58.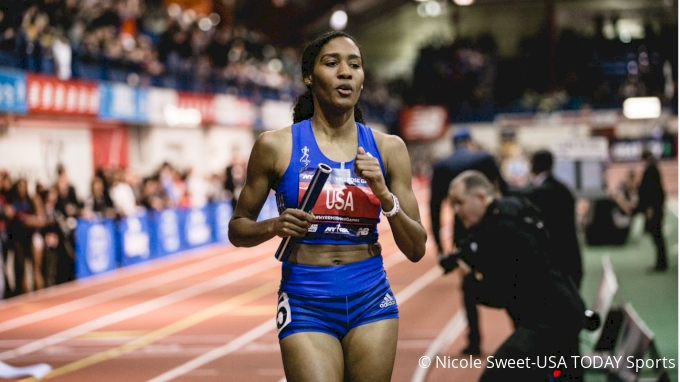 Now, the competition will turn inward. Wilson looks like a safe pick for one of the two places on the team for world championships, but who gets the other one? Rogers and Lipsey split 2:00 and 2:02, respectively, and look to be in the best position. Brenda Martinez was a late scratch in the Wanamaker Mile, and she might opt for the 1500m at USAs and not the 800m.
Shaunae Miller equalled the world record mark of Irina Privalova in the women's 300m, running 35.45. It's hard to conclude much from an off-distance indoor performance, but we can glean a couple things.
First, Shaunae Miller is better than some very good runners — her margin of victory was over 1.5 seconds. Second, Miller is farther along than she was last year. In the 2017 edition of the Millrose Games, Miller ran 35.71 to win the 300m. Good news for her. Bad news for anybody interested in competing in the 200m or 400m this year.
More Millrose
The men's Wanamaker Mile left us with the puzzling question of why nobody went with Chris O'Hare. O'Hare followed the rabbit through the first half of the race, and when the pacer stepped off the track O'Hare was by himself with a comfortable cushion. The finish ended up being quite dramatic, with Josh Kerr and Ben Blankenship desperately trying to close the gap as O'Hare started to slow. But O'Hare had just enough and took the win in 3:54.14 with Kerr and Blankenship running 3:54.72 and 3:54.77.
Despite the world records, the race of the day might have come from the men's 800m. Emmanuel Korir went out quick and never really slowed down to run the third-fastest performance ever indoors in 1:44.21.
Donavan Brazier took second in 1:45.35 and Drew Windle ran 1:45.53 to take third. Those marks are the second- and third-fastest American indoor marks ever. Brazier had a lot of eyes on him because of the quick start, but Windle had about as incredible a closing last 400m that you will see on an indoor track. He was ninth entering the final 400m and was seventh with 200m to go.
.@DrewWindle went from 9th ⏩ 3rd in the final 400m making up 1.5 seconds on front-runner @DonavanBrazier at Millrose Games. pic.twitter.com/5aYXuBEOut

— FloTrack (@FloTrack) February 6, 2018
Steeple Standouts
Without barriers, the steeplechasers still shined at Millrose. Aisha Praught-Leer and Emma Coburn went one-two in the women's 3000m, posting lifetime bests of 8:41.10 and 8:41.16 in a thrilling finish that saw three runners come within .08 seconds of each other.
Another steepler, Colleen Quigley, took the women's Wanamaker Mile. Quigley held off Kate Grace, but almost celebrated too early as she explained in this post-race interview.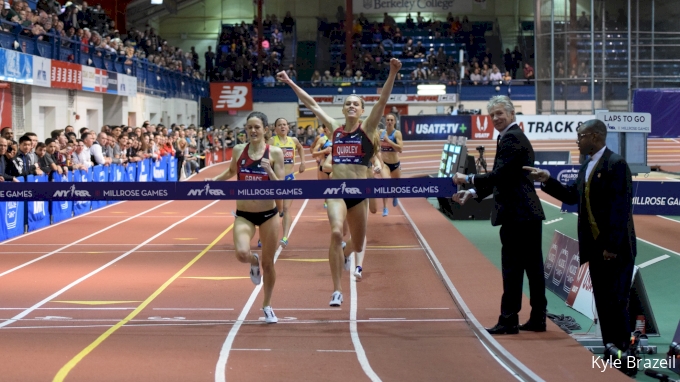 On The Grass
Emily Infeld and Leonard Korir won the USATF Cross Country Championships on Saturday morning. It was the first U.S. title of any kind for Infeld, who won the race by four seconds over Molly Seidel.
The men's race featured the big names of Galen Rupp and Evan Jager, but Korir was able to defend his title. Korir kicked by Rupp in the final stretch of the race and won by just over a second. Jager was with the leaders through eight kilometers of the 10K race and ultimately finished fourth, 15 seconds behind Korir. All three can take something positive away from the race.
Rupp's performances in short distance races this winter has to be an encouraging sign heading into the Boston Marathon. For Korir, his ability to defend his title is more evidence that he is going to be a consistent presence at the top of American distance running. Jager was running his first cross country race since high school. His primary event, the steeplechase, isn't contested indoors so any exposure to high-level racing in the winter months is probably welcomed.
Leonard Korir is your 2018 #USATFxc champion! Wild finish, 29:16-29:17 over Galen Rupp pic.twitter.com/mXpZyCw2bm

— FloTrack (@FloTrack) February 3, 2018
Doubles
Paul Chelimo opened his 2018 track season with a 7:52 / 3:58 double at the Camel City Invitational. It was the first track double of Chelimo's career. He won the 3000m and finished second in the mile behind Edward Cheserek. I'm sure he wanted to take both wins, but placing second to Cheserek is completely understandable right now, and it was Chelimo's first time under four minutes.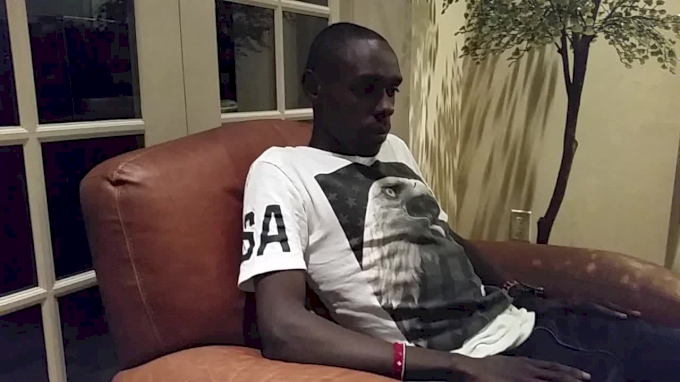 American Rachel Schneider pulled off the same double at Camel City, but she won both events. Schneider took the 3000m in 9:02 and ran 4:31 in the mile.
You Might Have Missed It
There were several performances that might have gotten lost in the shuffle of such a busy weekend in the running world. Bralon Taplin ran the fifth-fastest time indoor time ever in the 400 — a 44.88 clocking at Texas A&M.
Shelby Houlihan of Bowerman Track Club put up a mark of 8:36.01 while her teammate Marielle Hall ran 8:40.20. Both marks are quicker than the winning time from the Millrose Games, and Houlihan's time makes her the No. 2 American all-time indoors, less than three seconds behind Shalane Flanagan's American record.
Back to the sprints, as Jereem Richards opened his 2018 season with a 20.52 in Albuquerque at the New Mexico Collegiate Classic.
With no 200m on the program for the 2018 IAAF World Indoor Championships, it will be be interesting see if Richards bumps up to the 400m (he did run the fastest split at the world championships in the 4x400m) or if he lays low and waits for outdoor season.
Dibaba Back To Being Dibaba
Genzebe Dibaba's performance in outdoor championships hasn't always lived up to her personal best. Yes, she has world championship gold from from the 1500m in 2015, but that's her only outdoor title. For someone with personal bests of 3:50 / 8:16 / 14:15, you'd expect a higher medal total at this point in her career.
However, she has thrived indoors. Dibaba is three for three in the three world indoor championships she's contested. It looks like that will continue this year. In Karlsruhe on Saturday, Dibaba ran 3:57 in the 1500m, just two seconds off her world record in that event from 2014.
The competition in the 1500m won't be as stout, either. Faith Kipyegon, winner of the last two outdoor titles in the 1500m, announced last week that she is pregnant and will miss the world indoor championships. American record holder Shannon Rowbury is also expecting a baby this year.
Also in Karlsruhe, Hagos Gebrhiwet ran 7:37 to Yomif Kejelcha's 7:38 to secure the world lead. A Gebrhiwet, Kejelcha, Kipchirchir, Chelimo 3000m at the world championships next month looks like it might happen. And it will be fantastic.