After three days filled with disqualifications, competitive races, and a few more disqualifications, the 2018 World Indoor Championships are in the books. Sunday's action was highlighted by some strong Ethiopian performances in the men's distance races, an engrossing battle between Ajee Wilson and Francine Niyonsaba in the women's 800m, and Poland's world indoor record in the men's 4x400m. Here's a recap of all the events on the track in Birmingham, England.
Canadian subscribers can watch the 2018 IAAF World Indoor Championships LIVE on FloTrack!
Men's 60m Hurdles Semifinals | 3:05 PM GMT (10:05 AM ET)
First 2 in each heat plus the next 2 fastest
Heat 1
The field gets off to a very even start with Jarret Eaton, Aurel Manga, Balazs Baji, and Ahmad Al-Molad running well through the first two hurdles. Eaton and Manga separate from the rest of the field and are the top two across the line with Manga timed at 7.55 and Eaton at 7.58. Baji runs 7.64 and Al-Molad gets fourth in 7.66.
Jarret Eaton places 2nd advancing through to the final! #IAAFWorlds pic.twitter.com/NdpmpwacY5

— FloTrack (@FloTrack) March 4, 2018
Heat 2
Andrew Pozzi, Aries Merritt and Roger Iribarne get out well and all are running even through three hurdles. Pozzi edges ahead and looks so fluid going over the hurdles. He eases off at the end, but has a clear victory in a season best of 7.46. Iribarne takes second in 7.58. Merritt's 7.60 is good for third and he will have to wait to see if he advances on time to the final
Heat 3
Milan Trajkovic blasts out of the blocks and gets command of this heat from the first hurdle. Pascal Martinot-Lagarde is in a clear second, but this race is all about the Cypriot in the middle of the track. Trajkovic runs 7.51, a national indoor record. Martinot-Lagarde is second in 7.52. Nobody else breaks 7.60 meaning Aries Merritt will advance on time to the final.
Results: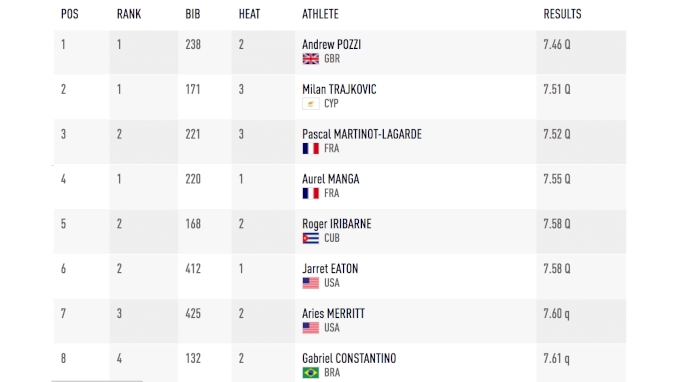 Men's 3000m Final | 3:35 PM GMT (10:35 AM ET)
As expected, the pace starts slowly with the three Ethiopians — Yomif Kejelcha, Selemon Barega, and Hagos Gebrhiwet — at the back of the pack. Davis Kiplangat of Kenya goes to the front of that pack before the field passes through 600m. Adel Mechaal jogs past Kiplangat to lead through 800m in 2:29.70.
The three Ethiopians are still at the back and everyone seems content to keep it very easy. After 1000m, Mechaal starts to increase the pace and the pack strings out. Kejelcha and Barega move up into the pack and are joined by their countryman, Gebrhiwet.
Kejelcha is at the front with five laps remaining and Shadrack Kipchirchir is at the front of the pack on the rail. Everyone is in contention with 800m remaining. Barega moves into second behind Kejelcha with three laps remaining and the field is moving quicker, but is still bunched. Kiprchirchir and the three Ethiopians are in the top four spots with two laps left. Kejelcha is at the front at the bell and he opens up a gap. Bethwell Birgen moves up on the backstretch into medal contention and is battling with the other two Ethiopians for the remaining medals. Kejelcha takes the victory in 8:14.41 to defend his world indoor title. Barega makes it 1-2 for Ethiopia with a time of 8:15.59. Birgen prevails over Gebrhiwet to get the bronze, 8:15.70 to 8:15.76. Shadrack Kipchirchir crosses the line in eighth, but is listed as a DQ in the results.
Yomif Kejelcha REPEATS!! #IAAFWorlds pic.twitter.com/89CbzFhFIz

— FloTrack (@FloTrack) March 4, 2018
Results: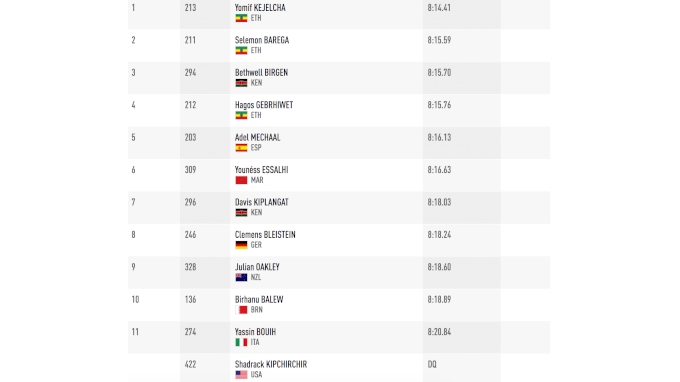 Women's 800m Final | 3:58 PM GMT (10:58 AM ET)
Ajee Wilson goes to the lead from the gun with Habitam Alemu on her shoulder. It's Wilson, Alemu, and Shelayna Oskan-Clarke on the rail after the first lap. Francine Niyonsaba makes a move to pass before the 300m mark, but Wilson won't let her and Niyonsaba has to settle back into second place. Wilson leads through 400m in 59.02. Wilson holds her position on the third lap and hits the bell in 1:28.81. Niyonsaba moves up to pass again and she moves shoulder-to-shoulder with Wilson coming off the curve with 150 meters remaining. Niyonsaba makes another bid for the lead on the backstretch and this time it works and she gets past Wilson into the lead. Now, can she hold it?
She's able to slightly increase her lead and defend her title, running 1:58.31. Wilson runs 1:58.99, a personal best. Oskan-Clarke closes hard to get bronze in a personal best of 1:59.81. Raevyn Rogers, who ran a leg on the U.S. 4x400m relay team last night, placed fifth.
Francine Niyonsaba does it again!! Ajee Wilson gets silver! pic.twitter.com/uuo5ACm2xG

— FloTrack (@FloTrack) March 4, 2018
Results: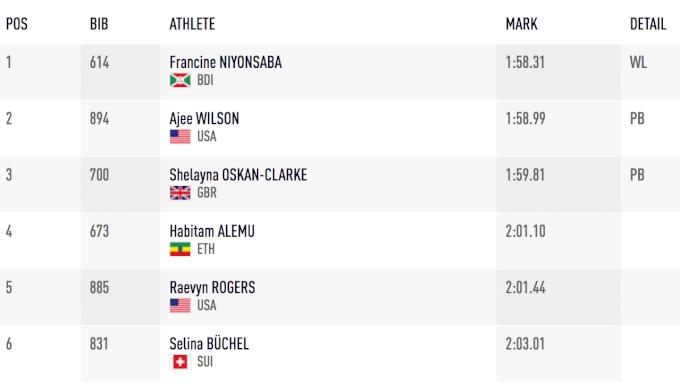 Men's 1500m Final | 4:12 PM GMT (11:12 AM ET)
Abdelaati Iguider goes to the front with Craig Engels and Ben Blankenship in second and third. As we have seen with all the distance races in this meet, the pace is conservative.
The pace has switched from conservative to dawdling. Nobody wants to lead this race and Blankenship and Iguider are still at the front. Samuel Tefera of Ethiopia takes on the pace with 800m left and now the race begins. Aman Wote of Ethiopia follows him. The field passed 800m in 2:23.68.
With three laps to go it's Terefa, Iguider, and Blankenship, but everyone is involved. Jake Wightman of Great Britain moves into third. Iguider leads at the bell with Tefera in second. Marcin Lewandowski moves into third as it's a mad dash at this point. Iguider is in front with 50 meters remaining, but Tefera has one last move and catches Iguider. Lewandowski also streaks past Iguider to get the silver. It's been a great day for Ethiopia and a great meet for Poland. Blankenship takes fifth and Engels is seventh.
At just 18 years old Samuel Tefera is your World 1500m champion!! pic.twitter.com/9BCzYBjvGV

— FloTrack (@FloTrack) March 4, 2018
Results: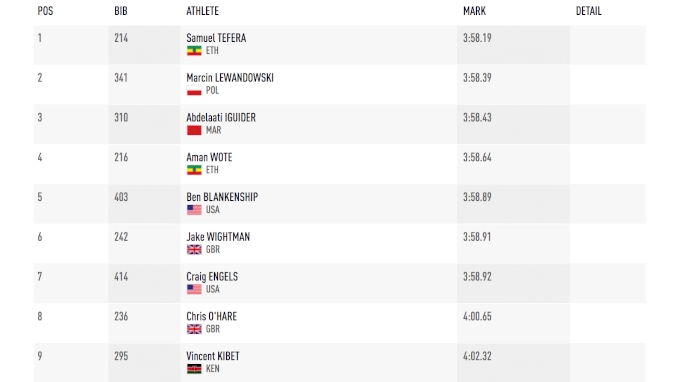 Women's 4 x 400m Final | 4:30 PM GMT (11:30 AM ET)
Quanera Hayes leads off for the United States and is running just behind Ukraine after one lap. Hayes passes off first ahead of Jamaica — 51.56 is the opening split. Georganne Moline has the stick for the U.S. and has a five-meter lead over Jamaica and Poland. Moline stumbles around the the final curve, not sure if she stepped over. The stumble allowed Jamaica to catch up at the exchange. Silver medalist Shakima Wimbley has the stick for the United States and maintains the lead. She passes to Courtney Okolo and the U.S. will rely on the gold medalist from this meet in the 400m to close out this relay. Jamaica is still within striking distance, but Okolo is too strong. U.S. takes the victory in 3:23.86, a championship record. Jamaica ran a strong second in 3:24.16 with Poland taking third in 3:26.09.
TEAM USA WINS GOLD! #IAAFWorlds pic.twitter.com/qCrmPB99g7

— FloTrack (@FloTrack) March 4, 2018
A replay of Moline's leg shows that she did not step inside the curve. This result should stand.
Update: Jamaica is listed as a DQ in the final results
Results: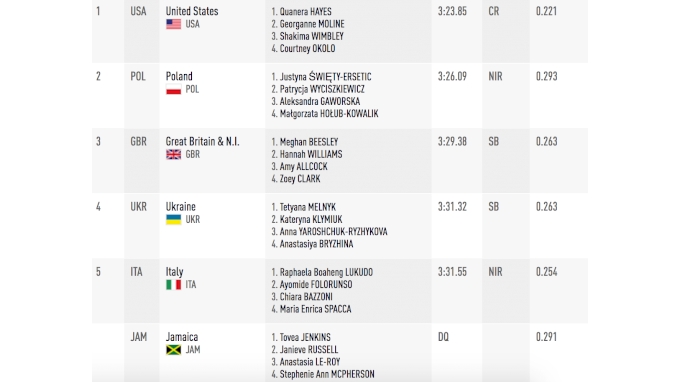 Men's 60m Hurdles Final | 5:00 PM GMT (12:00 PM ET)
With 110m hurdles world record-holder Aries Merritt and U.S. 60m hurdles champion Jarret Eaton, a strong French duo in Aurel Manga and Pascal Martinot-Lagarde, and Great Britain's Andrew Pozzi, this final should shape up to be quite close. Eaton gets off to a commanding start, but Pozzi is gaining steam. Pozzi smashes a hurdle, which lets Eaton regain ground, but Pozzi fights to the finish after he clears the final barrier and earns Great Britain's first gold medal at these world championships. Merritt was barely edged out by Manga to miss the podium by one spot.
Results: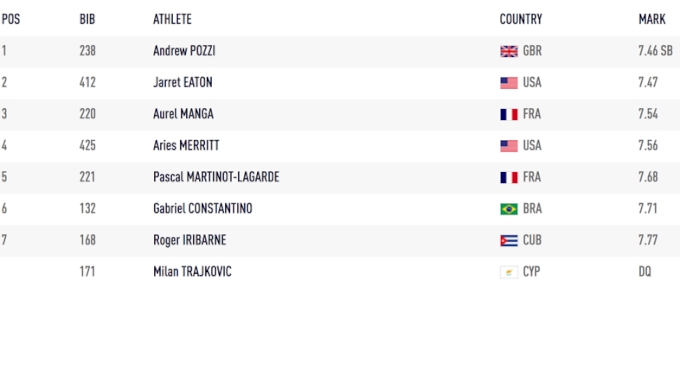 Men's 4x400m Final | 5:25 PM GMT (12:25 PM ET)
It's the final event of the meet and the U.S. has Fred Kerley leading off just like they did in the prelims. He gets the U.S. out to a huge lead, splitting 44.84. Michael Cherry runs second for the United States and he keeps the margin roughly the same. At the second exchange, the U.S. leads over Poland, Trinidad and Tobago, and Belgium. Aldrich Bailey Jr. runs third for the U.S. and Poland chips into the American margin. At the final exchange, the U.S. still leads but Poland is now in striking distance. Vernon Norwood gives the U.S. a cushion after his strong start, but Poland is still hanging around. With 100 meters to go, Poland starts to really move and in the homestretch, Jakub Krzewina catches Norwood and takes Poland to victory. Their time is 3:01.77, an indoor world record. The U.S. gets second in 3:01.97, which was also under the old world record. Belgium wins the battle with Trinidad and Tobago for bronze.
World Record for Poland outkicking USA in the final 50 meters!! 3:01.77!! #IAAFWorlds pic.twitter.com/aXShW7exGQ

— FloTrack (@FloTrack) March 4, 2018
Results: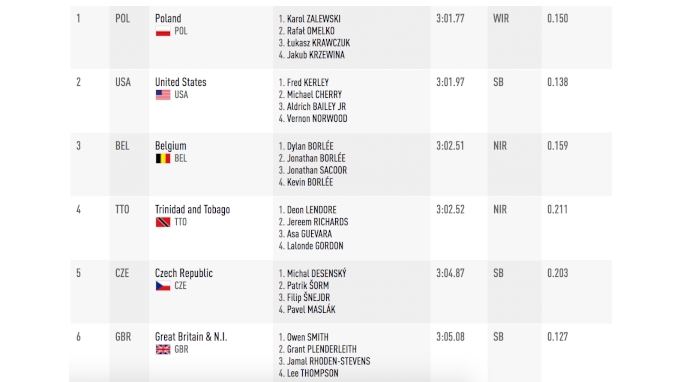 Team USA superlatives at the #IAAFworlds in Birmingham via @usatf pic.twitter.com/4vgLX94nEI

— FloTrack (@FloTrack) March 4, 2018