When University of Mary senior Emily Roberts crossed the finish line in third place at the NCAA DII Cross Country Championships on Dec. 1, a remarkable comeback that had been nearly unimaginable at the beginning of the season was complete.
From finishing 10th on the team at the season opener to battling for a national title less than three months later, Roberts had undergone a transformation that had as much to do with belief in herself and her coaches as it did aerobic fitness. A series of debilitating injuries over the previous year had put Roberts' All-American career in jeopardy, and overcoming so many setbacks is precisely what made her best-ever finish at NCAAs so sweet.
Roberts had cried after bad runs countless times in the months before her triumph, but this time she was overwhelmed with emotion for an entirely different reason.
"Going into the season, I didn't even know if I would be top seven on our team, just given how far back in training I was," Roberts told FloTrack. "I was just very emotional period after the race. I just couldn't believe what had just happened … Definitely happy tears for sure."
Two stress fractures, a hernia and a hip flexor strain had combined to make running a source of frustration and pain for Roberts for nearly a year, and compared to where she had started in the fall -- out of shape, unsure of her place on a new team and filled with self-doubt from so many disappointments -- the confident and super-fit Emily Roberts who led her team to a runner-up finish at nationals was almost an entirely new person.
"From day one to the Monday before the national meet, where she was in here basically saying, 'What do you think it's going to take to win?' That was not the Emily Roberts of week one," said U-Mary head coach Dennis Newell.
"[In week one] I think she was still considering whether she still wanted to do this or not."
Coach Newell reacts to U-Mary's 2018 runner-up finish at DII NCAA XC: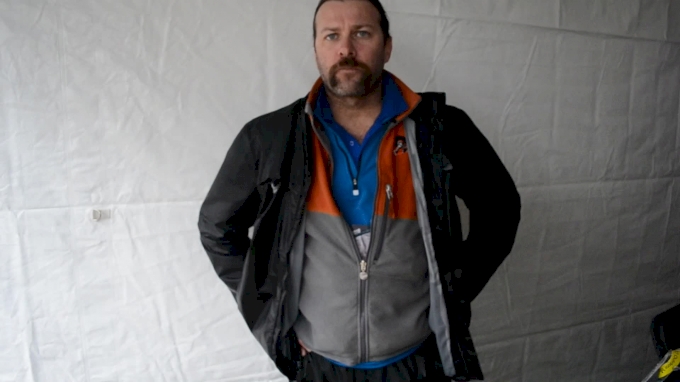 Unlock this video, live events, and more with a subscription!
Get Started
Already a subscriber? Log In
That Emily Roberts, the one who arrived at U-Mary in August completely down on running and hesitant to embrace a new training plan, was still reeling from the sharp U-turn her career had taken.
The Fredericktown, Ohio, native enjoyed a decorated first few years at the University of Southern Indiana, including placing fifth at NCAA DII XC in back-to-back seasons and finishing runner-up in the NCAA 10K. But even during her successful junior cross country season in 2016, Roberts started to notice that she was having trouble breathing while running.
She had dealt with similar problems in the past from what was thought to be asthma, but now Roberts was also experiencing severe acid reflux and the breathing difficulties were becoming progressively worse. The acid reflux acted up while she ran, and her trachea responded by closing to prevent food in her stomach from coming back up. Her performance declined significantly as a result in early 2017, and to make matters worse, there were people around her who thought she was exaggerating her symptoms as an excuse for a bad workout or race.
"There were some people, too, when I was really struggling with breathing in workouts, some people were like, 'Oh, you're faking it because people are beating you,'" Roberts said. "You just have to block out the negativity and kind of let running do its thing."
She didn't know it then, but the source of her issues was a large hiatal hernia that was causing a portion of her stomach to press down on her diaphragm. The hernia derailed her entire 2017 track season, and although she was able to mostly get a handle on the breathing problems by that fall, a stress fracture in her left tibia prematurely put an end to the following cross country campaign as well.
Roberts returned to the track last winter, but immediately another stress fracture higher up on the same leg popped up in February, ending what proved to be her final season in Evansville. The multitude of factors working against her once-promising running career made Roberts question if she wanted to keep going in the sport.
"There were so many times where I'm like, 'Well, maybe I'm just not meant for this sport,'" she said. "I had some people close to me tell me, 'Maybe you should just give it up. Maybe you just need to concentrate on something else.'
"Once you have people from the outside telling you, then you start to internalize it. It starts to go through your head."
USI didn't have the doctorate program in occupational therapy Roberts wanted to pursue post-graduation, and that, combined with her physical struggles, inspired her to seek a change of scenery.
"I am forever grateful to Coach Hillyard [at Southern Indiana]," she said. "He's the first person who gave me a chance. We still have a good relationship to this day. I really just think I needed to find happiness in running again."
The University of Mary in Bismarck, North Dakota, was an 18-hour drive from home with the promise of bone-chilling winters, but U-Mary had an occupational therapy doctorate program, and after meeting with Coach Newell and the team, Roberts was sold. The Marauders were coming off of a runner-up finish at nationals in 2017, and their talented roster would provide Roberts with training partners who shared her goal of getting to the highest levels of Division II.
Newell is also good friends with Southern Indiana head coach Mike Hillyard, who Newell says was key in getting Roberts to Bismarck.
"He was instrumental in getting her here, getting her to buy in, helping her have faith in what we were doing and in myself as a coach," Newell said. "So I credit Mike a lot for Emily's success this year. He was a large part of it."
Roberts elected to have surgery on the hernia in April to finally put an end to her breathing misery, which set her back another two months as she also recovered from her second stress fracture. Then, just as it looked like her long health nightmare was over, a hip flexor strain in June forced her away from running yet again for another four weeks.
Roberts wanted desperately to be in shape for the start of the cross country season at her new school, but the strain wouldn't allow it. Running even two or three miles just four or five days a week was a huge task.
"I'm not even exaggerating, I think I cried after every single run," she said. "I felt like a freshman again. I felt very nervous because I wanted to put the work in, I wanted to be able to run.
"Especially with going to a place so far away from home, it's not like you can travel back on the weekends if you're feeling down or having a hard time. This summer going into school I was very, very, very nervous."
Roberts' anxieties were only heightened after her first race as a Marauder on Sept. 7 in Moorhead, Minnesota, where she finished a lowly 21st in 19:49 for the 5K course, over two minutes behind race-winner and teammate Jaiden Schuette. Roberts was angry, and she wondered if her decision to move all the way to North Dakota was a mistake. The training was different from what she was used to, and at that point Roberts was skeptical that the strength-based system was going to work for her.
A straightforward conversation with Coach Newell after that race helped change Roberts' mind. Roberts expressed her reluctance to switch away from training that had worked at USI, while Newell stressed the importance of her seeing the U-Mary process through. They agreed on a plan to have Roberts train by herself away from the team for a few weeks to get her confidence back up.
"Look, you got to buy in, you got to do this shit. You got to commit to it," Newell said at the time.
By the time Roberts resumed training with the team at the end of September, she had become a believer in what Newell and U-Mary were selling. The coach and athlete had agreed to some small compromises on her training -- Newell allowed her to adjust some workouts slightly to her liking -- and the pair were suddenly on the same page.
A small improvement at the Roy Griak Invitational on Sept. 29 proved that Roberts was heading in the right direction, which gave way to the pivotal moment of the transfer's season just three weeks later. Newell wasn't even at the NSIC Preview meet on Oct. 20, but watching the web stream he could tell that Roberts' fitness and confidence had both returned. She finished third in that race, and for the first time Newell saw the senior's All-American swagger return.
"But it wasn't even that she was our three, it was just watching her race and you saw this intangible and subjective situation unfolding," he said. "That was definitely the day. I could pinpoint it down to those 22 minutes and say, 'Emily Roberts is back. She's here.' That was an exciting time."
A close runner-up finish to Schuette at regionals only reinforced that the superstar version of Roberts would toe the line at nationals in Pittsburgh. And just like her fitness, Roberts' demeanor had done a 180 in the months since her arrival at U-Mary. The NCAA course at Schenley Park was a muddy wreck with rain beating down on the runners at the start, but Roberts had come too far and overcome too much to let it faze her. Instead, she used it to her advantage.
"It was the first race where I got to the starting line and was excited and not so nervous, you know, like, scared," said Roberts.
"If I look at this in a way with positive and fun when most of my other competitors are going to look at it as hard and cold and wet and just terrible conditions, maybe I can put a positive spin on it."
Roberts was slow to get off the line, but she quickly caught up to race leader Sarah Berger of Grand Valley State, and at halfway when Coach Newell told her to make a move, Roberts knew she was on her way to a great day.
Newell had insisted from the beginning that he believed Roberts could win a national title this season, even when she was at her lowest physically and mentally, and that unwavering confidence had slowly rubbed off on the pupil. It had been less than 90 days since her humbling U-Mary debut, but for Roberts it might as well have been a lifetime. She heard her coach's instructions at the 3K mark and immediately put them to action in her mind.
"I realized, 'Wow, maybe I could make a move. Maybe I could win this thing.'"
Roberts was right up at the front with just 1K to go, stride-for-stride with Adams State's Eilish Flanagan and Berger, two top-10 NCAA finishers from 2017 who were getting all they could handle from an athlete that hadn't run at a national championship in more than two years. Ultimately, Roberts didn't have the speed to hold onto the pair in the final sprint for home, but by crossing in third she had led her team to a runner-up spot and secured the best cross country finish of her career.
Your 2018 Cross Country National Runner-ups!!!
Top 5 are All-Americans; Emily Roberts, Ida Narbuvoll, Jaiden Schuette, Taylor Hestkin, and Bree Erickson!!
Wow!!! pic.twitter.com/zbmGZW3uVL

— UMARY XC/ T&F (@UMaryXCTF) December 1, 2018
Roberts had certainly experienced growing pains in her short time at U-Mary, but her eventual belief in Newell's system, plus the encouragement of her teammates, had allowed her to succeed beyond her wildest imagination. The leap of faith to restart her running career over a thousand miles away from home had paid off, and it all hit her when she saw Newell at the finish line.
"He just knows the whole journey that I've had to go through. Even before these recent injuries, it's just been a very long journey," Roberts said. "Initially coming to U-Mary was a huge risk for me, moving 18 hours away from home."
As tears of joy began to flow down Roberts' face, Newell put into perspective what her accomplishment really meant.
"I think there was some validation for her," he said. "I think everybody kind of wrote her off … I just told her I was really proud of her. I told her it had nothing to do with her getting third. I was proud of her for her behavior, for her character, for her hard work, for being a teammate, for doing everything right up to that moment."