The "Best Of 2018" continues today. This time, we look at the biggest surprises of the year.
5. Dani Jones: NCAA Cross Country Championships
Jones is not new to running fast. She's also not new to national titles. So how is her victory last month in Madison considered an upset?
For starters, she did it at a distance that's at the tail end of her range (or at least what we previously thought was her range). And second, she had to beat an impressive field of women including last year's champion Edna Kurgat, pre-race favorite Weini Kelati and hometown favorite Alicia Monson.
When Jones began reeling Kelati in with 400 meters to go the result seemed inevitable. There wasn't much doubt that the 4:07 1500m runner would kick past Kelati. But the ease with which she closed the race didn't make the overall outcome any less surprising.
4. Courtney Frerichs: Monaco 3000m Steeplechase
It may be hard to classify a world championship silver medalist getting second in a Diamond League race as an upset, so allow me to explain.
Prior to the race in Monaco, Frerichs was 0-11 all-time against fellow American Emma Coburn. The two had finished relatively close to one another in the past, but Coburn was the undisputed top steepler in the United States. And any time someone has that level of success it's a surprise when they lose, even if it is to someone as accomplished as Frerichs.
In this race, Frerichs broke Coburn's American record, running 9:00.85. She finished 16 seconds behind Beatrice Chepkoech, but five seconds ahead of Coburn. At the end of the season, Coburn edged Frerichs in the Diamond League final setting up an interesting 2019 steeplechase season.
3. Ben Flanagan: NCAA Outdoor Championships 10,000m
The late start to his season and his lack of championship hardware made Flanagan a long shot in his final NCAA race. Add in the presence of Matthew Baxter, Tyler Day and Vincent Kiprop, and it was inconceivable that a man with a 29:17 personal best could win the race. But with a powerful final 100 meters, Flanagan kicked past Kiprop to get the victory.
? TOP 5 ALERT ? // Introducing the 2017-18 Moments of the Year… No. 5: Ben Flanagan storms home to win NCAA title in 10,000-meter run. @UMichTrack

MGoBlue Awards » https://t.co/otnsTFL44w #GoBlue pic.twitter.com/bzKed5qmYR

— Michigan Athletics (@UMichAthletics) June 27, 2018
2. Desiree Linden: Boston Marathon
Linden is in the mix in virtually every marathon she runs. That consistency has put her on two Olympic teams and keeps her around late into the race against women with much faster personal bests. It's also what was rewarded the most in the awful weather at April's Boston Marathon. Through the rain, wind and freezing cold, Linden kept going when the mere feat of staying in the race was an accomplishment in and of itself that day.
Her victory was the first by an American woman in the race since 1985 and gave her the biggest win of her career.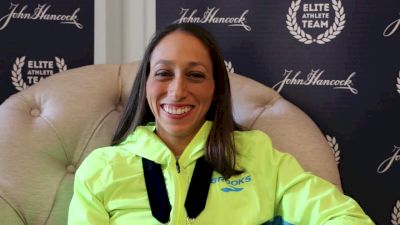 Create a free account to unlock this video!
Get Started
Already a subscriber? Log In
1. Yuki Kawauchi: Boston Marathon
Before the race, Kawauchi's manager, Brent Larner, told him "This is the day you were born for."
Indeed it was. Kawauchi, a volume marathoner with a day job, who was known for his ridiculous racing schedule and racing in panda suits, relished the bad weather.
He made several surges throughout the races, hoping to thin out the field. In the end, he only had one man to pass, Geoffrey Kirui. When Kawauchi went past him with just over a mile remaining, Kirui had no response.