Unlock this article, live events, and more with a subscription!
Get Started
Already a subscriber? Log In
The stakes for the 2020 USATF Indoor Championships were dramatically reduced in the wake of World Indoors being postponed due to the coronavirus. But prize money and bragging rights are incentive enough for the world's fastest man and several top domestic distance runners this weekend in Albuquerque.
Here's a preview of the men's running events at USAs:
Men's 60m
When: 6:13 pm, Friday (First Round); 12:55 pm, Saturday (Sem-Finals); 3:52 pm, Saturday (Finals)
Who: Christian Coleman, Demek Kemp
The entry of world record holder and 2018 60m world champion Christian Coleman is a pleasant surprise as the fastest man in the world has yet to compete in 2020. But his presence pumps a lightning bolt of excitement into a championship sorely in need of revival. This weekend the 2019 100m world champion will return to the track where he set the 6.34 world record two years ago in Albuquerque.
#USATFindoors ends with @__Coleman's 6.34 🌎 record! #MoveOverMo pic.twitter.com/iiNbrgfQl3

— USATF (@usatf) February 19, 2018
Even anticipating a bit of rustiness since Coleman hasn't raced since Doha in October, he enters as the massive favorite. 2018 world indoor bronze medalist Ronnie Baker won Millrose, but he did not declare for USAs. The next logical challenger is defending champion Demek Kemp, who ran a world-leading 6.50 in January. Kemp is good, but Coleman is obviously in a category by himself. He should win easily.
Men's 400m
When: 7:59 pm, Friday (First Round); 2:05 pm, Saturday (Finals)
Who: Tyrell Richard, Brycen Spratling, Gil Roberts, Dontavius Wright
I found myself saying "Who is that guy?" a lot when perusing the men's 400m start list as this event is lacking basically every quarter-miler of consequence in the United States. From the two heat 400m final two years ago in Albuquerque, only Dontavius Wright and Brycen Spratling return, both of whom finished last in their heats in 2018. Wright did win the lightly contested U.S. 300m title in 2019, so perhaps he's the favorite here. Or maybe it's Spratling, who leads the field with a 45.78 best this season.
But my pick is neither of those two, as I'm going with 2019 NCAA indoor 400m champion Tyrell Richard, who owns a 44.82 indoor best (fifth-best in world history). Richard only managed a 47.12 400m in his lone appearance this season, so he's no guarantee, but it's not hard to argue that he's the most talented man in the field.
Men's 800m
When: 7:14 pm, Friday (First Round); 2:33 pm, Saturday (Finals)
Who: Bryce Hoppel, Isaiah Harris, Erik Sowinski
With Donavan Brazier scratching the meet, this is Bryce Hoppel's championship to lose after the 22-year-old just ran a 1:45.70 indoor PB at Millrose. Hoppel is off to a strong start in 2020 after a breakout 2019 campaign culminated in a fourth place finish at Worlds, and he has an edge over Isaiah Harris in Albuquerque after beating him over the weekend.
Hoppel and Harris are the only men in the field who have cracked 1:47 this season, so there's a clear buffer behind them. 2018 world indoor silver medalist Drew Windle has struggled for the last two years and has failed to break 1:50 in two races in 2020. If you're looking for a wildcard, keep an eye on Abraham Alvarado, who ran a 2:18 1k in January and is coming off a breakout 3:37 1500m performance in Boston.
Men's 1500m
When: 3:11 pm, Saturday (Finals)
Who: Craig Engels, Josh Thompson, Clayton Murphy, Sam Prakel, Willy Fink
Even with no world team on the line, this race should be a lot of fun as reigning U.S. 1500m champion Craig Engels battles former Nike Oregon Project teammate Clayton Murphy and Bowerman's Josh Thompson.
Engels and Thompson have each shown excellent mile fitness this winter, as Engels ran 3:56 at BU in late January and Thompson 3:37 for 1500m on Feb. 1, also at BU. Engels has an experience and speed edge over Thompson having made the world championship final last fall and owning faster PBs, but the 27-year-old Bowerman runner ended last season on fire and he was only .32 seconds behind Engels at USAs last July.
Craig Engels' 3:56 mile from January: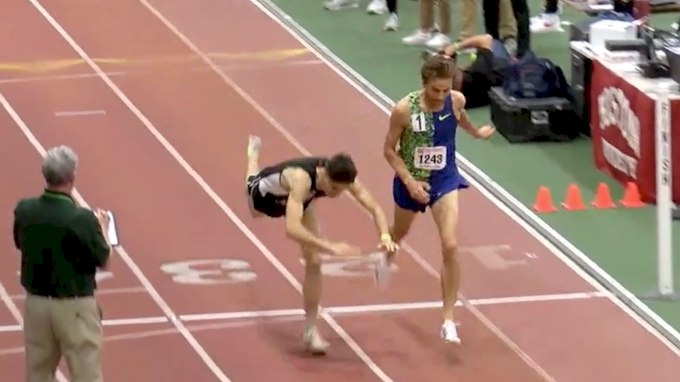 Unlock this video, live events, and more with a subscription!
Get Started
Already a subscriber? Log In
Murphy enters Albuquerque a tier below the aforementioned milers simply because he has yet to crack four minutes across two mile races this season. But the 2016 800m Olympic bronze medalist appears to be quickly gaining momentum.
Murphy, who returned to his college coach Lee LeBadie in the wake of Alberto Salazar's suspension, had a rough season opener at the New Balance Grand Prix on Jan. 26 in running 4:03, but his two races last weekend at the Camel City Invitational were much more encouraging. The 24-year-old won the 800m in 1:47.59 before coming back an hour later to run 4:00.48 in the mile. In the 800m, he beat Engels by over a second.
A sleeper to watch is Willy Fink, who won the Camel City mile last Saturday over Edward Cheserek and Murphy. Fink won't be fresh for the 1500m as he's running the 3k on Friday night, but a 7:44 3,000m earlier this month and the defeat of King Ches indicates that the 25-year-old should be taken seriously.
Men's 3,000m
When: 8:45 pm, Friday (Finals)
Who: Paul Chelimo, Willy Fink, Anthony Rotich, Hillary Bor, Ryan Hill
Any U.S. championship with Paul Chelimo in it is guaranteed to be a good time, and he'll face a decent field as he returns to Albuquerque two years removed from sweeping the 3k and 1500m in 2018.
The two-time global medalist is the logical pick here, but 2016 world indoor silver medalist Ryan Hill, Willy Fink and Hillary Bor should at least make Chelimo work for it. Hill has raced sparingly in the last year due to injury, but you can't ignore a guy who owns a 7:34 PB (and 7:30 outdoors).
As mentioned above, Fink just beat Edward Cheserek in Winston-Salem, so his wheels can play. And two U.S. Army guys, Hillary Bor and Anthony Rotich, are wildcards not to be forgotten. Bor just ran 7:48 at Millrose, while Rotich has been steadily rising in the wake of a pair of national titles-- the U.S. road 5k and U.S. cross country-- over the last few months.
Willy Fink owns the fastest 3k by an American this season: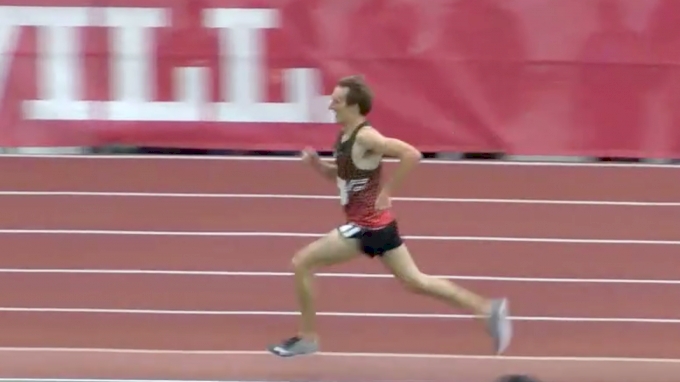 Unlock this video, live events, and more with a subscription!
Get Started
Already a subscriber? Log In
60m Hurdles
When: 5:31 pm, Friday (First Round); 12:25 pm, Saturday (Semi-Finals); 3:33 pm, Saturday (Finals)
Who: Jarrett Eaton, Daniel Roberts
The men's 60m hurdles is set up to be a two-way duel between 2018 world indoor silver medalist Jarrett Eaton and 7.41 man Daniel Roberts. Fresh off season bests for both last week-- Eaton ran 7.54 in Poland, Roberts 7.64 at Millrose-- this is a match up of two elite hurdlers rounding into form.