Videos, results and live streaming information from the 2011 Chicago Marathon. The race will be held on Sunday, October 9, 2011. The 2011 Chicago Marathon will feature America's best marathoner, Ryan Hall, who will run the race for the first time. He was scheduled to compete a year ago but withdrew due to fatigue. Since then Hall went on the run the fastest marathon in US history at the 2011 Boston Marathon when he dropped a 2:04:58. This will be his last marathon before the US Olympic Trials that will be held in Houston in January of 2012.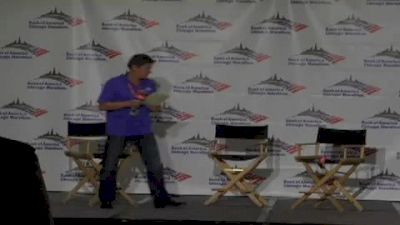 Ejegayehu Dibaba after marathon debut at Chicago Marathon 2011
Oct 12, 2011
Ejegayehu Dibaba discusses her race in the press conference after making her marathon debut at the 2011 Chicago Marathon.