Men's 800 H01 (Invite - Solomon #1 in the World 1:43)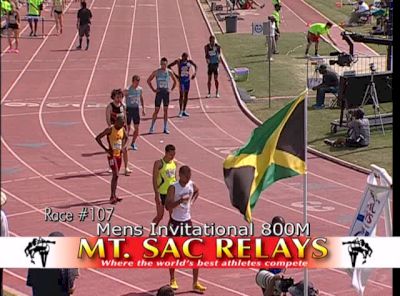 Watch the 2017 Mt. SAC Relays presented by Brooks, LIVE on April 13-15th!


How To Watch The 2017 Mt. SAC Relays
ON TV:
Now available on Roku and Apple TV 4 -- download the FloSports app today!
STREAMING
: Available only on FloTrack.
SIGN UP HERE
A yearly FloPRO subscription provides access to ALL FloSports sites.
LIVE EVENT SCHEDULE | ORIGINAL DOCUMENTARIES | WORLD CLASS TRAINING VIDEOS
Join The Conversation On Social
• Follow us on Twitter
@FloTrack
• Follow us on Instagram
@FloTrack_TrackIsBack
• Follow us on
Facebook



Archived Competition Footage
Video footage from the competition will be archived and stored in a video library for FloPRO subscribers to watch for the duration of their subscription.
---
Courtesy of Flash Results, Inc. 1 Duane Solomon Saucony 1:43.88$ 1 2 Erik Sowinski Nike 1:44.58$ 1 3 Wesley Vasquez Puerto Rico 1:44.64$ 1 4 Brandon McBride Miss State 1:45.35 1 5 edward kemboi Iowa State 1:46.14 1 6 Charles Grethen Georgia 1:47.67 2 7 James Gilreath Adidas Team Green 1:47.67 2 8 Felix Kitur Santa Monica TC 1:47.68 1 9 Prince Mumba Santa Monica TC 1:48.14 1 10 Julius Mutekanga CPTC New Balance 1:48.39 2 11 Anthony Romaniw Speed River 1:48.40 1 12 tetlo emmen Brooks 1:48.73 1 13 Nick Hartle U C Los Angeles 1:49.04 2 14 David Mokone Western Kentucky 1:49.08 2 15 Mark Husted Brooks 1:50.54 2 16 Chris Bilbrew Adidas Team Green 1:51.18 2 17 Richard Jones Unattached 1:52.88 2 -- Dustin Emrani CPTC New Balance DNF 2 -- Masato Yokota Japan DNF 2