Workout Wednesday: Gwen Jorgensen Run-Bike-Run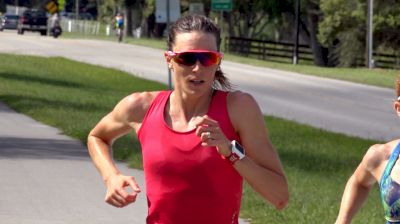 Unlock this video, live events, and more with a subscription!
Get Started
Already a subscriber? Log In
On Sunday, November 6, Gwen Jorgensen will be making her marathon debut in New York City. For the Olympic triathlon gold medalist, it will be the longest run of her life by over ten miles. FloTrack was in Clermont, Florida in mid-September while Gwen was still in heavy triathlon training. The week before the ITU World Triathlon Championships in Cozumel, Mexico, we caught this workout. She started on Friday morning with a swim workout and we started filming on Friday afternoon during a tempo run in 96 degree weather.
4:00 PM Friday: 12K tempo run. 1K splits: 4:45, 4:23, 4:16, 4:03, 4:13, 4:05, 3:53, 3:51, 3:39, 3:38, 3:40, 3:26.
9:00 AM Saturday: Hour of Power bike ride. 4 minutes rolling turns, 1 minute off/easy for 45 minutes, then 15 minutes rolling turns all out.
Immediately after: 20 minute run with 20 pieces of excellence. 5:00 as 15sec sprint/45 float (avg for the 5 min was 3:56), then 5:00 w/ 30 sec sprint/30 sec float (average was 3:44), then repeat. Average 1000s on next two 5:00 splits were 3:50 and 3:38.