Women's 800m Invite, Heat 1 - Raevyn Rogers runs 1:59, new NCAA record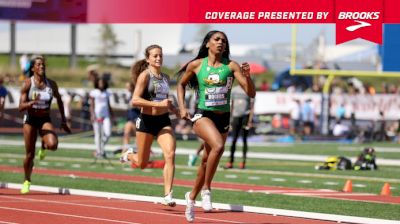 The Oregon women will leave the Mt. SAC Relays with at least two new collegiate records. Less than two hours after their women broke the 4x100 NCAA record, Raevyn Rogers won the women's 800m in 1:59.10, breaking a 27-year-old collegiate record by a hundredth of a second. Rogers is in serious company now. The NCAA record that she broke was set by the legendary Suzy Favor-Hamilton in 1990. And the field that she beat contained 2016 Olympian Chrishuna Williams and stud pros Laura Roesler, Chanelle Price, and Kendra Chambers.

Her teammate Brooke Feldmeier paced the field through 600 meters, hitting 400m in 58-mid and 600 in roughly 1:28. Rogers took over not long after that, and though Roesler challenged her in the last 100 from the inside, the win was never in doubt. The next frontier for Rogers, just a junior, will be becoming the fastest collegian in-season or out. Phoebe Wright ran 1:58.22 at the Pre Classic a week after NCAAs her senior year.