Event Hub
Preview: The Boys' Foot Locker Championship
In cross country, nothing is guaranteed. As we saw at NXN, when the gun goes off, running resumes are tossed in the shredder. It's all about man versus man.

That brings us to an appropriate story found towards the end of the novel The House of Leaves.

There once was this guy who went to Madrid. He was in the mood for something new so he decided to try out this small restaurant and order - sight unseen - the house specialty.

Soon a plate arrived loaded with rice pilaf and two large meaty objects.

"What's this?" he asked the waiter.
"Cojones, Senor."
"What are cojones?"
"Cojones," the waiter answered, "are the testicles of the bull that lost in the arena today."

Though a little hestitant at first, the man still went ahead and tried them. Sure enough they were delicious.

Well a week later, he goes back to the same restaurant and orders the same thing. This time, when his dish arrives, the meaty objects are much smaller and don't taste nearly as good.

He immediately calls the waiter over.
"Hey," he says. "What are these?"
"Cojones," the waiter replied.
"No, no," he explains. "I had them last week and they were much bigger."
"Ah Senor," the waiter sighs. "The bull does not lose every time."


Edward Cheserek is the favorite, but it doesn't mean that his name is already engraved on the trophy. With that story of foreign delicacy and competition, we bring you our top ten for the boy's Foot Locker championship race.

---

1) Edward Cheserek
St. Benedict's Prep, NJ - Northeast
2011 Foot Locker finish - 1st

The defending champion is the heavy favorite this year. Although his season was delayed for academic purposes, he's still ready to roll.

How much did the time away from competition hurt King Cheserek? Not at all.

2012 cross country highlights

| | | |
| --- | --- | --- |
| Race | Place | Time |
| Foot Locker Northeast Regional | 1 | 15:21.80 |
| NJISAA Prep Championships | 1 | 14:42.84 |
| Essex County Championship | 1 | 14:18.70 |
| Reebok Manhattan HS Invitational | 1 | 11:58.70 |
---

2) Sean McGorty
Chantilly High School, VA - South
2011 Foot Locker finish - 10th

If anyone is going to deny Cheserek his second cross country national title, it's going to be McGorty. He told Flotrack that he wants to finish in the top five and "going into the race, I just want to run my race and I will see what position that puts me in and then react from there."

He's humble, but we think that there are bigger things in store for the senior from Virginia.

Earlier this week, we asked five quick questions about his season. You can read them here.

2012 cross country highlights
| | | |
| --- | --- | --- |
| Race | Place | Time |
| Foot Locker South | 1 | 14:28 |
| Virginia State XC Championships | 1 | 14:47 |
| Great American XC Festival  | 1 | 14:43.60 |
---

3) Jake Leingang
Bismarck High School, ND - Midwest
2011 Foot Locker finish - 4th

It wasn't quite Leingang style for the Bismarck HS senior, but he's resilient. At NXN, he looked good for the first mile and then succumbed to the mud and finished in 59th. After his race, he told Flotrack that his "legs just felt heavy" and he wouldn't find any rhythm in Portland.

If he cleans up, recovers, and can match his Foot Locker race from last year, he'll be in the mix.

2012 cross country highlights
| | | |
| --- | --- | --- |
| Race | Place | Time |
| Nike Cross Nationals | 59 | 18:14 |
| Foot Locker Midwest  | 1 | 14:56 |
| NXN Heartland | 1 | 15:16 |
| North Dakoka State XC Championships  | 1 | 15:09 |
---
4) Sam Wharton
Tippecanoe High School, OH - Midwest
2011 Foot Locker finish - N/A

He's quietly made his way to the top, but now it's no secret. Wharton may have surprised some at NXN (we had him finishing 7th), but he managed to secure the biggest win of his running career in Portland.

"Quiet" doesn't necessarily mean overlooked. Wharton has been purposefully flying under the radar this season in preparation for his NXN / Foot Locker double. He sat out some early season meets to make sure that he was well-rested for two national championship races and it looks like it's paying off in spades.

Originally, we had a short bio of the senior from Tippecanoe HS in Ohio, but that didn't tell the full story. Check back later today with our interview with your 2012 NXN champion, Sam Wharton.

2012 cross country highlights
| | | |
| --- | --- | --- |
| Race | Place | Time |
| Nike Cross Nationals | 1 | 17:06 |
| Foot Locker Midwest | 2 | 14:56 |
| NXN Midwest | 2 | 15:32 |
| Ohio State XC Championships | 1 | 15:09 |
---

5) Andrew Gardner
Mead Senior High School, WA - West
2011 Foot Locker finish - 6th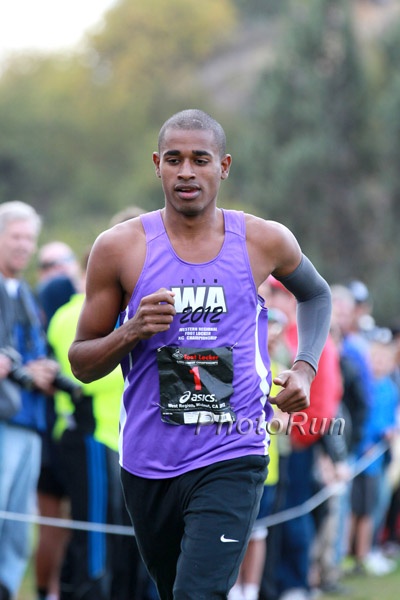 He's the Allen Iverson of cross country.

It wouldn't be a worthy Foot Locker preview without one dark horse pick. That title goes to the senior from Mead HS, Andrew Gardner.

This season, Gardner has run fast when he it was necessary. He won the Washington State Class 4A title in 15:02, which was the fastest time of the day.

Gardner chose to once again compete at Foot Locker and most recently placed 4th at the FL West Regional in 15:41. If he finished fifth at the regional championship, why is he predicted to finish fourth at nationals?

That's because similar circumstances happened last year. In 2011, Gardner took fourth at the regional meet and then sixth at nationals. If anyone knows how to conserve energy in the preliminary rounds, it's the 4:10 miler.

Inside sources have said that he's been crushing 800m repeats in the Washington rain, but we'll find out if the rumors are true on Saturday.

2012 cross country highlights
| | | |
| --- | --- | --- |
| Race | Place | Time |
| Foot Locker West | 6 | 15:42 |
| Washington State XC Championships | 1 | 15:02 |
| adidas XC Classic  | 1 | 14:45 |
---

6) Ben Saarel
Park City High School, UT - West
2011 Foot Locker finish - N/A

His win at Foot Locker West vaulted the senior from Park City, UT to third in the milesplit.com rankings.

Saarel has had to regroup from the Utah State XC Championships, which were held when every other cross country runner was gearing up for big invitationals in mid-October.

Since then, he's placed second at NXN Southwest (declined to go to NXN) and first the Foot Locker West.

Last spring, he won the "B" heat of the 3200m at the Arcadia Invitational in 9:01.46. It's finally time for Saarel to step it up to the elite section.

2012 cross country highlights
| | | |
| --- | --- | --- |
| Race | Place | Time |
| Foot Locker West | 2 | 15:28 |
| NXN Southwest  | 2 | 14:52 |
| UT State XC Championships  | 1 | 14:56 |
---

7) Jonathan Green
Saint John's High School - Northeast
2011 Foot Locker finish - 22nd

Green has made big strides this season. The 22nd place finisher from the 2011 Foot Locker Championships "only" ran 9:25 outdoors, but is coming into form at perfect time this fall.

Most recently, Green took first at the Massachusetts State Meet in 15:29 and followed that up with a second place finish at Foot Locker NE in 15:36.

2012 cross country highlights

| | | |
| --- | --- | --- |
| Race | Place | Time |
| Foot Locker Northeast  | 2 | 15:36 |
| MIAA All State Finals  | 1 | 15:29 |
---

8) Joshua Brickell
Peachtree Ridge High School - South
2011 Foot Locker finish - 8th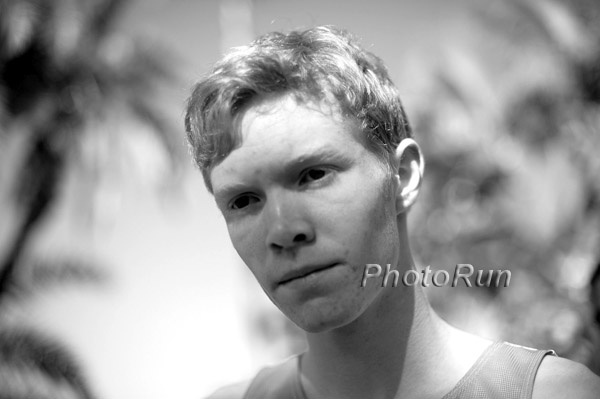 This might be the last chance we'll get to use this photo gallery.

Much like Gardner, Brickell has the experience to be a threat in San Diego. Last year, he took fifth at Foot Locker South and then went onto finish eighth at nationals. Not a bad improvement.

He's had a few defeats this season, but two of them came from Sean McGorty and one from another top ten contender, Jacob Thomson. He took third to the pair at the Great American XC Festival, but that was back in late September. He finished runner-up to McGorty at Foot Locker South, but again, there's nothing wrong with taking second to someone who has a shot to win the national championship.

2012 cross country highlights
| | | |
| --- | --- | --- |
| Race | Place | Time |
| Foot Locker South Regional | 2 | 14:49 |
| Georgia XC State Championships | 1 | 15:55 |
| Great American XC Festival | 3 | 14:57 |
---

9) Jacob Thomson
Holy Cross HS - South
2011 Foot Locker finish - 19th

Speaking of which, Thomson is another character that we think has been playing his cards close to the vest.

He went stride for stride with McGorty in one of the best duels of the season at Great American. Since then, his big highlights include a first place finish at the Kentucky State XC Championships in 15:21 and a fourth place finish at Foot Locker South in 14:58.

He hasn't been necessarily crushing the competition, so why do we think that he's due for a big race? When you're the New Balance Outdoor National 5k runner-up in 14:34, we think that you'll save your best race when it counts.

2012 cross country highlights

| | | |
| --- | --- | --- |
| Race | Place | Time |
| Foot Locker South | 4 | 14:58 |
| Kentucky XC State Championships | 1 | 15:21 |
| Great American XC Festival | 2 | 14:43 |
---

10) Troy Fraley
Glacier High School - West
2011 Foot Locker finish - N/A

It was tough to finally select our last pick, but Fraley prevailed.

When he finished third at the Montana State XC Championships to Zach Perrin and Adam Peterman, we thought it would tough for the senior from Kalispell, MT to get a golden ticket to Balboa Park.

That's why he's a prime example of how one race cannot define you. Fraley bounced back to finish second at Foot Locker West, ahead of fellow Montanans Perrin (8th) and Peterman (23rd).

Who would have thought that Montana would send more runners to Foot Locker than Californians? The Treasure State is filled with hidden running gold.

2012 cross country highlights

| | | |
| --- | --- | --- |
| Race | Place | Time |
| Foot Locker West | 2 | 15:37 |
| Montana State XC Championships | 3 | 15:25 |
| Mountain West Classic | 3 | 14:45 |
---

Honorable Mention, or the Guys Who we Didn't Forget About

Shawn Wilson
Cherokee High School - Northeast
2011 Foot Locker finish - N/A

Third at Foot Locker Northeast; has run 9:14

John Lawson
Sir Francis Drake HS - West
2011 Foot Locker finish - N/A

Third at Foot Locker West; 9:12 for 3200m

Aaron Templeton
Hardin Valley Academy - South
2011 Foot Locker finish - N/A

Third at Foot Locker South

Robert Domanic
Lewisville Hebron HS - South
2011 Foot Locker finish - 20th

5th at NXN; 5th at Foot Locker South. Another dark horse pick.

Nicholas Raymond
Eris Mason HS - Midwest
2011 Foot Locker finish - N/A

Third at Foot Locker Midwest