Event Hub
Twas the morning of Christmas and it was time for some fun...
Twas the morning of Christmas and it was time for some fun,
All the gifts were unwrapped, now you could go for a run.
The family shouted, "Where are you going?"
"I can't miss my run," you said, "there's no time for slowing!"

Before you left home, there was already delight,
Santa had brought you a new pair of cold weather tights.
That wasn't the only present that Ol' Saint Nick delivered for the year,
He gifted more new stuff, who doesn't like sweet gear?

You strapped on the Garmin, your route would be mapped,
And you donned an Under Armor hat so your head would be wrapped.
The new shoes were left behind, those would be for later,
Mom listed closely when you said, "I'm a pronator."

As you took to the streets, your body did warm,
Muscles started to loosen up as you came into form.
Your stride slowly lengthened, your cadence increased,
There had to be room for the family Christmas feast.

And as you smirked when thinking about the holiday cheer,
You couldn't help but ask, "What was I doing last year?"
This self-reflection helped you find your groove,
"How hard have I worked and did I improve?"

There may have been personal bests, records were broken,
"They'll speak our names in hushed tones," were words once spoken.
Or maybe your goal was to simply to stay injury free,
All of that PT work and stretching was good for the knee.

Or perhaps there were times of disappointment and sadness,
But hey this is running - it's all full of madness.
So we look to brighter moments, future or past,
There were too many performances that thankfully happened too fast.

Like Millrose and nationals, guys running doubles,
Waiting until the last day due to the qualifying bubbles.
The Oregon women, the Florida men,
There were so many relays, what is this, Penn?

Outdoors was nothing short of an exhausting season,
When it's an Olympic year, well that's the main reason.
Even before the Trials, there were championship meets,
Jaw-dropping finishes that emptied all seats.

Lest we not forget this past fall,
New course records and faces, champions above all.
Baxter, Saina, Kithuka, Cheserek,
Harriers in Portland, it sure was a trek.

We tried to name everything, but a poem does not suffice,
That's what our "Best Of" list is for, this is too concise.
And that's the real purpose for this holiday rhyme,
We here at Flotrack want to thank you for your time.

We would not exist without your support,
And without knowing it, you contribute so much to our sport.
Running is beautiful and should have more press,
That means improving live streams, which are kind of a mess.

Our goal is to promote the sport of track and field,
With articles and videos, the media we wield.
We want to create superstars and make our athletes more than a name,
"You once saw Bernard Lagat run?" younger generations will exclaim.

But we can't do it alone, it's too much to bear,
That's where you come in; our community, our prayer.
We want to thank you for all that you've done,
Whether it's content, comments, or simply because you run.

So before you go home to break in that new shoe,
From the bottom of our hearts, we want to thank you.
Head back at once and hold your loved ones near,
And let 2013 be an excellent year.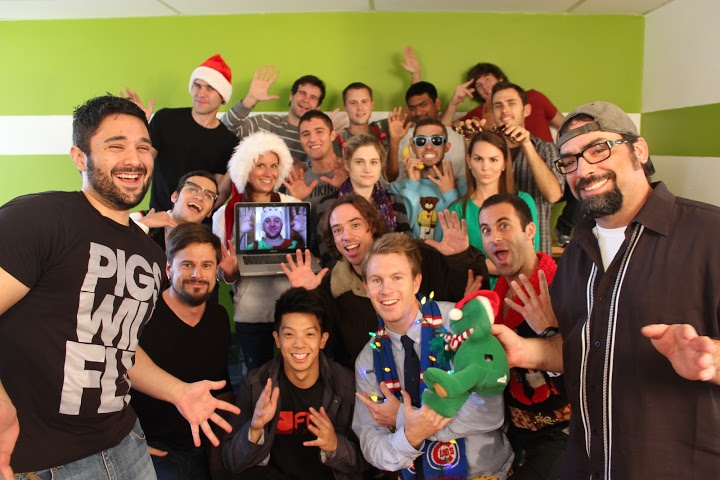 Happy holidays from Flotrack, Flowrestling, Gymnastike, Cycling Dirt, and the whole Flocasts team.