Event Hub
Flying Under the Radar: Eric Jenkins
Interview with Northeastern University's Eric Jenkins

This interview took place between BU Terrier and the Husky Classic. After running 3:58.11 at BU, we had a feeling that Jenkins was ready for something special. Last weekend, his 47-second PR of 7:50.44 was good for 4th at the Dempsey.



Eric Jenkins may not be the most well-known sub-4 miler in the NCAA system right now, but he is a New Hampshire native with strong potential who is looking to put himself, alongside Northeastern University on the map this season.

Coming out of high school with a mile PR of 4:15, Eric broke 4 during his sophomore year at the Boston University Valentine Invitational.  If you missed the race, he ran in the mile at the BU Terrier Meet with Rupp and set a 'PR' in the process.


 Photo: Colonial Athletic Association

What were your times freshmen year of college?

My freshmen year I ran 4:06 for the mile, which was a big breakthrough for me and outdoor at Stanford I ran a pretty good 5k, 14:09.  I actually made it to NCAAs my freshmen year, but got smoked in the first round, but I was still happy with that year.

Did you expect to break 4 minutes during your sophomore year?

Once I ran 4:06, I knew it was in range to crack that mark and I actually broke 4 minutes twice that season.  The weekend before the Valentine meet I ran 4:02, so I knew it was right there and it was time to just get faster and faster.  After breaking it the first time I tried chasing a faster time to qualify for nationals, but it was hard to make it and I didn't qualify last indoor, which was disappointing after just missing it each time.

How did your outdoor season follow up from that?

At the beginning of outdoor, I suffered a major injury that set me back and I ended up red-shirting my season sophomore year. 

You were in the mile at the BU Terrier Meet with Rupp. How was that since it was pretty much two races in one?

Yeah, it was immediately two races, Rupp and the pacers and myself with [Riley] Masters and the rest of the guys.  Even in videos of the race, it's hard to even see us in the race since they were so far ahead (laughs).

But overall, it was a good race; it's exciting to do those types of races.  We were supposed to go through the 800m mark at 1:56, we went through in 1:58, so a bit slow and that third quarter I took the lead and tried to push it to make sure that I would run faster than I have in the past and to make sure that I get the time to run at nationals. I've run at BU plenty of times, but the crowd was insane. It was so loud in there and it was definitely a great race to be in.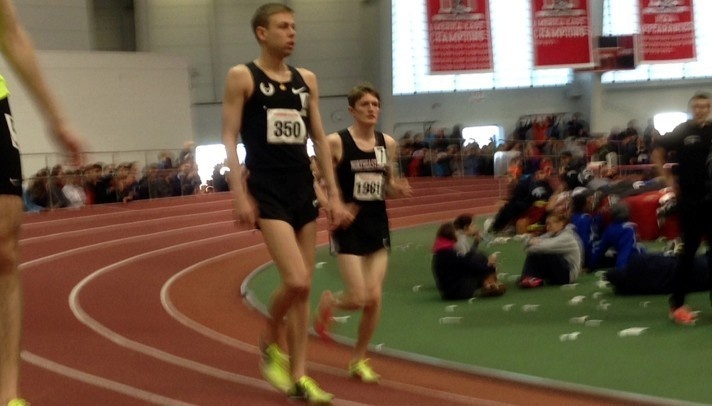 Photo: Northeastern Athletics, gonu.com

After that race, you were 2nd in the country in the mile.  Will you race another fast one before NCAA's?

To be honest, I wasn't planning on racing a mile that early in the season, but after my coach mentioned to me that Rupp would be there and it's going to be fast, I entered. I was going to treat it more as a workout and not focus too much on it because I wanted an early season 3k time in Seattle, but it worked out in a good way.  I will probably look to get into another mile before NCAAs to see where I'm at when I'll be in better shape. That'd be a lot of fun.

What is your season ending goal?

The ultimate goal would really be a NCAA championship, which is tough right now. I definitely do see it as a possibility, but I also have to decide which I'd enter: either the mile or 3k.  I hope to get a fast 3k in before then too.

Note: Jenkins ran 7:50.44 at the Husky Classic, which was good for third.

Some questions from the fans on Twitter… What is your favorite fruit?

Watermelon. I really love watermelons.

Is it true that blondes really do have more fun?

Definitely. I'm going to have to say that is true, yeah.

About your training, what's your mileage like, what types of workouts do you do and do you go in the weight room at all?

Yeah. We do some weight training around twice a week. My mileage is probably around the high 80s and I've been building up every year. Now it's the highest that it's ever been and I feel much stronger when it's up higher.

Is there a cross-town rivalry forming with Rich Peters of BU?

(Laughing) I don't think so; not now at least. He's a nice guy.

Do you have a "go to" workout that you love or a training secret that's gotten you to where you are now?

I'd say that long runs have been very important, being that in high school I never really did a long run.  Our longest run in high school was maybe 5 miles and I think it's an important aspect and I'd say that it has helped me out the most.
@flotrack This is how #Northeastern celebrates Eric Jenkins' recent accomplishments on the track youtube.com/watch?v=fnhjLy…

-- Anthony Gentles (@Gentles23) February 11, 2013