Event Hub
Twenty-Nine Years Later, Team USA Takes Silver
It's been twelve years since the medal stand and twenty-nine years since second place. The United States men's senior team showed their true colors as the red and blue grinded away on snow white World Cross Country Championships course to come away with silver.

A gutsy and tactically sound performance from the Americans lead to their first team silver medal since 1984.

They Ran Like They Belonged There

It's been a while since the U.S. had two in the top ten. Back in 1986, Pat Porter and John Easker lead the way the States when they finished 6th and 10th, respectively. There would be a very similar role reprisal this morning in Poland, but not totally identical.

Back in '86, the U.S. took third. In '13, they were second.

Playing the role of Porter and Easker was Ben True and Chris Derrick. The two, plus Australia's Collis Birmingham, broke up the East African contingent at the front.

For the first half of the race, Derrick would lead the charge for Team USA. Letsrun had his position for first three 1950m laps at 15th, 10th, and 8th overall.  By the fourth lap, the man who was most comfortable with the conditions took the reigns.

True is all too familiar with racing on snow as he was an all-American cross-country skier while at Dartmouth. He told Letsrun that if the race was on skis, he'd have a good shot at winning. He wasn't that far from the front in racing spikes.



Side note #1: Dartmouth athletes and cross country have been a good combination this year - True (class of 2009), Alexi Pappas (2012), and Abbey D'Agostino (2014).

True hung back for the first lap (25th overall), but then moved up to 14th, 11th, and eventually 8th by the fourth lap. From there on out, he would jump into 6th and stay there until the finish.

It was a big day for True for a number of reasons.

He was 5th at USAs. Take a giant leap in competition and he was 6th.

He knew the race was intimidating. Earlier this week, True told Peter Gambaccini of Runner's World that the 2011 race was an "all-out sprint from the start." While he may have went out hard and faded two years ago, he went out hard and closed well in 2013.

The last time he raced World XC, he was the top American in 35th. Today, only one American finished lower (James Strang - 37th)

The top 15 finishers are all granted the IAAF "A" standard for the 10000m. It's a great break for True as he had run 27:41 last year, but the standard was lowered to 27:40. Now if he finishes in the top three at the Trials, he gets to wear a Team USA jersey again this year. Last spring, he was 6th in the 5k and 12th in the 10k. Definitely not out of the question.
On his fourth lap, Derrick would slip to 8th before moving up to 9th on his penultimate lap and then finishing 10th overall. Ported and Easker, redux.

The pair of Americans deserved to be among the top ten. Though it may seem out of the ordinary to see Team USA up front, it makes sense on paper. Historical misconceptions are a thing of the past, literally.

Below are some of the personal bests from the top ten finishers:


| | | |
| --- | --- | --- |
| Name | Event | Time |
| Japhet Korir | 5000m | 13:11.44 |
| Imane Merga | 10000m | 26:48.35 |
| Teklemariam Medhin | 5000m | 13:04.55 |
| Moses Kipsiro | 5000m | 12:50.72 |
| Timothy Toroitich (big run) | 3000mst | 8:23.61 |
| Ben True | 10000m | 27:41.17 |
| Goitom Kifle | 5000m | 13:22.92 |
| Collis Birmingham | 5000m | 13:09.57 |
| Feyisa Lilesa* | 13.1M | 59:22 |
| Chris Derrick | 5000m | 13:12.00 |
*Track PRs are from '08

But this historic day couldn't have happened without the other half of Team USA. 

Side Note #2: The Nike, Stanford, and Portland guys were all incredible consistent. Okay, all three qualifiers only apply to two guys, but it's still cool. Derrick's race position only moved seven spots (he was 15th after the first lap and 8th on the third) and Elliot Heath only moved three spots the whole race (30th, 30th, 28th, 30th, 27th, and 30th).

Elliot Heath would be the top American for the first three laps until he was passed by Ryan Vail and Bobby Mack. Starting a long way back, Mack was 52nd after the first loop while Vail was 62nd. The two made their way through the field until they caught Heath on the fourth loop. The pair didn't stop there as they continued to pass more runners until the finish.

Vail would take 17th and Mack would finish 19th. Elliot Heath would finish 30th and the last minute addition, James Strang, moved up from 61st to to 37th overall to round out Team USA.

Full Lap Splits for Team USA here.

When Was The Last Time This Happened?

After all initial excitement died down, this was the first question that was asked by the masses. While Team USA's silver medal is not unprecedented, it certainly carries more weight in the modern era for two reasons.

1) The U.S. hasn't been this good in decades. Except for their bronze medal finish in 2001, Team USA, along with American distance running in general, has been in the dark ages. This is yet another excellent example that we're living in a distance running renaissance right now.

The U.S. has been on the podium eight times at the World XC Championships. The full results from those years are linked below.

| | | |
| --- | --- | --- |
| Year | Team USA | Top Finisher |
| 2001 | 3rd | Bob Kennedy - 12th |
| 1986 | 3rd | Pat Porter - 6th |
| 1985 | 3rd | Bruce Bickford - 10th |
| 1984 | 2nd | Pat Porter - 4th |
| 1983 | 2nd | Alberto Salazar - 4th |
| 1981 | 2nd | Craig Virgin - 1st |
| 1980 | 2nd | Craig Virgin - 1st |
| 1978 | 2nd | Guy Arbogast - 5th |
Note: Kenya did not compete at World XC until 1981, where they took 3rd.


2) To take second place at World Cross, the U.S. would have to beat one of the two East African distance running powerhouses, Ethiopia or Kenya. 

With the importance the two place on the event (and with the unimportance the U.S. has for it), it takes a lot to get silver. Team USA just edged out Kenya 52 to 54 thanks to brave running and a small break. Kenya's Jonathan Ndiku, who was near the front for the opening stages of the race, DNF'd. With PRs of 8:07.75, 13:11.99 and 27:37.72, he would have been a threat to push the U.S. back to bronze.

If we're on the subject of hypotheticals, why not dream big. Could the U.S. have challenged for gold? Ethiopia won the team title with only 38 points, so the U.S. would have had to make up 15 points somewhere.

That somewhere could have likely been from the two who didn't choose / couldn't run World Cross, Dathan Ritzenhein and Matt Tegenkamp. Ritz instead chose to run the NYC Half (61:10 for 3rd) while Teg was pulled out with a hip injury.

How much of an impact would either of them had today?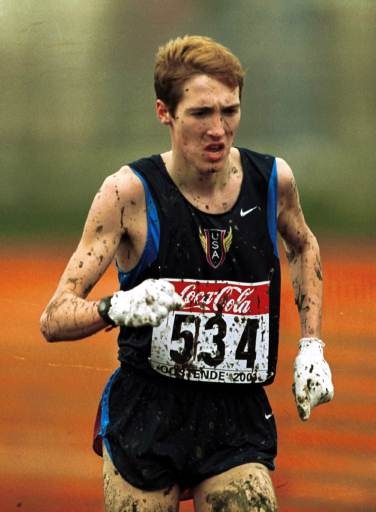 A man can dream.
Photo: IAAF.org

At the US XC Champs, Ritz took 2nd while Teg finished in 3rd. Though those finishes didn't mimic today's results, one couldn't help but wonder if the two had toed the line in Poland.

Even if they did, it probably wouldn't have been enough. Ritz was 16-seconds back from Derrick at the USA Champs and if he finished lets say in 13th today, the U.S. still would have been 2nd as ETH would have scored 40 points and the U.S. 46.

Also, Teg finished right 1-second in front of Heath, True, and Vail, so his predicted impact wouldn't had been enough either.

The U.S. would have needed a low stick to balance out Imane Merga's (Ethiopia) 2nd place finish.

Galen Rupp, perhaps? Or maybe an inspired Ritz, who finished 3rd in the 2001 junior race.

Edit: Wrote 3rd in the draft and changed it to 4th for some reason. Thanks for the catch.

It's crazy that we're even having these dreams of a gold medal at World Cross. In year's past, the goal was to make the medal stand. Now we've finally done it.

Odds and Interests

The top finishers in the men's senior and junior race, Ben True and Matt McClintock, both hail from the great state of Maine. This is here before I hear it from Mainer Ryan Fenton later.

The winner of the men's senior race, Japhet Korir, has had an interesting journey.
Two weeks ago Japhet Korir was waiting for a bus to Eldoret as he was dropped from the team. He was called back and now he is the WXC Champ

-- Michel Boeting (@one4onesports) March 24, 2013
@flotrack but I can imagine that it was the best that ever happened to him: proof a point!

-- Michel Boeting (@one4onesports) March 24, 2013
There's definitely a Wetmore factor when it comes to cross country. This fall, CU's Carrie Verdon was 37th at Pre-Nationals, 16th at Pac-12s, 7th at the Mountain Regional, and 136th at NCAAs. She was 20th in the world today. This kind of "hit the ground running" attitude reminds us of another Colorado freshman, Allie McLaughlin. Hopefully we'll see the pair run together soon.

True wasn't the only fifth place finisher from USA Champs to lead the way today. Neely Spence Gracey ran an incredible race to finish 13th overall. Maybe it was this week's Workout Wednesday?

Oddly enough, World Cross used to score the top six runners. Now, it's just four. I say "odd" because neither system is the traditional "top five" we see in U.S.


We'll have more in-depth analysis and reactions from World Cross later this week before we finally turn our attention to outdoor track. From the snowy conditions of Bydgoszcz, Poland to the always sunny Palo Alto, California, the Stanford Invitational is THIS WEEKEND
?! That really crept up on us.