Event Hub
Lessons from the Stockholm DL Meeting
Jonathan Gault is a former distance runner from Dartmouth who loves sports, trivia, and can't grow facial hair. We came across his blog, The Big Game, a few days ago and liked it so much that we asked him to write for Flotrack. Below are his excellent thoughts and analysis on the Stockholm DL Meeting. Feel free to give him a follow on Twitter, too.
---

With 13 gold medalists from last week's World Championships competing in Thursday's DN Galan Diamond League meet in Stockholm, one of the biggest storylines was how those champions would fare with such a quick turnaround between competitions. After reviewing the results, one thing is clear: those athletes are world champions for a reason.

Nine of the 13 gold medalists were able to come back and win in Stockholm, and two of those athletes (Kenya's Eunice Sum and Sweden's Abeba Aregawi) were running the same event, the 800m. Germany's Christina Obergfoll was beaten in the javelin but still managed to get third. The other two world champs to lose in Stockholm were both Kenyans in men's distance events, as Asbel Kiprop finished a well-beaten sixth in the 1500m and Ezekiel Kemboi DNF'ed in the 3000m steeplechase after he was a late addition to the field.

We'll get to why Kiprop lost in a minute, but first, let's look at the final -- and most interesting -- event of the meet, the women's 800m.

Women's 800m
Race Video

The field for the race was one of the meet's best, with five of the top six from Moscow, plus 1500m champion and local favorite Abeba Aregawi. The field also included all three Americans from Moscow: Brenda Martinez, Alysia Montano and Ajee Wilson.

The race went as planned through 400 meters, with Russian rabbit Yekaterina Kupina taking the field through in 57.12 seconds. The front-running Montano was close behind, with the rest of the field spread out single-file. Things got weird with 300 to go, however. Kupina started to slow as Montano tried to take over on the backstretch. Instead of stepping off to the inside Kupina kept running in lane 2 for until she reached the 600m mark, forcing several runners to maneuver around her -- never a good thing in a race as fast and tactical as the 800. Sum then made a strong move to the front and began to pull away on the homestretch. And that's when things got really weird.

Unlike in the 800 final in Moscow, Montano looked strong over the final 100m and fought back to pass several runners. She was even closing on Sum, but as she did so, she began to drift toward the outer lanes. It makes sense for an 800-meter runner to move out in the homestretch to go by people, but Montano had no one to pass. Instead, she moved from lane 2 to lane 3 and 4 before eventually finishing in lane 5. She ended up second by just .12 seconds. It's not clear whether she would have caught Sum by staying in lane 2, but she definitely cost herself some time -- and perhaps a Diamond League victory -- for running the extra distance for no reason.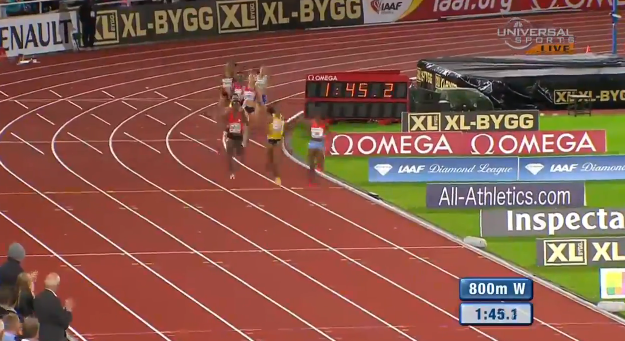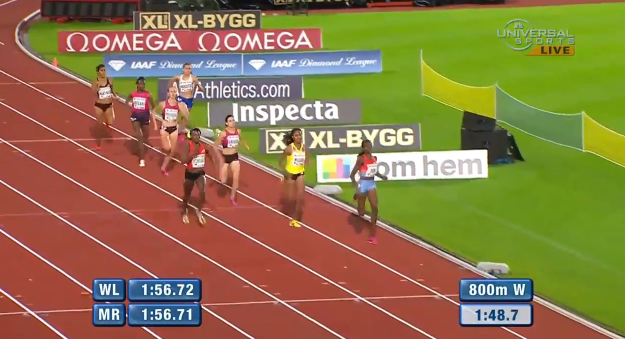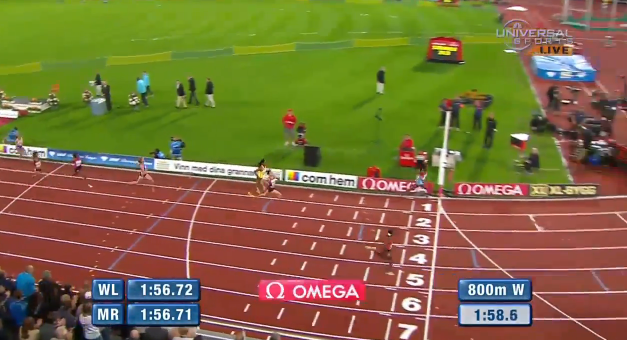 It should also be noted that Montano did something similar in the Moscow final, drifting out to the border between lane 2 and 3. That allowed Martinez to come up on the inside and snag the bronze medal. In that race, with Montano clearly struggling mightily, drifting out is a bit more understandable, even if it wasn't the right move. It was different in Stockholm on Thursday, as Montano moved all the way out to lane 5 even though she was catching Sum.

Men's 1500m

When fans look back at the 2013 season 10 years from now, the 1500 meters will indisputably belong to Asbel Kiprop. He ran 3:27.72 in Monaco in July, the fastest time in nine years, to become the fourth-fastest man in history. Add that to a dominating win in the 1500 at the World Championships, and you have the best year for a 1500 man since Hicham El Guerrouj ran 3:27.64 and won Olympic gold in 2004.

But despite everything that Kiprop's done, he's not even close to winning the Diamond League title. Instead, Djibouti's Ayanleh Souleiman will claim that honor, clinching the DL crown in the 1500/mile with his victory over Kiprop in Stockholm. Souleiman now has 14 points on the season, and though Kiprop or countryman Silas Kiplagat could tie Souleiman with a win at the finale in Zurich next week (they both have 6 points; a win in Zurich is worth 8), the tiebreaker is DL victories and Souleiman has won three events this year (no one else has won more than one).

Though Souleiman was unchallenged in Stockholm after taking the lead with 300m to go, Kiprop has still gotten the better of him on the track in 2013, defeating him in Doha in May and at the Pre Classic in June. But losing to one of the all-time greats should not detract from what Souleiman has achieved this year. He's won three times on the DL circuit (Oslo, Paris and Stockholm), set a PR of 1:43.63 in the 800 and won bronze at Worlds in the 800. He may not be the best 1500 runner on the planet, but he is a deserving Diamond League champion.



So how did Souleiman, a man who didn't even make the final of the 1500 at the World Championships, prevail over Kiprop and a field that included six of the 1500 finalists from Moscow? Ironically, it probably had something to do with the fact that he ran so poorly in the 1500 at Worlds. The men doubling back from the 1500 final in Moscow (Kiprop, Kiplagat, Nixon Chepseba, Henrik Ingebrigtsen and Mohamed Moustaoui) were running their fourth race in nine days. The 1500 first round was last Wednesday, with the semis on Friday and the final on Sunday. With just three days off between the final and Thursday's race, it's no wonder that the race was won in only 3:33.59. And it shouldn't come as a surprise that the guy who has dominated on the circuit this year -- and who didn't have to run the 1500 final, giving him and extra two days' rest -- was able to win in Stockholm.

And, just to confirm how taxing the rounds can be in middle-distance races, consider why Souleiman failed to make the 1500 final in Moscow. He had already run three rounds of the 800 in Moscow, making the 1500 semi his fifth race in seven days. It's tough to run that many high-level races in a row, so it makes sense that Souleiman was much better in Stockholm after the extra time off.

Women's 3000m
Race Video

This was another event with the potential to be great, as four Moscow medalists from three events collided, headlined by World and Olympic 5000 champ Meseret Defar of Ethiopia. Defar continued a fantastic year with a world-leading 8:30.29, leading seven runners under 8:35. American Shannon Rowbury, who won the DL 3000 in London last month, was in contention for much of the race and looked set to get fourth before fading badly over the last 50 meters and settling for seventh. The other three Americans did not fare as well, as Kim Conley, Gabriele Anderson and Jordan Hasay took three of the bottom four spots. Hasay, in particular, ran poorly, finishing last in 9:06.37, but she's had a very long season and her training was probably geared more toward the 10,000 at this point anyway.

Men's 3000m steeplechase

As mentioned above, it can be tough for runners to come back so quickly after a high-level race, and that was certainly the case for World and Olympic champ Ezekiel Kemboi in the steeplechase. Kemboi, running in a sharp gold singlet denoting his status as world champion, was a late addition to the field and dropped out midway through. The race itself was the slowest steeple on the DL circuit so far this year, as Kenyan Hillary Yego -- who did not even make Kenya's four-man team for Worlds -- pulled away for the win in 8:09.81. How good are the Kenyans in the steeplechase? Consider that the Stockholm field contained six Moscow finalists (and two of the three medalists) and two Kenyans who did not run at Worlds (Yego and Gibert Kirui) went 1-2. And that's before mentioning former World and Olympic champ Brimin Kiprop Kipruto, who was ninth in this race and not on the Kenyan team in Moscow either.

It should be mentioned that though there was a longer break between the rounds of the steeplechase and this meet compared to the 1500 (the steeple semis were August 12 and the final August 15), the winning time was slow and the highest of the six Moscow finalists, Conseslus Kipruto -- 3-for-3 in DL races before Thursday -- was only third. The conditions may have had something to do with the slow time in the steeple (it was fairly cool in Stockholm and times were not that fast across the board), but the strain of Worlds likely had an effect as well.