Event Hub
The Fab Four Freshmen of 2008 and Cheserek, McGorty, Saarel, and Leingang
I don't trust you, freshmen. I have never and I never will. You always seem to break golden rules, like dating girls on the team or racing workouts to impress the veterans. You're not dumb or ignorant - you're just naive, and that's okay. You're freshmen and your priorities should be limited to staying healthy and not royally screwing up.

But sometimes, you're not just wide-eyed high school blue chippers. Sometimes, you're the past, present, and possibly the future all wrapped up in one.

The point isn't to to tell you that the quartet of Edward Cheserek (Oregon), Sean McGorty (Stanford), Ben Saarel (Colorado), and Jake Leingang (Oregon) are good. They are; you knew that.

The point is that after watching the men's finish at Pre-Nationals, I felt like I'd seen it before. Before I could head back to the media room to check the results of year's past, Ryan Fenton came up to me and said something that confirmed that my passing thought might not have been the result of eating crazy pills.

"This might be the best freshmen class since 2008."

If you need a quick reminder, that group consisted of German Fernandez (Oklahoma State), Chris Derrick (Stanford), Luke Puskedra (Oregon), and Colby Lowe (Oklahoma State).

The amount of hype behind that group five years ago was palpable and they most certainly delivered. At the 2008 NCAA XC Championship, Derrick took 7th and lead Stanford to a third place finish, Puskedra was Oregon's number two on that year's winning squad, Lowe was Oklahoma State's third man in 80th, and according to his bio on okstate.com, Fernandez "was in position for a top-three finish at the NCAA Championships with only about 1,500 meters remaining before he crumpled to the ground with an injury to his lower leg that forced him to not finish the race." 

But when we looked back to that group's races in Terre Haute five years prior, the results were eerily similar to last weekend. Probably because we just watched them again, literally.


The four that we saw run at Pre-Nationals last weekend are on pace to equal the efforts of the fabled class of 2008. Here's a side by side comparison of the two groups of four and why we're in store for something special.


The Favorite - Edward Cheserek and German Fernandez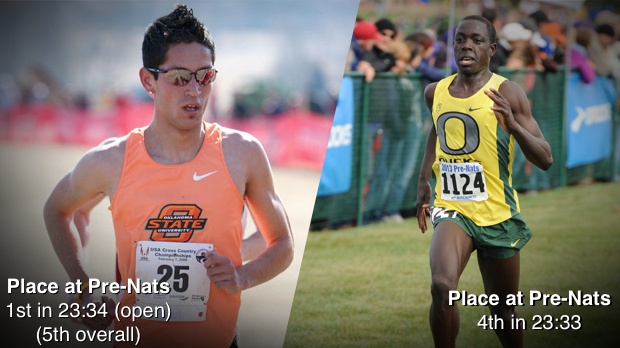 Both were touted as the number one cross country recruit coming out of high school and were strong favorites to be up near the front at NCAAs throughout their freshmen season. Though Fernandez ran in the open race and Cheserk was Oregon's top man in the main show, they ran near identical times at Pre-Nats.

Though Cheserek is on the same path, hopefully his fate at NCAAs is a little different from that of Fernandez.


The Cardinal - Sean McGorty and Chris Derrick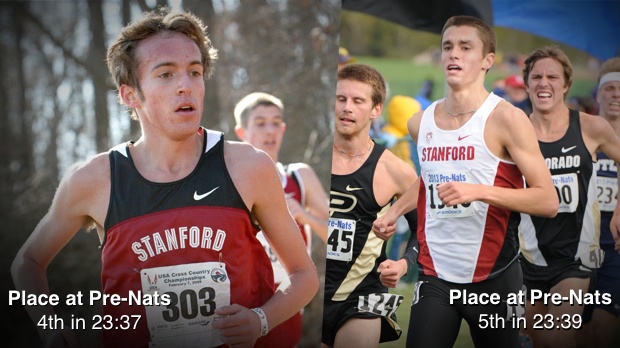 Perhaps overshadowed by some "bigger" names, both Stanford men had a big showing at Pre-Nats and also ran near identical times. Other than the fact that they both attended Stanford, there was something comparable about Derrick and McGorty when they made the jump from high school to the NCAA.

Though they were both atop their class' ranking, they didn't have a certain "je ne sais quoi" to vault them to the number one spot. Call it an "X-Factor," but despite two incredible resumes, neither were regarded as the undisputed number one recruit.

Here's a little background on the two. Derrick was more distance orientated (13:55 for 5k at Arcadia), ran 8:48 for 3200m, and took the individual title at NXN (his team won, too).

McGorty was more of a miler (4:04.47 for the mile at Penn Relays), ran 8:46.07 for two miles, and finished second behind Cheserek at Foot Locker (he also finished behind him at Pre-Nats, too).

Despite strong credentials, the two didn't have the same pop coming off their senior year as the others. Maybe that's a good thing. If McGorty continues to "follow" Derrick's running career path, which wouldn't be a bad choice of where to be in five years.


The Quiet Utahn - Ben Saarel and Luke Puskedra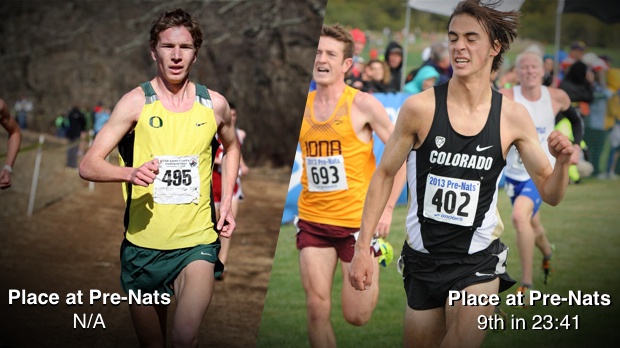 Two guys that doing their talking with their legs. While they weren't / aren't the favorite for FloFrosh of the Year, they both had / have the potential to be the top freshman at NCAAs. At Oregon, Puskedra would run with near reckless abandon while Saarel is one of the toughest competitors we've seen in, well, five years.

We think that like Puskedra, Saarel will thrive in longer races. When he made the move up to the half marathon, the former Oregon Duck seemed to finally find his niche. Saarel has shown excellent wheels at shorter distances with a 1:51.13 win at the UT State 800m (at altitude) and a convincing win at the adidas Dream Mile, but we share Saarel's own opinion that he'll be a "five, ten thousand meter guy in the future."


The Cornerstone - Jake Leingang and Colby Lowe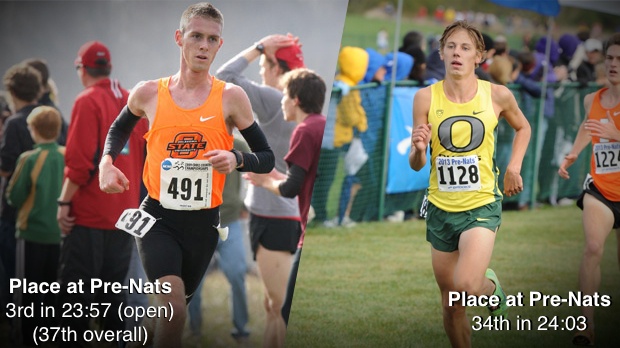 Solid incredible talents, but both were a step behind the rest of the class. Like Lowe, I would put a lot of faith in Leingang to come up big when it counts, but not necessarily at the front of the pack. Him and Lowe are both guys that their coaches could rely on to run smart when it counted.

Prior to drawing this big conclusion, we've talked about how we think Leingang will have a Lowe-esque progression where he becomes a bastion of stability for his team in the years to come.

This parallel universe of freshmen classes doesn't just end with individual results. There are similar team implications as well.

In 2008, Oklahoma State had their two freshmen (Fernandez and Lowe) in their top five. In 2013, Oregon is calling for their duo to be in nearly the same positions.

But the overarching and arguably the most important comparison is that all eight freshmen had a chance to guide their team to a podium finish at NCAAs. In both scenarios, a win would have been tough as there was an overwhelming preseason favorite for the team title that remained in the top spot throughout the fall. In 2008, it was Oregon. In 2013, it's Oklahoma State. Oddly enough, that's the reverse from the above. Silly coincidences.

Still, a podium finish requires a level-head and perfect race execution at NCAAs. Considering that these teams that are going to lean on freshmen to do both of things, I'd be a tad nervous. I've never trusted freshmen. Never have, never will.

But these four (or eight) aren't just your run-of-the-mill "I carry my room key on a lanyard" freshmen. They're a cut above the rest and they're in the running to overtake the quartet from 2008. The next three meets - Conferences, Regionals, and potentially NCAAs - will be where these four can complete these comparisons or maybe, surpass them.