Sleeper of the Week: UCLA's Kelsey Smith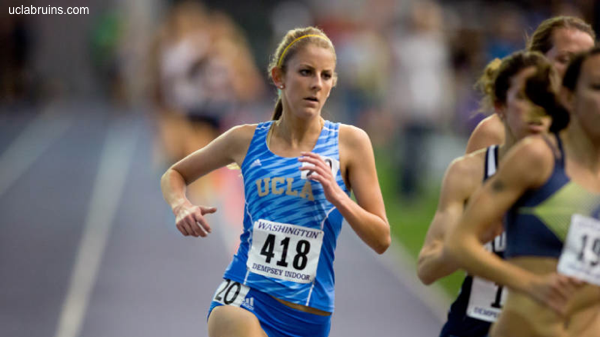 Last year at around this time, I started a series called "The Sleeper", where I would select a runner who was under the radar and tell his or her story. I stopped for a while, but Flotrack wants to bring it back. So, here we are.
"The Sleeper" will continue to be written once a week, but there'll be a slight change. Instead of highlighting athletes who you might've forgotten about (i.e.: Diego Estrada), we'll be showcasing someone that is totally off the grid. After having the opportunity to watch her run in person this weekend at the UW Invitational, trying to come up with a sleeper for this week was easy. The sleeper of the week is a junior from UCLA, Kelsey Smith. 
Kelsey Smith? Yeah, probably not the girl in your chemistry class in high school (Kelsey was a top 50 most popular name in the '90s and Smith is the most popular last name in the US). This is the Kelsey Smith who was 11th at the NCAA Cross Country West Regional this past fall and did not make the National Championships.
This is the Kelsey Smith that ran 4:52 at altitude two weeks ago at NAU, which converts to 4:42 and was 10th in the country at the time (it's now 15th). This is that random UCLA girl who, for some reason, was gutsy enough to stick with the leaders in the loaded 3k at the UW Invite this past weekend.

Did you know that her 9:04.31 was the fastest time for 3k that has been run by an NCAA athlete thus far this season? With everything that happened in the race (Alexa Efraimson's high school record, for one), an NCAA leading time went overlooked. We want to change that.
Smith has a cool story. She is originally from South Lake Tahoe and grew up at altitude (rare for a California kid). She never ran more than 30 - 35 miles a week ever in high school. After working so hard this past cross country season to qualify for NCAAs, she was one of the first people not to make the National Championships. She told Flotrack that she promised herself that she would never be edged out again. She wasn't kidding.
What also makes Smith legitimate is that she doesn't care who is in her race. She told Flotrack earlier this week that after she saw her heat this weekend at the UW Invite, her plan was to just hang on the best girls in the field and see what happens. Well, what happened was the best 3k time in the NCAA.
If she continues to improve, like she has, she will certainly not have to miss out on an NCAA National Championship again. Hats off to her coach Forest Braden, who has done an incredible job developing Smith at UCLA (and everyone else at UCLA for that matter). 
After crushing her last two races and still not getting any press, Kelsey Smith is a perfect pick for our first "Sleeper of the Week."

Kelsey Smith's PRs
| | | | |
| --- | --- | --- | --- |
| 1500m | Mile | 3k | 5k |
| 4:33.97 | 4:42.00 | 9:04.31 | 16.26.73 |