The Curse Of The NCAA Mile Record
​Update: Check out this 2014 article from former FloTrack editor Mitch Kastoff. If Edward Cheserek wins the mile at next week's NCAA meet, he'll be the first man since Tony Waldrop in 1974 to win the NCAA indoor mile the same year that he broke the collegiate record. The original article begins below the video of Cheserek's 3:52.01.



Pop quiz, hotshot. What do Miles Batty, Chris O'Hare, and Arizona's Lawi Lalang all have in common?

If you answered, "They were all NCAA record holders at the indoor mile," then yes, you're correct.

If you also answered, "They all lost the NCAA mile the year after they broke the record," then you get a big gold star.

We got the tip from former Columbia standout and now a member of adidas Rogue Athletic Club, Mark Feigen. If you're into that whole causation equals correlation thing, then taking the field over Lalang last Saturday in Albuquerque, New Mexico made total sense. There was also that whole "it was his third race of the meet" and "he never looked dominant" sort of stuff, but let's just ignore the on-site logic here and look at the pattern.

Let's start this series of events off with another Austin, TX resident, Miles Batty. At the 2012 Millrose Games Wanamaker Mile, Batty, then running for BYU, finished second in 3:54.54.



Batty's run broke the previous record, which was set by Oklahoma State's German Fernandez from 2009. As a freshman, Fernandez proved that there's no logic in track and field, and blitzed a 3:55.02 solo mile at the Big 12 Championships.

Fernandez' ridiculous effort broke the previous record of 3:55.0, held by UNC's Tony Waldrop.

This part is a little confusing. Since Waldrop's record was set in 1974 and their superior timing systems consisted of five guys hand timing everything, the mark doesn't include hundredths of seconds. Nonetheless, Waldrop won the '74 NCAA Mile in 3:59.5, but the mile "curse" doesn't really begin with Fernandez either, because he did not compete at the NCAA Indoor Championship that year.

According to okstate.com, "Fernandez would have been the prohibitive favorite to win the NCAA title in the mile… but he elected instead to train for the IAAF World Cross Country Championships in Amman, Jordan, which took place just 14 days after the NCAA Championships."

We'll never know, huh. New Mexico's Lee Emanuel would win the 2009 and 2010 titles, but would never join this conversation because he never held the record. Somehow, someway, I don't think he's too upset over that one.

Back to our unfortunate trio. You would think that Batty, the 2011 NCAA Mile Champion and then NCAA Mile record holder, would defend his title, right? That makes some sort of sense?

But just short of one month after his record run, Batty would finish third at the 2012 NCAA Indoor Championship mile. Boston University's Rich Peters would take second (4:01.78), but the poisoned chalice would be taken by the winner, Tulsa's O'Hare (4:01.66).

Poor O'Hare didn't even know his fate was sealed. Like Macbeth, he thought he'd be king, but instead, was set up to lose.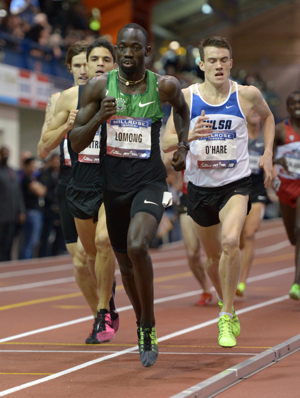 Nearly 365 days after Batty's run at the Millrose Games, O'Hare made the trip to the Armory in NYC and took part in the 2013 running of the Wanamaker Mile. O'Hare would finish fourth in 3:52.98 and obliterate Batty from the record books.

But later that season, at the 2013 NCAA Indoor Championships, O'Hare would be bested by Arizona's Lalang (3:54.74). O'Hare would finish seventh, and was basically bested by everyone else, but maybe that's just the curse compounding on itself.

So Lalang, unbeknownst to him, was now carrying a torch that would soon set him ablaze. Again, at the Wanamaker Mile, Lalang would be the one to set the NCAA record. His second place finish (3:52.88) set him up nicely to defend his NCAA title, but, if you've been reading this all along, you know the answer. Or did you just scroll to the bottom? For shame.

At the 2014 NCAA Indoor Championships, Lalang, coming off a mile semifinal (4:04.27 at altitude) and a 5k final (13:52.83 at altitude, and second to Oregon's Edward Cheserek), would try and lead the mile wire-to-wire, but would falter in the final meters. UTEP's Anthony Rotich (4:02.54), who sat calmly in third for the entire race, pounded on the final straightaway to take the win. Lalang would finish in second in 4:02.81.