Event Hub
2014 Boston Marathon Women's Preview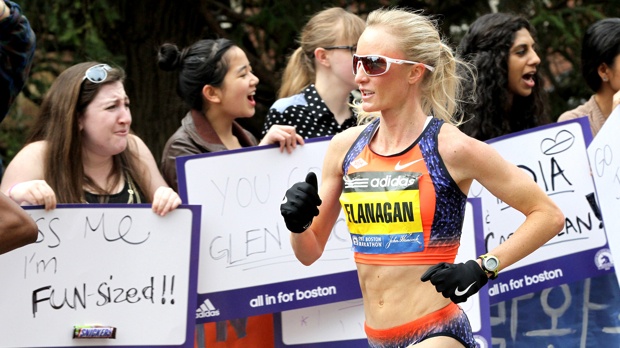 Hope is a fickle mistress.
Here we have the 2014 Women's Boston Marathon, an event built on hope. A tragedy happened just one year ago on Boylston Street, and while we still continue to grieve, we no longer despair. It's because we've moved forward, we've continued the fight, we race again.
There's a pair of American women making their triumphant return to Boston, which is, in itself, a powerful message.
But the thing about hope is that sometimes, things just don't work out, even if it would make for the perfect ending.
For American fans, the Boston Marathon likes to remind you that you have a heart by shattering it every chance it gets. In recent years, the U.S. has thrown some of its best marathoners into the fray with the hope that one of them will wear the laurel wreath atop the award stand.
But since 1985, when Lisa Rainsberger took home the win, no American has been able to do the same. It hasn't stopped them, or us, from dreaming, though.
The gravity of the situation set in during last year's post-race press conference. The national buzz was centered around the hometown girl, Shalane Flanagan, and her quest to bring back the Boston title to the U.S. Despite her best efforts and encouragement from the Marathon Monday faithful, Flanagan finished 4th in 2:27:08.
After such an emotion buildup, there was a big emotional release following the race. "The hardest part about Boston is that the Bostonians want it just as bad as you do," Flanagan said, flanked by her then Nike teammate Kara Goucher, "which just tugs at our heart, because we want to be that person. We want to be the next Joanie."
Flanagan was of course referring to the great Joan Benoit Samuelson, who won Boston in 1983 (and then followed that up next year with an Olympic gold medal in the marathon).
It was then that I realized that I had seen something similar before. The monumental weight of a country's hope came down on Paula Radcliffe, another marathon legend, during the 2004 Olympics.
After dropping out from the Olympic Marathon, Radcliffe told reporters, "I'm hurting so much inside for myself, but I just feel like I've let everyone else down."
"Paula, you haven't let anyone down at all," he responded.
Coldplay's "Trouble" helps to tug at the melodramatic heartstrings, but this compilation video really captures the feel of trying to fulfill a great hope.


The question, which we asked last year, is seriously though, can Shalane Flanagan win Boston?
We'll breakdown the field for you and give our predictions below.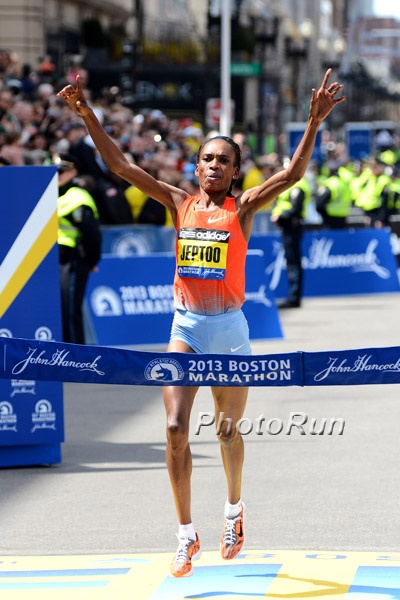 Rita Jeptoo (Kenya)
Personal Bests
Marathon: 2:19:57 (Chicago, 2013)
Half Marathon: 66:27 (Ras Al Khaimah, 2013)
Most Recent Race
Ras Al Khaimah Half Marathon (68:49, 5th place)
The Champ is here. The two-time two-time Boston champion (2006 and 2013) returns to with a third title in her sights.
Although her win last year was impressive, Jeptoo's performance at the 2013 Chicago Marathon was absolutely sublime. Her winning time of 2:19:57 may have been the fastest time in the world, and the only sub-2:20 of 2013, but it was her second half that was the real coup de grace.
In Chicago, Jeptoo's passed the first 13.1 miles in 1:11:15 and then came back in 1:08:42. Even still, her eighth 5,000-meter split was 15:58. Just to give you a little context, Jeptoo split between 16:50 to 16:59 for her first four 5,000-meter intervals. She followed that up by splitting 16:45, 16:33, 16:07, and then the lethal sub-16.
Sharon Cherop (Kenya)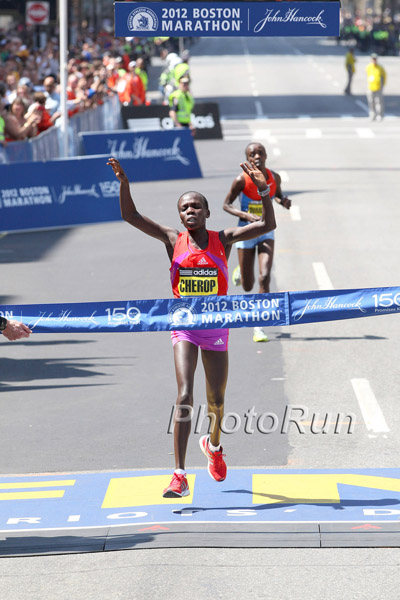 Personal Bests
Marathon: 2:22:28 (Berlin, 2013)
Half Marathon: 67:08 (New Delhi, 2011)
Most Recent Race
Roma-Ostia Half Marathon (68:51, 2nd place)
Cherop is always in the hunt in Boston. In her 2011 debut on the course, she narrowly finished 3rd in that thrilling finish that saw Caroline Kilel take the win and Desi Davila finish runner-up. In 2012, she held off Jemima Sumgong to take the win in that blazing heat. Then, in 2013, she finished 3rd behind Rita Jeptoo and runner-up Meseret Hailu Debele.
Cherop is in good form after setting a personal best in the marathon (see above). Also, in what's a cool little tidbit, she and her 2:10 marathoner husband Mathews Bowen will both be running on Monday.

If it's going to be warm Monday morning, watch out. While it was in the mid-30s on Thursday, it's supposed to get up to 64 degrees on race day.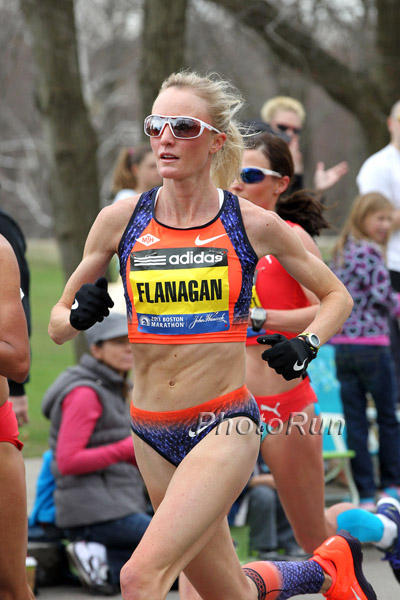 Shalane Flanagan (United States)
Personal Bests
Marathon: 2:25:38 (Houston, 2012)
Half Marathon: 68:31 (New Orleans, 2013)
Most Recent Race
Gate River Run 15k (47:00, 1st place, American Record)
If you Google "Shalane Flanagan Boston Marathon," you'll get over 87,400 results. Whether you've watched her 60 Minutes segment or just paid any minute attention to any news in the running world, you know Flanagan wants this win. A lot.
"In my career, I've never felt my running take on a more personal meaning than it will to prepare for this year's race," Flanagan says in the Boston Marathon Media Guide.
"It's hard to express what it means to return this particular year to the place where I grew up and compete. In one word, I guess it would be 'pride.' I and many in the field will be fueled by those who were affected by the tragedy and will be running for those who cannot."
Last year, Flanagan ran USA XC Championships on February 2nd (won in 25:49), then moved up in distance to the New Orleans Half Marathon (2nd in 68:31), then back down in distance for the Stanford Invitational 10,000-meters (won in 31:04.85), and then toed the line in Boston.
This year, she's run the Gate River Run 15k (in American record time) and that's been it.

Before we predict whether or not she can take the win, we'll cover the rest of the field.
Jemima Jelagat Sumgong (Kenya)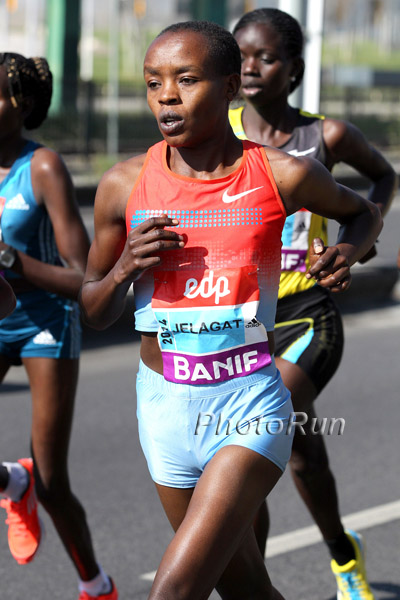 Personal Bests
Marathon: 2:20:48 (Chicago, 2013)
Half Marathon: 68:35 (Verbania, 2012)
Most Recent Race
Lisbon Half Marathon (68:48, 2nd place)
Sumgong had an stellar 2013 season. She took the win at the Rotterdam Marathon (2:23:27) and then nearly broke the 2:20 barrier at Chicago, where she finished 2nd in 2:20:48.
If you Cherop's preview above, you already know that Sumgong narrowly finished 2nd in the 2012 Boston Marathon. We'll put some emphasis on "narrowly" and add that she lost by a mere two seconds.
If you want another little fun fact, Sumgong trains with Jeptoo down in the Rift Valley Province in Kenya.

If you want another piece of interesting information, Sumgong beat Jeptoo at the Discovery Kenya 6K (20:10 and 20:20, respectively). But if my math is right, there are a few more kilometers between that race and this one.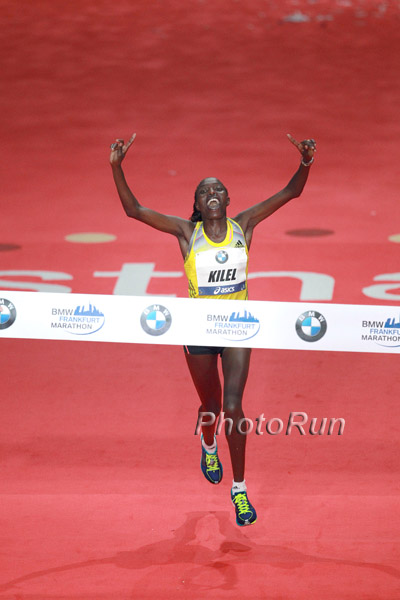 Caroline Kilel (Kenya)
Personal Bests
Marathon: 2:22:34 (Frankfurt, 2013)
Half Marathon: 68:16 (Birmingham, 2009)
Most Recent Race
Lisbon Half Marathon (68:48, 2nd place)
Kilel's resume is impressive, and while she struggled in one of her two marathons last year, she's coming into form as well. Kilel, who's won eight marathons in her career, set a personal best in Frankfurt and has since run three consecutive half marathons--73:06 in Egmond Aan Zee, 70:33 in Ras Al Khaimah, and then 70:00 in New York.
But Kilel is best known for holding off Davila in that exciting 2011 Boston Marathon finish.

So, like we said three years ago, thanks for shattering our hearts.
Mare Dibaba (Ethiopia)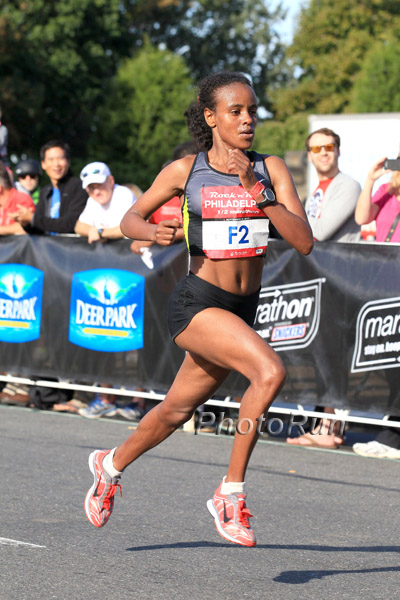 Personal Bests
Marathon: 2:19:52 (Dubai, 2012)
Half Marathon: 67:13 (Ras Al Khaimah, 2010)
Most Recent Race
Ras Al Khaimah Half Marathon (68:56, 6th place)
Althougu she has the fastest marathon personal best of the field, Dibaba is a risky choice. After running 2:19:52 in Dubai, Dibaba was named to the Ethiopian Marathon Olympic Team, but finished a disappointing 23rd in London.
But one disappointment does not make a marathoner. Earlier this January, Dibaba took her first major marathon win with a 2:21:36 course record art the Xiamen Marathon.

So what's not to like? She's been inconsistent at various marathons (3rd at 2010 Rome, 3rd at 2011 Los Angeles, 2nd at 2011 Toronto). But if you're an "on paper" person, hey, go for it.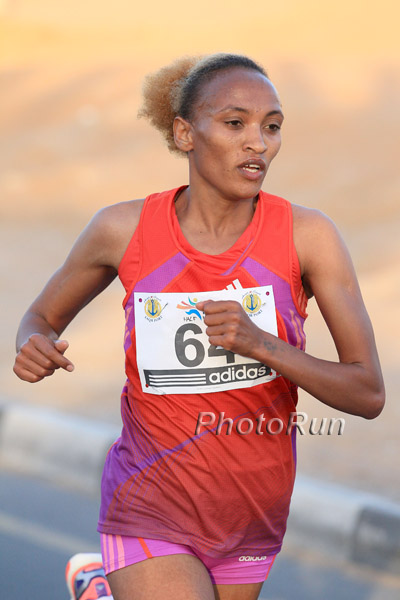 Meselech Melkamu (Ethiopia)
Personal Bests
Marathon: 2:21:01 (Frankfurt 2012)
Half Marathon: 68:05 (Ras Al Khaimah, 2013)
Most Recent Race
Standard Chartered Dubai Marathon (2:25:23, 2nd place)
Known more for her performances on the cross country course and track, Melkamu has been slowly moving to the roads with a growing success.
In her debut at the distance, Melkamu won the Frankfurt Marathon in a course record and still personal best. She followed that up with a fifth place finish at the London Marathon (2:25:46), but then had a spell of disappointment after dropping out at the 2013 IAAF World Championship Marathon.
However, just a few months ago, Melkamu finished runner-up at the Dubai Marathon.

Depending on how you look at it, that's both a good and bad thing. Then again, someone who's run 29:53 for 10,000-meters is an absolute talent.
Desiree Linden (United States)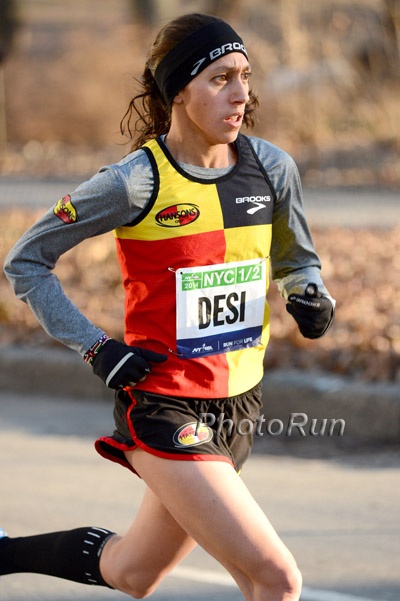 Personal Bests
Marathon: 2:22:38 (Boston, 2011)
Half Marathon: 70:34 (Naples, 2011)
Most Recent Race
New York City Half Marathon (71:37, 7th place)
Flanagan isn't the only American in Boston who's resilient. Desi Linden, the darling of Boston, returns to the site where, three years ago, she set the American course record (2:22:38) and missed winning the whole thing by a mere two seconds.
Linden, then Davila, followed that up with a second place finish at the 2012 Olympic Trials Marathon. But from there, things went awry. Hear more from Linden below:


She's been patient in the recovery process and the results have been positive. Back in September, Linden finished 5th at the Berlin Marathon in 2:29:15.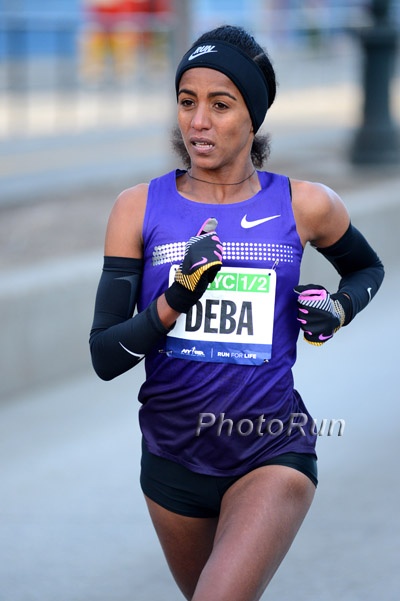 Buzunesh Deba (Ethiopia)
Personal Bests
Marathon: 2:23:19 (New York, 2011)
Half Marathon: 68:59 (New York, 2014)
Most Recent Race
New York City Half Marathon (68:59, 2nd place)
The New York native loves racing in New York. Deba has run four NYC Marathons in the last five years and finished 2nd at the 2011 and 2013 editions. Last year, she had a huge lead over the field (nearly three minutes), but was reeled in by Priscah Jeptoo over the last few miles.
In her buildup to Boston, Deba ran a personal best in, where of all places, New York.
Tatiana Petrova Arkhipova (Russia)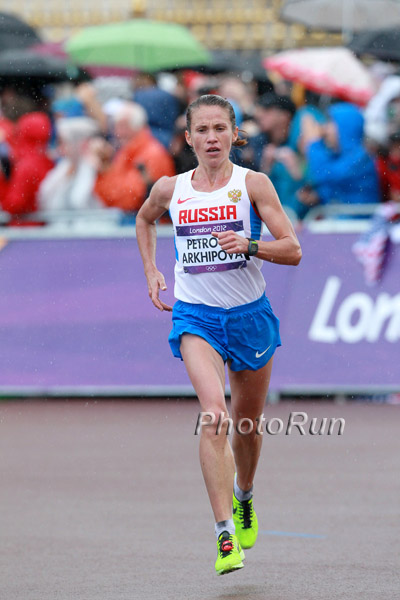 Personal Bests
Marathon: 2:23:29 (London, 2012)
Half Marathon: N/A
Most Recent Race
N/A
If the race is tactical (read: slow), watch out for Arkhipova. The 2012 Olympic Games bronze medalist bided her time on the London streets before striking late and making it to the podium.
After the Olympic Games, Arkhipova took a maternity break, but will make her return in Boston. WILD CARD, *******!
Prediction:
Everyone hopes to see an American, mainly Flanagan, win Boston. But like we correctly predicted last year, the overwhelming favorite Rita Jeptoo should come away the victor. Should Jeptoo not defend, we wouldn't be surprised to see Cherop, Sumgong, or Dibaba take the win.

For Flanagan, it's certainly hard to tell. Could she pull an absolute stunner and bring home a historic win at a historic running of the Boston Marathon? It's a tall order, but we haven't given up all hope just yet.