Payton Jordan 1500m Preview: NCAA Rematch & Oiselle Swarm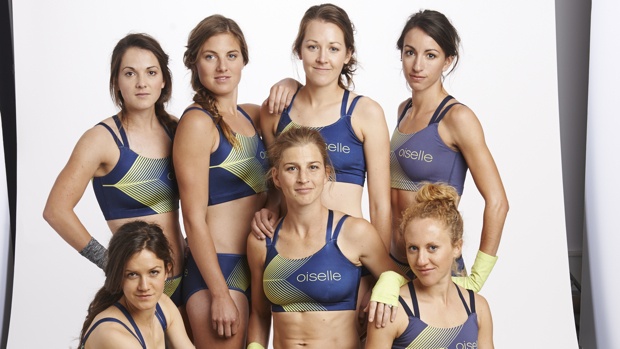 With no World Championship or Summer Olympics in 2014, many distance running stars head to Palo Alto this weekend for Sunday afternoon's Payton Jordan Invitational. In addition to the professional stars opening up their seasons, the meet will definitely produce several NCAA regional qualifiers as athletes chase times in one of their final chances before conference season kicks off. Here is a look at how the men's and women's 1,500-meter races will stack up:
-------
The men's 1,500-meter race will feature familiar faces from last year's NCAA final as Riley Masters (Brooks) and Austin Mudd (Wisconsin) are scheduled to face off. Masters is coming off a good block of altitude training in Albuquerque with his training group and recently ran 13:39.47 for 5,000-meters at the Mt. SAC Relays. Mudd was just beat out by Ben Saarel in the 1,500-meters at the Bryan Clay Invitational. 

But how could we forget to mention Patrick McGregor of New Jersey-New York Track Club? After tripping up together in that NCAA final, McGregor and Masters will both be at Payton Jordan. Tempers flared last year and they couldn't be put in the same heat this weekend. (Just kidding. Everything is cool between the two, but there ain't nothing wrong with a little bump and grind to make things entertaining. The rematch will wait.)

Two guys who weren't in the NCAA final last year, but have top potential: Michael Atchoo (Stanford) and Peter Callahan (New Mexico). They've seen each other before.


Flotrack Associate Producer Gordon Mack will go on the record at any time to say Callahan has the potential to make the U.S. Olympic Team in 2016, if he is healthy and 100%. He is that talented. I boldly agree with him. Is this the first chance we get to see Callahan unleash in 2014? He can make a statement in the third fastest heat.

Peeking at the list of professionals for this race:

Lee Emanuel (Hoka) - The Brit was fifth in the race within the Drake Relays mile (the one where no one but Aman Wote went with the pacers and no one else broke four-minutes for the mile. Emanuel was 6th in 4:03.38 beating the likes of AJ Acosta, Ciaran O' Lionaird and Matt Elliott.)

Henrik Ingebrigtsen (Unattached) - Speed Suit 2014? After finishing 8th at the World Championships for 1,500-meters, the Norweigian returns. He's managed to drop his personal every year since 2011. He currently sits at 3:33.95. 

Cory Leslie (Nike) - He will be making his 2014 debut after a year in which he was a part of that 'magical' 1,500-meter race in Oordegem that produced seven American personal bests. Leslie was 7th in 3:34.93 and the fourth American. 


2013 was good to the former Buckeye as he set personal bests in the 800; 1,000; 1,500; Mile; 5K and 3K Steeplechase. The bar is set high for 2014.

Penn State's Brannon Kidder would be considered one of the top contenders for this weekend's 1500-meters, but after running a couple races at Penn Relays, he may not be as fresh as everyone else.
Women's 1,500-meter run
What you just watched was a swarm of birds invade Europe and look beautiful at the same time. Sounds a lot like what Oiselle is going to be doing this weekend in Palo Alto. They will be out in full force in the stands and on the track as Kate Grace, Amanda Mergaert, Lauren Wallace and Amanda Winslow race.

Grace opened her season with an 800-meter win in 2:04.52 at the Oregon Relays. She set her personal best of 4:07.40 in her win in Lignano last summer.

Winslow had a breakout indoor season with a 4:14.38 for 1,500-meters at altitude at the U.S. Indoor Championships. 2:05.87 personal best over 800-meters and a 4:26.28 mile personal best. She ran 4:14 to open her season at the Drake Relays.

Wait, are we forgetting someone? Yes, Fashion Week runway model, Two-time Runners World Cover girl, former U.S. 5K Champion and supermom Lauren Fleshman returns to her first outdoor race on U.S. soil since the 2012 U.S. Olympic Trials. (Ed. note: She might not run). It may be early in the season to crack that 4:05.62 personal best from 2007, but Fleshman is back and this is a year for athletes to chase times.
-----
If beauty and speed is a requirement to run for Oiselle, Cory McGee could be making her try-out in front of the company big wigs. The Florida senior runs her first outdoor 1,500-meter race since she wore her Team USA uniform in Moscow. McGee is among the favorites for the NCAA title and looks to prove so as the NCAA leading time of 4:11:40 by Stephanie Brown (Arkansas), who is also racing, may be in the back of her mind. McGee did run 4:06.67 in Europe last summer.

Note: Wisconsin sophomore Molly Hanson may be one to watch as a developing talent from the BIG 10. She's the sixth fastest sophomore in the country and sits at 23rd in the country for 1,500-meters heading into the weekend (Ed. note: Former Marquette bias).
-----
Cue the Biggie Smalls! 

Shannon Rowbury returns to her native San Francisco after being ranked No. 8 in the world last year for the 1,500-meters by Track and Field News in 2013. The Stanford track is where her 5,000-meter personal best of 15:00.51 was run in 2010. She opened her outdoor campaign with a fourth place finish at the Drake Relays 1,500-meter race.

Fellow professionals Nicole Sifuentes, Jemma Simpson and Kate Van Buskirk will also be in the mix.
-----
The biggest story in the women's 1,500-meter race may come from a girl. Milesplit's Brandon Miles spoke with Niwott High School senior and Stanford-commit Elise Cranny on her chase of Jordan Hasay's No. 2 all-time high school mark.

Last year, Cranny ran 4:15.07 at Payton Jordan, so she is not far from Hasay's 4:14.50. With the push of some collegiate and professional stars, Cranny's No. 2 all-time mark could fly under most people's radar in this Golden Era of high school distance running. Keep your eyes on Cranny. History could be made.
------
Flotrack will be on hand to bring you all the action from Stanford. The women's 1,500-meter run is scheduled to go off at 4:17 p.m. and then 7:27 p.m. Pacific Time.