Those of us who have been to the Payton Jordan Invitational come back home and describe the experience as if it were a pilgrimage to distance running Mecca, never expecting to have that experience anywhere else in the United States.

While the Men's 5,000-meter field is stacked and thus deserving of all of the hype, the women's race seems to be lacking in the same star power. Looking down the start list, which is still quite good, one has to wonder where all of the 5,000-meter specialists are hiding.
 
Oh right: they're running the Women's 10,000-meters.
 
Still, this will be a good test for some emerging elites, some ladies experimenting with the distance, and some NCAA athletes looking to mix it up with the big gals before heading to Eugene, Oregon later this June and potentially beyond.
 
We'll break the Payton Jordan Women's 5,000-meters into three groups: the domestic professionals, the collegians, and the elites who are flying across the world to Stanford, CA.


| | | |
| --- | --- | --- |
| Name | Team | Personal Best |
| Meraf Bahta | Hälle IF | 15:30.37 |
| Angela Bizzarri | Brooks Beast | 15:16.04 |
| Nicole Bush | New Balance | 15:55.41 |
| Katrina Coogan | Georgetown | 15:50.08 |
| Aisling Cuffe | Stanford | 15:53.95 |
| Brie Felnagle | adidas | 15:15.33 |
| Erin Finn | Michigan | 15:41.35 |
| Sifan Hassan | Global Sport | N/A |
| Ashley Higginson | Saucony | 16:02.32 |
| Risa Kikuchi | Hitachi | 15:36.28 |
| Katie Mackey | Brooks Beast | 15:23.65 |
| Riko Matsuzaki | Sekisui Kaga | 15:26.05 |
| Santa Ines Melchor Huiza | Club Rodolfo | 15:30.63 |
| Yuika Mori | Mizuno Track | 15:26.80 |
| Laura Nagel | Providence | 15:42.60 |
| Jessica O'Connell | UCAC | 15:33.29 |
| Akari Ota | Tenmaya | 15:30.82 |
| Lauren Penney | Oiselle/NJNY | 15:56.80 |
| Jessica Tebo | Brooks Beast | 15:19.43 |
| Laura Thweatt | Boulder Track | 15:23.43 |
| Nicol Traynor | NJNY | 16:10.37 |
| Stephanie Twell | Nike | 14:54.08 |
| Amy Van Alstine | NAZ Elite | 15:36.56 |
| Lucy Van Dalen | New Balance | 15:21.08 |
| Amanda Winslow | Oiselle / NJNY | 15:54.66 |
Note: All statistics were provided by the guru Isaac Wood, presumably off the top of his head.

The Americans
 
We're going to need subsections here.

The Brooks Beasts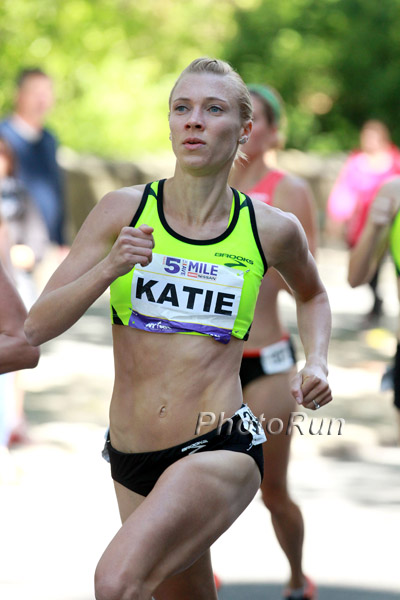 While there are four collegians in this race (we'll get to them below), there are four members of the Brooks Beasts present on the Payton Jordan start list.
 
Let's start with the two that ran the USA Road Mile Championship, Katie Mackey and Angela Bizzarri. Mackey, the 1,500-meter specialist, has been dabbling with the 5,000-meters in recent years. In what was just her one year anniversary, Mackey ran her personal best of 15:23.65 at last year's Payton Jordan Invitational.
 
If this were a few years ago, I would say that while Bizzarri stepped into Mackey's zone last week and now the roles will be reversed come Sunday. But it's been a long road back for the two-time NCAA champion, who has struggled (with injuries?) for the last three years. This'll be her first track 5K since last year's Payton Jordan, where she ran a season's best of 15:48.26.
 
The other two Brooks Beasts athletes, Brie Felnagle and Jessica Tebo, complement the first two pretty well. Felnagle, a 1,500-meter runner by trade, has also been flirting with the 5K distance. She boasts a personal best of 15:14.33, which came from the Oxy High Performance Invitational last year. Two weeks ago at the BAA Mile, Felnagle finished 3rd in 4:45.
 
Tebo is primed to rekindle her old 5K form. While 2013 was a forgettable year for Tebo (she ran a SB of 16:27.30), she looks to be ready to again push that 15:30 barrier after this winter's worth of training. She did set an indoor 3K PR (9:04.52), but that was way back in February. But for what it's worth, her PR of 15:19.43 converts to roughly 8:50. There could be momentum building here.


The Steeple Specialists
There are also three 3,000-meter steeplechasers stepping up in distance and two of them represented Team USA in at the World Championships last summer. Ashley Higginson is running her first outdoor 5K since 2010, where she ran a PR of 16:02.32. She's coming off a big season opener of 9:35.72 for the 3K steeplechase.
 
Nicole Bush will make her outdoor debut following a strong winter, where she set PRs at the indoor 1,500-meters, indoor mile, and indoor 3,000-meters.
 
Similar to Higginson and Bush, New Jersey / New York's Nicol Traynor's 2014 has been one of breakthroughs. A new indoor 3K best of 9:10.35 from February set her up for a new 3kST PR two weeks ago at the Larry Ellis Invitational, where she finished 2nd behind Higginson in 9:42.13.


Oiselle's Milers
Though I consider them both milers, Oiselle's Lauren Penney and Amanda Winslow are separating themselves from the flock and running the 5,000-meters.
 
Penney is coming off an indoor campaign where she ran two personal bests: the mile (4:31.30) and 3,000-meters (8:56.44). She's run 15:56.80 for 5K.
 
Winslow, the one-upper, set personal bests at three events this winter: the 800-meters (2:05.87), mile (4:26.28), and 3,000-meters (8:56.37). She's coming off a 10th place finish at the Drake Relays 1,500-meters, where she ran 4:14.24. Her 5K best of 15:54.66 is from last year's ACC Championships.

Note: I didn't count the rarely run, usually en route, indoor 1,500-meters when tallying Penney and Winslow's winter personal bests.


Baller, shot callers, twenty inch blades on the Impala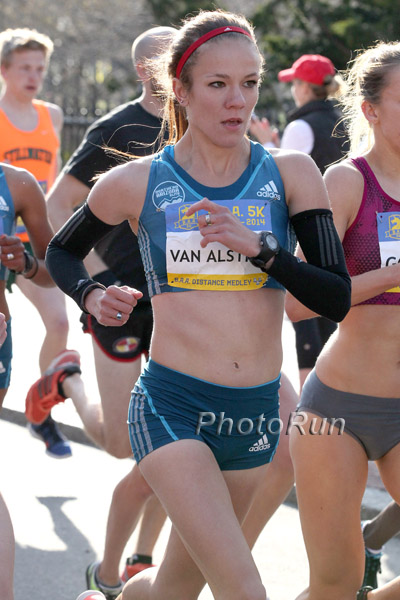 Lastly, and possibly most importantly, we'll talk about two "ballers" (according to Isaac Wood). Simply put, Boulder Track Club's Laura Theweatt loves to race. Earlier this year at the Stanford Invitational, we saw Theweatt double back from a 4:15.89 1,500-meter to run an outstanding  15:23.43 later that night.
 
Most recently, Theweatt took 3rd at the 1,500-meters at Mt. SAC (4:10.55 personal best) and was 5th at the USA Road Mile Championships in 4:35.32.
 
She's only entered in one event this weekend, so expect something big on fresh legs.
 
Another name who's been making waves is NAZ Elite's Amy Van Alstine. The former Richmond Spider came onto our radar after her impressive USA XC Championship win last February. Since then, she's mainly stayed on the streets, running the USA 15K National Championships (3rd in 49:49), then the Carlsbad 5000 (5th in 15:30), and finally the BAA 5K (8th in 15:38). After watching her latest workout in Sedona, Arizona, I would say she's ready to challenge her 15:36.56 PR, which, like almost everyone else, is from last year's Payton Jordan 5K.
--

The Collegians
 
Of the 25 women on the start list, only four are still in the NCAA. That quartet would be Erin Finn (Michigan), Katrina Coogan (Georgetown), Aisling Cuffe (Stanford), and Laura Nagel (Providence).
 
In terms of best form, that award goes to Finn. At the Mt. SAC Relays 5,000-meters, the Wolverine freshman broke a 29-year-old school record with her 15:41.35 seventh place finish. That's pretty good for her first collegiate 5,000-meter race.
 
While Finn has already got her feet wet this season, it'll be the first 5K for Coogan since last year's Stanford Invitational. Since the fall, Coogan has primarily stuck to the 1,500 and 3,000-meters and has found some great success. This winter, she ran a mile personal best of 4:33.44 at the BU Last Chance Meet. She's run 15:50.08, which, again, came from her last outing at the distance.
 
Cuffe has also been working on her speed. In what was an unfortunate deja vu weekend at the Penn Relays, Cuffe did come away with some huge positives: She split 4:35.86 for the anchor leg on the DMR and 4:16.6 for the anchor on the 4x1500-meter relay. That's a vast improvement on her shorter distances as her previous mile PR is listed at 4:42.43. She comes in having run 15:53.95 this winter.
 
While Stanford made the trip to Philadelphia, PA, so too did Providence and Laura Nagel. The Friar outdueled Cornell's Rachel Sorna to win the Women's 3,000-meters in 9:07.90. But like the other ladies, Nagel went on a tear this indoor season as she set personal bests in the mile, 3,000-meters, and 5,000-meters (15:42.60).
--

The Rest of the World
 
While most fans will be focused on the Americans, the win should come from an international. Like, for example, when Sweden's Meraf Bahta stole the Mt. SAC Relays 5,000-meters in a personal best of 15:30.37. The funniest part? That meant that no one won the Brooks Mt. SAC Relays Prediction Contest. It's just less work for me.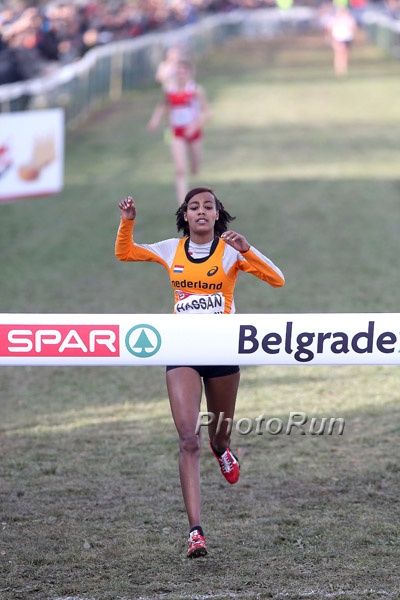 Sifan Hassan (Netherlands) is coming off a huge winter, where she not only set personal bests of 2:04.16 and 4:05.34 (a Dutch national record), but ran 8:45.32 for 3,000-meters in Karlsuhe, Germany and was 5th at the World Championships.
 
This will be her outdoor 5K debut.
 
The quartet of young Japanese athletes--Risa Kikuchi, Riko Matsuzaki, Yuika Mori, and Akari Ota--all have impressive resumes. Kikuchi, Mori, and Ota all competed at the All-Japan Corporate Team Half-Marathon Championships, and finished 5th (32:45), 2nd (no time?), and 6th (32:47), respectively.
 
Santa Ines Melchor Huiza is the Peruvian 5K national record holder having run 15:30.63 last November. She's run 15:51.20 this season.
 
One of the few familiar faces in this section is 2012 NCAA Indoor Mile Champion Lucy Van Dalen. The Kiwi, like the other ladies in the field, has been busy this winter. A mile PR of 4:32.61 and 3,000-meter PR of 8:53.85 could set her up nicely to take a crack at her 15:21.08 5K best, which she set last year the Mt. SAC Relays.
 
Another name that might ring a bell is Jessica O'Connell. The former West Virginia Mountaineer is coming off a PR of 15:33.29 from the Mt. SAC Relays 5K.
 
Lastly, but certainly not least, is Great Britain's Stephanie Twell. The 2008 World Junior 1,500-meter champion stuck to the grueling European cross country scene this winter, but makes her outdoor track debut in the sunny Stanford, California.

At 24-years-old, Twell is certainly a talent with a resume of 2:02.59 for 800-meters, 4:02.54 for 1,500-meters, and 14:54.08 for 5,000-meters. The trouble is, though, that all of those marks are from 2010.
 
Twell did run 15:18.60 last July and, since we never discount talent, we'll throw her name out there to be a potential challenger for the win.
 
The Women's 5,000-meters is scheduled to go off at 8:41 p.m. Pacific Time.

Mitch Kastoff is the Senior Site Editor at Flotrack. Contrary to popular belief, he did not invent the high five. If you enjoyed these ramblings or have any comments, questions, or concerns, f
eel free to reach him on Twitter or by email.