Event Hub
U.S. Championships Women's 1500m preview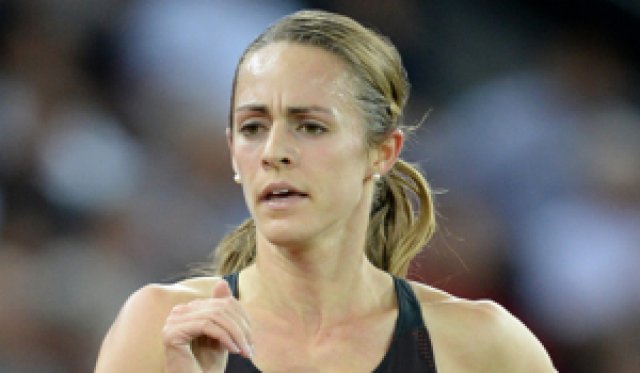 Once upon a time, there was a high school girl, a junior nonetheless, who captivated the distance running world with her carefree attitude, meteoric rise, and ability to continuously set the bar and then raise it.
You would think the story, or at least the high school subplot of the U.S. Championship Women's 1,500-meters, would end with the Nike Oregon Project's Mary Cain. But in the wake of her pioneering performances, a new crop of high school athletes have emerged, and they're just as unbelievable.
The upcoming Women's 1,500-meters will potentially be the first of three match-ups between the Cain and
still amateur
, at least for now,
Alexa Efraimson
. The two will meet later this season at the U.S. Junior Championships and then, potentially, the IAAF World Junior Championships. But let's not get ahead of ourselves; one championship meet at a time.
Even though the teenagers will get main billing this weekend, we can't forget about the other, more veteran women.
Jenny Simpson, a two-time World Championship 1,500-meter medalist, is looking to win her first U.S. 1,500-meter title, two-time U.S. 1,500-meter champion Morgan Uceny is on the upswing, and the defending U.S. 1,500-meter champion Treniere Moser and her teammate Shannon Rowbury have opted for the 5,000-meters.

Oh, there's more.
Below, we'll quickly breakdown the favorites in the field and give our final, stone-cold predictions.
Jenny Simpson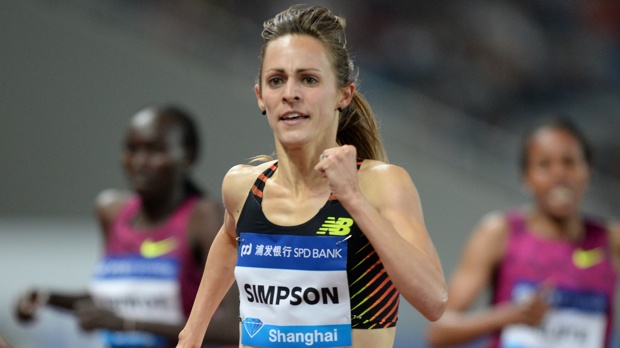 Like most discussions, I'll start by giving the definitive answer first: Jenny Simpson will win her first U.S. 1,500-meter title this weekend. She's not only in the form of her life following a 3:58.28 personal best at the Prefontaine Classic, but she knows what it'll take to win, tactically speaking.
How can the third fastest American of all-time possibly lose? It'll either be because of an unfortunate event we won't mention because we're superstitious about that sort of thing (hint: it rhymes with ball), or because the Sacramento, CA heat turns this race on its head.
There's a projected high of
101 degrees
for Sunday's 2:39pm final, so you know, bring coconut water and sodium tablets (
disclaimer: I'm not a doctor
).
With all of that in mind, we'll be stunned if she doesn't win.
If you either forgot or just started following the sport recently -- which is great -- the reason Simpson is without a U.S. title in her main event is a combination of the fact that she used to be a the 3,000-meter steeplechase specialist and Morgan Uceny was the dominant force in American middle-distance running when Simpson took up the metric mile.
Morgan Uceny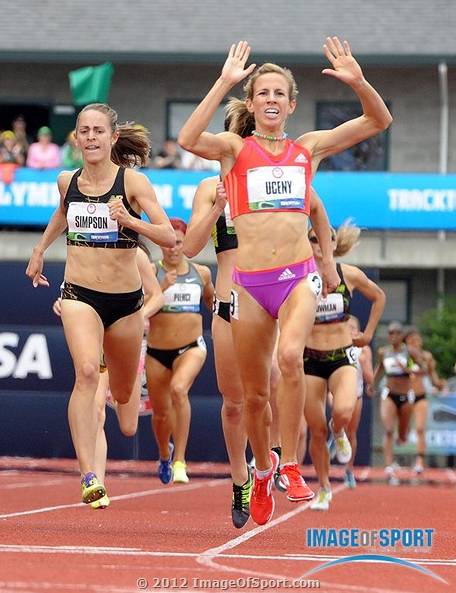 The 2011 and 2012 U.S. 1,500-meter champion had a tough 2013, but recent results have shown that Uceny is still a factor.
At the New Balance Twilight Meet, Uceny won the 800-meters in 2:00.29, which was her fastest time since 2011, where she ran her personal best of 1:58.37.
A few weeks later at the New York Diamond League, Uceny, who finally got her own
personal
t-shirt from adidas, ran 4:04.87 for 1,500-meters, which was good for 7th place in a world-class field. That was Uceny's fastest time since 2012, where she ran 4:05.30 at the Oslo Diamond League.
Is it great to see a champion rise back to the top after falling not once, but twice? That's an emphatic yes. Will she be in the mix? Yes. But can she upset Simpson? No.
Mary Cain
The high school 1,500-meter record holder isn't in top form and that's alright. After a busy winter campaign, which ended with a lower calf
injury
, Cain is back to full health, but not full fitness.
We've talked with both the talented 18-year-old and both her coaches,
Alberto Salazar
and
Pete Julian
, and they've all emphasized that this Cain has different goals
than the Cain of last year
.
In 2013, Cain's focus was the U.S. Championships, and if she qualified for the World Championships, everything that came after would be an added bonus. Now, Cain's focus is a strong summer showing in Europe, which could run all the way through September.
That's not to say that Cain is taking this weekend's championship lightly; it's anything but that. It's just that she's not as dominant as when we saw her
absolutely crush
the U.S. Indoor Mile.
So far this season, Cain has only run the other event in which she holds the high school outdoor record, the 800-meters. Her 8th place showing at the Prefontaine Classic 800-meters in 2:02.31 was a disappointing opener, but her 4th place finish at the adidas Grand Prix in 2:01.67 pushed away any murmurs of regression.
Quick Note: That's still #5 all-time on the high school list
Stepping back up the 1,500-meters, is it unlikely that Cain will have the same lethal kick that's brought her so many stunning wins on the U.S. circuit? Unless it's been unearthed in recent weeks, no.

The bigger story on our minds is whether she'll fall to another high school superstar.
Alexa Efraimson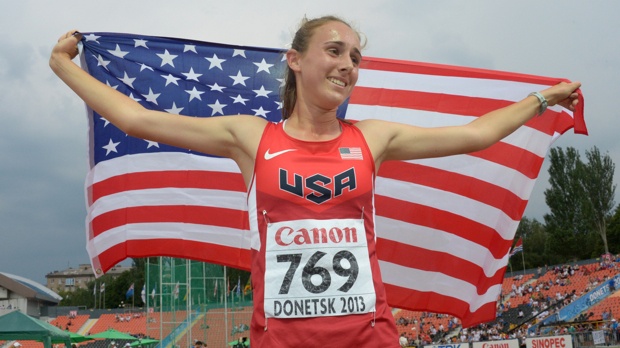 The following is a conversation between my old roommate and I after the adidas Grand Prix:

Me: In other news, a high school junior ran 4:07.05 in the 1,500-meters.
Her: Mary Cain is a senior. Even I know that, you idiot. Aren't you supposed to know these sorts of things?
Me: There's this other girl, Alexa Efraimson, and she's also, really, really good at running.
Her: Scorching analysis.
SCENE
The great thing about Efraimson is that she's arrived after the storm. The hype, compared to another high school junior that happened at this exact time last year, is a little more diluted.
And that's a good thing.
In this
excellent ESPN profile
by none other than our former intern
Chris Chavez
, Efraimson's coach
Mike Hickey
reflects on the wake of Cain-sanity and how it's alleviated the pressure around his athlete.
This is all great because this time last year, the total tonnage of expectations from the running community for a high school girl to succeed on the world stage could have crushed a pack of elephants.
A high school junior, who just ran the second fastest high school 1,500-meter mark of all-time, is here to mix it up with the senior women before she goes home and bakes cookies with her friends or whatever 17-year-old girls do these days.
Editor's Note: That was actually taken from the ESPN article.
The Camas High School soon-to-be senior is coming off another personal best, this time in the 800-meters, at a windy
Brooks PR Invitational
.
After she got her feet wet in New York, is Efraimson ready to not just jostle with the senior ladies, but contend for something more?
It feels like we've been here before.
Earlier this season at the Prefontaine Classic, we
predicted
that another high school superstar and now Stanford freshman (technically?)
Elise Cranny
would drop her 1,500-meter personal best from 4:10.95 to the 4:07 - 4:08 range in the women's senior race.
Though she came away
disappointed
with a 4:13.38 showing, Cranny confirmed in her post-race interview that, if everything went well, she wanted to run around that time.
In the same regard, if everything goes according to plan, Efraimson may not set a new best, but could easily move up to a higher finish compared to her race in New York, NY.
Though, on paper, Efraimson doesn't have the same credentials as other ladies we mentioned above, we know the sky is the limit for her, and don't want to count her out over those final 400-meters. The X-Factor is real. The Truth lives.
Kate Grace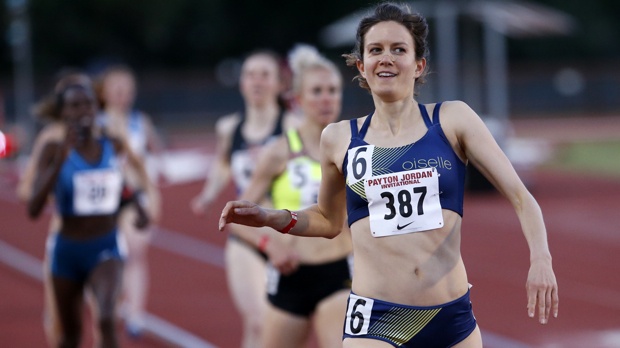 Speaking of athletes who have that certain je ne sais quoi, Oiselle's middle-distance star is having quite the outdoor campaign. Grace has not only set a personal best in the 1,500-meters this season (4:07.35) with a big kick at Payton Jordan, but she's undefeated in open races as well.
Her win streak may end this weekend, but we're sure she'll takeaway some sliver linings from that not-so-gray cloud.
I feel like people often forget that Grace, who boasts an 800-meter personal best of 1:59.47, almost made the World Championship team last year in the half mile. A fourth place finish in one's secondary event at a U.S. Championship should raise some eyebrows (Editor's Note: is it her secondary event?).

Even though she hasn't broken the two minute barrier this spring, her final kick has looked more clinical.
 
And even though, on paper, Efraimson edges out Grace in terms of 1,500-meter lifetime bests, we're more inclined to pick Grace, simply due to savviness and the fact that she's finally getting in some speed work, albeit in a
t-shirt
.

---
Brooks Beasts training partners Katie Mackey and Brie Felnagle should both be in the mix, with Mackey also entered in the 5K, which I assume, will be a non-contingency plan as the first round of the 1,500-meters is the same night as the 5K final.
Mackey was slated to run the Portland Track Festival 1,500-meters, and, while we were told that she was looking to run in the low 4:0x range, she was a late scratch.
Maybe that 15:04.74 5K out at Payton Jordan took a little too much out of her legs? Speculation aside, Mackey has shown a big improvement in strength, but has yet to reveal her middle-distance cards.
Felnagle ran 4:07.42 out at Oxy High Performance back on May 15th, but had a disappointing showing at the Prefontaine Classic 2-Mile, where she finished 15th in 9:54.61.
Sarah Brown, who's run 4:11.27 this season, and Heather Kampf, who ran a personal best of 4:07.15 at Drake Relays, have both been Team USA members in the last year, and will up up at the front in the final.

We also wanted to include Gabe Grunewald, the USA Indoor 3K champion, but something's been up since the end of her winter season. 4:17.66 at Drake Relays, 2:06.77 at Prefontaine, and 4:10.12 at adidas Grand Prix are all atypical performances for someone of her caliber.

Don't count out NCAA stars Cory McGee or Emily Lipari, either. McGee couldn't match Arizona State's Shelby Houlihan's ferocious kick at NCAAs, but the graduated Gator was 3rd last year at USAs. If Lipari's kick is in full gear, like it was at the NCAA Indoor Championships or at the end of any of her three Penn Relay anchor legs, then watch out. But if it's similar like her final 200-meters at NCAA Outdoors, then never mind. It's really hit or miss.
Final Prediction
1) Jenny Simpson
2) Morgan Uceny
3) Mary Cain
The full field is below.
 
Name
Affiliation
Mark
Status
Declaration
Jennifer Simpson
New Balance
3:58.28
qualified
declared
Gabriele Grunewald
Brooks / Team USA Minnesota
4:01.48
qualified
declared
Morgan Uceny
adidas
4:04.87
qualified
declared
Brie Felnagle
adidas
4:05.64
qualified
declared
Alexa Efraimson
 
4:07.05
qualified
declared
Heather Kampf
Asics / Team USA Minnesota
4:07.15
qualified
declared
Katherine Mackey
Brooks / BROOKS Beasts TC
4:07.19
qualified
declared
Kate Grace
Oiselle
4:07.35
qualified
declared
Heather Wilson
New Jersey New York Track Club
4:07.47
qualified
declared
Lea Wallace
Nike
4:09.13
qualified
declared
Kerri Gallagher
 
4:09.64
qualified
declared
Nicole Schappert
Hoka One One / New York Athletic Club (NYAC)
4:09.87
qualified
declared
Amanda Eccleston
 
4:09.88
qualified
declared
Laura Thweatt
Boulder Track Club
4:10.55
qualified
declared
Lauren Paquette
 
4:10.98
qualified
declared
Sarah Brown
New Balance
4:11.27
qualified
declared
Stephanie Charnigo
New Jersey New York Track Club
4:11.33
qualified
declared
Stephanie Brown
Arkansas
4:11.40
qualified
declared
Angela Bizzarri
Brooks / BROOKS Beasts TC
4:11.63
qualified
declared
Melissa Salerno
New Balance
4:12.35
qualified
declared
Rebecca Tracy
 
4:12.37
qualified
declared
Cory McGee
Florida
4:12.50
qualified
declared
Amanda Mergaert
Oiselle
4:12.83
qualified
declared
Mary Cain
Nike
4:24.11
qualified
declared
Amanda Winslow
Oiselle / New Jersey New York Track Club
4:26.28
qualified
declared
Lauren Johnson
Oregon TC Elite
4:33.00
qualified
declared
Hillary Holt
 
4:13.13
accepted
declared
Christina Cazzola
University of Wisconsin-Oshkosh
4:14.20
accepted
declared
Emily Lipari
Villanova
4:14.64
accepted
declared
Allison Peare
Kentucky
4:14.91
accepted
declared
Mitch Kastoff is the Senior Site Editor at Flotrack. Contrary to popular belief, he did not invent the high five. If you enjoyed these ramblings or have any comments, questions, or concerns, feel free to reach him on Twitter or by email.