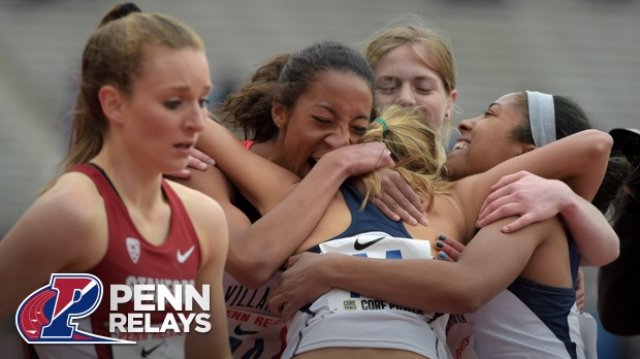 1. UTech, Duke, Texas, Oklahoma, Hampton, Florida State, Clemson, and Texas A&M all qualified for the final of the college women's 4x400m in their respective preliminary heats, and we came away with a sick slo-mo video from heat 1. 
2. In a big move on the backstretch, Patriot's DMR anchor leg Rachel McArthur pulled away from WWP South to throw down a dominating win in the high school Champions of America distance medley relay! The sophomore split a 4:50 to give her team the win, and run a three second personal best in the 1600m. 
3. In a stunning finishing kick,
Kate Murphy
and
Libby Davidson
threw down impressive finishing kicks to each run 9:32 and 9:34, respectively, in the girls 3000m championship. The sophomores from Virginia took down the heavy favorites from Canada, Shona McCulloch and Branna MacDougall, by throwing down a 70 second last lap!
WATCH THE RACE.
4. Leading for a good majority of the way, Davidson's
Malia Ellington
threw down a hard finishing kick to take down Hamilton's
Sage Hurta
in the final meters for a winning time of 4:54.38 in the girls mile!
WATCH THE RACE
.
5. In a strange turn of events, the No. 3 Oregon Ducks dropped the baton on the first exchange in heat 2 of the women's 4x100m preliminaries.
Jenna Prandini
, who recently tied the fastest 100m time in the world this year, wasn't able to receive the stick after her teammates missed the hand-off, preventing the Ducks from contending in the finals.
WATCH THE RACE
.
6. In a tough battle between NCAA Indoor runner-up Stanford, the Villanova Wildcats were able to earn some redemption with a kick to the finish victory in the Champions of America distance medley relay. After a devastating DQ at the NCAA Indoor Championships, the Wildcats made magic happen on their home track with a win on their home track in 11:09.
WATCH THE RACE
.
Your 2015 College Women's DMR Champ @NovaTrackXC! Bringing the hardware back home - get the parade ready! #PennRelays pic.twitter.com/K7kZ1zkeyK

-- FloTrack (@FloTrack) April 23, 2015
7. NCAA indoor 5k record holder and 2015 5,000m NCAA champion
Emily Sisson
of Providence dominated the Women's 3,000m Championship in 9:09.12 on a chilly evening in Philly.
WATCH THE RACE
.  
Sisson CRUSHES! #PennRelays 3k champ! pic.twitter.com/TMIV2H3izZ

-- FloTrack (@FloTrack) April 24, 2015

8. The Men's 5,000m Championship turned into a kicker's race between Texas' Craig Lutz and Kentucky's Robert Sandlin, with Sandlin showing elite speed over the final lap to win in 13:51.69. Lutz was second in 13:57.67, as both men secured births in their respective NCAA regional meets. WATCH THE RACE.


It's University of Kentucky's Robert Sandlin with a monster kick to win the 5k! #PennRelays pic.twitter.com/R0AaFI7jmZ

-- FloTrack (@FloTrack) April 24, 2015



9. Breaking news on the high school boy's side! Calabar High School star runner Michael O'Hara was reinstated into the Penn Relays. Can Calabar HS make HISTORY this weekend? Full story HERE.

10. INTERESTING TWIST: The Harvard women's 4x4 chose NOT to race in the Heptagonal Division, hoping they would advance into the Championship of America final on Saturday. Unfortunately, the Crimson did not advance and two other Ivys (Cornell and Princeton) did. Yikes. WATCH HEP RACE HERE