Event Hub
OMG! The Prefontaine Classic Is Beyond Loaded


The Diamond League is in Tracktown, USA this weekend for the 2015 Prefontaine Classic, which figures to be the most exciting meet in America this year. Olympic and World champions are found throughout the competition this Friday and Saturday in Eugene, with two of the sport's biggest names, Mo Farah and Justin Gatlin, headlining the distance and sprint action, respectively. 
The ever-loyal Hayward Field fans are in for one heck of a meet this weekend. Every single event at this meet is jam packed with superstars, and World-leads are sure to go down one after another. Let's take a look at some of the best match-ups at the 41st Prefontaine Classic. 

Men's 10,000m (Friday, 9:20pm)
Double Olympic champion Mo Farah hasn't lost a 10,000m competition since the 2011 World Championships, and he'll have to fend off a talented group of East Africans on Distance Night at Hayward if he wants to keep that streak alive.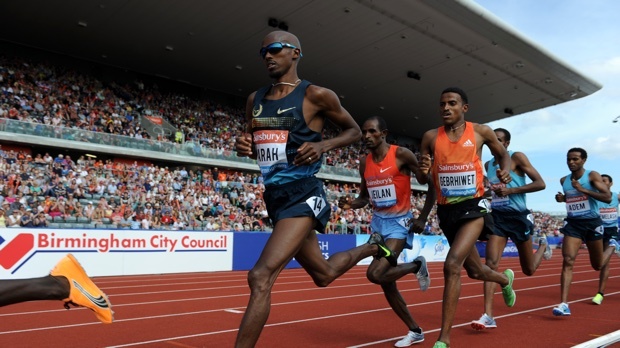 Farah's PB of 26:46 that he set at the 2011 Pre Classic has stood that long because the 32-year-old has not chased a fast time in the distance since then. To beat a field that includes six other men with PB's sub-27 minutes, Farah will have to put in a full 25 lap effort, which should yield to a very quick time.
I wrote about his potential to run really fast here.
The seven men immediately below Farah on the descending entry list are all Kenyans, led by last year's Pre Classic 10K runner-up Paul Tanui, who ran the World-lead of 27:08.21 less than two weeks ago in Japan. The 24-year-old ran that race completely by himself, winning by more than a minute. Tanui has a PB of 26:49, and finished 3rd at the 2013 World Championships in Moscow. 
2015 World XC champion Geoffrey Kamworor is the wildcard of this race. The 22-year-old's biggest strength is his strength, that is his endurance, having also won the 2014 World Half Marathon title. Kamworor has a modest 27:07 PB from 2011, but he hasn't raced a lot on the track in the last several years, focusing instead on his road career.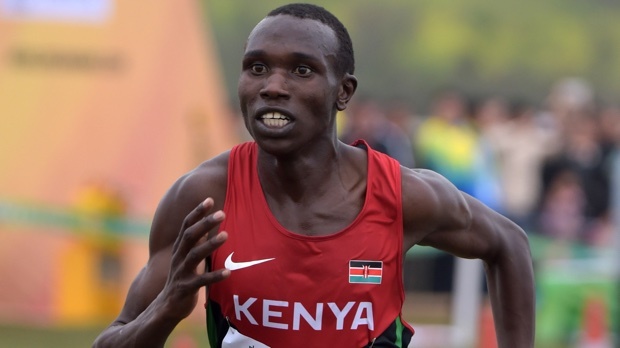 2015 World XC champion Geoffrey Kamworor.

Kamworor could surprise on Friday night because of his fearlessness; he set an impossible pace from the gun at World Cross, and it worked to perfection. For a guy who is likely sticking to the roads, why not make the pace hot from the gun to see if he has the wheels to hang with Farah and Co.? The Kenyan doesn't have the mile speed to kick with Farah, so his only real shot to beat him is to outlast him in a test of attrition. 
In the race behind these three, Farah's Oregon Project teammate Cam Levins will be chasing a PB, and potentially a sub-27 performance if all goes right. Levins' 27:27 PB from 2012 is almost sure to go down.
Americans Diego Estrada and Hassan Mead will both be chasing the IAAF standard (27:45). Mead just missed that mark with his 27:49 at Payton Jordan, while Estrada is expected to destroy his 27:32 PB from 2012. Both men have legitimate shots to make the World team in this event, but they have to run under 27:45 first. 
1. Mo Farah (GBR) 26:35 
2. Geoffrey Kamworor (KEN) 26:42 
3. Paul Tanui (KEN) 26:51
4. Emmanuel Bett (KEN) 27:10
5. Cam Levins (CAN) 27:15
Men's 5,000m (Friday, 9:00pm)
The return of Galen Rupp.
After cutting his indoor season short back in January due to illness, Rupp will make his long-awaited outdoor debut at the site of some of his biggest triumphs, Hayward Field. Just one year ago, the 10,000m Olympic silver medalist crushed a 26:44 American record at Pre, and he'll look to recapture some of that magic while trying to shake off some rust in the process. 
Instead of racing his training partner and best bud Farah in the 10K, Rupp faces yet another matchup against the ageless Bernard Lagat in the 5,000m, who he has beaten only 2/11 times when they've squared off in the distance. The pair haven't raced a 5K against each other since September 2013, but the rivalry should have no trouble renewing itself as soon as the gun goes off on Friday night.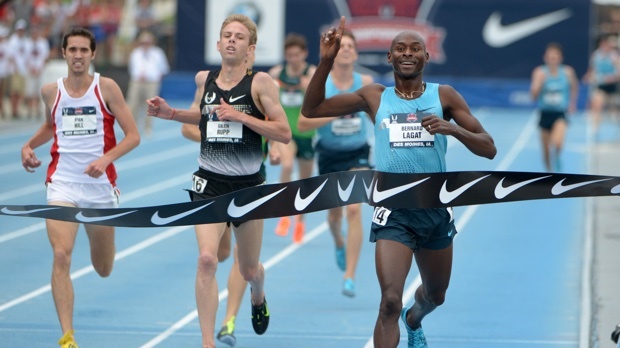 Bernard Lagat has a staggering 11-2 career record against Galen Rupp in the 5,000m.

Conventional wisdom suggests that Lagat will still have the upper hand here, given that he has shown good form recently (27:48 road 10K, Masters WR/American record), while Rupp has not raced in over four months. 
Per usual, the toughest competitors will be the Kenyans and Ethiopians, although this field appears to be manageable with only four men (not counting Rupp and Lagat) having sub-13 PBs. Kenyan Isiah Koech and Ethiopian Yenew Alamirew each have 12:48 personal bests, but both of those times were run in 2012. Neither Koech or Alamirew broke 13:00 last season, although Alamirew finished 2nd at Pre last year in 13:02.91. 
Kenyan Edwin Soi and Bahrain's Albert Rop are the other two men with sub-13 PBs in the field. Soi ran the fourth fastest time in the world last season, 12:59.82, and is the owner of an Olympic bronze medal from 2008. Soi is perhaps best remembered for his victory in the 2013 Pre Classic 5K where he out-kicked Mo Farah in the final 200 meters. 
Rop ran 12:51 two years ago in Monaco, and recently finished 11th at World Cross in March. 
A couple more names to watch here are American Ryan Hill and Kenyan/former NCAA champion Lawi Lalang. Hill should be in line for a big PB (he ran 13:14 in 2013) as he's shown excellent closing speed so far in 2015. Lalang ran 13:00 in 2013, and could greatly improve his chances of making the Kenyan World Championship team with a big performance in Eugene. Lalang won the Carlsbad 5K back in April. 
It's important to note that this race is being run on Friday night as opposed to its usual spot on Saturday afternoon. Cooler temps and no scorching sun should make for faster times, and will be more accommodating for the Americans. 
PREDICTION: I'll give the upper hand to the East Africans, and to Lagat in his duel with Rupp.
1. Yenew Alamirew (ETH) 13:01  
2. Edwin Soi (KEN) 13:03 
3. Isiah Koech (KEN) 13:05 
4. Bernard Lagat (USA) 13:06 
5. Galen Rupp (USA) 13:08
Women's 1500m (Saturday, 2:40pm)
Four women in this field have PBs under 4:00, and two of those ladies are American studs
Jenny Simpson
and
Shannon Rowbury
. The last time the pair raced was
the infamous Zurich 1500 last August
where they crashed and burned at the finish line, with Simpson taking the narrow .01 second win, and grabbing the overall Diamond Race victory as well. We've waited 9 months for this rematch, the first in hopefully a summer's worth of races between the two.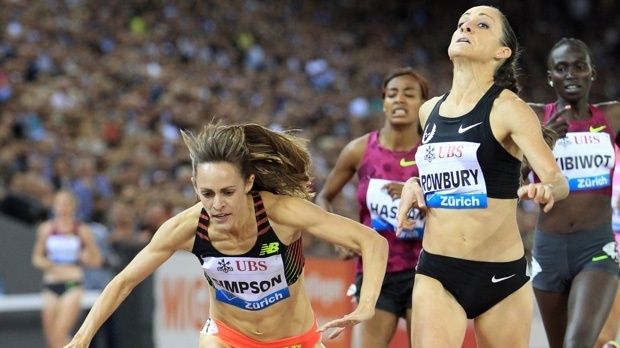 Jenny Simpson and Shannon Rowbury crash to the track in the 2014 Zurich DL 1500m.

Rowbury was on fire this indoor season, running a World-leading 4:22 mile in January and sweeping US indoor titles in the mile/2-mile in February. Simpson only raced once indoors, but she made the most of her short stay, running a 9:18.35 2-mile American record in February before turning her focus to bigger races on the outdoor track. 
Simpson has a stellar 14-5 record against Rowbury in the 1500, and the 2011 World champion swept all four of their match-ups in the distance last season. 
2014 World-leader Sifan Hassan of the Netherlands presents a formidable challenge to her American counterparts. The 22-year-old ran 3:57.00 in Paris last July, and most recently clocked a stunning 2:34.68 1K in Hengelo, the fastest time run in six years. The 2014 European champion finished 2nd in Doha in 4:01.40 on May 15th.
Bahrain's Maryam Jamal owns the fastest PB in the field with her 3:56.18, although that time was run ages ago in 2006. The two-time 1500 World champion ('07, '09) has not run under 4 minutes since 2010.
PREDICTION: Jenny Simpson showed she was ready to go fast when she ran 2:00 at Hoka Mid-D.  
1. Jenny Simpson (USA) 3:59.5
2. Sifan Hassan (NED) 3:59.7
3. Shannon Rowbury (USA) 4:00
4. Laura Weightman (GBR) 4:02.5
5. Treniere Moser (USA) 4:03
Men's 3,000m Steeplechase (Saturday, 1:11pm)
Jairus Birech has been the unquestioned best steeplechaser in the world for over a year now, winning 9 out of 12 steeples in 2014 while also running the only time under 8 minutes last season, his 7:58.41 in Brussels. The 22-year-old Kenyan picked up right where he left off in his Diamond League opener in Shanghai, running 8:05.36 to win comfortably by more than six seconds.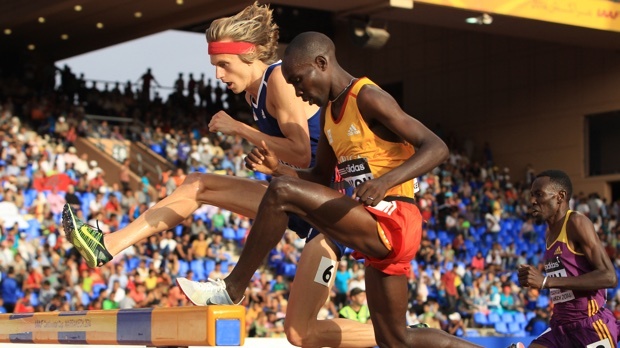 Jairus Birech and Evan Jager at the 2014 Continental Cup

On Saturday in Eugene, Birech will face several of the men looking to remove him from the throne of steeplechasing. Infamous Frenchman Mahiedine Mekhissi-Benabbad, known just as much for his antics as his two Olympic silver medals, was the second-fastest steepler in the world last season. 
MMB is remembered as the guy who punched a mascot, and most recently, for being disqualified after taking his shirt off in celebration as he finished at the 2014 European Championships. Even with all the baggage that comes with Mekhissi-Benabbad, he is always in contention over the last lap, and it should be no different in Eugene. 
Evan Jager is ready to make his big breakthrough in the steeple this season. After closing out his Diamond League campaign last year by breaking his own American record (8:04.71), Jager belongs on the short-list of men capable of winning a medal later this summer in Beijing. The 26-year-old opened his 2014 season with an 8:06, so he's got an outside shot to break the American record at Hayward Field with Birech expected to set a sub-8 pace. 

The other name to watch is 2004 and 2012 Olympic gold medalist Ezekiel Kemboi of Kenya. Kemboi ran an 8:04 opener in 2014, but didn't run faster than 8:19 for the rest of the season. There's no denying his speed (PB of 7:55.76), and his tendency to show up in big races, as he's won three straight World titles. 
PREDICTION: Jairus Birech continues his dominance.
1. Jairus Birech (KEN) 8:01
2. Mahiedine Mekhissi-Benabbad (FRA) 8:04
3. Evan Jager (USA) 8:06
4. Ezekiel Kemboi (KEN) 8:08
5. Conseslus Kipruto (KEN) 8:11
Men's Bowerman Mile (Saturday, 2:49pm)
As always, the men's mile at the Pre Classic promises to end the meet with a bang. The entry list is a who's who of the world's best milers, as a ridiculous eight men have broken 3:50.
Defending champion
Ayanleh Souleiman
of Djibouti ran the fastest mile ever on American soil last year with his 3:47.32. The 22-year-old was the African 1500m champion in 2014, and has shown good wheels in 2015 with his 800m World-lead of 1:43.78 two weeks ago in Doha.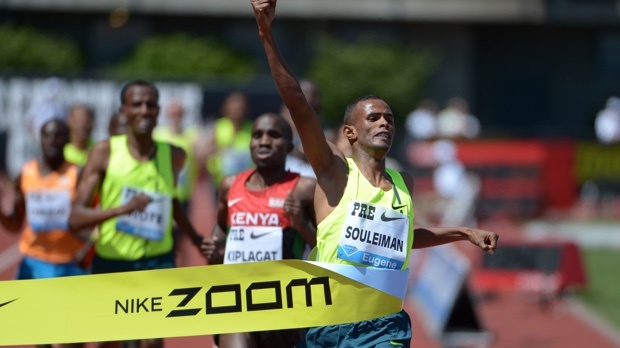 Ayanleh Souleiman ran the fastest mile ever on U.S. soil (3:47.32) at the 2014 Pre Classic.

The biggest challengers will be Kenyans Asbel Kiprop and Silas Kiplagat. Kiprop has won the last two 1500m World titles, and is due for a new mile PB as his 3:48.50 has stood since 2009. Kiprop ran a ridiculous 3:36 1500 last week in Eldoret, Kenya at nearly 7,000 ft of elevation. 
Kiplagat became the fourth fastest 1500 runner of all-time last year when he won Monaco in 3:27.64. He set his mile PB at Pre last year, coming in 2nd in 3:47.88. 
As has become customary in big international mile races, the two Americans are Matthew Centrowitz and Leo Manzano. Both guys will be looking to go under 3:50 for the first time in their careers, and the pace will certainly be quick enough to do it. It may be too early in the season for Centro and Manzano to hang with the top Africans, as their training is geared more towards running fast in August, as opposed to winning these tune-up races. Centro came ever so close to breaking 3:50 at Pre last year, finishing 8th in 3:50.53. 
PREDICTION: Souleiman looked really strong in Doha. He'll repeat
1. Ayanleh Souleiman (DJI) 3:47.1
2. Silas Kiplagat (KEN) 3:47.5
3. Asbel Kiprop (KEN) 3:48
4. Ronald Kwemoi (KEN) 3:48.2
5. Abdelaati Iguider (MAR) 3:48.5
We're running out of room in this preview, so here are the quick facts on the other big races…
Men's 800m (Saturday, 12:49pm) 
2014 World-leader Nijel Amos of Botswana is the favorite for the World Championships later this summer. He'll face 2-time World indoor champion Mo Aman, as well as Kenyan Ferguson Cheruiyot. All three men ran 1:42 in 2014. 
Women's 800m (Saturday, 1;55pm)
A strong quartet of Americans face 2013 World champion and 1:57 runner Eunice Sum of Kenya. Alysia Montano, Brenda Martinez, Chanelle Price, and Ajee Wilson should all contend for the win on Saturday in Eugene. 
Men's 200m (Saturday, 2:32pm)
Justin Gatlin. That's all you need to know. Gatlin ran a World-lead of 19.68 last year in Monaco, the 8th fastest all-time.
Women's 5,000m (Saturday, 2:12pm)
Molly Huddle should have a good shot to break her own American record of 14:42.64 that she set last July. She's not ready to hang with Ethiopians Genzebe Dibaba or Almaz Ayana, however, who figure to push each other up the all-time list on Saturday. Dibaba has run indoor World records in four events- 1500m, 3k, 2-mile, and 5k, the latter of which she ran in February (14:18.86). 

Ayana ran the 3rd fastest 5,000m all-time in Shanghai two weeks ago, 14:14.32. 

Make sure to tune-in this Friday and Saturday for the 2015 Pre Classic! Believe the hype, this one is going to be good.