USATF Clarifies Letter, Says Athletes Can Wear Sponsored Gear at Worlds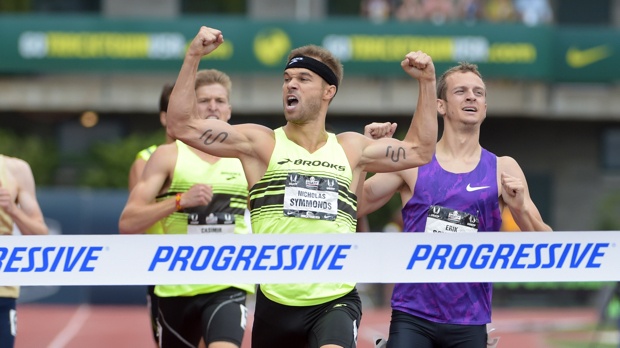 In response to the recent sponsorship dispute with Nick Symmonds, USATF has clarified the team kit letter by stating that athletes can wear their sponsor's gear on many occasions during the World Championships in Beijing. 
"In practice, athletes with conflicting sponsors always pack their personal gear and wear it on personal time, and are allowed by USATF to do so," Jill Geer, USATF's public affairs officer told
Peter Gambaccini in a Runner's World report
. 
The dispute originated when Symmonds refused to sign the Statement of Conditions required by every Team USA athlete competing at the World Championships. Symmonds believed the document to be too ambiguous, specifically when it required athletes to wear Nike-issued Team USA gear during all "team functions." Symmonds saw the written requirement as a direct violation with his current sponsor Brooks Running, and provided examples of past championships when he was
"bullied"
for wearing Brooks gear during personal time at the meet. 
USATF told Symmonds that he had until noon on Sunday to sign the contract. He refused and as a result was left off the World Championship team despite winning his fifth 800m national title at the USATF Outdoor Championships in June. 
Symmonds took particular issue with the wording of a USATF letter sent as a supplement to the team kit that asked all athletes to "Please pack ONLY Team USA, Nike or non-branded apparel."
Geer told Gambaccini that USATF's senior management was unaware that the letter was sent and doesn't plan to enforce it in Beijing. 
"When Nick [Symmonds] brought the letter to [senior management's] attention, we clarified that fact to him. That letter as written will not be in future team kits," Geer told Runner's World. 

Symmonds responded to the article on his Twitter account earlier today.
 
Well that's awfully nice of them to say that. https://t.co/6lt6b8N7FN

-- Nick Symmonds (@NickSymmonds) August 14, 2015

Geer elaborated on the team kit communication between USATF and Symmonds when reached for comment via email.
"When Nick [Symmonds] brought the letter to our attention last week, we immediately clarified that fact to him. That clarification to him regarding the letter came well before we submitted our roster. That letter as written will not be in future team kits."
"As stated earlier, the Statement of Conditions is the document that governs team apparel and when it is to be worn. We were clear with Nick [Symmonds] throughout the process that signing the Statement of Conditions was required to be on the team, and that if he did not sign it, he would not be on the team. He chose not to sign the Statement," Geer wrote.