Event Hub
Sara Hall on the Excitement of Being a New Mom and Marathon Redemption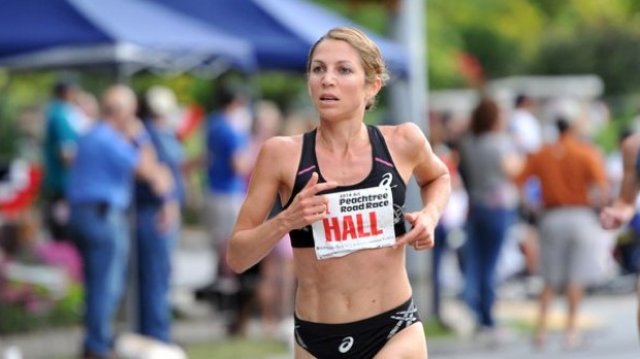 Sara Hall has had a very busy month. The professional long distance runner and wife to Olympian Ryan Hall announced on September 10 that the couple had adopted four sisters from Ethiopia. Hana (15), Mia (13), Jasmine (8), and Lily (5) were
adopted by the Halls
from an orphanage in Addis Ababa, and brought back to the United States to become permanent members of the Hall family. 
Excited for you to meet these 4 sisters, now our daughters, adopted from Ethiopia! Hana, Mia, Jasmine & Lily Hall pic.twitter.com/oGmovklIaV

-- Sara Hall (@SaraHall3) September 10, 2015
During the adoption, Sara was in the middle of a tough training cycle ahead of the Chicago Marathon, her second attempt at the distance after making her debut at the LA Marathon in March. With Chicago just five days away, we caught up with Sara over the phone to talk about the decision to adopt, balancing life as a new parent, and learning the marathon event. 
You've had a pretty incredible month! Congratulations on being a new mom!
Thank you!
Tell me about the decision to adopt four daughters. How did you and Ryan make that decision?
We started the adoption process a couple years ago and we decided on Ethiopia because through spending time in Africa you just see the orphan crisis there and I think there's four to five million orphans alone in Ethiopia so obviously it's not the solution to the orphan crisis in Ethiopia but to be apart of the solution is so valuable. 
We've just come to really love the culture and feel like it's a good fit for us, and as we got along in the process we learned that the biggest need is with sibling groups, older kids and kids with special needs so that was more of our vision, just giving kids a home that may not always have one. We started thinking of adopting an infant just to experience the full life steps but then the further we got into it we realized that's not our original vision because there's plenty of people willing to adopt infants and the system can only accommodate so many. There's actually a waiting list so even though there's all these orphanages, it kind of bottle-necks in terms of how many the system can accommodate. We heard about these girls and we decided to meet them, spend some time with them, and we decided to give them the option of joining our family. And they said yes! And it's developed since then. 
When I heard that you and Ryan had decided to adopt a sibling group, I thought that was very unique just because you don't see adoptions like that very often. 
Yeah I think that's why they waited so long for a family because it is a lot to take on. Even with just one older child, there aren't that many people willing to do that let alone two teenagers and four kids total so yeah I mean we're definitely going to have some challenges but I think it's special that we don't have kids yet. We can give them full attention and not be worrying about how our other kids are adjusting and things like that. We definitely have a unique ability to take it on. 
What was the first impression like with the sisters?
We spent a lot of time with all the kids. They didn't know we were there just to meet them, but we were just amazed that despite all they've been through, they were really open and loving and beautiful girls. Obviously there's only so much time you can get to know them in the short amount of time, but we had fun with them. I tried to picture the same situation in the U.S., just going up to a teenager and trying to befriend them [laughs], and it's not the most natural thing, but despite that, it was pretty natural. 
What are each of their individual interests?
They all have really different personalities and that's really fun to see come out more and more. As far as their interests, that's also a really fun process with this group, they haven't really had choice before. Those kinds of things are very much a Western-type of thing to be able to pursue hobbies, whereas in their area it's all about survival. Our kids have never even been to school because they were at home helping or just trying to survive by working. So it's been fun to see, what we see as some of their gifts. We'll be exposing them to different things, but they do like running. If Ryan or I are going out the door for a run, one of them will ask to join so we'll do a mile with them and then I'll do my actual run. My eight-year-old, she watched the World Championships on TV and said, 'Mom I want to train to beat Kenya!' So you never know, we might have a runner in there. 
They've been sedentary for four years now because the orphanage is a small house with a courtyard and they were never able to leave so they haven't had a lot of space to do exercise. So we'll see!
How have they been adjusting to living in the U.S.?
We're probably going to be primarily in Redding, California, but they're doing surprisingly well! I expected a lot more culture shock. One good thing is that they spent a few years in the orphanage in Addis, which is a big city so it wasn't like coming straight from the rural village to here. So they've experienced bathrooms and kitchens, even though ours are a lot more complicated than theirs, at least it wasn't like mud hut to America. It's just a lot of fun stuff like the first escalator ride where they were just shocked [laughs], but nothing is stressful, it's just fun. I think they're also just amazing girls. They're very strong and brave so that helps, and I think it's also helped that Ryan and I have spent a lot of time with them so they trust us. We were able to find ways to adjust well as a family. We speak some of the language, which I think helps. 
How have you and Ryan dealt with the language barrier?
It's not as hard as I thought, we can't have in-depth conversations with the teenagers but in Ethiopia we had a translator, but now we're all able to communicate what they need and stuff. They know a little bit of English, we know a good amount of Amharic, and then it's just charades. The little ones are especially good at that. It hasn't been as hard as I thought it would be. 
How has it been balancing being a new parent and a professional runner?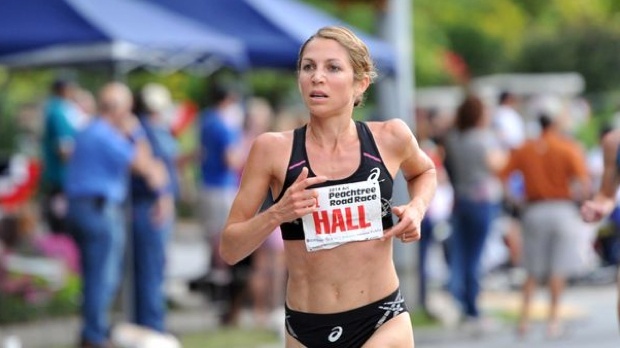 It's been ok so far. I'm sure it's going to be challenging, but my first week as a new mom I ran 115 miles and did some pretty good workouts. Fortunately, Ryan and I can tag-team things like one of us can watch the kids, and in Ethiopia my parents were there for a good amount of time, which allowed us to run together. We've been spoiled because normally over the past 10 years we've always been able to do that, and now we don't get to do that as much. We'll have to figure out going forward how we're going to figure that out. When they're in school I think that'll help. As of now though, it's been good to tag-team between Ryan and I. 
115 miles for the first week is pretty impressive!
Yeah! That was my last big week for marathon training so it wasn't great timing for everything, but fortunately they're able to do a lot of things on their own because of their ages so it's not like a toddler where you're having to totally watch and do everything for.
You are running the Chicago Marathon this week, your first marathon since LA in March. How are you feeling heading into this race?
I'm feeling good! I'm happy with my training, it's definitely been a really hard build-up. With LA I just felt amazing the whole time, and ran great workouts. This one was very different in that I was tired the whole time. I definitely ran more miles than I did for LA, but I just felt like it was more of a grind. I was happy with some of my workouts, but I definitely had to keep reminding myself what the goal was. My legs are feeling like they're coming around now that I've backed off. It's hard with the marathon, especially at altitude. You don't really get a sense of your tempos and stuff, how that translates, so I'm kind of going in there on faith that I prepared the best I can and then you just have to believe you're ready. 
What did you learn from your marathon debut in LA? 
I definitely learned that I need to be more careful to run a race that is more suited to my strengths. I knew going into LA that the course was pretty tough, but I thought I could handle it. I knew for this one that I wanted to maximize my strengths a little bit, get a feel for the distance without the other stuff getting in the way. 
Obviously running as slow as I did (2:48, over five minutes off of the Olympic Trials qualifying standard) is kind of a black sore that is not great, but it was one of the times when I had to persevere more than any other time. To keep going when your body is no longer functioning, I mean I think that's character-building and hopefully it'll make all the other ones feel easy. 
WATCH RESURRECTION: SARA HALL | LIFE'S MISSION (BONUS EPISODE)
You mentioned that training for this race has been more of a grind, have you been working on anything specific for this marathon?
I've been trying to run on flatter courses, which is nice for tempos and things. Ryan really shapes the long runs and the tempos and then I'm kind of talking through stuff with him like what would be an appropriate pace and effort. He does help me learn that because I'm used to being really aggressive in training, but when you're starting a 15-mile tempo at altitude you can't really go out the first mile really aggressive because your run will suffer. He's helped me with the mentality of the event. 
How are you using this race to prepare you for the Olympic Trials?
I'm using it to see if I want to run the Marathon Trials. I didn't really feel like I experienced the event in LA, so I just want to get a feel for it and go from there. So I'll decide if I want to run the Trials after Chicago. 
What are you goals? Do you have a time you're targeting?
Not really, I just want to get a feel for the marathon. I'm going to stay on the conservative side because I want to come off it well for the trials, no matter which trials I do, you know you don't want to have it be something that takes a long time to recover from. So just go out there and listen to my body and have fun. 
Are the girls going to travel with you guys or watch from home?
No they're not. We thought about it but no. We weren't sure how their adjustment would be. Ryan is going to stay with them until right before he leaves and then my in-laws will watch them. They'll be tuning in with Grandma and Grandpa for sure. I can't wait to bring them to a race though. They've never been to a race. They got to watch a little bit of the World Championships on TV, and I think that was the first time they watched a competition, but they know about runners and how it's a way to make a living and stuff. 
What races were they watching at the World Championships?
The women's 5K and the 1500m. So that was a great one for them to watch because the Ethiopians went 1-3 in the 5K so they were pretty stoked on that [laughs]. 
Hall will toe the starting line at the Chicago Marathon on Sunday October 11 at 7:30 a.m. CT, with her four daughters watching intently on
here
.