Event Hub
LIVE UPDATES: 2017 IAAF World Championships Day 8
Follow along with live updates of the eighth day of action at the IAAF World Championships in London (refresh the page for live results).


Women's 100m Hurdles (Semifinal)

Heat 1


Sally Pearson of Australia ran away with the first heat. She won in 12.53 and was followed by Olympic silver medalist Nia Ali who closed for the second automatic spot into the final. Pearson, the 2012 Olympic champion, has returned from a series of injuries including a hamstring issue and a shattered wrist.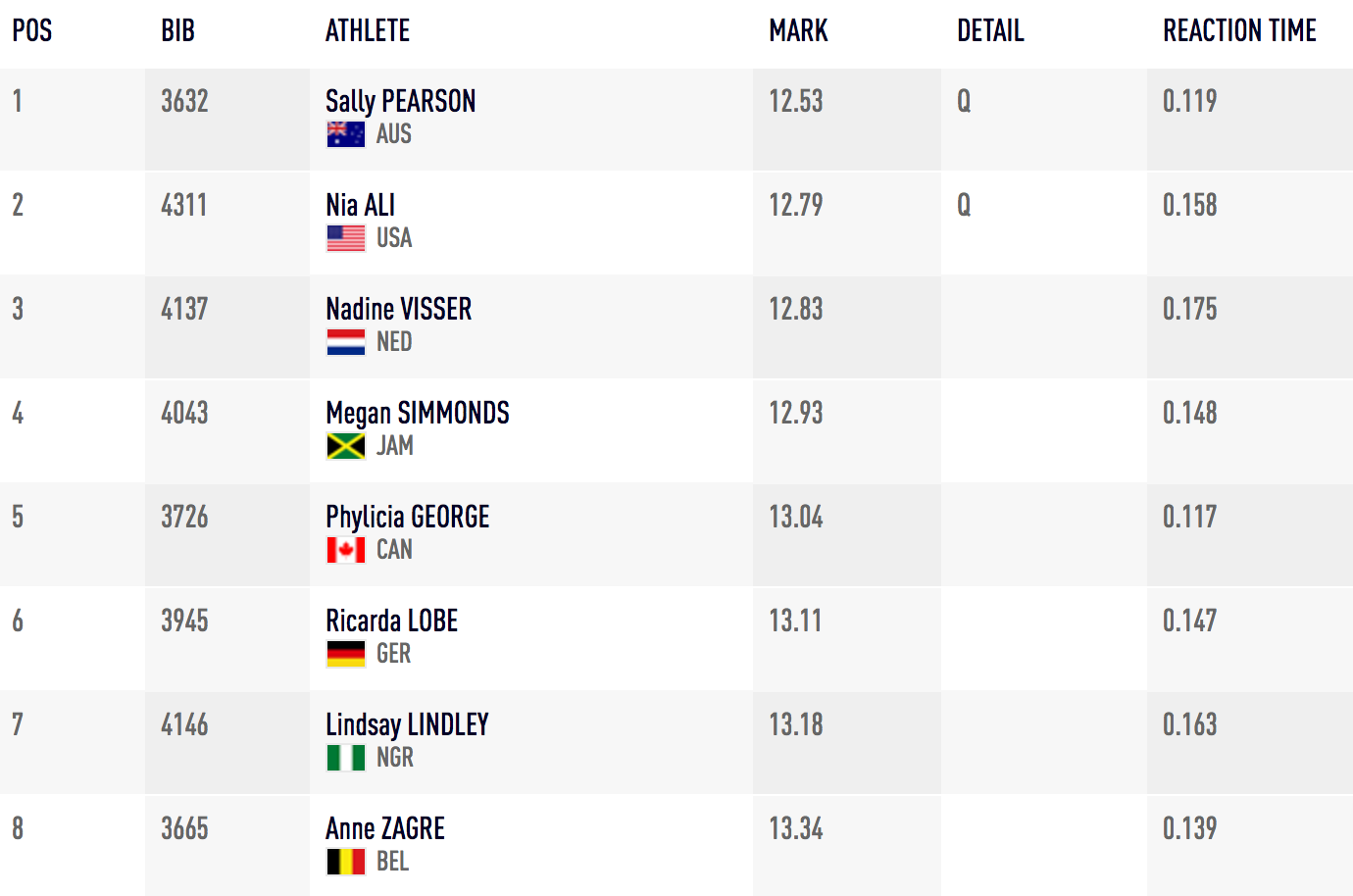 Heat 2


Team USA's Christina Manning earned the victory in 12.71 to make the final. She looked absolutely dominant in that heat. This marks her first ever global championship final of her career. Fun fact: She just announced that her blue lipstick is called "Young Attitude" by MAC. I'm a big fan.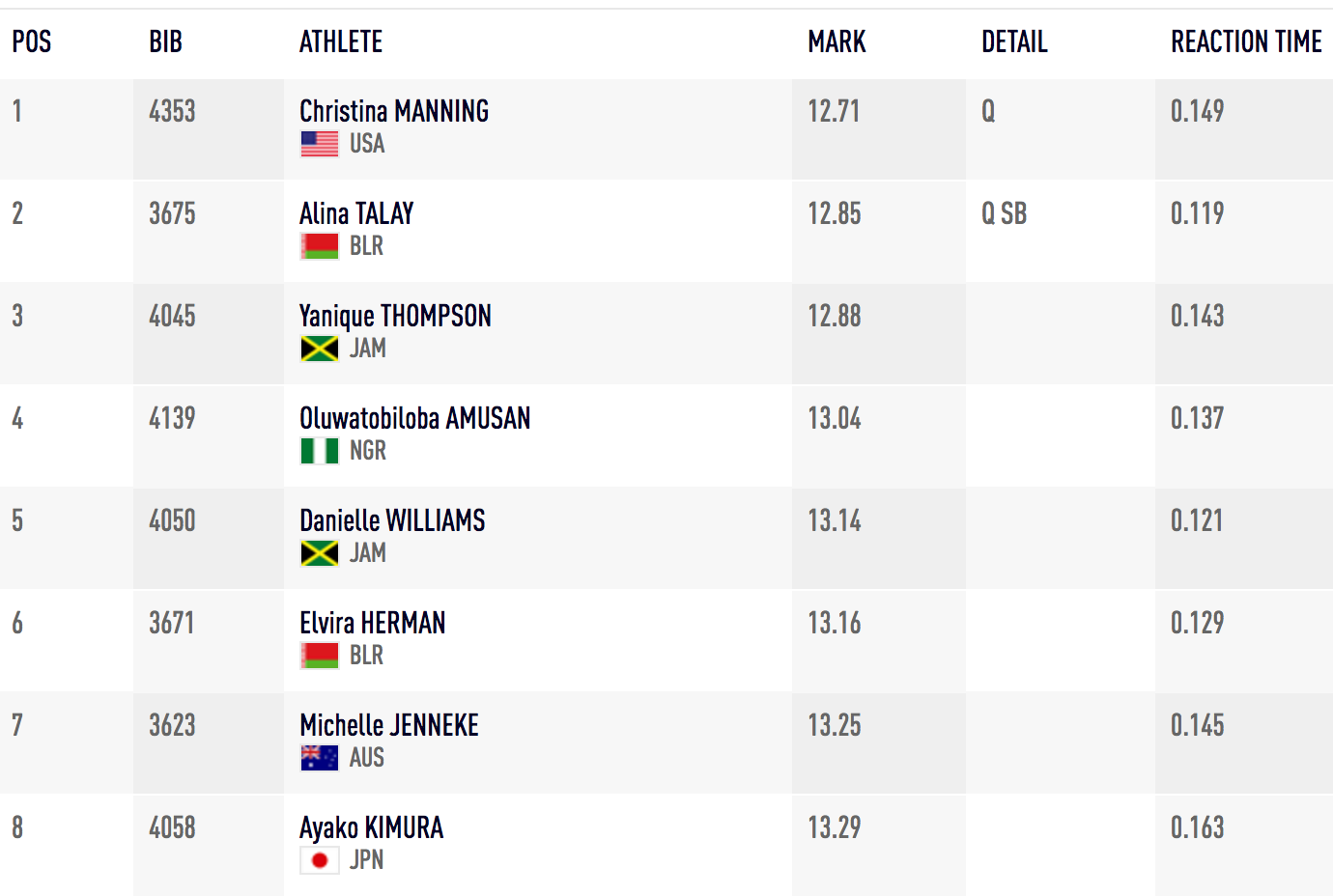 Heat 3


Uh Oh! False start and it looks like it was Pamela Dutkiewicz. She receives a green card so she can stay in the race.

Dawn Harper Nelson wins the heat and thankfully Keni Harrison finishes third, but gets in on time! JEEEEEZZ that was close!! So Harper runs 12.63 and Dutkiewicz gets second in 12.71. Harrison finishes third in 12.86. So all four Americans will be in the final, pretty amazing!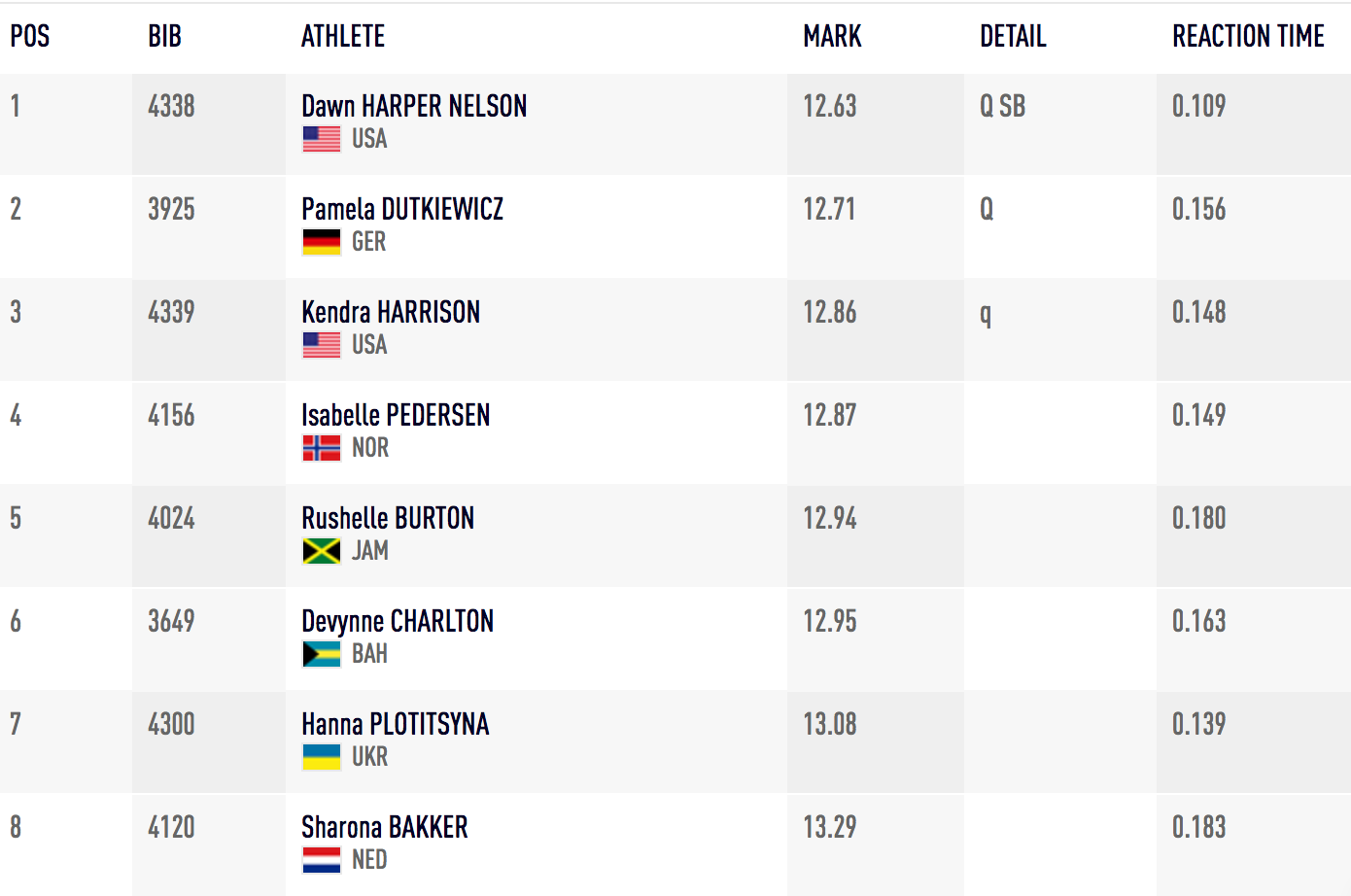 Women's Long Jump (Final)


After the first attempts, Darya Klishina is leading the competition with a jump of 6.78m. Brittney Reese is in second with a jump of 6.75 and Tianna Bartoletta is in third with a jump of 6.75m.

With three jumps to go, Reese unleashes a huge 7.02m jump! She establishes a big lead over Ivana Spanovic!

Bartoletta just executed a clutch performance with a massive 6.97m jump, which catapults her into bronze medal position!

It's official! Reese takes her fourth world championship title in the same stadium where she won 2012 Olympic gold. Klishina takes silver with a jump of 7.00m, and Bartoletta earns bronze with a clutch last jump.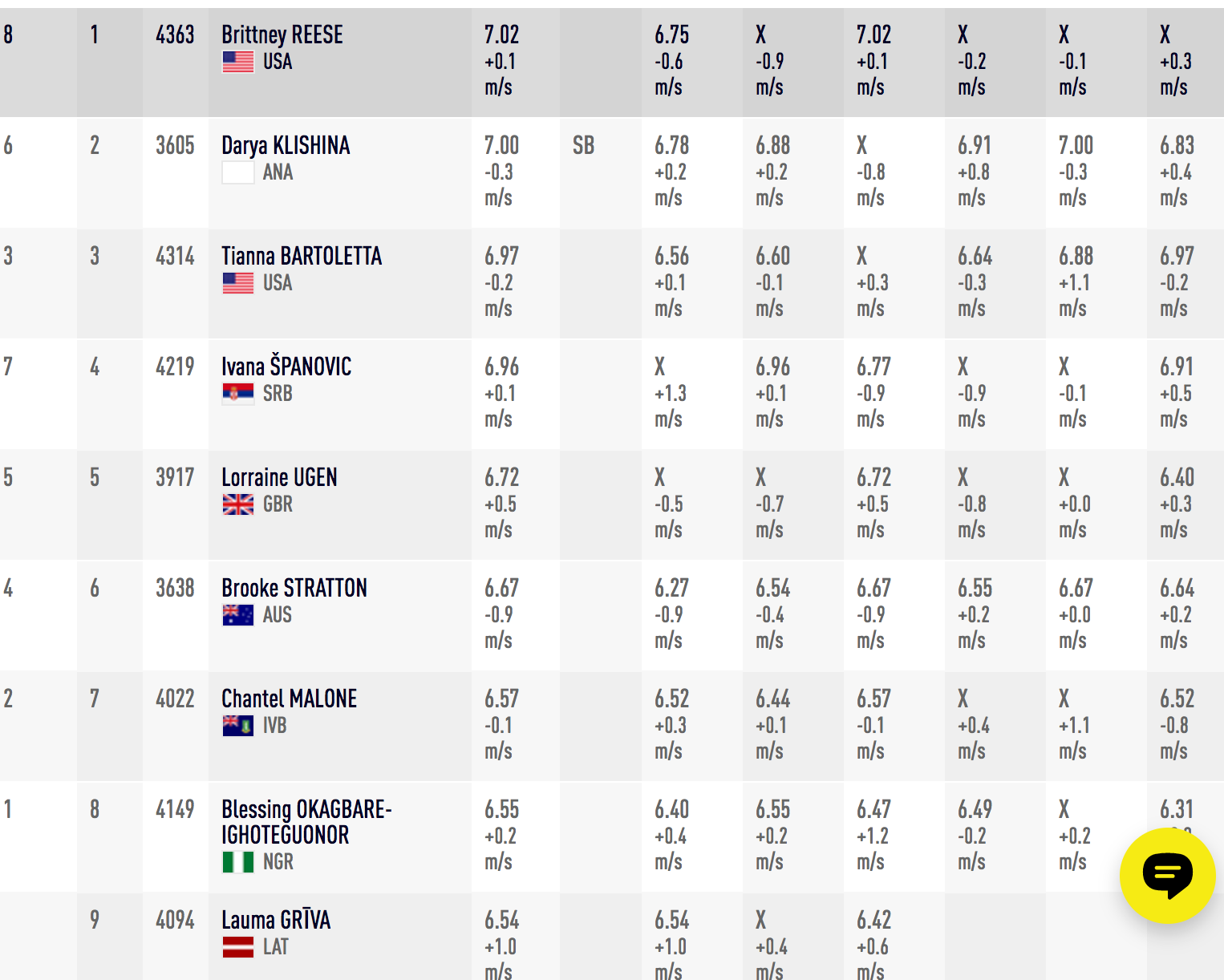 Women's 800m (Semifinal)

Heat 1


Ajee Wilson is off with an early lead and she'll take the pack through the first quarter in 57.82!

She just made 1:59.21 look SO RIDICULOUSLY EASY! Ajee Wilson takes the heat in a relaxed 1:59 and leads five women under the two-minute barrier. First quarter was 57, 600m split was 1:28 and she eased up at the line to cross in a comfortable 1:59. WOW.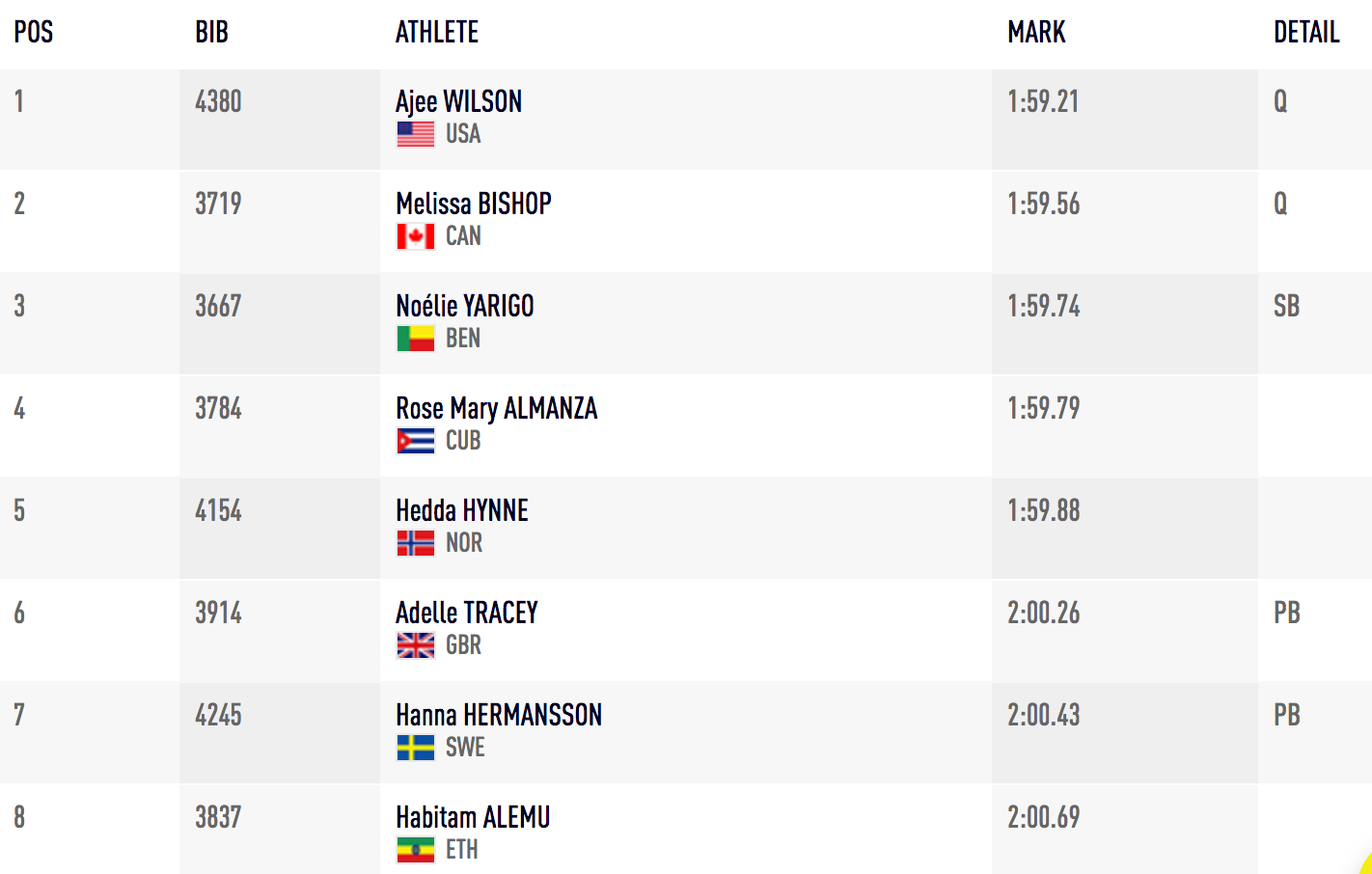 Heat 2


Charlene Lipsey muscles to the front, like her training partner Ajee and she'll take the field through 400m in 58.97!

OH MAN what a homestretch battle! Caster Semenya takes the heat in 1:58.90, Angelika Cichocka edges her way into second with a 1:59.32, and Lipsey holds on for third in 1:59.35. Luckily, she currently has the fastest time of the heats.

Lynsey Sharp has been disqualified! Just showed up in the official results. She finished sixth at the 2016 Olympic Games.

We just heard that Sharp has been reinstated into the 800m final after an appeal.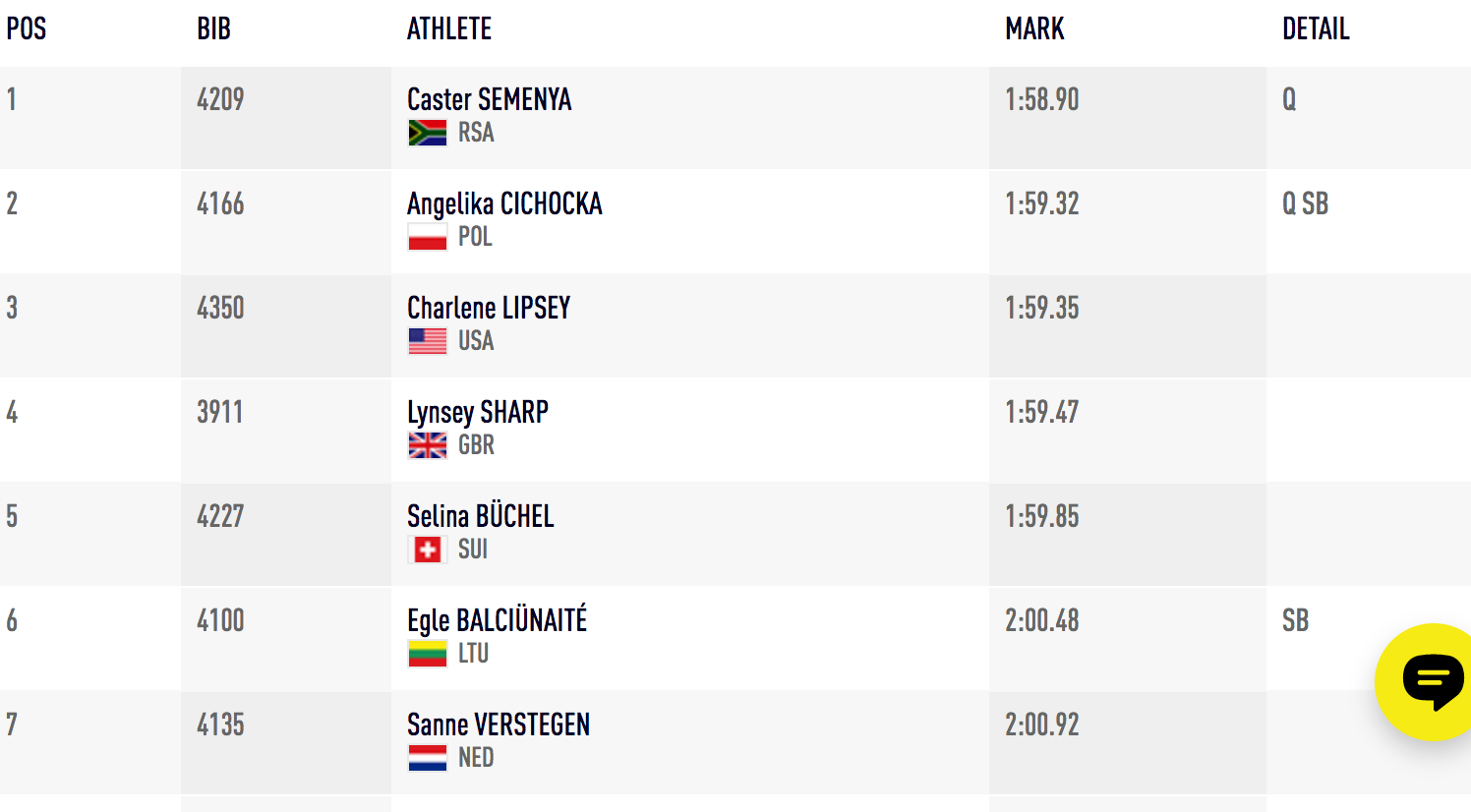 Heat 3


The pace isn't as hot as the first two heats....Francine Niyonsaba leads the field through 400m in 1:00.89.

Niyonsaba takes the heat in 2:01.11, Margaret Wambui finishes second in 2:01.19, but Brenda Martinez takes a narrow third in 2:01.31. She will not advance to the final. Lipsey will advance on time from the second heat.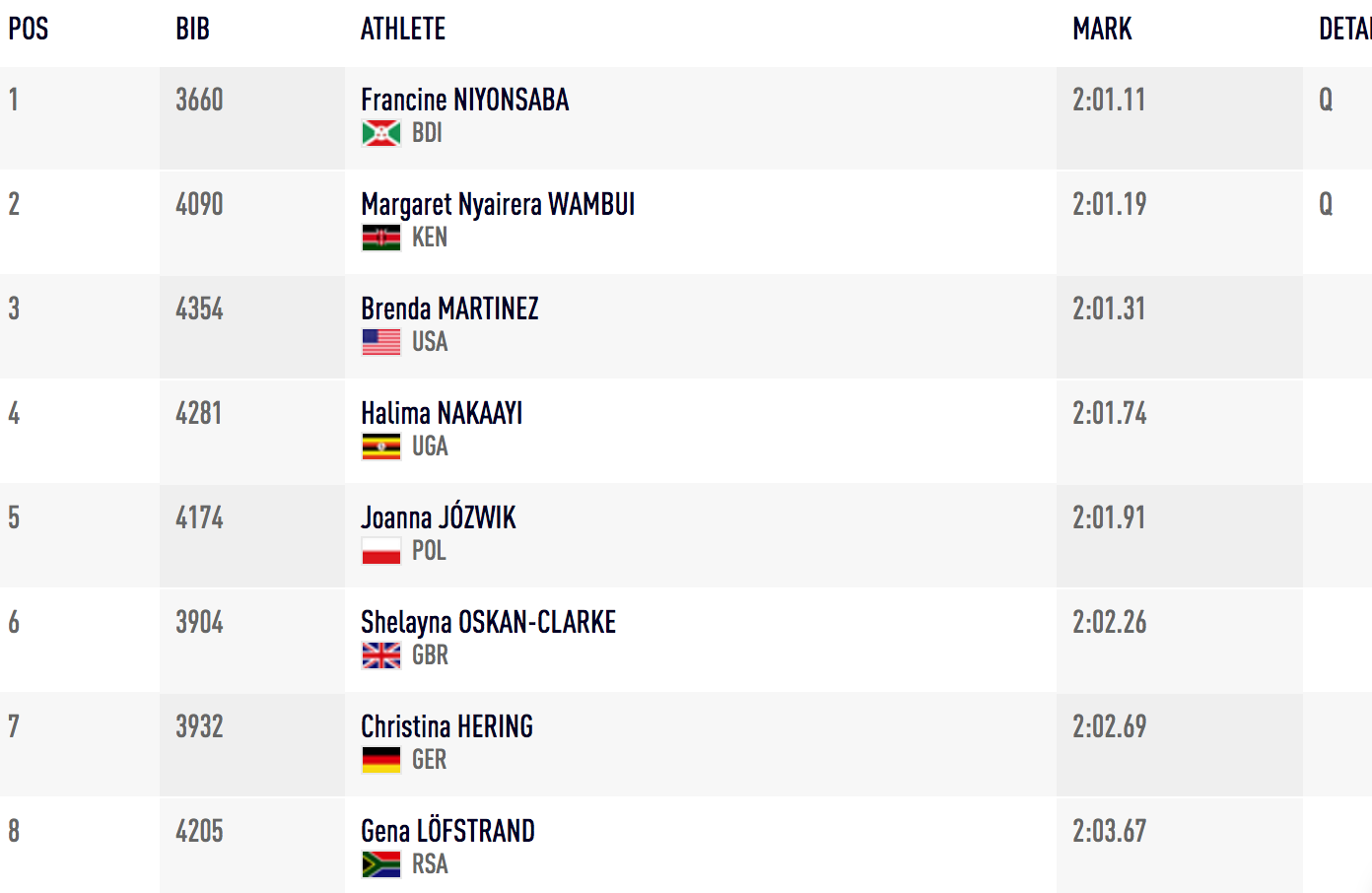 Men's 1500m (Semifinal)

Heat 1


The men's 1500m is off and Filip Ingebrigtsen takes them out in a slow 62 seconds for the first quarter. A little bit of a lead change with Adel Mechall of Spain who leads through the 800m in 2:03, they've barely picked it up. This is perfect for Robby Andrews, the king of the kick.

OH NO! Andrews is out of the race, punches the ground!!! We need to see a replay of that, but it looks like he was tripped! Happened just before the bell!

Elijah Manangoi takes the heat in 3:40, followed by Olympic champion Asbel Kiprop and Ingebrigtsen.

Replaying the moment Andrews dropped out, it now looks like he pulled a muscle. Didn't seem like he was tripped or impeded in any way. Just looks like a bad injury. Andrews will not advance to the final.

"My calf seized up on me," Andrews just told Lewis Johnson of NBC. He said he was afraid that if he kept running, that he would tear something.

So unfortunate for him and a terrible way to end his world championship run. Hopefully his calf is ok after that.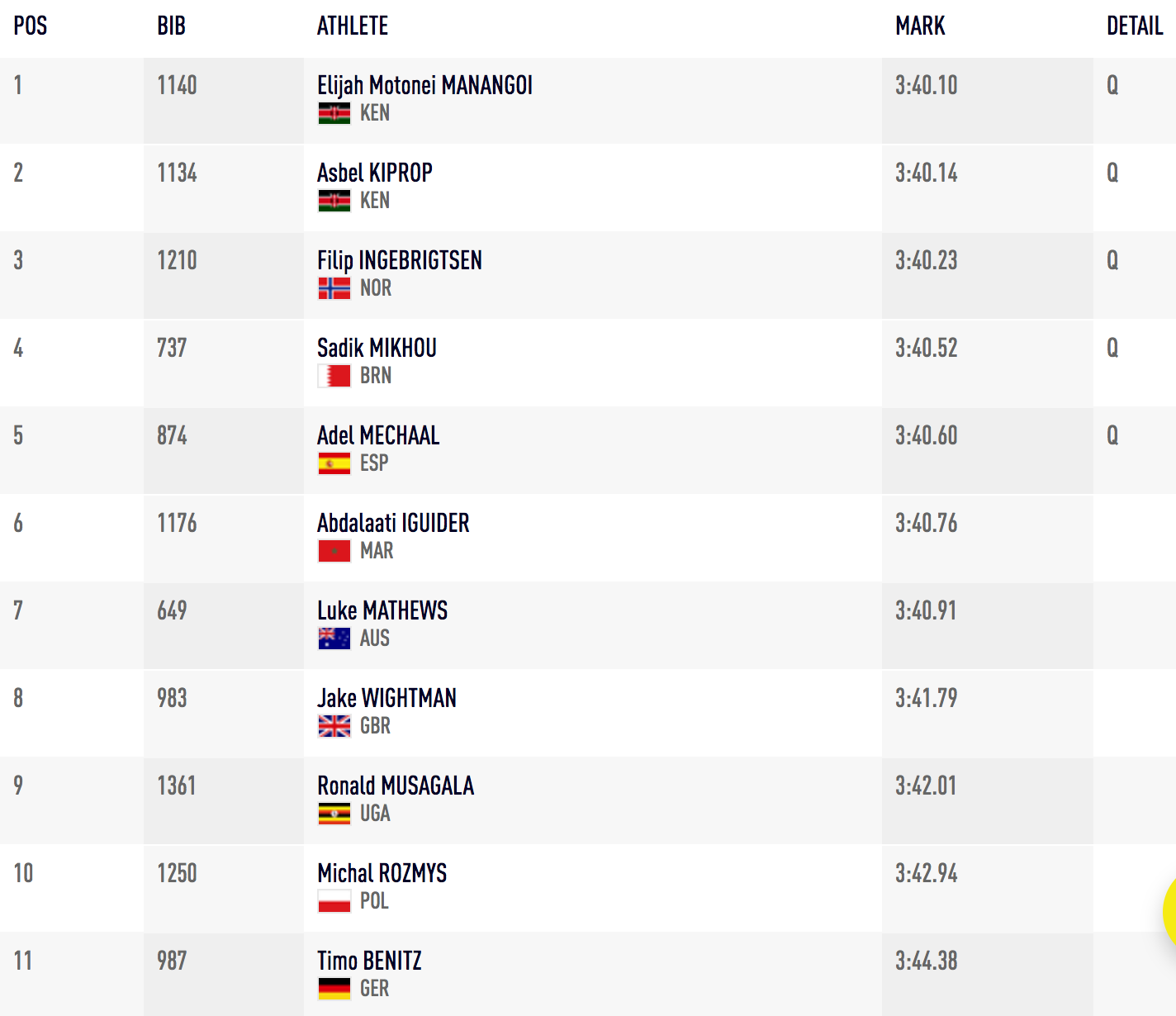 Heat 2


Timothy Cheruiyot takes the field through 400m in 1:00 so a little faster than the first heat. Cheruiyot continues to lead through 800m in 2:00, they are maintaining this pace, which isn't crazy but it's faster than the last section.

Oh man what a stressful last 100m stretch! But Johnny Gregorek is in the final! He finishes seventh in 3:38.68 so he will make it in on time!

Jakub Holusa wins the heat in 3:38.05, Timothy Cheruiyot finishes second in 3:38.24, and a crazy battle for the rest of the auto spots! That has to be one of the closest finishes in awhile! Winner runs 3:38.05 and seventh place runs 3:38.68! And we have an American in the final!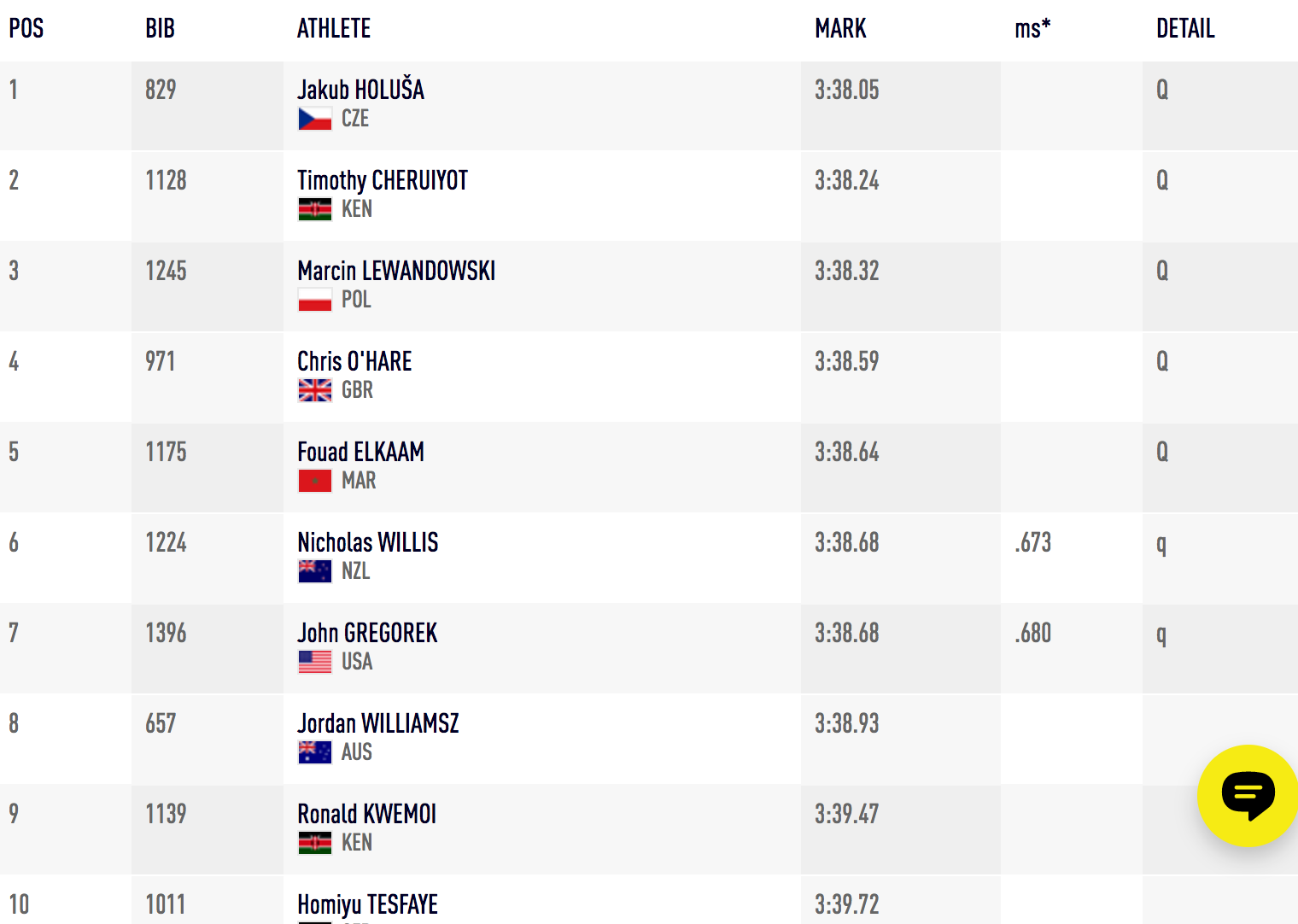 Men's Hammer Throw (Final)


Pawel Fajdek of Poland leads the competition after three attempts. His 79.73m throw is currently in first place.

Fajdek claims his third world championship title with a competition best toss of 79.81m. Valeriy Pronkin earned silver and Fajdek's teammate Wojciech Nowicki walked away with bronze.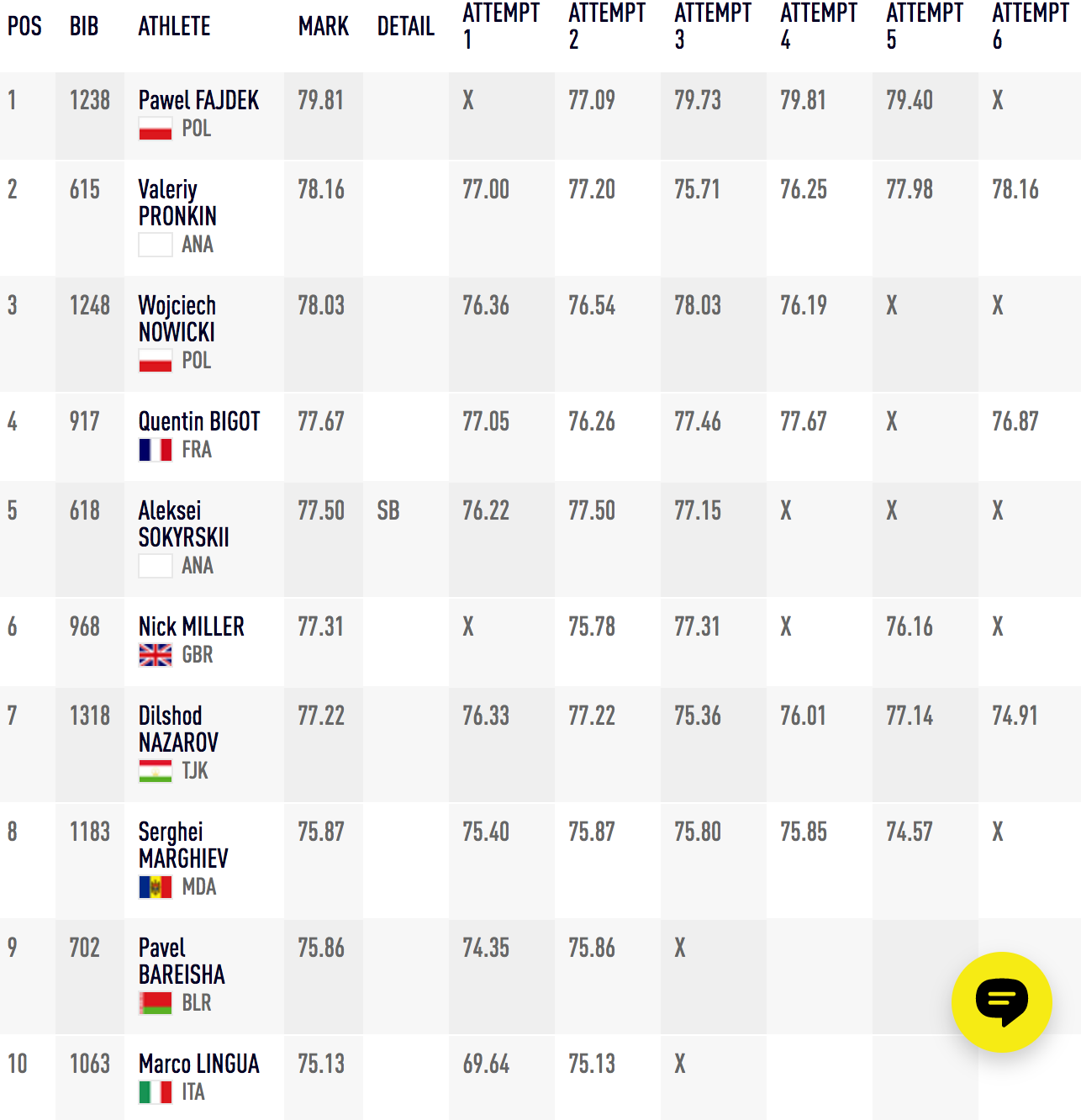 Men's 400m Decathlon

Heat 1


The current event-leader Kevin Mayer of France is in this heat. He holds a 400m personal best of 48.28 seconds.

Mihail Dudas takes the first heat in 48.08, which will earn him 905 points. Mayer finishes second in 48.26. He will earn a personal best and 897 points.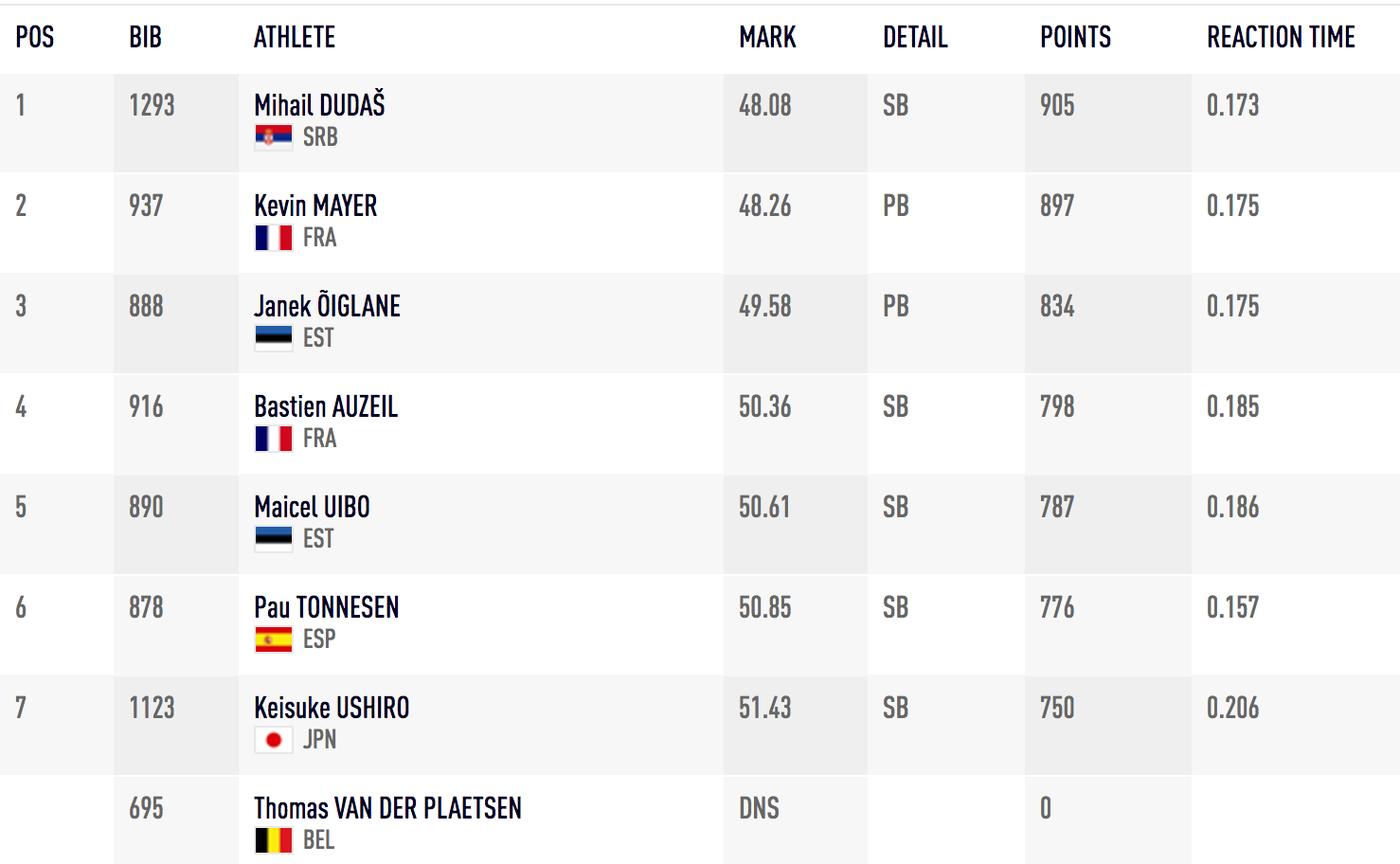 Heat 2


Two-time world champion Trey Hardee is on the line now. He is currently tied for second in the competition.

Cedric Dubler takes the heat with a 48.31 performance. After leading for the majority of the race, Hardee walks away with a fourth-place finish in 48.78. The performance earns him a season's best and 872 points towards his competition total. He looks pretty satisfied with the time.

After the first day, Hardee has 4313 points, 165 points less than competition leader Kevin Mayer.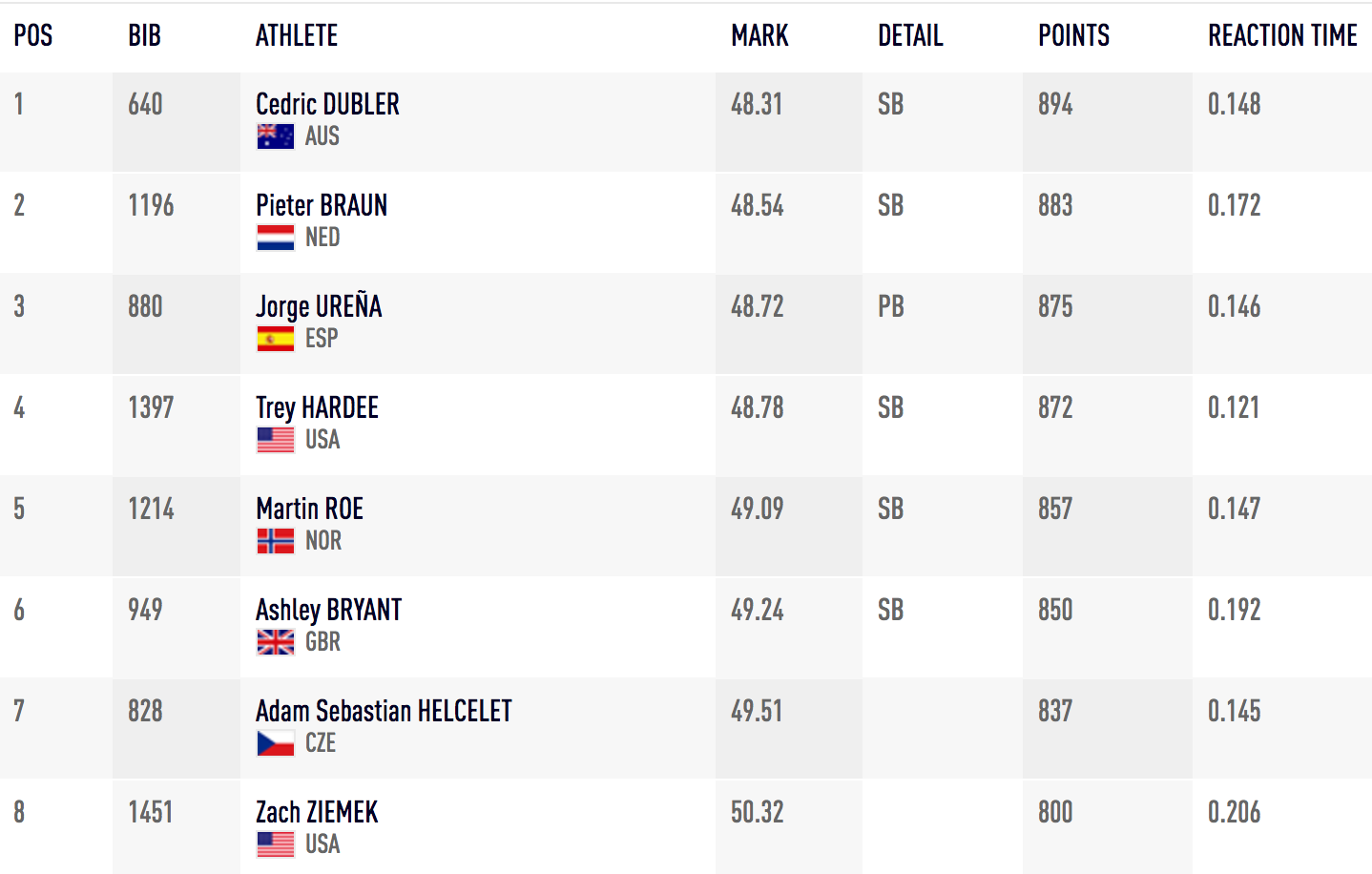 Heat 3


Rico Freimuth takes the third heat in 48.41, which is a season's best for the German. His point total of 4,361 is just ahead of Hardee's after the first day.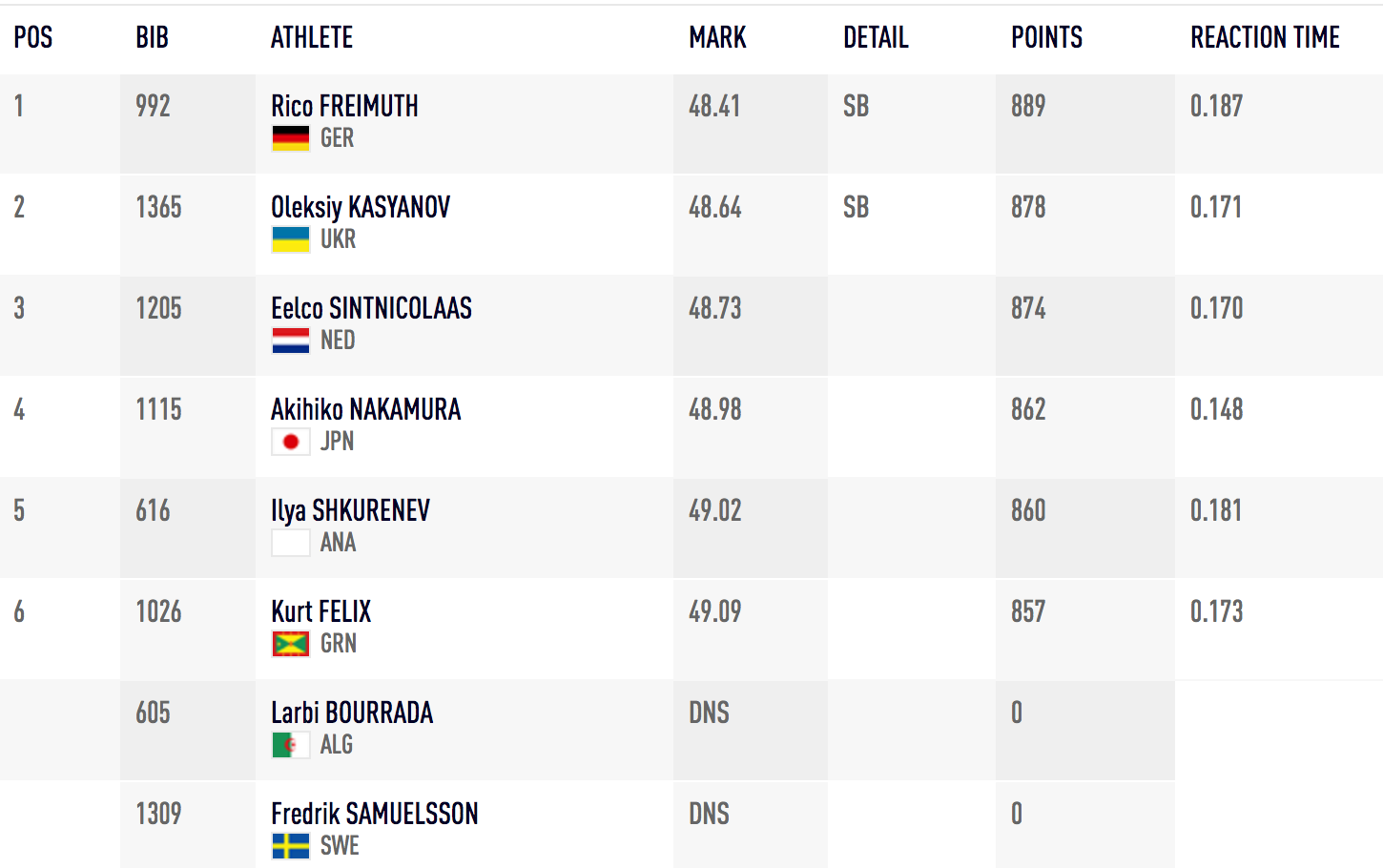 Heat 4


Wow fastest time of the day for Kai Kazmirek who runs 47.19 to beat Damian Warner who also dips under 48 seconds. Here are the point totals after day one of the decathlon: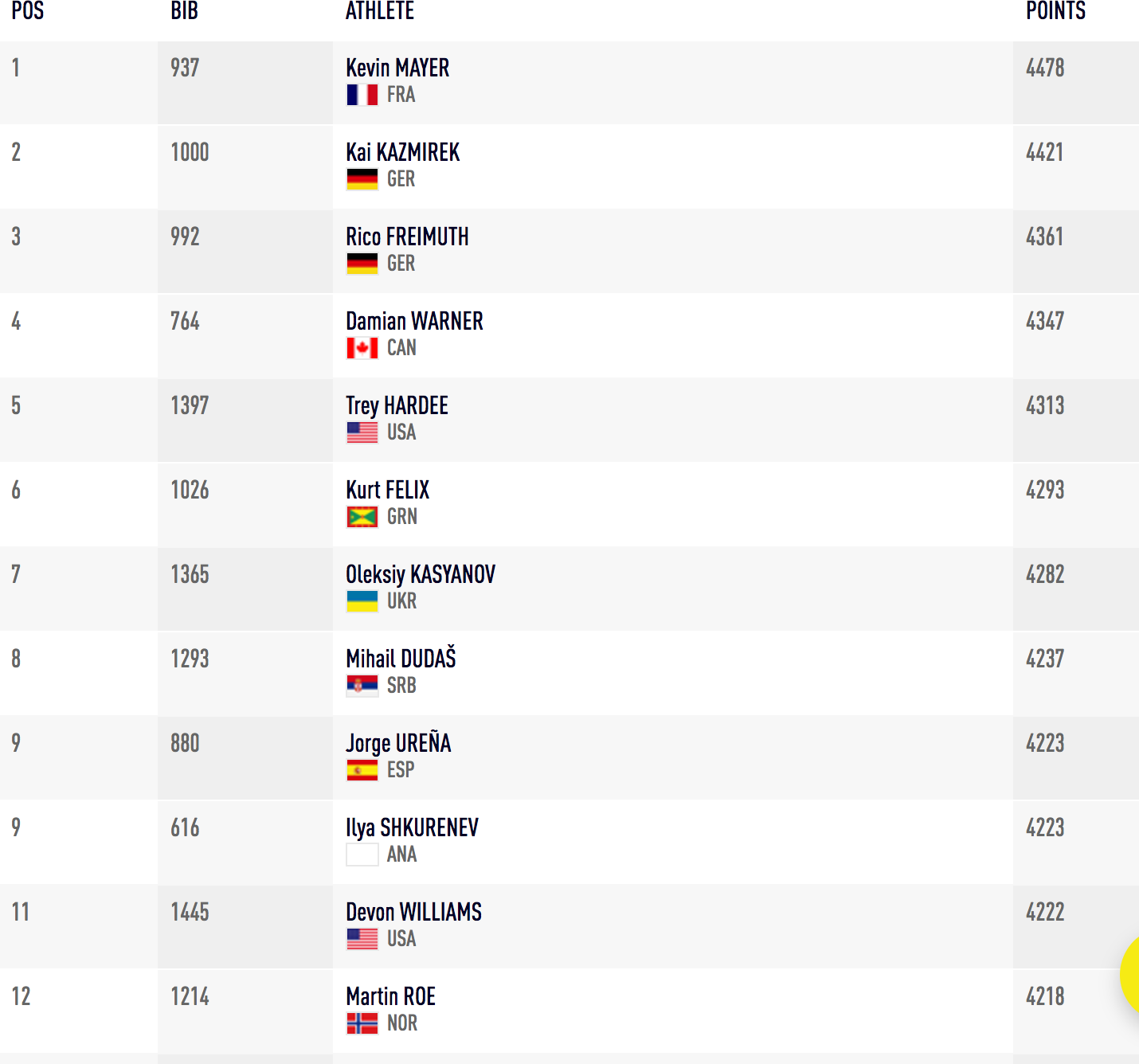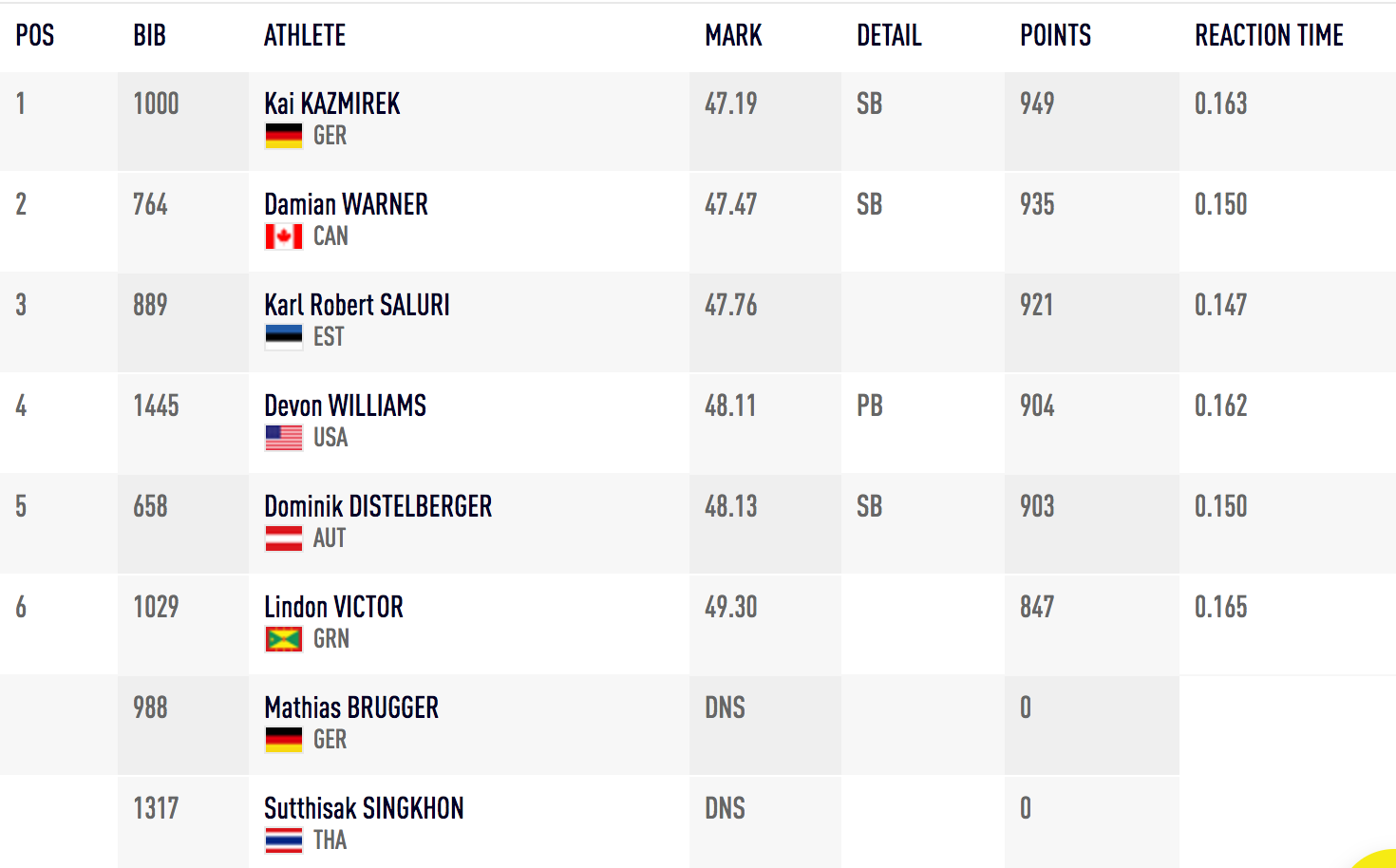 Women's Steeplechase (Final)


The women's steeplechase is now underway. Oh my gosh! Beatrice Chepkoech steps off the track and completely misses the first water jump! She falls again on the backstretch and takes down three competitors with her! Both Americans Courtney Frerichs and Emma Coburn are safe and out of the carnage.

3:02 at the 1K mark so they are on 9:06 pace currently. Ruth Jebet is in the lead with Jepkemoi and Chespol behind her. Coburn and Frerichs are sitting behind them, all within the lead pack.

The brisk pace is being maintained with Jebet at the helm of this race. At 2K, Jebet leads them through in 6:03. The top players in this race are Jebet, Chespol, Jepkemoi, Chepkoech, Coburn and Frerichs.

Coburn is now moving up as Chespol falls off the pace! Bell lap!!

Two Kenyans and both Americans are IN IT!!

AHHHHHHHHHHH!!!!!! Emma Coburn is your world champion and Courtney Frerichs takes the silver!!!!!!!!!!!!!!!!!!!!!!! Both shattered the American record!!!! Coburn takes gold in 9:02.58, Frerichs takes silver in 9:03.77, and Hyvin Jepkemoi finishes with bronze in 9:04.03!! WHAT AN UNBELIEVABLE RACE!!!!! I don't even know what to do now. Everything is awesome.

Frerichs was 11th in Rio, Coburn was bronze. That was one of the craziest races and most amazing improvements I've ever seen. Championship record too!!!

Some fun stats brought to you by Olympic silver medalist and world bronze medalist Evan Jager: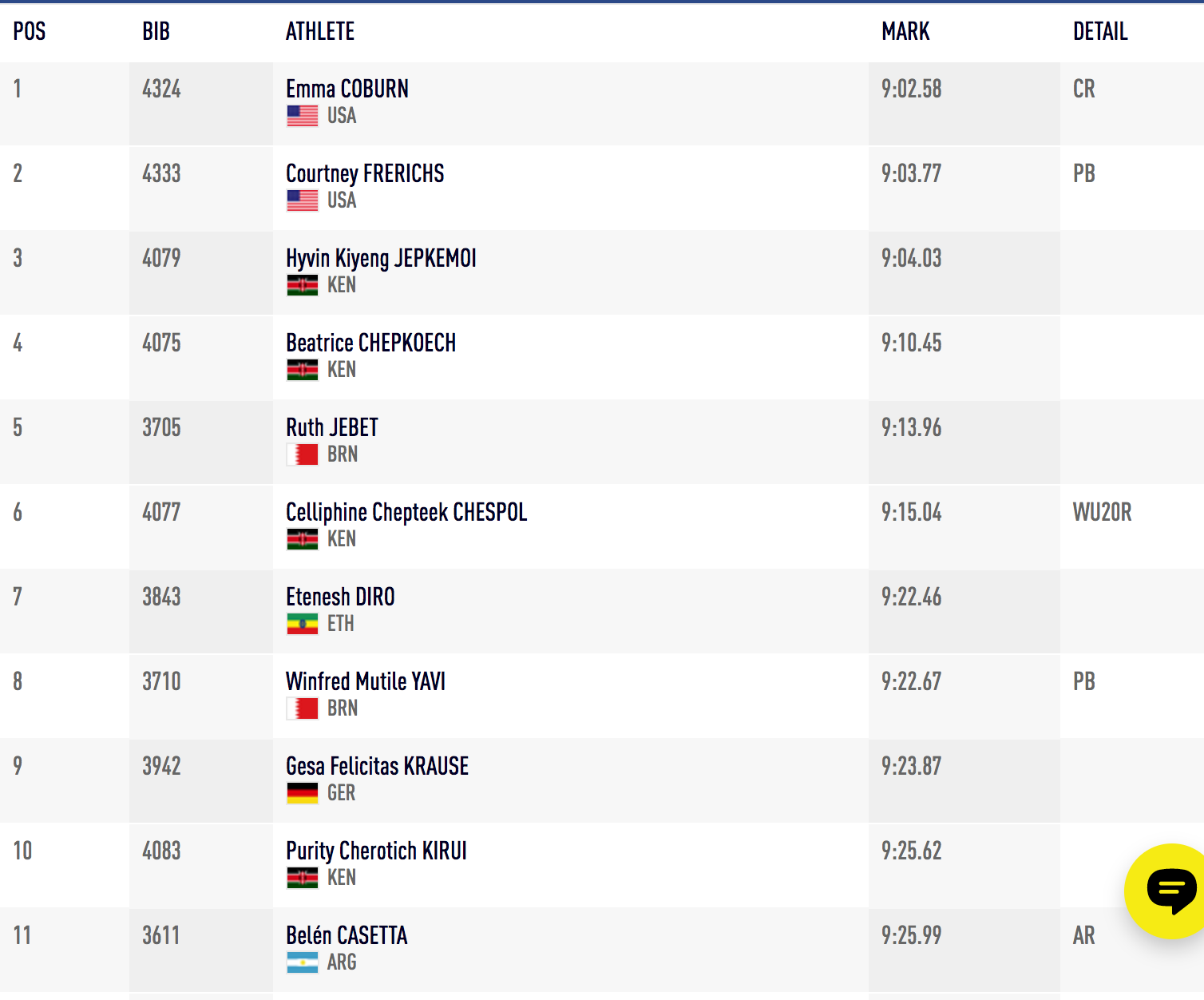 Women's 200m (Final)

2015 world champion Dafne Schippers repeats her world title with a stunning 22.05 season's best! Marie-Josee Ta Lou takes silver in 22.08, and Shauae Miller-Uibo claims bronze in 22.15! This is Ta Lou's second silver medal after finishing second in the 100m earlier in the week. Schipper's gold is a vast improvement on her bronze medal in the 100m. And it's a special performance for Miller-Uibo who missed out on a medal after faltering in the 400m final.

Americans Deajah Stevens and Kimberlyn Duncan finish fifth and sixth.