Women's Olympic Marathon Full Recap & Timeline
Below is a full recap timeline of the 2012 London Olympic Women's Marathon. If you don't want to see th results immediately start from the bottom and scroll up so see how the race played out.
FULL RESULTS HERE
---
TEAM USA & "The Others" Finish up
FULL RESULTS
While the top three battle hard over the final 2k, how did the rest of the athletes we were watching fair at the finish line?
Mary Keitany, the only woman in the world to run under 2:20 in the marathon each of the past two years, held her 4th place finish and failed to earn his first major medal in a marathon championship race.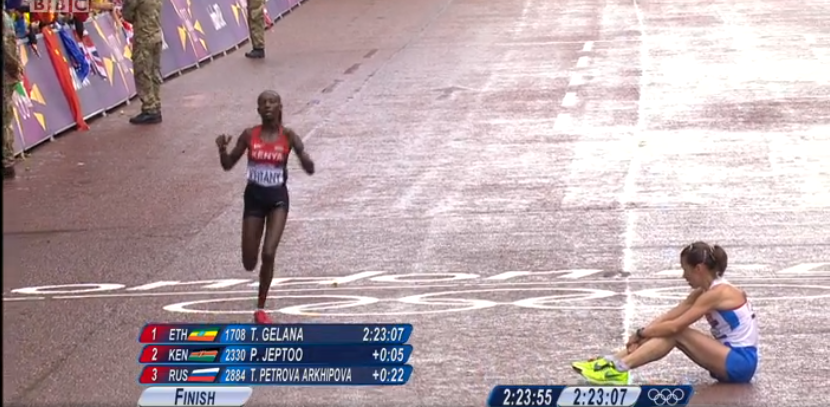 The US's top marathon, Shalane Flanagan, was poised to have her second highest finish in an Olympic final but felt apart over the last 4k but still finished a respectable 10th place. Her time of 2:25:51 was only 13 seconds off of her best marathon ever. Shalane (left) finished 16 seconds in front of teammate Kara Goucher (right, back). For Goucher, the time was only 14 seconds off of her best marathon (2:25:53) time which she ran in NYC back in 2008.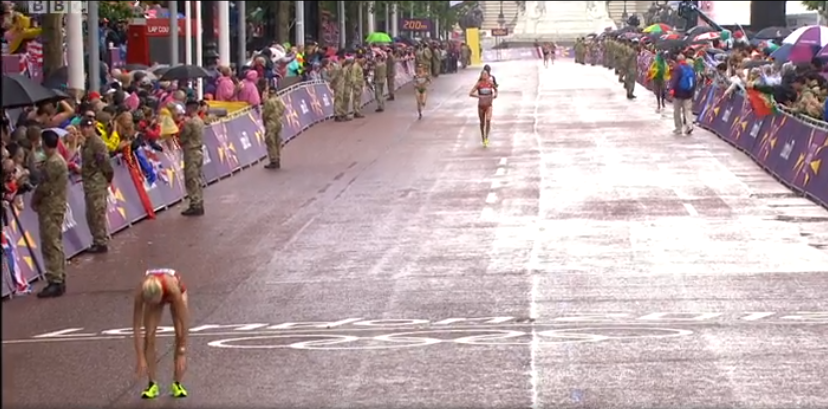 Our New Zealand fav, Kim Smith, finished 15th in a solid time 2:26:59.

Team USA teammates Flanagan and Goucher help each other off the course after the grueling marathon race.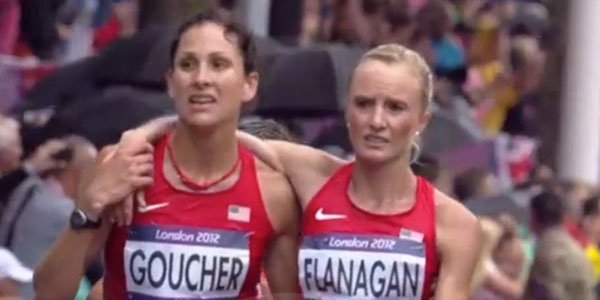 ---
Olympic Record Finish in Women's Marathon
FULL RESULTS

Soon after the last update Keitany faded as we thought might happen. Gelana was the first to throw in a surge and the past London Marathon Champ had nothing left to respond. Behind Gelana, Jeptoo and Arkhipova chased as time and ground were running out.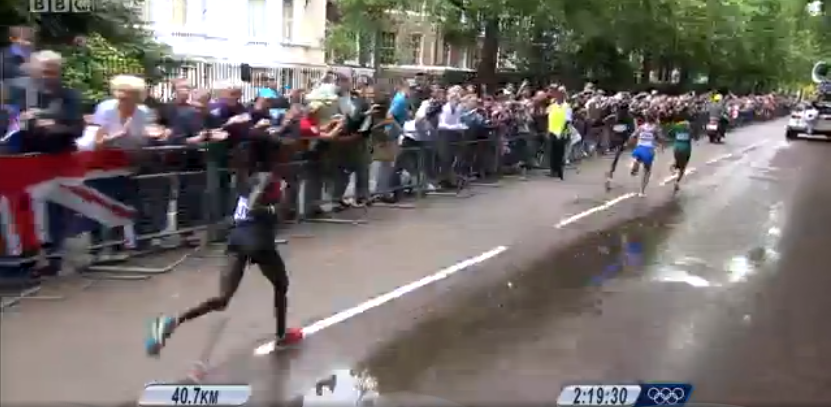 Half a kilometer after the surge was throw Arkhipova was out of the picture and Jeptoo began to fade.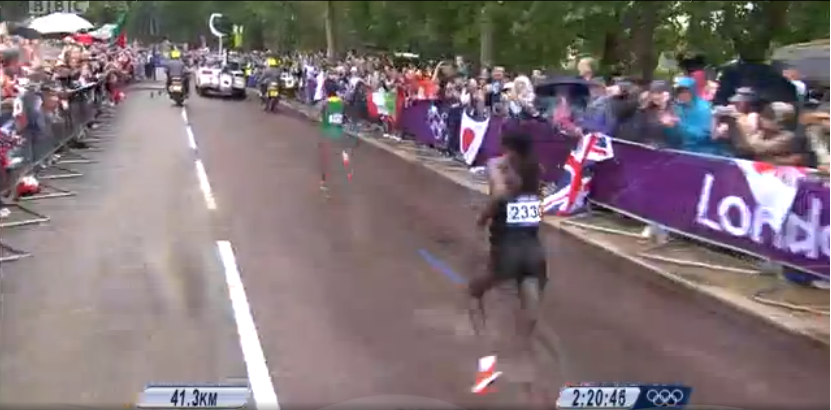 The gap continues to lengthy and all the stands between Gelana and the finish is her own fatigue, which she had well under control. Here is a series of her finishing: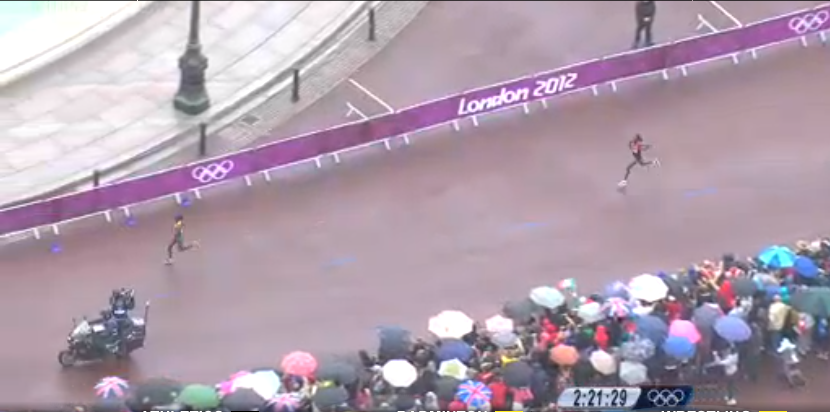 With only 400 meters to go and a long straightaway ahead, the finish line is in sight.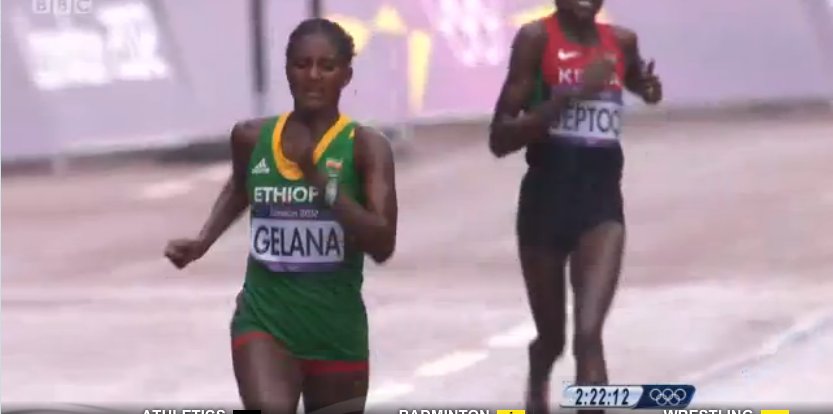 200 meters to go, Gold medal almost in hand.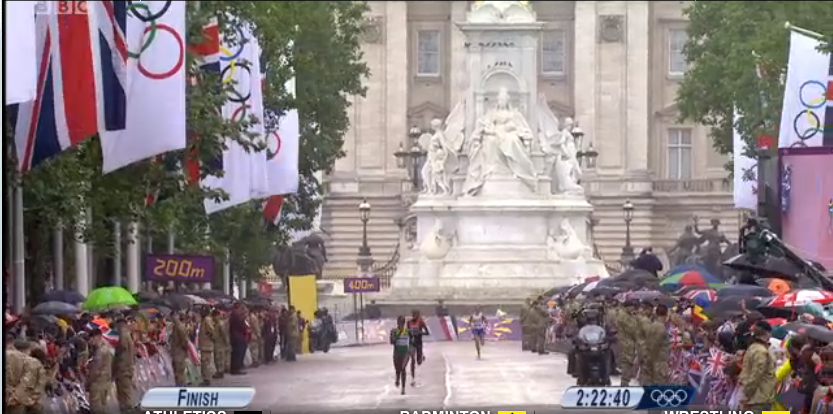 Gelana crossed the line in a PR and new Olympic Record of 2:23:07. For the next four years bragging rights will be in Ethiopia. The second half of her race was run in 1:09:54, a 3 minute and 19 second negative split.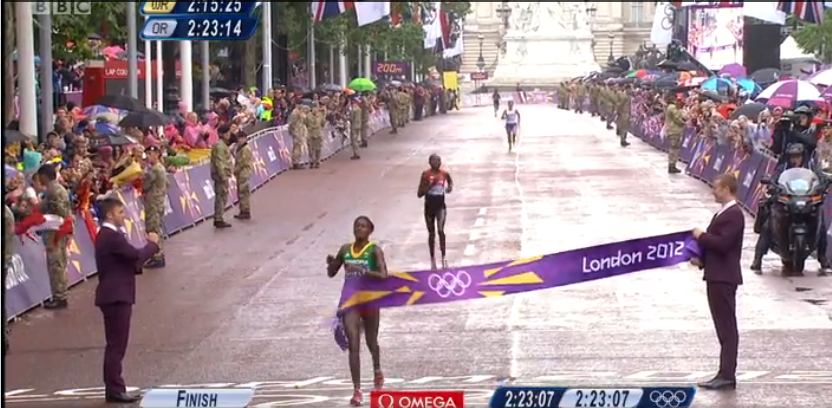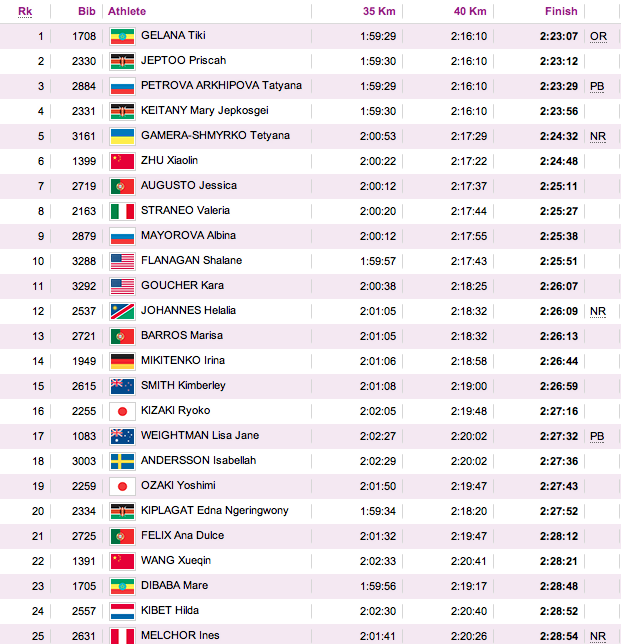 ---
40k Split: They are seriously still together up front, Flanagan Fading
Split: 2:16:10
Last 5k: 16:40
The four women still remain and with only 2k to go we can not believe no one has separated or made a move! This leads us to believe that Keitany is having a rough go. When a race favorite doesn't have the confidence to take control in the late stages its hard to believe they'll be a factor the last 1k.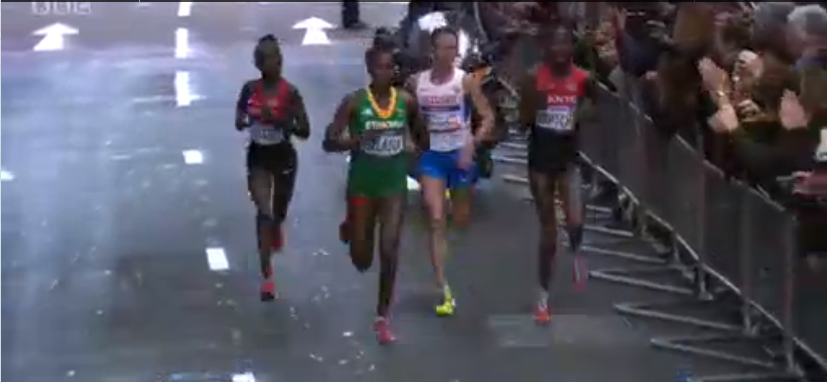 Shalane Flanagan who had moved into 5th place has faded back to 8th place, now 1:33 behind the leaders. Kara Goucher still sits 12th in the race with Edna Kiplagat fading right in front of her. Goucher is now 2:15 beind the leaders and 42 seconds behind her teammate. Kim Smith is 16th, 35 seconds behind Goucher.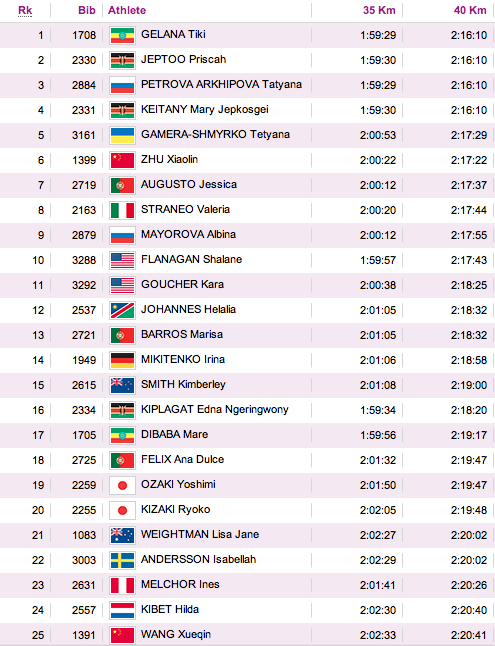 ---
Bottle service with 3k to go, celebration already??
With 3k to go we see the Kenya teammates working together in a way that allowed Keitany to keep a steady path straigh ahead while Jeptoo juke moved right then left to get fluid bottles and deliver to Keitany.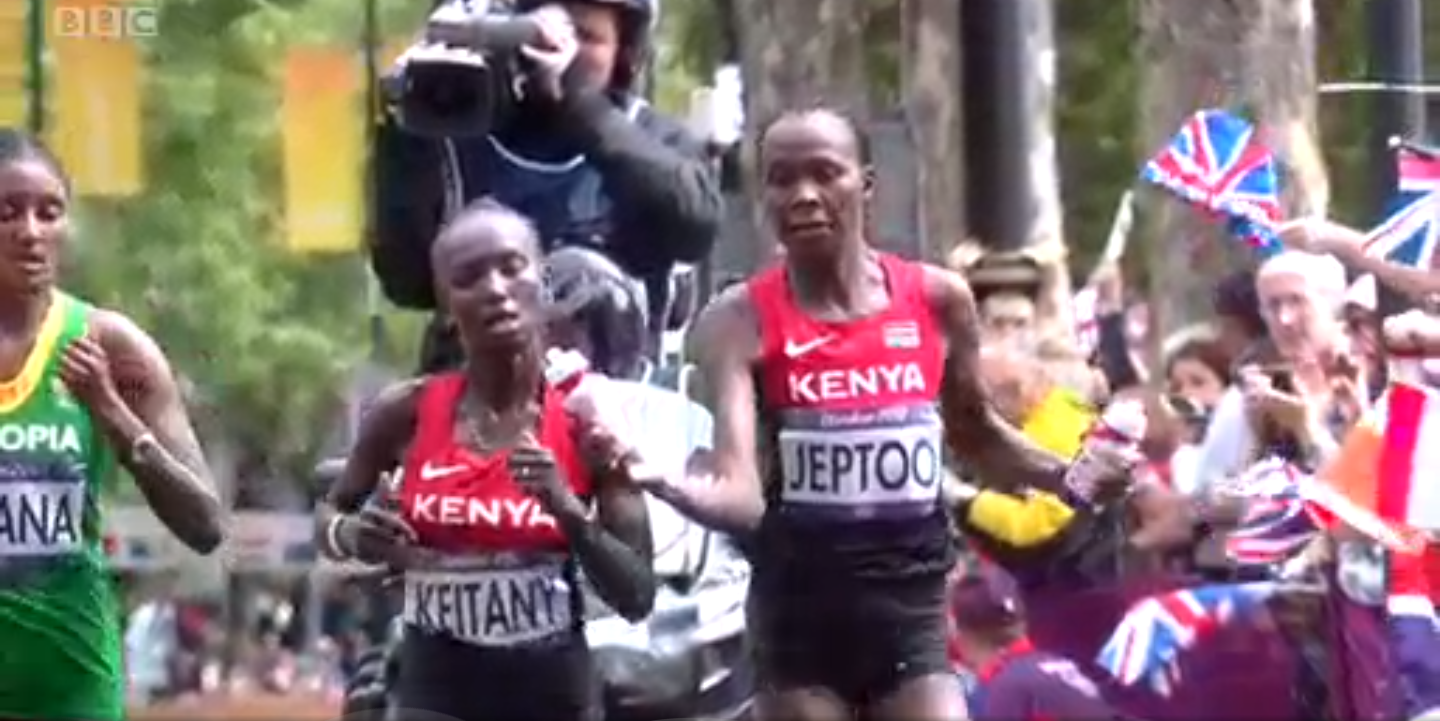 ---
35k Split: Could Kenya only grab one medal after sweeping Worlds??
Split: 1:59:29
Last 5k: 16:36
Things are starting to get interesting. Russia looks good and now taking the lead for the first time! Gelana of Ethiopia sits with her and looks smooth. Of the two Kenyans that remain, Jeptoo looks to be more comfortable than pre-race favorite Keitany. It's hard to say Keitany can't be the one to take this but the next 7k will tell us the story.
Right after the 35k mark Shalane Flanagan moved into 6th place, 28 seconds behind the leaders and closing on a fifth place Kiplagat.
Kara Goucher still sits in 12th, 1:09 behind the leaders.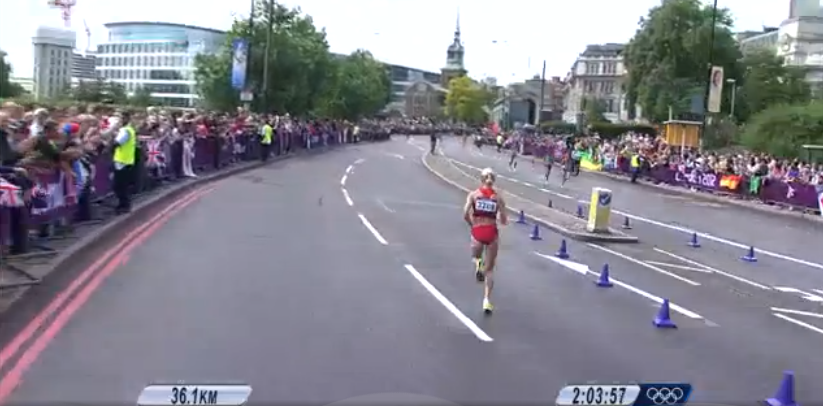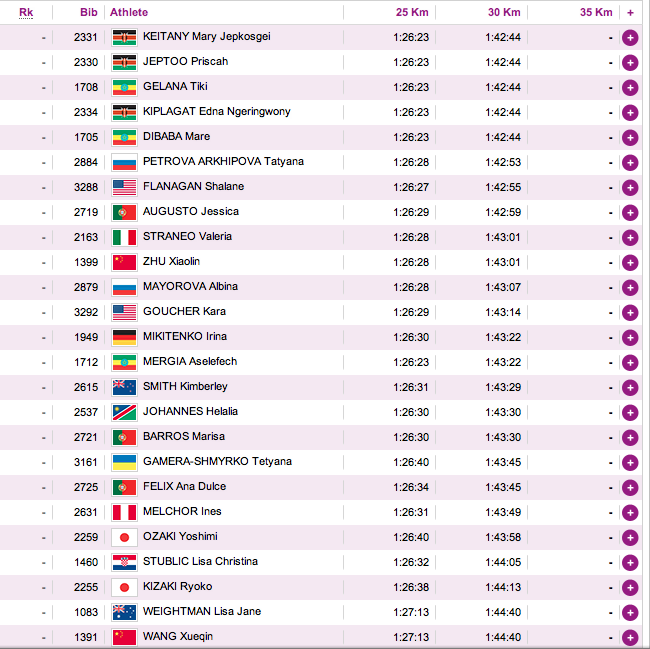 ---
A New Face Joins the Group...
Moving quietly through the field and up front now is Russia's Tatyana Arkhipova. Arkhipova made her way past Edna Kiplagat who looked to be dropping and up to the front of the pack. Kiplagat responded after being passed and now sits back with the leaders.
Arkhipova is a former steepler who finished 4th in the event at the 2008 Olympics and was runner-up over barriers at the 2007 World Championships. She holds a PR of 9:09.19 for steeple and 2:25:01 for the marathon.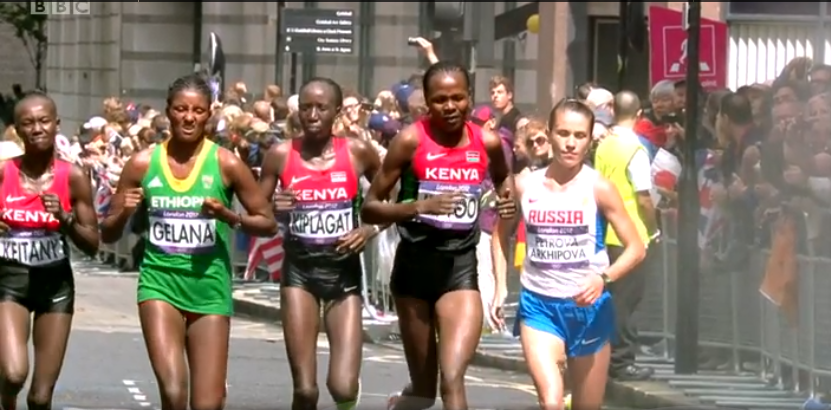 ---
30k Split: 3 Kenyans, 2 Ethiopians, 12k to go
Split: 1:42:44
Last 5k: 16:21 (fastest of race to this point)
The race continues to string out with Kenyans Keitany, Jeptoo and Kiplagat along with Ethiopians Gelana and Dibaba leading the charge. Only 8 athletes remain within 15 seconds of the leaders including Shalane Flanagan who sits 11 seconds back. Kara Goucher is 30 seconds behind the leaders in 12th place.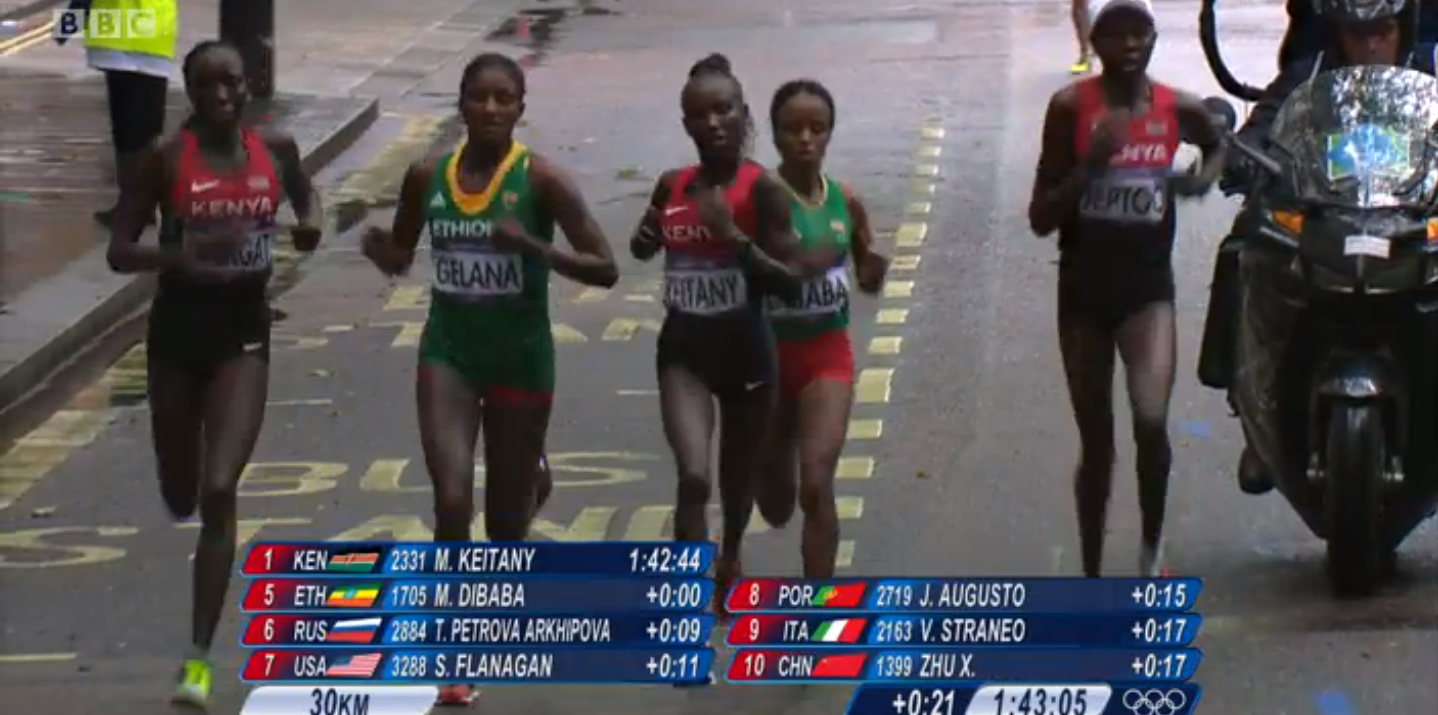 Kim Smith of New Zealand sits in 15th, 45 seconds behind the leaders.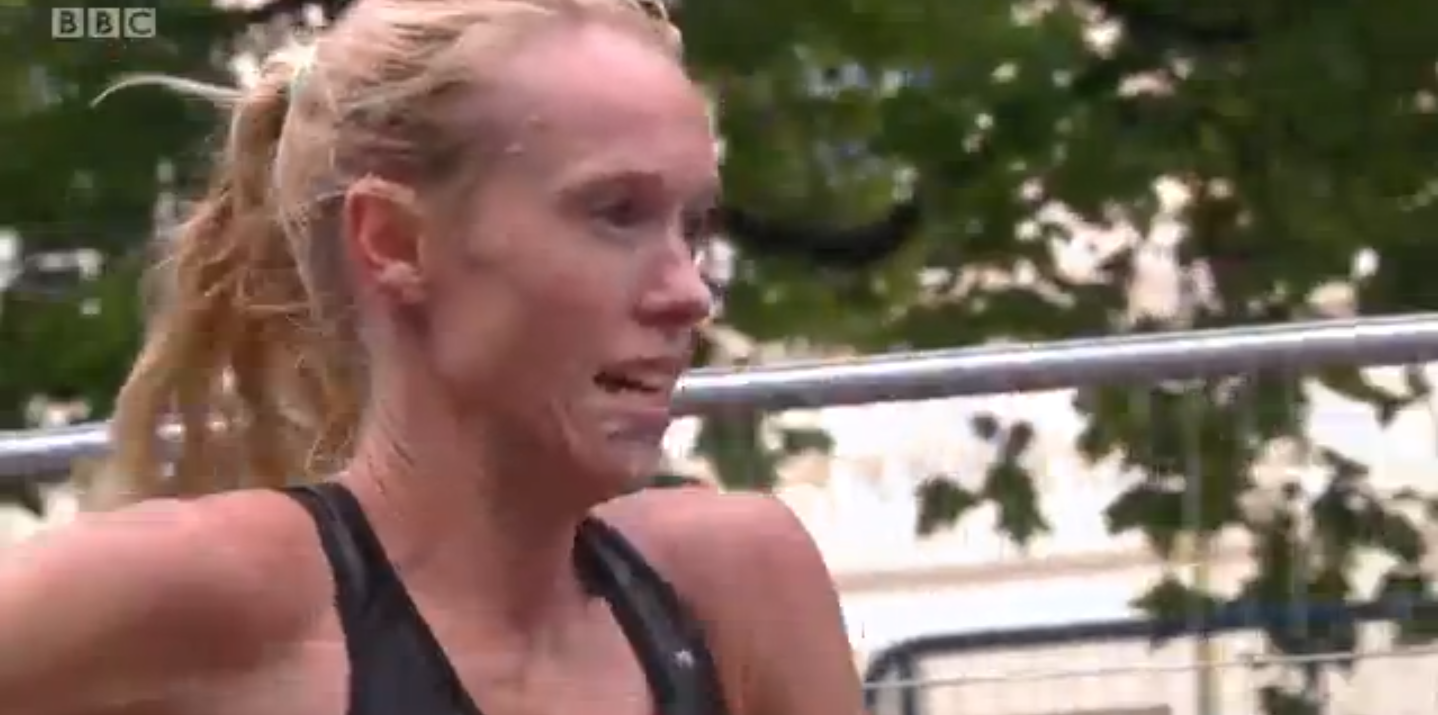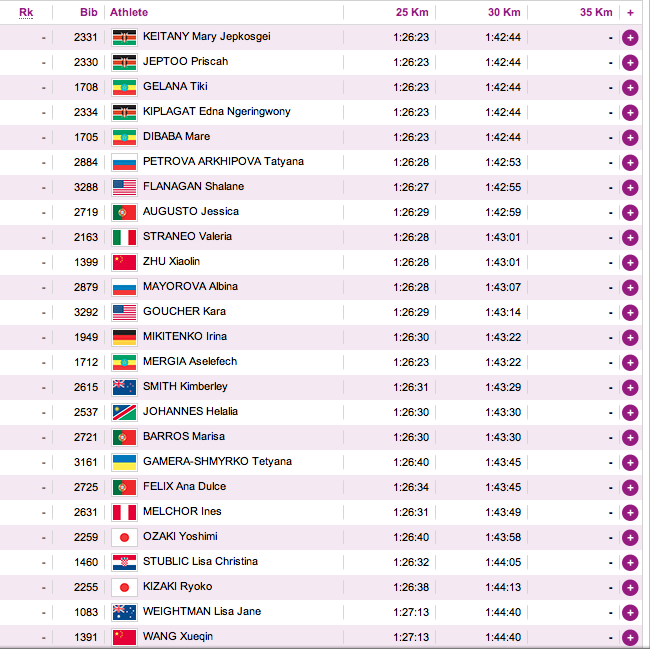 ---
Shalane catches the leaders.....but not for long
About 7 minutes after being dropped from the leaders, Shalane Flanagan catches the pack.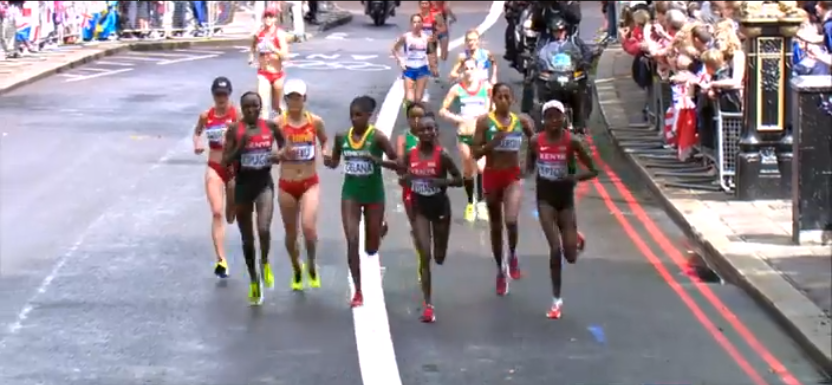 Not long after Shalane catches the pack another surge is made and Flanagan finds herself in a chasing position. Still a long way to go...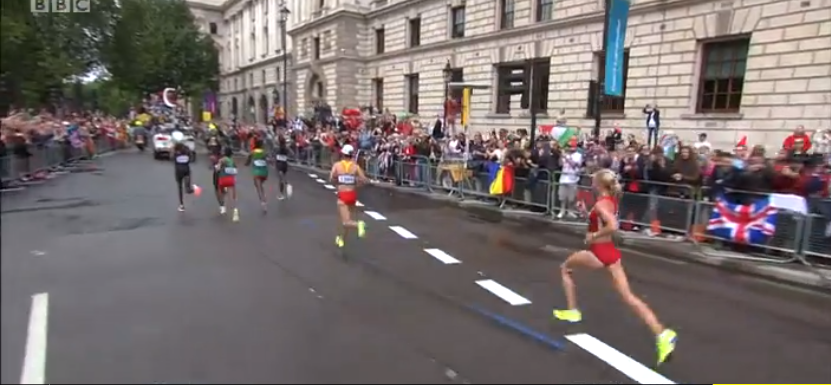 ---
25k Split: Keitany Leads, Flanagan Chases
Splits: 1:26:23
Last 5k: 16:57 (fastest of the race)
Kiplagat's move was a test as the chasers have caught and guess who's in the mix....3 Kenyans and 3 Ethiopians.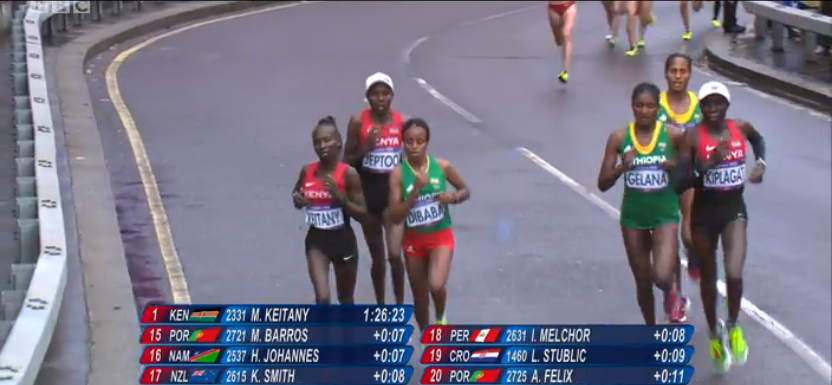 Shalane chases the group down, her Olympic Dreams haven't been laid to rest yet! She sits only 4 seconds behind at halfway and is closing...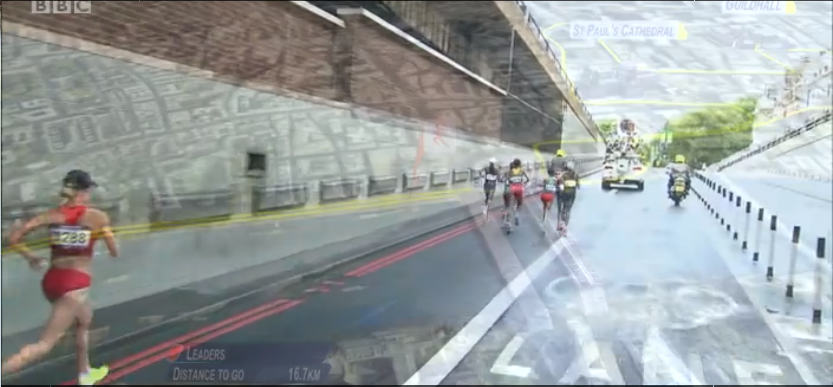 ---
THE MOVE IS MADE....KIPLAGAT IS OFF!
Distance: 24.1k
Time: 1:24:15
Edna Kiplagat wants to test the field, here we go! Puts a 5 second gap on the field quickly.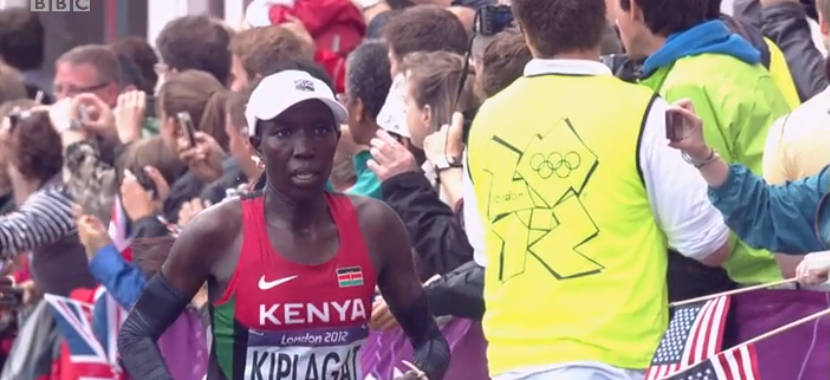 Not far after the half marathon point, Russian pre-race favorite Liliya Shobukhova who ran 2:18 at the Chicago Marathon in 2011, dropped out in tears. At the half way point Shobukhova was at 1:13:37, only 24 seconds behind the leaders. Her Olympic dream will be put on hold for another 4 years.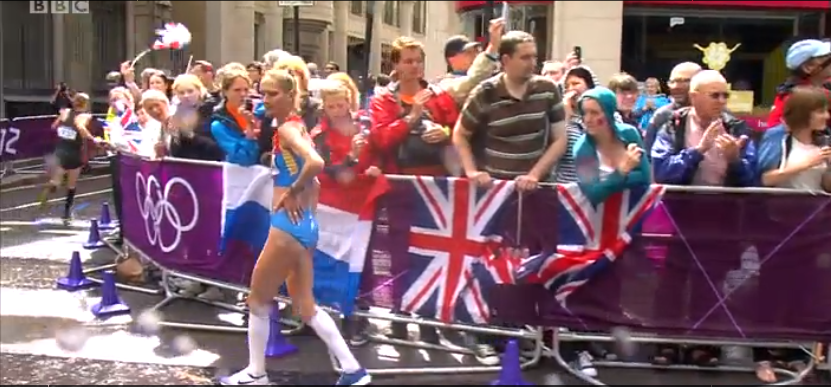 ---
Half Marathon Split: Let the Games Begin
Split: 1:13:16 (pace 2:26:32)
Distance: 21k
Straneo still leads. Flanagan and Goucher sit in 6th and 16th respectively but only 1 second apart. Ethiopia has all three athletes in the top 8 while Kenya still stays conservative as they roll between 13th-17th place.
Now its a waiting game....who's going to make a move and when is it going to happen??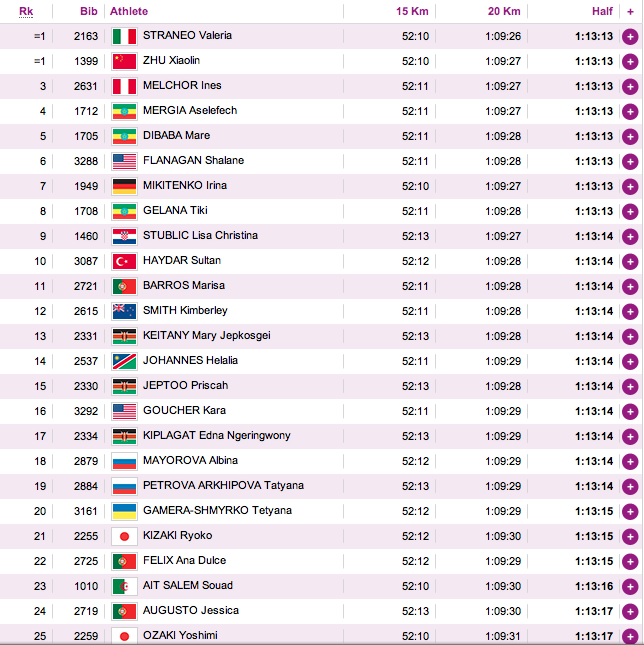 ---
20k Split:
Split: 1:09:26
Last 5k: 17:16 (fastest of race so far)
Valeria Straneo of Italy has been up front for quite a while. Pack breaking up a little with only 30 athletes within 5 seconds of the leader. Flanagan is one second up on Goucher. Half marathon coming up....
---
Image Update: Mid-Race Meetings
approx 18k
Shalane Flanagan gets in her fluids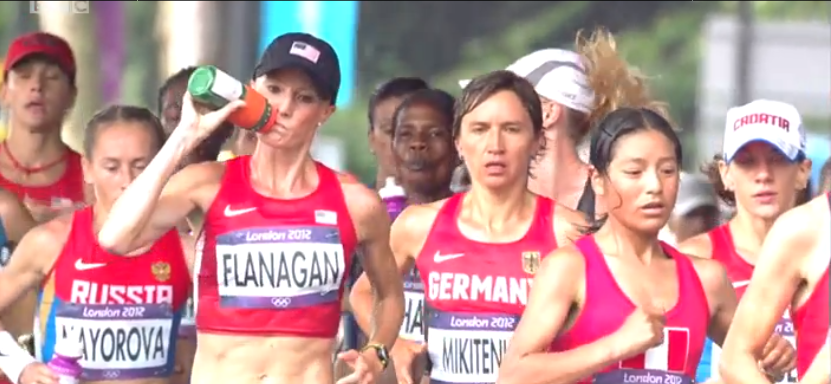 Kenyans have a mid-race meeting, Kiplagat to Jeptoo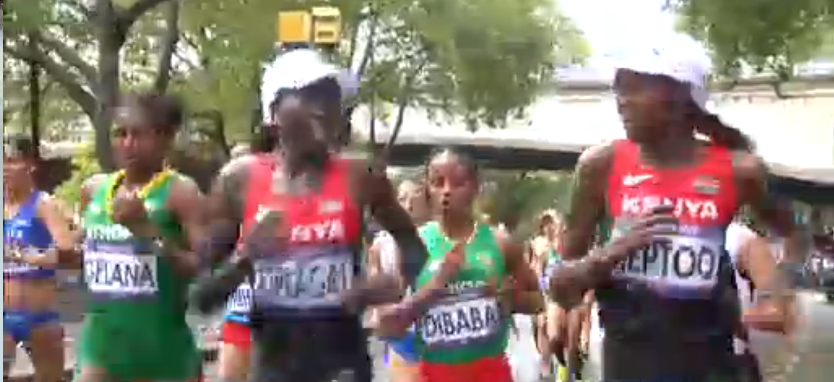 South Africa looses an athlete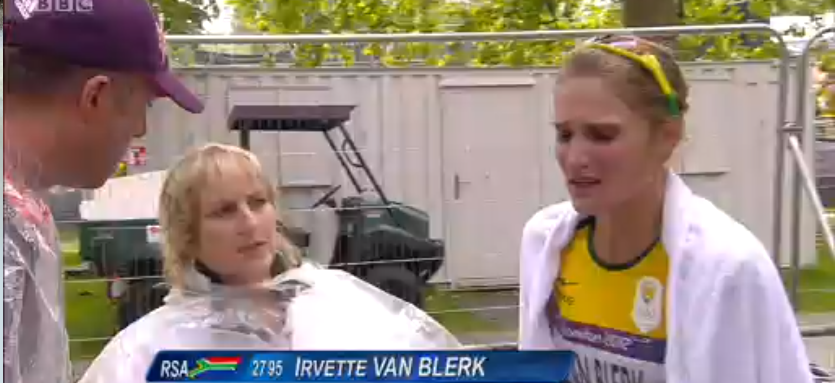 ---
15k Split: The pack remains
Split: 52:10
Last 5k: 17:22
The group passed through still tight and not much change of pace. Americans Goucher and Flanagan look comfortable, with Kim Smith and the Ethiopians right there. There are 5 seconds separating the top 45 athletes. Interesting to note that the Kenya women all sit at 31rd (Keitany), 33th (Kiplagat) and 38th (Jeptoo). The Kenyans do look smooth and Keitany is taking a conservative approach. She ran 67 minutes in the second half of her win at the London Marathon so do sleep on her. Leader at this point is Japan's Yoshimi Ozaki.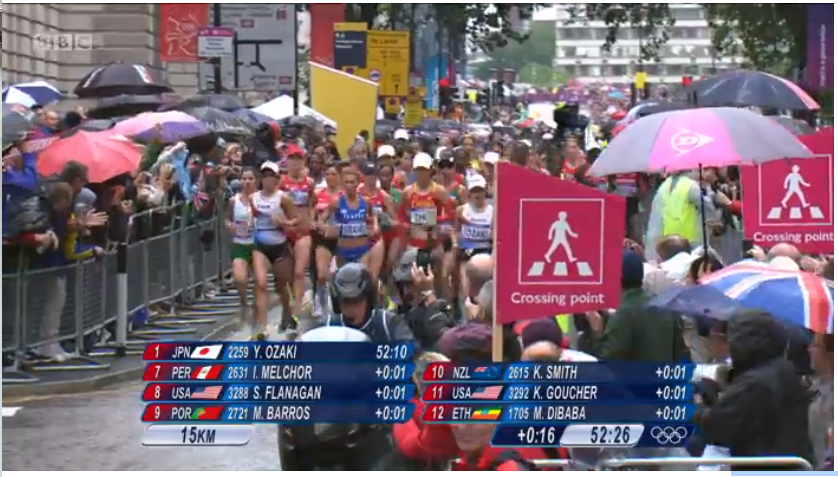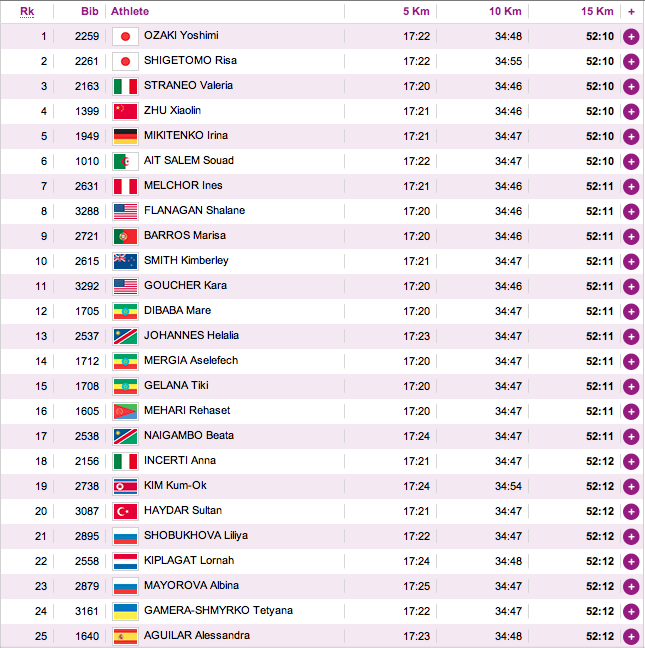 ---
Split Update:
7 mi - 38:15
12k - 42:10
13k - 45:30
9 mi - approx 50:00
---
10k Update: USA with 2 in top 5!
Split: 34:46
Last 5k: 17:26
Shalane Flanagan and Kara Goucher continue to work closely as they sit in the lead group through 10k at 34:46 in 3rd and 5th place respectively. Still only 5 seconds separate the top 40 athletes. 2011 World Champ Edna Kiplagat is back in 25th but still in the lead group. Keitany sits in 11th.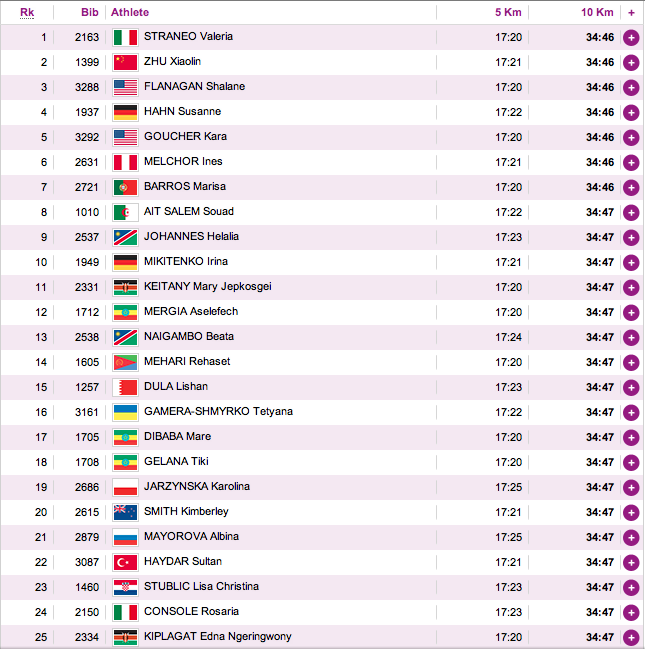 ---
9K Update: Keitany to the front, GB loses one
Athletes hit 9k at 31:15 with race favorite Mary Keitany of Kenya taking the lead heading into a water station.
Just after one of Great Britain's top marathoners, Mara Yamauchi drops out of the race after trying to compete not 100% due to injury setbacks.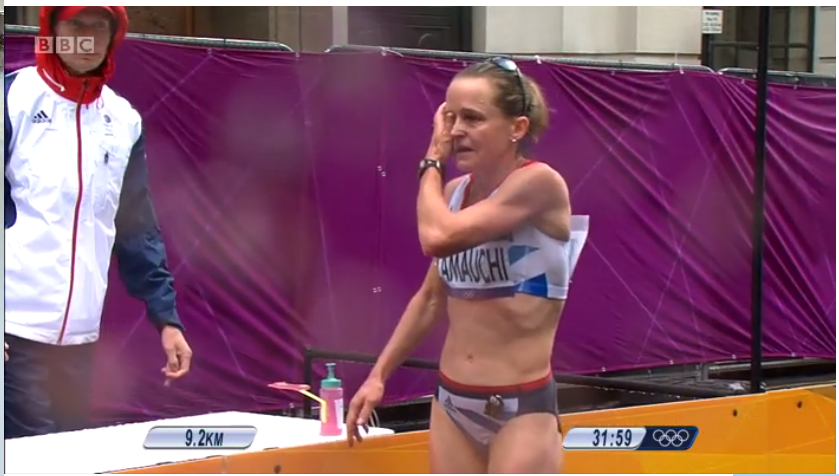 ---
Splits Update:
- 24:25 at 4 miles
- apppox 28:10 at 8k
rain is coming down stronger now.
---
5k Update: Desi Out, Flanagan Leads!
Split: 17:20
After having trouble spotting Desi early, it has been confirmed that Davila has dropped out.

At the 5k mark, Shalane Flanagan leads a tight group at 17:20 with only 5 seconds separating the top 40.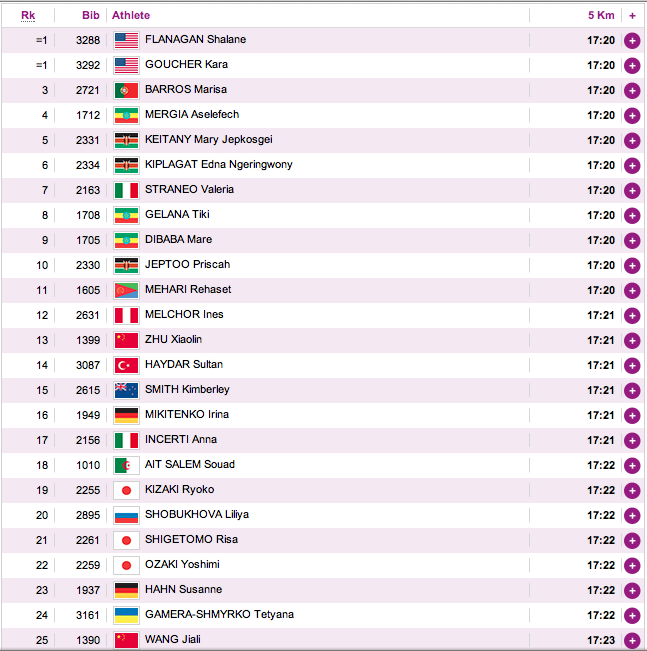 An awesome shot of the water station where Edna Kiplagat, 2011 Marathon World Champ, is trying to get some water in the rain.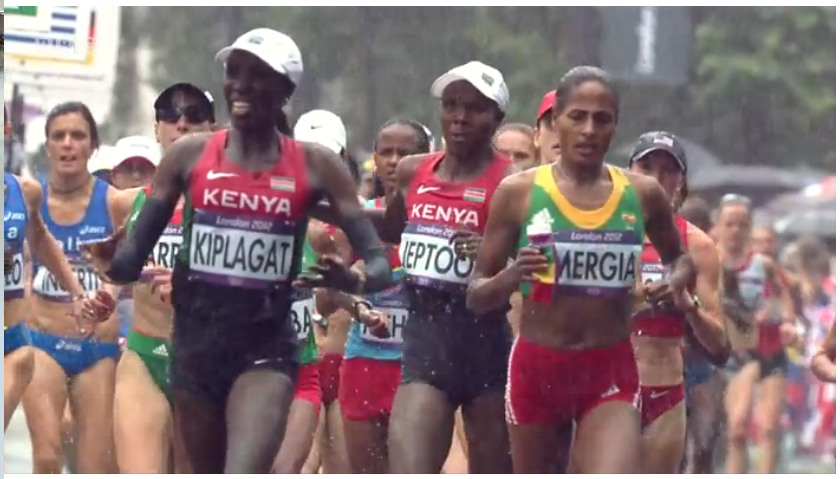 ---
3k Update
Split: approx 10:40
Americans Goucher and Flanagan still up from, next to Kiwi friend Kim Smith. It has been hard to spot Desi who has entered the race with injury.
image a little before 3k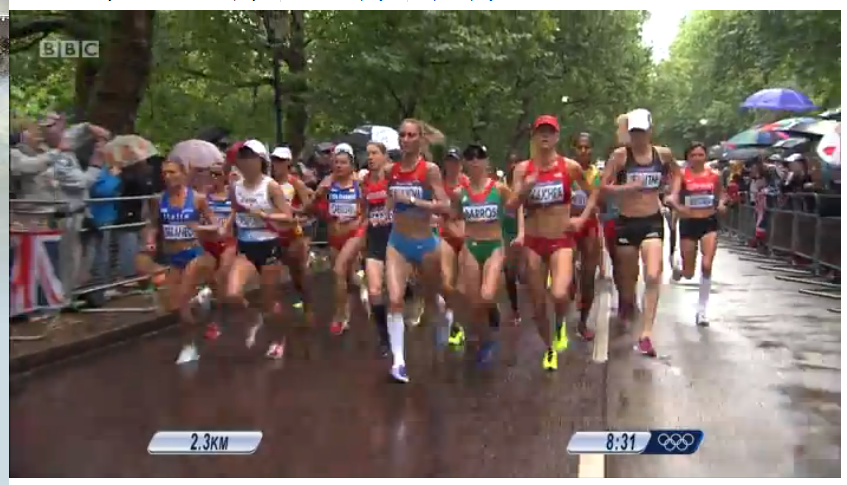 ---
Marathon Start
Marathon is off! It's 11:00am here in London and rain has graced the start of the race. Within the first 400 meters of the race, one athlete has already dropped out. London Marathon Champ Mary Keitany and 2008 Olympic Champ Constantina Dita are two introduced to the crowd and will be competing with Kim Smith, Shalane Flanagan, Kara Goucher and Desi Davila.
In the first mile of the race Flanagan, Smith and Goucher run side by side.
---
Women's Marathon Has Arrived!
Check back here all morning for Mile by Mile updates and splits from the women's Olympic Marathon here in London. Start time is 11:00am in London, 6:00am ET in the US!
---

updated: July 29th at 2:30pm CT

Rumors Not True, Desi Will Run
Despite the Detroit Free Press reporting her having withdrawn from the Olympic marathon, Desi Davila, the runner up at the U.S. Olympic Marathon Trials, says she has not yet made up her mind whether or not she will run.
"Just finished with team doctor, taking it day by day. Will do everything I can to get to the start," Davila
posted on her Twitter page
.
Davila called the report "news to me."
The Free Press report, which can be found
here
, quoted Hansons-Brooks Distance Project coach Kevin Hanson that Davila was unable to overcome the hip flexor injury that she has battled this summer.

---
updated: July 29th at 6:05am CT
Paula Out!
News out of Team GB is Paula will give up her spot to

" it can break your heart and spirit many times over when your
body is simply unable to match what your heart and brain
want it to do"
Paula Radcliffe


| | |
| --- | --- |
| Paul Out | Murry In |

In a big blow to Team GB, World Record holder Paula Radcliffe will miss the Women's Marathon due to injury. Team GB will ask if their alertnate Freya Murray can run in her place.



---
updated: July 28th at 11:15am CT
Desi to Pull Out of Marathon?
On July 27 the Detroit Free Press reported that Desiree Davila is dealing with an injury that could jeopardize her participation in the Olympic marathon.
Davila, a 2005 graduate of Arizona State, became the 3rd fastest US marathoner ever when she ran 2:22:38 to place second at the 2011 Boston Marathon. Davila earned her Olympic spot when she placed second at the trials in January, running 2:25:55.
It has recently been reported that Davila may be out of the 2012 Olympic Marathon. The 4th and 5th place finishers at the Olympic Trials were Amy Hastings and Janet Cherobon-Bawcom, both of whom will run the 10000 meters in London. The next athlete in line is
Deena Kastor, and she opted out of the Olympic marathon pool in June due to injury
Beyond Kastor, the next finishers at the Olympic Trials were Clara Grandt and Alissa McKaig. It is unclear if Davila's spot would be filled if she is unable to compete.
Marathoner Desiree Davila still struggling with injury
---

updated: July 21th at 6:05pm CT
Women's Marathon Quick Hits
2012 London Olympic Games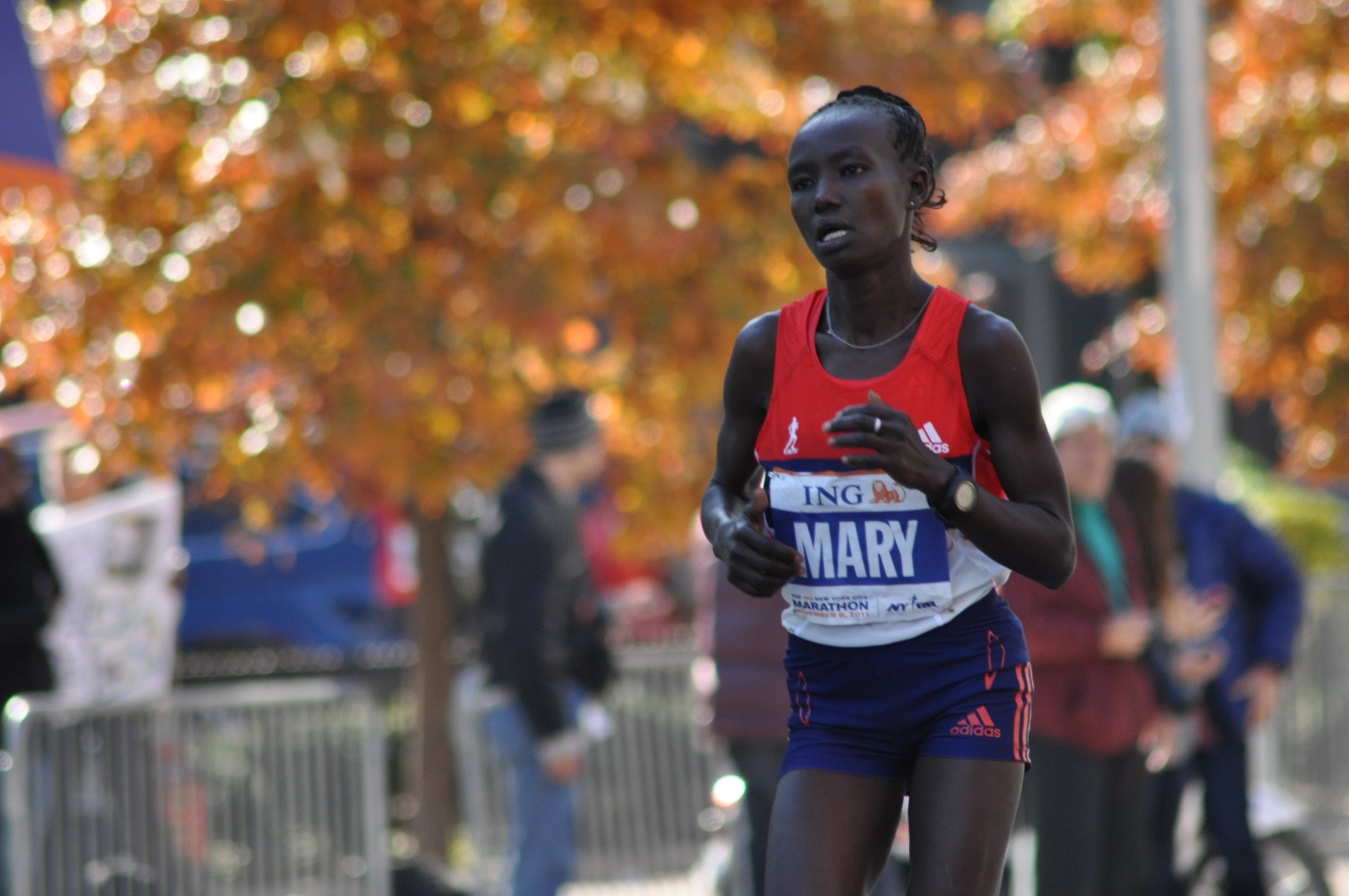 Marathon
Schedule:
Day 3, Aug 5th -Final (5:00am CT)
Marathon Records:
World Record - 2:15:25 - Paula Radcliffe (GBR) 4/13/2003
Olympic Record - 2:23:14 - Noaka Takahashi (JPN) 9/24/2000
American Record - 2:19:36 - Deena Kastor 4/23/2006
The Favorites:
(personal best/season best)
1. Mary Keitany, Kenya (2:18:37/2:18.37) - 2009 World Half Marathon Champ, ranked #1 in the world in the Marathon.
2. Tiki Gelana, Ethiopia (2:18:58/2:18:58) - Winner of 2012 Rotterdam Marathon.
3. Shalane Flanagan (2:25:38/2:25:38) - A bold pick, but that's the way we like it.
The Americans:
1. Shalane Flanagan (2:25:38/2:25.38) - 10,000m Bronze medalist at Beijing
2. Desiree Davila (2:25:55/2:25.55) - 2nd Place at Boston Marathon
3. Kara Goucher (2:25.53/2:26.06) - 9th place finish at 2008 Olympic Games

Past Marathon Olympic Results: (from wiki)
2000 Olympic Games


Naoko Takahashi (JPN)

2:23:14

OR
Lidia Simon (ROU)

2:23:22



Joyce Chepchumba (KEN)

2:24:45

SB

2004 Olympic Games







---
Updated on May 23, 2013, 10:26am