Last Saturday, the two most famous parks in the Bronx hosted important events. That night and even into the early Sunday morning, New Yorkers left Yankee Stadium disappointed as their Bronx Bombers could not pull off an incredible comeback against the Detroit Tigers. Although they were upset, there are still more games to be played in the American League Championship Series.

Earlier that day, Van Cortlandt Park hosted their annual Reebok Manhattan High School Invitational. Unlike the fans who left Yankee Stadium, only some New Yorkers left the Bronx unsatisfied. But there's still running (games) to be done this season as well.

The Reebok Manhattan High School Invitational never disappoints. While it's had a few facelifts over years, the storied Van Cortlandt Park always brings the best out of the best.

The girl's race was more of a puzzle while the boy's race returned the return of the king.

The Girl's Eastern State Race once again featured a duel between Fayetteville-Manlius and Tatnall School from Greenville, Delaware. Last year, FM scored 45 points to Tatnall's 83 to win the marque race at Van Cortlandt. In 2012, Tatnall won with 81 points to FM's 90. While this should be a huge confidence booster for Tatnall, it does not guarantee that the result will be the same the next time the two teams meet in Portland.

Defeating FM is a worthy accomplishment in its own right. The "Stotans" have won six consecutive team NXN titles and even coming close to their team score deserves a hardy pat on the back.

When Flotrack visited #13 Fort Collins High School in Colorado, we talked to Coach Chris Suppres. When asked about FM, Suppres said, "There's a reason that Manlius has won every year and that's not necessarily because they're the best team. I think they believe in themselves the most and they have a coaching staff that uses that to their advantage."

Tatnall now have the upper-hand in the psychological battle between the two teams. They're exploring new territory with their win from Saturday

In 2008, Manlius scored 66 points at NXN to win while Tatnall scored 182 to take third. Nearly the exact same story happened in 2011 when Manlius scored 60 points to win NXN while Tatnall scored 182.

This win should bolster the confidence of the Hornet's, but it comes with a caveat. FM sat out their number one runner, Jillian Fanning. FM coach Bill Aris said that he would be sitting out many of his seniors this season due to recruiting visits to different colleges.

Edit: Jillian Fanning did not run due a "minor quad strain."

If Jillian Fanning had run for FM and we assume that she would have won (she ran 14:03.8 last year), the team scores would have been 66 points for FM and 85 for Tatnall. But even without Fanning, there are key members of both teams that were missing on Saturday.

While both FM and Tatnall return six of their top seven from last year, their rosters at the Manhattan Invitational were a bit different. Listed below are the team members of FM and Tatnall from 2011 NXN and 2012 Manhattan Invitational.


Fayetteville-Manlius
| | | |
| --- | --- | --- |
| Name | Place at 2011 NXN (team) | Place at 2012 Manhattan |
| Alana Pearl | 16 | 8 |
| Katie Brislin | 12 | 9 |
| Annika Avery | 43 | 20 |
| Michelle Duffy | N/A | 24 |
| Jessica Howe | N/A | 29 |
| Hannah Smith | 20 | 30 |
| Mary Barger | N/A | 45 |
| Jillian Fanning | 4 | N/A |
| Jenna Farrell | 21 | N/A |

Tatnall

| | | |
| --- | --- | --- |
| Name | Place at 2011 NXN (team) | Place at 2012 Manhattan |
| Reagan Anderson | 11 | 1 |
| Julie Williams | 77 | 7 |
| Kieran Hanrahan | 33 | 10 |
| Rebecca Salter | 59 | 14 |
| Carolina Foley | N/A | 49 |
| Quinn Teklits | N/A | 66 |
| Kendra Riley | N/A | 103 |
| Kate Hastings | 100 | N/A |
| Carolina Silverman | 149 | N/A |


While both teams only graduated one senior, Katie Sischo (FM) and Hayley Pierce (Tatnall), there are new faces on both teams. Each team has two new runners from their 2011 NXN team, Fayetteville have no new freshmen, and Tatnall has brought up eighth graders Caroline Foley and Quinn Teklits. The start of every new season is a bit of a mystery because you'll never know who be in that top seven.

Coach Suppres also addressed another important mindset regarding FM. Suppres said, "I think as a coach the only way you can find a team that can knock them off is to either create a way for that team to believe as much as they do which is an extremely hard task or basically have a much better team that can just out perform them. And that's a tough task."

Even though FM did not run their full team, Tatnall has planted a new seed in the garden of cross country. Whether it's the seed of doubt for FM or the seed of confidence for Tatnall depends on who's answering the question. In any case, the girl's team title at NXN may be closer than in previous years.

Not to be lost in the excitment, Mary Cain from Bronxville ran the fastest time of the day with a time of 14:03.9 (0.1 seconds slower than Jillian Fanning's time from last year). Cain also helped freshman sensation Megan Reilly to a blistering time second place time of 14:17.4.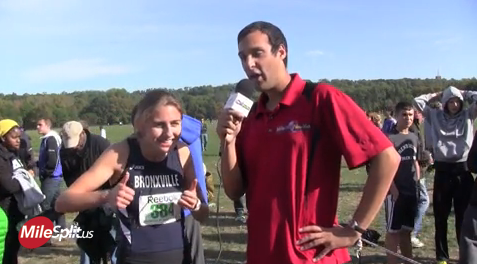 Cain was all smiles after her race

The boy's race featured a return to normalcy for one competitor and a big improvement for another. Edward Cheserek returned from his hiatus from competitive running to again win the Eastern States Race at Manhattan in 11:58.7. Cheserek was not running because he was devoting his time to preparing for the SAT.

Cheserek was challenged throughout the majority of the race by Nick Ryan of Fayetteville Manlius. Ryan, who is not one to shy away from his competition, was with Cheserek when the pair entered the rolling back hills. When Cheserek came across the bridge for the second time, he was alone.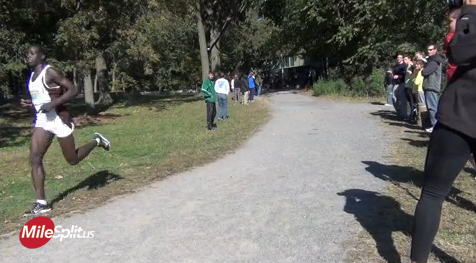 We've never seen a picture of Cheserek running by himself

In his post-race interview, Cheserek said, "There's some stuff that I still need... so I'm not quite yet ready to run. I tried my best and if I get a record it's okay and if not, I'll be okay with that." Cheserek's winning time of 11:58.7 was three seconds off his course record of 11:55.39 from last season. He ran that course record last year when he was in midseason form while this Saturday was his season's debut.

While running sub-12 at Van Cortlandt is the norm for Cheserek, Ryan's finish indicates that he's ready to roll. Last year, Ryan finished 55-seconds behind Cheserek with his 5th place finish in 12:50.20. On Saturday, Ryan was only 7-seconds behind Cheserek. Ryan now has the strength as a cross country runner to match his speed as a miler.

Much like when Cheserek broke seven consecutive course records last season, Christian Brothers Academy once again broke another team average record. CBA won the Reebok Manhattan Invitational with 94 points and a team average of 12:44.54.

New Yorkers had mixed feelings come Sunday morning. While Nick Ryan and Mary Cain ran blazing times at Van Cortlandt, the Fayetteville-Manlius girls may be concerned or confident as they drove home (again, it depends who you ask).

But while there may only be a few more games for the Yankees, there's nearly two months of cross country running left in the season. Can Tatnall continue their winning streak? Will Nick Ryan keep closing the gap between him and Cheserek (though Cheserek will most likely not run NXN)? As championship season starts to begin, we'll see if teams and New Yorkers can change their demeanor.
Updated on May 20, 2013, 12:12pm