Barely six days after the destruction from Hurricane Sandy, runners will take to the streets of NY for the ING New York City Marathon. The newly cleared streets will no longer have downed power lines, sewage, or fish out of water (literally), but will soon be littered by thousands of disposable green Gatorade cups as the marathoner hopefully restores some normalcy to the city (if that's even possible).
It could be hope, resiliency, or simply insanity, but the ING NYC Marathon will go off Sunday morning. In the wake of the front-page headlines presenting the extent of the destruction via statistical data, we preview the ING NYC Marathon through a series of important numbers.
4 - Number of men who can win
Wilson Kipsang
4 - Number of Seconds
At the 2011 Frankfurt Marathon, Kipang attempted to break Patrick Makau's marathon world record. He ended up running 2:03:42, which was four seconds off. That number would haunt him again as he missed the Virgin London course record by four seconds and ran 2:04:44.
The Virgin London marathon has established itself as one of the toughest among professionals. Coming in with the title to New York, puts him among the favorites right away. He made a move to put himself up in front in that race and did so again at the Olympic Marathon to hold off for a bronze medal. A victory in New York could have him as the most decorated marathoner in 2012 and lead to debates if he's the best right now.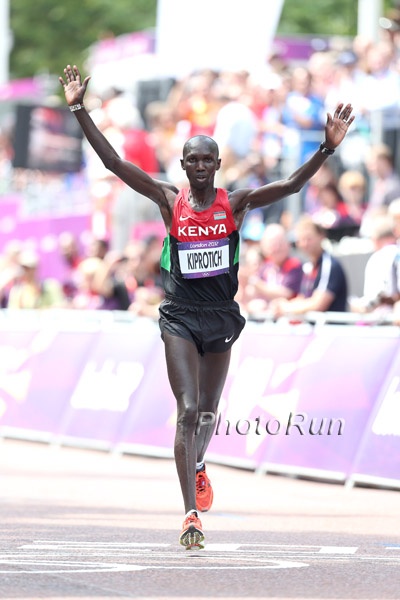 Moses Mosop
2 - Second fastest marathon of all-time, number of world records and number of quality connections
Mosop's 2:03:06 second place finish at the 2011 Boston Marathon makes him the second fastest ever individual at the marathon. Even though the mark could not be verified due to the nature of the Boston marathon's course (point-to-point, elevation change, tailwind), he's still the real deal Holyfield.
His "record" runs became certified at the 2011 Prefontaine Classic where he broke the world record for both 25k (
1:12:25.4 en route) and 30k (1:26:47.4).
In this day and age, it's important to have good networking skills. Even still, it's even smarter to surround yourself with smart people. Mosop has excellent connections through his agent Jos Hermens and coach Renato Canova. Hermans has represented the Ethiopian greats Kenenisa Bekele and Haile Gebrselassie while Canova has coached more successful athletes than almost any other coach in the world (world championship 1500m silver medalist Silas Kiplagat, 2011 world cross champion and world champ 10k bronze medalist Imane Merge, and 2009 and 2011 world marathon champion Abel Kirui).
Canova told Alberto Stretti, "In the case of Moses, however, remember that also last year before Chicago, for the known problems in the Achilles tendon, his training had followed a different level from what i normally use, not having had enough time to set up a project that would include the development of all the steps involved.His problem is still in the tendon. If it does not give him particular trouble, he may express a high level to fight for the win, even if its form is not the best."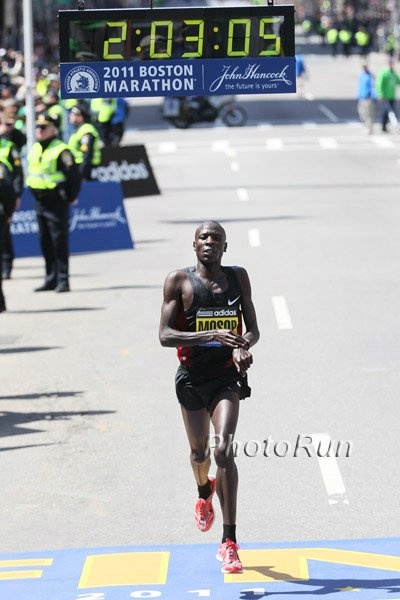 Stanley Biwott
5 - Number of consecutive first place finishes
He is coming into New York City not having lost a race since he finished third at the Zhuhai International Half-Marathon (31:59). If he wins the New York Marathon on Sunday, not only would he remain undefeated, but he will be the 10th NYC Marathon champion coached by Claudio Berardelli.
Paris
Half Marathon - 59:44
Paris Marathon - 2:05:12
Beach to Beacon 10k - 28:00
Falmouth Road Race - 28:00
Philly Half Marathon - 60:03
Gebre Gebramariam (Dark Horse)
18 - Number of Seconds Off His Personal Best in 2012
Gebramariam is hoping to get closer to his personal best from the 2011 Boston Marathon where he placed fourth 2:04:53. He's been in a slight decline with an eighth place finish in the London 10K. Before that, he finished 14th in the hot 2012 Boston Marathon where he ran 2:22:56.

He can't be counted out with his experience at the age of 28. This will be his third New York Marathon and has previously hit 2:08:00 in 2011. The DNF at the World Championships doesn't help his track record coming in though.
The Americans
3 - Number of times we've doubted Meb
Twice we've had to eat our own hat when it comes to marathon predictions and Meb Keflezighi. In 2009, we didn't have much of a shot to win the NYC Marathon and crossed the finish line with the beautiful USA displayed across his chest.
The second occurrence was at the U.S. Marathon Olympic Trials where he predicted that Meb would make the team, but had our doubts that he'd win. He won.
If you would have told us that Meb would finish fourth at the Olympic Marathon, we would have laughed. But after finishing fourth in 2:11:06, Meb skeptics got the last laugh.
He's experience and savvy racing certainly makes him a podium threat, but we once again doubt that he'll win. Whether the race is fast or slow, we are unsure of Meb's wheels when the lead pack enters the hills of Central Park.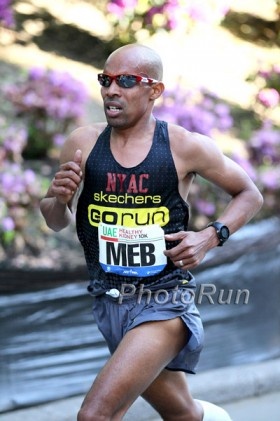 7 - Number of Americans under 2:13
Meb Keflezighi - 2:09:08, 2012 Olympic Trials
Abdi Abdirahman - 2:08:56, 2006 Chicago
Brett Gotcher - 2:10:36, 2010 Houston
Jason Hartmann - 2:11:06, 2010 Chicago
Nick Arciniaga - 2:11:30, 2011 Houston
Andrew Carlson - 2:11:24, 2012 Olympic Trials
Ryan Vail - 2:12:43, 2012 Olympic Trials
The French
1 - The Number of Participants Racewalking
Yohan Diniz is listed on the start list among the professionals. He will be racewalking the 26.2 miles. Props to Jesse Squires for pointing it out that if he paces himself like he has in other races, he could walk a Boston Marathon qualifying time. If he can pull off the feat that would be quite impressive to say the least.
3 - Number of Women That Could Win
Tiki Gelana
1 - Number of Olympic Gold Medalist in the New York Marathon
After setting the Olympic record (2:23:07) on her way to gold in London, Gelana is taking on her third marathon. There is only one person that has won both New York and the Olympic marathons in the same year and that happened in 2009 with Deratu Tulu.Gelana happens to be from the same city in Ethiopia as Tulu.

When Tulu accomplished the feat she was making her New York Marathon debut, which also happens to be the case for Gelana. Could 2012 be a repeat of 2009?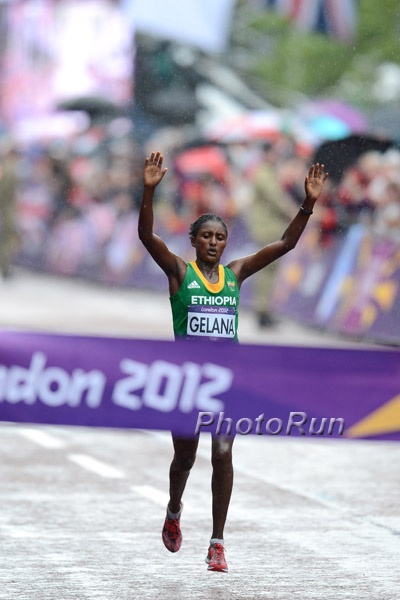 Sharon Cherop
$500,000 - The jackpot for winning the World Marathon Major (WMM) Title
There's a lot riding on a NYC Marathon victory for Cherop. Currently, she sits third in the World Marathon Leaderboard, but a win would vault her into first place. If a half-million dollars isn't enough motivation, she would become the first Kenyan women to win the WMM title.
In her last two races, Cherop has displayed quick speed and solid race tactics. She ran 67:21 for the Philly Half and overcame the heat in Boston to win in 2:31:50.
Edna Kiplagat
5 - Number of podium finishes in marathons
She's no stranger to receiving a medal, a Roman head wreath, and some prize money. Kiplagat has finished in the top three in the five or her six marathons that she has run.
2012 Virgin London Marathon - 2nd (2:19:50)
2011 IAAF World Championships - 1st (2:28:43)
2011 Virgin London Marathon - 3rd (2:20:46)
2010 ING New York City Marathon - 1st (2:28:20)
2010 City of Los Angeles Marathon - 1st (2:25:38)
The only marathon that she didn't finish in the top three? That was the 2012 Olympic Marathon where she finished 20th. However, that disappointment is past Kiplagat - she bounced back to run 67:41 at the Bupa Great North Run and beat Gelana in the process. But that was only 13.1. miles and Gelana has already defeated the world's best at the distance. Has Kiplagat learned enough from the Olympics to continue her streak against Gelana?
Tatyana Arkhipova
2 - Number of Olympic marathon medalists
When you're you're hot, you're hot. A few months ago, Arkhipova produced the the race of her life at the Olympic marathon to grab the bronze medal in 2:23:29. She should contend for a spot on the podium, but running for the win might be out of the question. In her other two career marathons (Berlin and Tokyo, she finished fifth)
Kim Smith & Amy Hastings
2 - Number of Roommates from Providence
Hastings and Smith have been training together the last few weeks in Rhode Island. Hastings has been on the track for most of 2012 with her only marathon being the Olympic Trials run in Houston. She finished fourth and was right on the cusp of making the team, but settled for being the top US 10K finisher at the Olympic Trials in Eugene.
Her personal best of 2:27:03 in Los Angeles (2011) is just two seconds off what Smith ran in New York in 2011 (2:25:46). Hastings admits to being a slower starter than Smith, but the two could put together tactical races enough to creep towards the top five of the lead pack.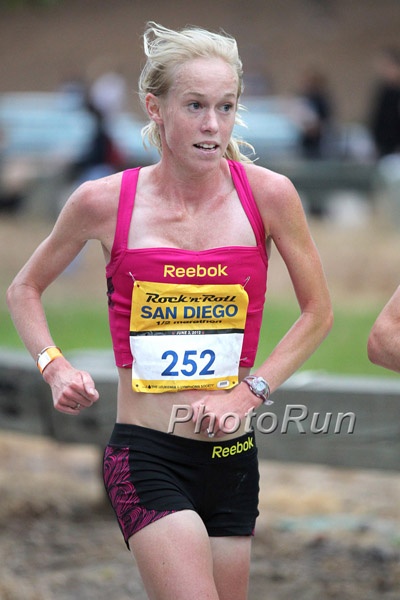 1 - Number of marathons for Julie Culley
Culley will be making her 26.2 mile debut after competing on the track in the Olympic 5,000-meter final. One is also the number of half-marathons (finished 21st at the 2012 NYC Half) that she has under her belt coming into Sunday.

5 - Number of American women who have run sub-2:32
It's a homecoming party for Pritz, who is finally healthy and is rumored to be in excellent shape.

Amy Hastings - 2:27:03
Serena Burla - 2:28:27
Adriana Nelson - 2:28:52
Janet Bawcom - 2:29:45
Molly Pritz - 2:31:52
26 - Number of Olympians
Abdi Abdiraham, Inga Abitova, Tatyana Arkipova, Janet Bawcom, Abderrahime Bouramdane, Julie Culley, Ana Dulce Felix, Kayako Fukushi, Gebre Gebremariam, Tiki Gelana, Marilson Gomes dos Santos, Amy Hastings Meb Keflezighi, Hilda Kibet, Edna Kiplagat, Wilson Kipsang, Vladamir Kotov, Martin Lel, Sabrina Mockenhaupt, Scott Overall, Jelena Prokopcuka, German Silva, Kim Smith, Valeria Strabeo, Franklin Tenorio.
4 - Number of Olympic medalists
Tatyana Arkhipova (bronze, 2012 marathon),Tki Gelana (gold, 2012 marathon), Meb Keflezighi (silver, 2004 marathon), and Wilson Kipsang (bronze, 2012 marathon).
11 - Number of men under 2:10
Adbi Abdiirahman, Adil Annani, Stanley Biwott, Abderrahime Bouramdane, Gebre Gebremariam, Marilson Gomes dos Santos, Meb Keflezighi, Wilson Kipsang, Martin Lel, Moses Mosop, German Silva
6 - Number of men under 2:07
Stanley Biwott - 2:05:12, Paris, 2012
Gebra Gebremariam - 2:04:53, Boston, 2011
Marilson Gomes dos Santos - 2:06:34, London, 2011
Wilson Kipsang - 2:03:42, Frankfurt, 2011
Martin Lel - 2:05:15, London, 2008
Moses Mosop - 2:03:06, Boston, 2011
9 - Women under 2:24
Inga Abitova, Tatyana Arkhipova, Sharon Cherop, Buzunesh Deba, Ana Dulce Felix, Tiki Gelana, Edna Kiplagat, Jelena Prokopcuka, Valeria Straneo


By: Chris Chavez and Mitch Kastoff
Updated on May 9, 2013, 3:58pm