Pre-Race Favorites, False Starts, and Falls
It wasn't as much as an opening day as it was a grand finale. There's day two, too.
The first day of the NCAA Indoor Track and Field Championships was thrilling from the start the men's shot put final to the last 200m of the men's distance medley relay.
A lot of favorites either advanced to the finals tomorrow or took home their national crowns tonight. But based on the wild and educational world of Sesame Street, we'd also like to talk about other words that begin with "F" and no it's not the word you emphasize when you pronounce Princeton's Peter Callahan's middle name.
It's the tumbles out of the blocks and the tumbles to the track - false starts and falls.
If you want to relive all of the action from day one, check out our
Quick Hits page
, which includes some recap, pictures, splits, and results.
False Starts
There will be no representation from Florida State in the men's 60m final. None.
They were seeded first and second, they were both in lane two, they both wore arm warmers, and they both false started.
FSU's
Marvin Bracy
and
Dentarius Locke
both moved before the gun, which opens the door for a big underdog to win the national crown. It's an unfortunate turn of events, but that's what happens when you live in Edge City, population 60m dash.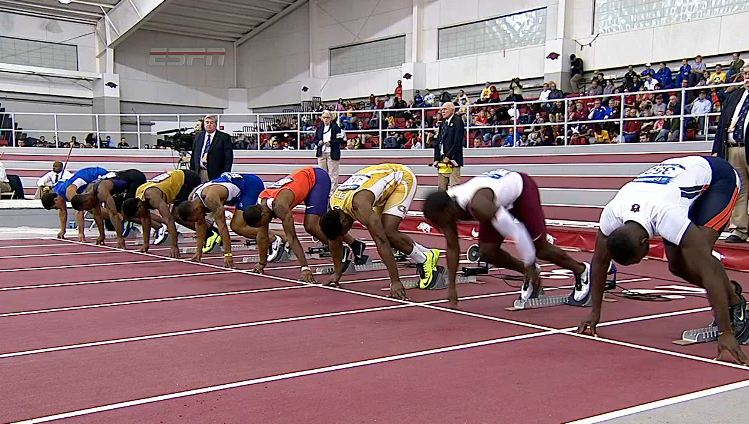 Falls
Some of the big favorites went down early and we mean that in all of the literal sense. It took a while for some results to come out due to appeals, but there was some bumpin' and fallin' in some events.
In the last semifinal of the women's 400m, A&M's
Ibukun Mayungbe
and Texas'
Courtney Okolo
collided on the backstretch turn and fell to the track. They both got up and finished, but they're out of the finals.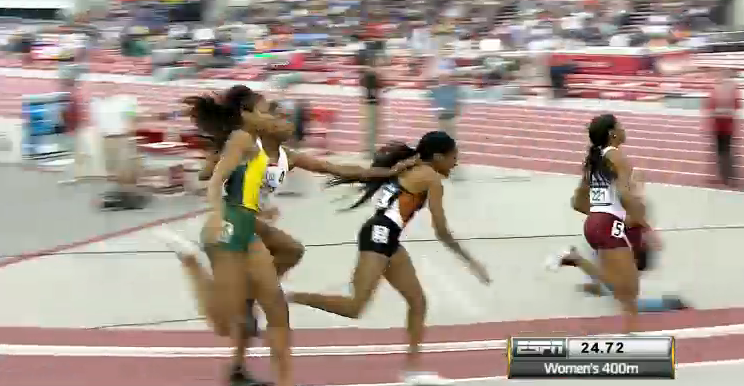 Stiff arm?
Moving up in a bit in distance, both the women's and men's 800m semifinals had their own drama as national finalists again picked up some gnarly track burns.
The first semifinal on the women's side looked like there was accidental contact between BYU's
Kelsey Brown
and ASU's
Shelby Houlihan
. Houlihan couldn't avoid the already grounded Brown and neither could Tennessee's Nijgia Snapp.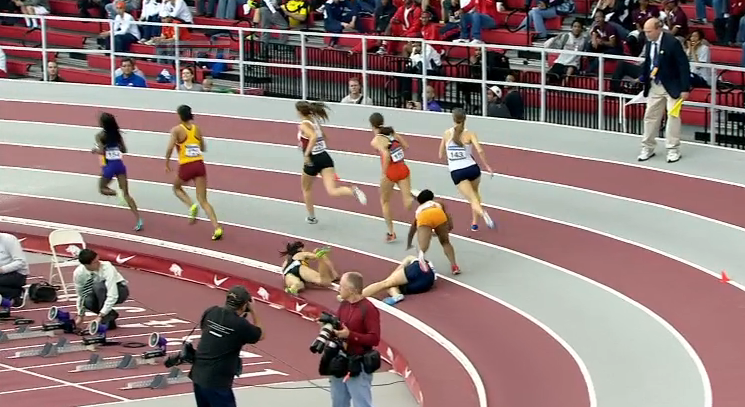 Houlihan got up with a belly full of fire, but would finish in fifth and would be the first one out in her heat. We have to give her props because when she passed the 600m mark, she looked like she had to shot to come back on the field. Maybe next time.
Switching over to the men's side, yet another number one seed went down early.
Very early.
We couldn't tell from the replay, but Arkansas'
Leoman Momoh
hit the track just past the 200m mark and laid motionless for quite a bit. Eventually, he got up, realized he was too far to be in contention, and jogged home to the applause of the Fayetteville faithful.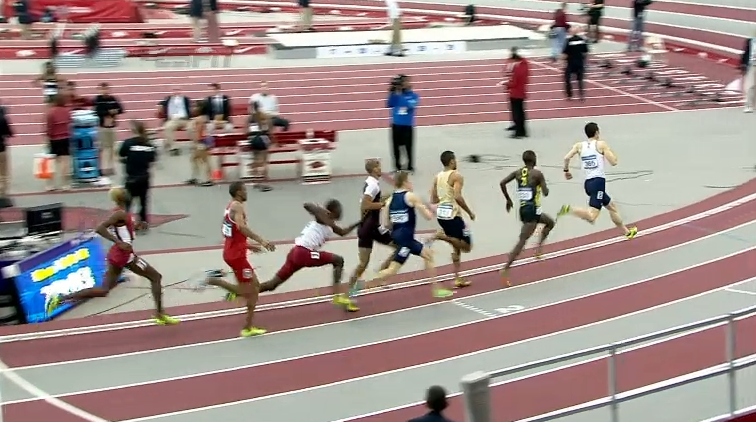 Now, if it counts, we'll look at an almost "fall" that resulted in a win.
It seemed like it was going to be tough to squeeze in Dartmouth's
Abbey D'Agostino
into one of these three categories as she wasn't technically the favorite in the women's 5000m, so it's very kind of her to take a small tumble on her way to a 5000m national title.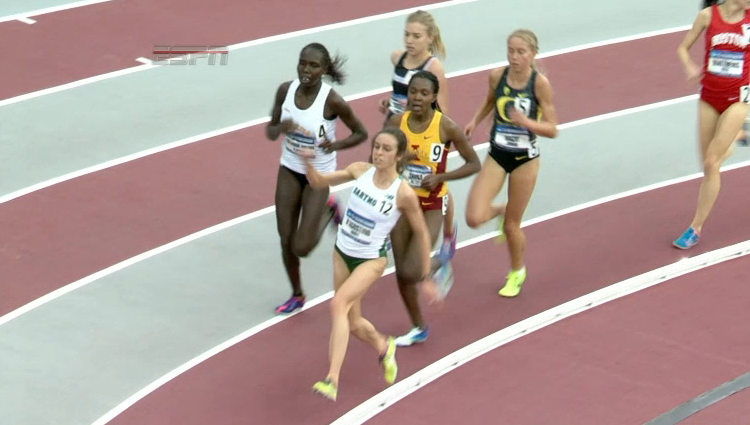 D'Agostino sat on the big threat in the field, Iowa State's
Betsy Saina
, until about 1000m to go and then showed everyone that she could not only win titles the "easy" kickers way, but the "hard" way from a long ways out.
We're not sure where in the race she clipped the inside rail (our best guess would be with 900m to go), but Abbey D gracefully recovered and then started to tighten the screws.
Successive 200m splits of 36.55 (at 4000m), 36.53, 35.74, 35.07, 33.92, and a final lap of 32.89 gave her the big win.
How much does she have left in the tank for the 3000m? Could Abbey D win two indoor titles?
If you look at the start list, a lot of other girls are doubling back as well. Ryan also rhetorically just asked, "How many girls have run 15:19 or 4:30?"
Point taken.
There are some other favorites who didn't literally fall, but failed to make the final:
Men's 60mH
Caleb Cross (Arkansas)
Men's 400m
Brycen Sprating (Pitt)
David Verburg (George Mason)
That's it for the falls, but what about the people who were supposed to win?
Pre-Race Favorites Look Solid
The mile preliminaries went as planned as Colorado's
Emma Coburn
(4:37.47) and Florida State's
Amanda Winslow
(4:36.48) both cruised to victories in their respective heats. Coburn went a bit earlier (her big move came around 1000m) while Winslow closed hard (33.61 - 32.66 - 33.01) over the last 600m to win.
The men's miles were excellent examples of the easiest way to run 3:58 and the hardest way to run 4:01. In the first semifinal, Arizona's
Lawi Lalang
(3:58.52) and NC State's
Ryan Hill
(3:58.91) eased when coming to the line in what was the slowest looking 3:58.52 mile, ever.
We guarantee their finish won't look as comfortable tomorrow.
The second heat was a bit more rough as the leader at 809m and eventual winner, PSU's
Robby Creese
(4:01.67), brought the field through the halfway mark in 2:05.98.
Creese then had to fend off surges from the defending champion, Tulsa's
Chris O'Hare
(4:01.76), and even throw in some moves as well. The two fought their own battle, which was convenient for them as they stayed from from the blanket finish for spots three to five.
In the women's hurdles, Clemson's
Brianna Rollins
(7.82) was simply the class of the field. When you're the collegiate record holder and set the NCAA meet record in prelims, then that's an understatement.
The leading 400m man for for Texas A&M,
Deon Leondore
, didn't improve on his world leading time, but won his section of the men's 400m in 45.36. Again, some Aggies just can't have it all.
The heavy hitters in the women's 60m dash, Oregon's
English Gardner
(7.150) and UCF's
Aurieyall Scott
(7.142), had some breathing room in their respective heats. That won't be the case when the two meet tomorrow in the final.
The top two seeds in the women's 800m, who also hail from the same school, both won their sections in similar fashion. LSU's
Natoya Goule
(2:05.68) and
Charlene Lipsey
(2:05.02) both want an NCAA title, but they might have to watch out for more than each other come tomorrow (I'm looking at you,
Laura Roesler
).
On the men's side, the "gamers" and our picks of the litter avoided trouble and advanced to the final. Oregon's
Elijah Greer
(1:48.13) manhandled the first section of the men's 800m while PSU's
Cas Loxsom
(1:49.13) eased to finish third in the second heat.
The men's 5000m was, and was always going to be, the
Kennedy Kithuka
(13:25.38) show. The NCAA cross country champion lead from wire to wire, if you can call 3000m to 5000m "leading." It's like he doesn't even realize that other people are in the same race.
Even as NAU's
Diego Estrada
(13:30.24) started to close on him in the final stages of the race, Kithuka wasn't worried.
Check out his post-race interview. If you want a preview for tomorrow, he has some information for you.
We saw some endurance, but we were still yearning for some speed. The women's 200m saw one of the most dominate NCAA sprinters in recent times, LSU's
Kimberlyn Duncan
, take a close win (22.58) over her main rival, UCF's
Aurieyall Scott
(22.71).
Scott may have broken Duncan's consecutive streak of 200m wins, but Duncan got some revenge and an NCAA title. We'll venture to guess that she'll be satisfied.
The men's final showed that championship caliber racing doesn't go away. Even though Texas A&M's
Ameer Webb
was only ranked fifth going into nationals, the reigning NCAA champion didn't come to play as won the men's 200m by daylight.
His time in the final of 20.42 would have been a world leading time if he hadn't run 20.37 in the prelims. Some guys just can't have it all.
Heading into last chance weekend, I thought that the
University of Michigan
girls would double back from individual events and squeak into nationals in the DMR.
They didn't double back and they didn't squeak in - they went from running 11:11.41 to 10:56 and in fell swoop, became the number one team in the country.
I underestimated and even doubted them a bit the week prior, but I wasn't going to let Ann Arbor get the best of me twice. I valiantly picked the number one seed to win nationals and
Amanda Eccleston
pulled away from Villanova's
Emily Lipari
to take home the title for the Wolverines.
Thanks a lot, Michiganders.
Splits
1200m - 3:24.04 (3rd fastest leg)
400m - 54.86
800m - 2:05.28 (fastest leg)
1600m - 4:32.29 (2nd fastest leg by 0.01)
Though the penultimate event drew emotion from the press box, the last event of the night evoked some screams and jumping from a rather stoic crowd.
The accordion of the men's DMR came down to the final leg and all eyes were on
Princeton
's
Peter Callahan
. An early pace for the anchor legs played right into Callahan's hand as he dropped a 26.5 last lap to blow away the Notre Dame Alex Wilson field, I mean NCAA Nationals, to win the title for the Princeton faithful.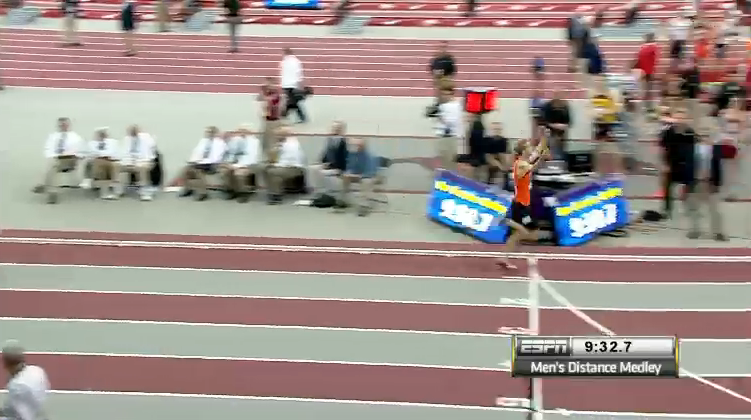 The DMRs bring up an interesting question of trying to double at nationals. The two winners, Michigan and Princeton, put all of their eggs in one basket. With the exception of
Shannon Osika
in the mile, the rest of the Michigan middle-distance squad scratched out of their individual events.
A few big teams in the men's race tried to double back, but Princeton's fresh legs kicked for home.
We'd like to do a more in-depth recap, but it's 1:50am and we are the last ones in the building except for the janitor who jokingly, but with a serious underlying tone of "please leave so I can go home," offered us the keys to the Randal Tyson Track Center.
We'll have more tomorrow. Right now, we just need some sleep if we're going to survive the Chile Pepper course tomorrow morning.
I didn't choose Flotrack life, Flotrack life chose me.
Day one is done, book it. More to come tomorrow.
Updated on May 21, 2013, 2:43pm