2023 DI NCAA Outdoor Championships
Which Men's Stars Will Emerge At The 2023 NCAA Track & Field Championships?
Which Men's Stars Will Emerge At The 2023 NCAA Track & Field Championships?
Wide open sprint races and collegiate record possibilities in the field events highlight the men's competition at the 2023 NCAA Track & Field Championships.
Jun 6, 2023
by FloTrack Staff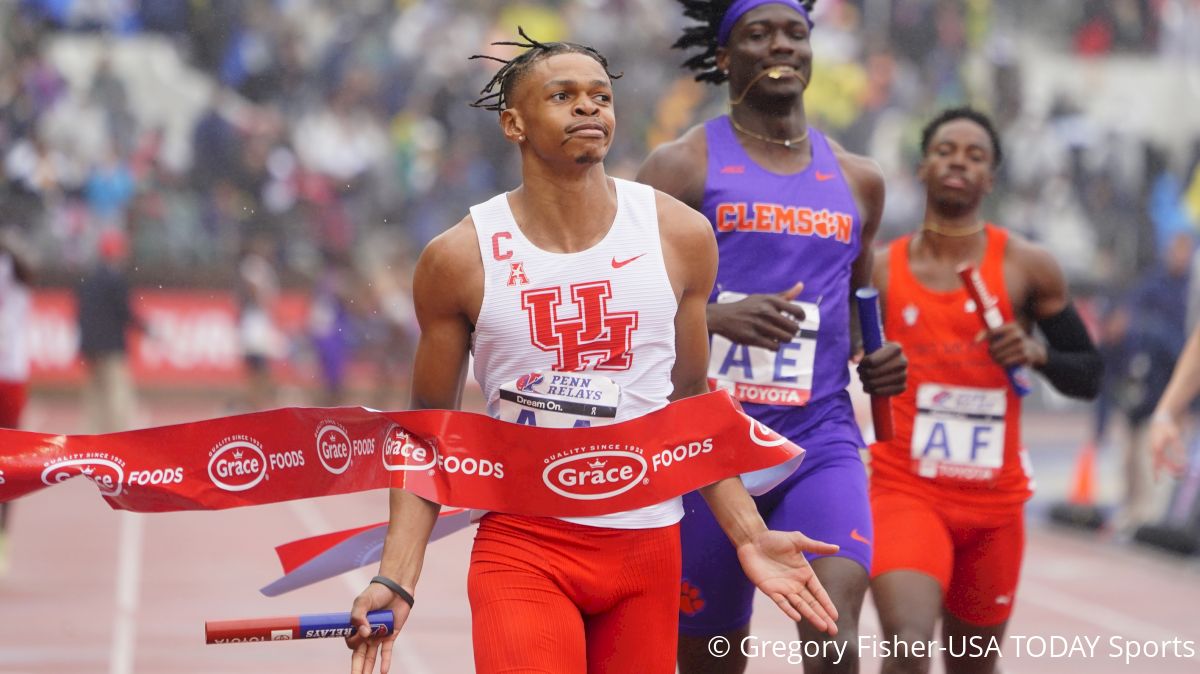 The NCAA Championships have arrived in Austin, Texas for the first time since 2019. If past is prologue the sprint times will be fast and the distance races will be entertaining.
Four years ago, the weather was a factor with sizzling temperatures lingered all four days of competition. This time around, the schedule is later, offering some respite from the summer Texas sun. But it will still be hot and the quick times should follow in the sprint events.
FloTrack will have on-site coverage from the meet and a special Saturday morning edition of the FloTrack Podcast.
On the men's side of the competition, Arkansas is the slight favorite in the team competition (you can see the full projections here). Individually, here's what to watch for in the men's events:
Parity In The Sprints
For most of the running events, there is no clear favorite. This is in direct contrast with the women's field where there are a few high-profile athletes aiming for doubles and collegiate records. But let's run through the men's sprints to show how wide open some of these races are.
Men's 100m
There's at least six men who could win this, maybe more. Terrence Jones (Texas Tech) is currently ranked top in the nation in the FloTrack rankings, but nobody would be surprised if Courtney Lindsey (Texas Tech), Udodi Onwuzurike (Stanford), Micah Williams (Oregon), Shaun Maswanganyi (Houston) or Godson Oghenebrume (LSU) win this event.
There gooooooes Terry!!!

2. 9.93 (1.4) 🔥 pic.twitter.com/y2RV3EoTxC

— Texas Tech Track & Field (@TexasTechTF) May 27, 2023
Men's 200m
Very similar to the 100m with a deep group of experienced sprinters. In addition to Onwuzurike, Jones and Lindsey, throw in Robert Gregory (Florida), Tarsis Orogot (Alabama) and Javonte Harding (Tennessee).
Men's 400m
Entering the season, it looked like Elija Godwin (Georgia) would be the clear favorite. He won the indoor title and has national team experience from last year's World Athletics Championships. But Ryan Willie has emerged as a clear contender. Willie beat Godwin at the SEC Championships in an NCAA-leading 44.27. There's a third SEC athlete that could win as well. Emmanuel Bynum of Tennessee was just .01 behind Godwin at SECs.
Collegiate Record Possibilities
The men's 4x100 and 4x400 collegiate records have already fallen this season by LSU and Florida, respectively. But there is a chance those marks don't survive the weekend. Florida will put heavy pressure on LSU in the 4x100m, and Texas Tech could also be a factor.
Alabama was only .25 behind Florida when they broke the collegiate record at SECs in the 4x400m so there isn't much of a gap. Georgia broke 2:59 at the Texas Relays and will also be in the mix.
In the field, Arkansas triple jumper Jaydon Hibbert has been on a tear this season. Hibbert has been making a habit of breaking the NCAA and U20 records, while also keeping his overall jump count very low. His 17.87m lifetime best puts him 30 centimeters farther than the next best jump in NCAA history and well clear of the rest of this year's jumpers.
WORLD U20 RECORD and WORLD LEAD 🤯

🇯🇲's Jaydon Hibbert flies to a 17.87m triple jump at the SEC Outdoor Track and Field Championships in Baton Rouge👀

He still only is 18 years of age 😳

*Pending the usual ratification procedures pic.twitter.com/5DaFp5DCOk

— World Athletics (@WorldAthletics) May 14, 2023
Will we see an 18-meter jump in Austin?
There are three other men who have outdoor collegiate records will be looking improve their marks–Kyle Garland (Georgia) in the decathlon and Mykolas Alekna (Cal) in the discus and Sondre Guttormsen (Princeton) in the pole vault. Guttormsen shares the collegiate record of 6.00m with Mondo Duplantis and KC Lightfoot. The fast Texas runway might be the perfect spot for Guttormsen to exceed six meters and give him sole possession of the top spot.
Can Dylan Jacobs Pull Off The Distance Double?
Like the men's sprints, there aren't any huge favorites in the distance races. However, there is a possibility that Dylan Jacobs of Tennessee walks away with two titles from the meet. Jacobs holds the top ranking in the 5000m and 10,000m in the FloTrack rankings.
Going back to his time at Notre Dame in the distance medley relay, Jacobs has won three NCAA titles. He hasn't run particularly fast this year because he hasn't had the need to.
Bowerman Committee 🧡's Dylan Jacobs

Our distance stud appears on the final men's watch list for @thebowerman award, collegiate track & field's highest individual honor.https://t.co/alKuVlNBEf

— Tennessee Track & Field (@Vol_Track) June 5, 2023
There's no shortage of runners who can stop him. Stanford's Charles Hicks and Ky Robinson, Nico Young of NAU, Brian Fay of Washington and Casey Clinger of BYU, all possess the experience and versatility to win.
Here's a look at the other men's distance races:
Men's 800m
Can Yusuf Bizimana win at home for Texas? He did win the indoor title and his 1:45.82 is the fastest time in the nation. Remember, Navasky Anderson (Mississippi State) actually crossed the finish line first at indoors but was ultimately disqualified for impeding Bizimana.
Men's 1500m
Indoor 3000m champion Fouad Messaoudi (Oklahoma State) is the favorite but will have his hands full with the Washington crew (Joe Waskom, Luke Houser, Nathan Green), Anass Essayi (South Carolina), Ezekiel Rop (Iowa State) and Isaac Basten (Drake).
Men's 3000m Steeplechase
This could be one of the best races of the meet featuring the second and fastest in the event's history. Duncan Hamilton (Montana State) is coming off an 8:16.23 statement run at the West Preliminary meet that moved him behind only Henry Rono on the all-time list. Kenneth Rooks of BYU was number two by virtue of his 8:17.62 that he ran at the beginning of May. These two on the same start line with an NCAA championship on the line guarantees an incredible race.