2023 USATF Outdoor Championships
The Future Is Mia: Oregon Star Inks NIL Deal With Nike
The Future Is Mia: Oregon Star Inks NIL Deal With Nike
High school sprint star Mia Brahe-Pedersen of Oregon has signed an NIL deal with Nike.
Jul 4, 2023
by Cory Mull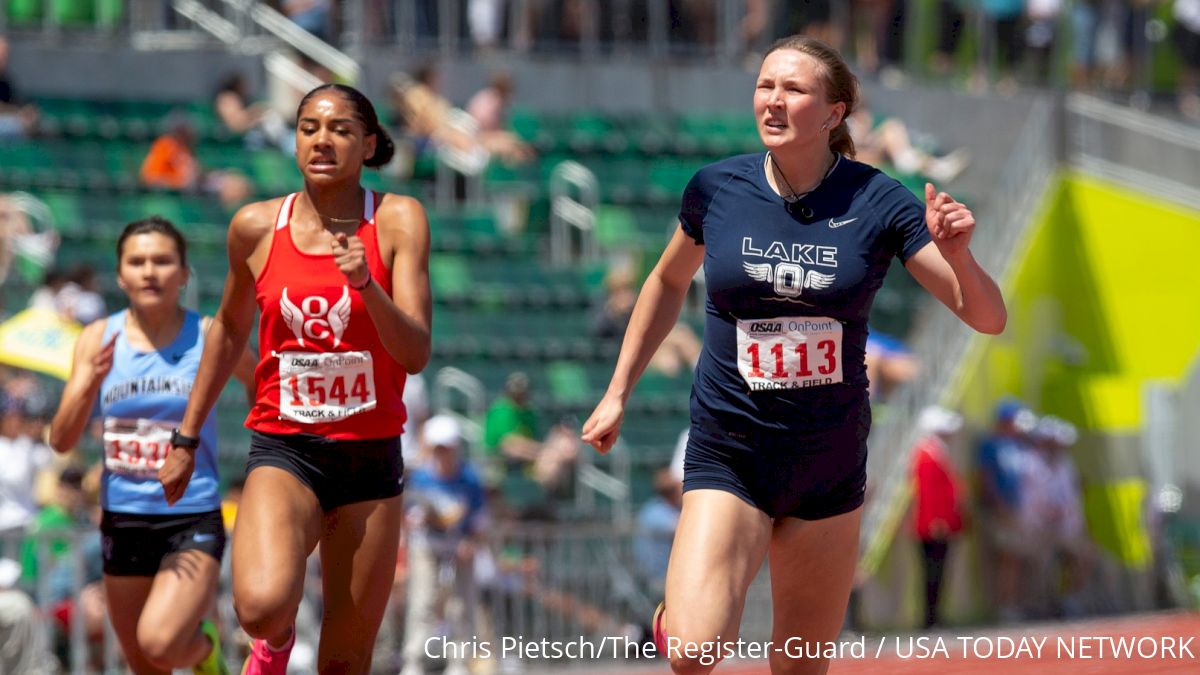 In a landmark deal on Monday, Oregon teenager Mia Brahe-Pedersen, MileSplit's No. 1 recruit in the Class of 2024, became the first high school track and field athlete to sign a Name, Image and Likeness deal with Nike, the powerhouse sports brand.
"When I think back to when I was first starting and what my career would first look like, I thought it would look something like this. But not at 17 years old," Brahe-Pedersen told MileSplit on Monday. "It's crazy. I feel like everything is moving fast. I'm super grateful for all the opportunities that have come my way. It's a natural progression, but it's happening a lot sooner."
The deal was facilitated by track and field agent Ray Flynn. While the financial details, the length of the contract or the specific requirements were not disclosed, Mia's father, Christian Brahe-Pedersen, did tell MileSplit that it will include scheduled appearances and availability for press conferences.
There is also a clause in it, he said, that said the NIL deal can be terminated if and when Mia enters into a professional track and field contract.
"It's similar to a lot of NIL deals," Mia said. "I promote their brand while they promote me. It's a two-way street."
Brahe-Pedersen, one of the nation's top young high school athletes, has been gaining a fast-growing reputation for being a stud on the track. The 5-foot-9 sprinter has run 11 seconds flat for 100 meters and 22.43 seconds for 200m, both times among the best ever in high school. She's the second-fastest high school girl ever at 200m and the fourth-best for 100m all-time.
She also competed for Team USA last year at the World U20 Championships, finishing seventh in the 100m final and fourth in the 200m, and is a multiple-time national champion. She's coached privately by John Parks and 2012 U.S. Olympic sprinter Ryan Bailey at Lake Oswego.
But of course, a step back is required. In order for this all to happen, the first domino had to happen first, and it came in October.
That's when the Oregon State Athletic Association approved a rule change in its bylaws to allow for athletes to profit from their own NIL. From there, opportunity ballooned.
Three months ago, Christian said, he began reaching out to NIL agents.
"We didn't pursue an agency agreement until I had the first conversation with someone about three months ago," he said.
Christian said he interviewed several candidates to represent Mia's NIL options.
"I met with them on video," he said. "Sometimes I had more than one conversation. There were a couple of good ones. But ultimately we settled on Ray."
The Brahe-Pedersen's liked Flynn because he was agnostic -- i.e. he had no biases toward any specific sports brand. Flynn also had never worked with a high school athlete before. That intrigued Flynn, Christian said.
But of course, Mia is from Lake Oswego, a 20-mintue drive south from Portland. Nike's headquarters is a skip away. Mia felt a connection.
"Being with Nike, it's a big honor," she said. "They have a reputation to protect. And the fact that they are willing to invest in me and bet on my future. They see potential in me. That means a lot."
Christian believes this NIL deal is a two-way win for family. He believes it will give his daughter financial support to pursue her dreams in college. It also may give her the width and space to find her way.
"We've talked to some coaches, a lot of college coaches," Christian said. "Sometimes they say things. 'We hear Mia will be one a done.' But I can tell you, that's not coming from us. We don't want her to do that.
"Obviously, Mia will go off to college. She will be able to maker her own decision. Our hope is that she stays in college. She's only 17. She can go pro in a few years."
Mia's decision to enter into an NIL contract did not come lightly.
"It's our hope that Mia is able to realize her dream of being a pro athlete," Christian said. "What kid doesn't dream of that at some point? But we're hoping it allows her to develop in a more protected environment and she'll have a lot of adults looking out for her in college and not forcing her to go pro as a high schooler.
"Everybody makes their own choice. I'm not saying it would be wrong. For us, though, it would be better for Mia to have the opportunity to develop in a more protected, structured environment in college and not feel pressured for someone to come in and wave money in front of her face. Hopefully, this NIL deal she'll be able to bank some money and that will take some of the incentive away."
With one more year left in high school, Brahe-Pedersen knows she has her whole future in front of her. Her support beams have been the driving force around her.
"Everything I do, I rarely make a decision without consulting with my family," Mia said. "That's not like they say, 'You have to run everything by us.' They've done everything for me to get to this point.
"I don't think I could make these decisions as well as I do without the help of my family ...My dad, he's made it so there's less weight on me to figure things out. I can focus on what I have to be doing on the track."
Brahe-Pedersen will next take center stage at the USATF Outdoor Championships in Eugene, Oregon.
There, the Lake Oswego junior has made another bet on herself.
Rather than enter into the U20 field, where she would have had a strong shot to make the U.S. team at the Pan American U20 Championships, she's opted for the senior meet.
Brahe-Pedersen is entered in the 100m and the 200m against the likes of Sha'Carri Richardson, Aleia Hobbs, Tamari Davis, Twanisha Terry and even fellow high schooler Shawnti Jackson.
While she would love to make the U.S. senior team set for the World Championships in Budapest, Hungary, she said, there is a secondary option she is also striving for: The NACAC U23 Championships in San Jose, Costa Rica.
The first domino fell on Monday. The next steps are coming.
"I'm not completely out of the picture to make the relay pool for Budapest," she said. "I have a long way to go until I'm at that level. The goal right now -- and this is a bit of a stretch -- is to make the NACAC U23 team. It will be difficult. But we never get anywhere good by taking the easy route.
"Let's bet on myself and let's see if we can make this happen."