NCAA Recruiting
Tim Hall Succeeds Mentor Curtis Frye As South Carolina's Head Coach
Tim Hall Succeeds Mentor Curtis Frye As South Carolina's Head Coach
The Gamecocks are under new stewardship in 2023 with Tim Hall replacing long-time coach Curtis Frye.
Aug 14, 2023
by Tim Casey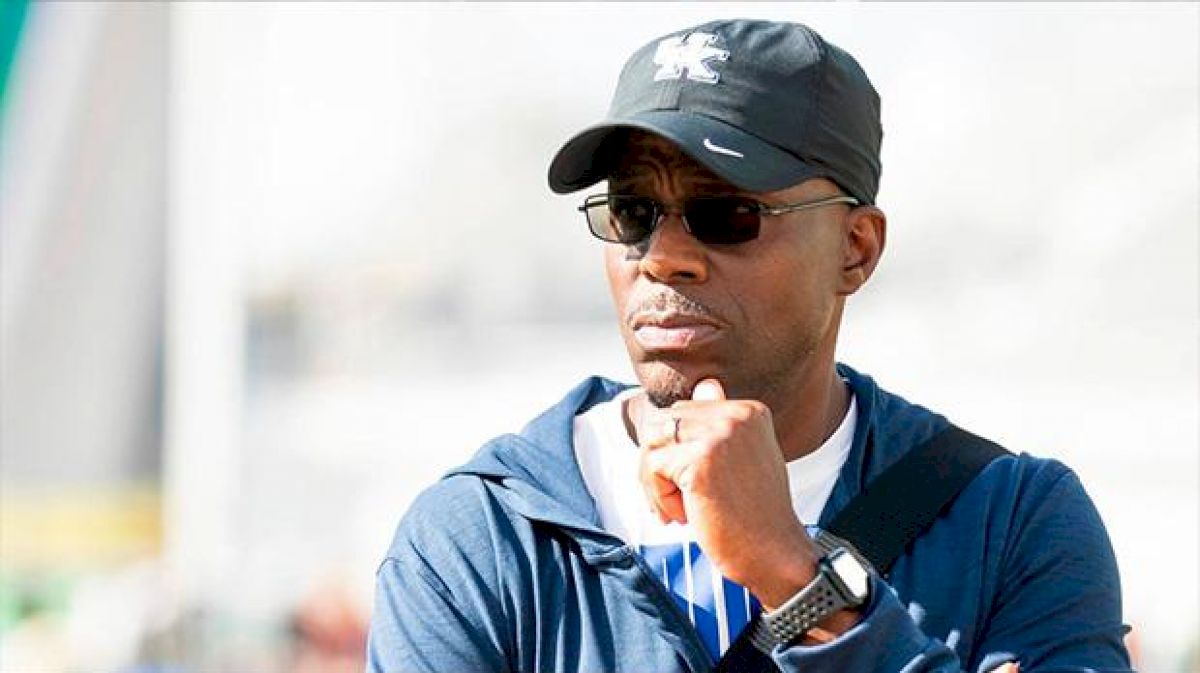 As a young assistant coach at the University of North Carolina-Charlotte in the early 2000s, Tim Hall attended a clinic at the University of South Carolina. That day, he met Gamecocks head coach Curtis Frye.
Despite their 20-year age gap, Hall and Frye struck up a friendship. They grew so close that Hall considered Frye a mentor and confidant, someone he could reach out to with questions about any topic.
Now, the two are linked even closer, as Hall was recently hired as South Carolina's head cross country and track coach just days after Frye announced his retirement following 27 years at the helm.
As Hall moved up the ranks, including serving the past five years as Kentucky's associate head coach, he continued to look up to Frye, who coached 60 NCAA champions and more than 500 All-Americans during his long coaching career.
"I was totally inspired by the things that he had in place here," Hall said. "I was impressed by his presentation as a leader and as a guy. He was just always there when I had questions about training, questions about job opportunities. He's just been tremendous in my development as a coach."
Hall remembers calling Frye in 2005 about a job opening. Frye wasn't sold on the opportunity.
"He was like, 'Just take your time, Tim. Don't be so eager to jump at every position that comes open. There's something bigger and better on the horizon for you,'" Hall said. "I took his advice and listened, and here I am ... I'm very grateful to him and always will be grateful to him."
"This is not only a dream come true, but it's definitely perfect for what's best for my family," Hall said. "We're thrilled."
This is Hall's first head coaching job, but he's been a hot commodity for years.
Since 2008, he has been named the U.S. Track & Field and Cross Country Coaches Association's regional assistant coach of the year nine times: three times at Clemson, where he coached from 2008 to 2013; three times at Tennessee, where he coached from 2014 to 2018; and three times at Kentucky, where he coached from 2019 to 2023.
Several times in recent years, athletic directors have expressed interest in hiring Hall as a head coach but he declined, primarily for family reasons. He didn't want to uproot his wife and son.
But his son, Tim, Jr., recently graduated from high school and will play college basketball at Georgia Southwestern State. His wife, meanwhile, is a native of Gaffney, South Carolina, so she's familiar with the state and its public university.
Hall, meanwhile, grew up in Charlotte, but he ran at South Carolina State and graduated in 1994.
"This is not only a dream come true, but it's definitely perfect for what's best for my family," Hall said. "We're thrilled."
Hall has only been at South Carolina for a few weeks, but he's already been focused on recruiting, an aspect of the job that he excelled at as an assistant. Hall specializes in sprints and hurdles; he helped Kentucky secure a top Class of 2023 recruiting class that includes Gahanna Lincoln (OH) hurdler Camden Bentley and North Forney (TX) Alex Chukwukelu.
Hall will continue coaching sprinters and hurdlers at South Carolina. In fact, it's the same role that Frye held during his time at the school.
Hall is still finalizing his staff, but he said he plans on keeping some of the assistants from this past year's team and also hiring assistants from other schools.
"Recruiting is the lifeline of any program," Hall said. "That's always been important to me, and that's going to be priority one for myself and the staff that we put in place."
He added: "We're gonna scour the country, the counties, the cities, the states, to find the best talent to get the Gamecock brand in front of these families, eventually get them to the campus to show them the wonderful facilities we have in place and make it very difficult for them to tell us no."
Hall and his staff will have some work to do, as South Carolina is coming off a difficult year. At the SEC Indoor Championships, the men and women each finished 11th. At the SEC Outdoor Championships, the men were 12th and the women were 13th.
One bright spot for the Gamecocks, though?
They should have sprinter Nyckoles Harbor, one of the nation's top recruits in the Class of 2023. Harbor, who is 6-foot-5 and 241 pounds, is also a star football player who is going to play wide receiver for South Carolina this fall.
Hall has experience coaching players who split their time between football and track, including former Clemson standouts C.J. Spiller and Jacoby Ford, both of whom ended up playing in the NFL.
"I'm extremely excited about working with (Harbor)," Hall said. "Being a dual-sport athlete takes someone with the acumen to kind of understand prioritization so that he's able to transition back to football, be faster in that regard, and also be able to make the transition back to track to be successful at track and field. That takes a unique perspective in terms of understanding training and lifting and all those things."
Meanwhile, Hall is still in the process of selling his house in Kentucky and is looking for a new house in South Carolina.
Still, he's already looking forward to the school year to begin. He'll have someone to lean on, too, as Frye will remain near the campus and be around to help Hall's transition.
"I told (Frye) I have him on speed dial, and if there's a need or a question, please allow me or afford me the opportunity to give you a call and pick your brain on any matters that pertain to helping the program." Hall said. "He was very receptive of that. He was like, 'Man, you call me anytime. I'm here for you.'"
Related Links: