NCAA Recruiting
Michigan Gains Pledge From High-Ceiling Miler Marcus Reilly
Michigan Gains Pledge From High-Ceiling Miler Marcus Reilly
Michigan earned a strong commitment from one of Massachusetts' top middle-distance runners in the Class of 2024
Aug 23, 2023
by Tim Casey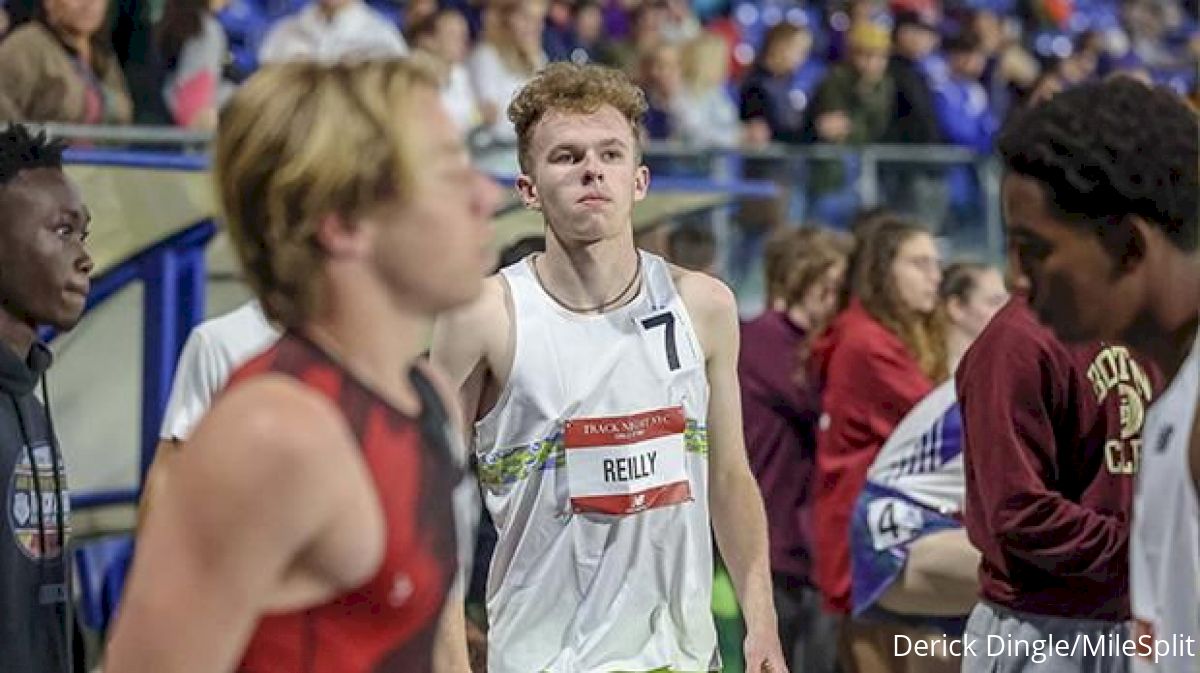 Marcus Reilly grew up in a running family.
His parents, Paul and Stephanie, were raised in Ireland before enrolling at Providence College, where they starred in distance events in the late 1990s and early 2000s. They continued racing after graduating, moved to Massachusetts and got into coaching at the college level.
Still, after Marcus was born in November 2005, the Reillys vowed they would not push him into running. They preferred he pursue other sports and then he could run competitively later on if he so desired.
As fate would have it, that's what happened. Marcus played on travel soccer and basketball teams before quitting those sports late in middle school to focus exclusively on running.
Marcus was a natural, winning the junior high mile at New Balance Nationals Indoor and then the junior high 800m at New Balance Nationals Outdoor as a seventh-grader. That's right when his parents starting coaching him.
Now entering his senior year at Northbridge (MA) High School, Reilly is MileSplit's No. 14 recruit in the Class of 2024. He recently committed to the University of Michigan, an elite academic school with a strong distance program led by coach Kevin Sullivan, a former world-class runner who represented Canada at the 2000, 2004 and 2008 Olympics.
Reilly credits his parents for developing him, not pushing him too hard and helping him emotionally prepare for major meets. Paul Reilly ran in the 2001 World Cross Country Championships as well as NCAA meets, while Stephanie Reilly was a college star and ran in the 3,000m steeplechase at the 2012 Olympics.
"They've been in all types of meets," Reilly said of his parents. "Having that guidance has been super helpful. I can't take it for granted. It's amazing to have them on my side."
He added: "I know when I transition to Michigan, Coach Sully also has that experience, so I know he'll be able to fill in the gaps that my parents have done. It'll just be great, but props to my parents for everything they've done."
Reilly typically runs 40 to 50 miles per week, at the behest of his parents, who think it's best for him to do less mileage and then ramp it up as he ages.
"We've actually just brought him through the lower distances to start with because you can always move up when you get older," Paul Reilly said. "It's tougher to move down ... Hopefully there's a lot of upside in college. Based on the training he's been doing, I think we've been appropriately conservative."
Reilly's parents aided him during the recruiting process as well. Marcus received attention from numerous programs, many of whom reached out last June on the first day coaches could contact Class of 2024 recruits.
As a freshman, Reilly had the nation's top outdoor time in his class for the 800m (1:51.46) and mile (4:11.87). The next year, he set the sophomore class record in the indoor 1,000m (2:24.18) and led sophomores over the outdoor season in the 800m (1:50.00), 1,500m (3:45.30) and mile (4:08.46).
This outdoor season, Reilly was third in the mile (personal-best 4:06.12) at New Balance Nationals Outdoor, fourth in the 1,500m (3:51.10) at the USATF U20 Championships and fifth in the 1,500m (3:53.86) at the Pan American U20 Championships.
Reilly is a talented cross country runner, too, even though he hasn't concentrated on it as much in high school and has battled through injuries. The past two years, he was second in the Massachusetts' Division 3 Championships behind Aidan Ross, who is entering his freshman year at Wake Forest University.
"Hopefully there's a lot of upside in college. Based on the training he's been doing, I think we've been appropriately conservative."
Reilly has not run in any national high school cross country meets, but he hopes to qualify for a national meet this fall. With his elite times, Reilly had his pick of colleges.
This spring, he took an unofficial visit to Providence, which is about an hour from his house, and went on official visits to Michigan, Stanford, Notre Dame and Virginia.
Paul Reilly, a former assistant at Bryant University in Rhode Island and currently the head of academic advising for undergraduates at Worcester Polytechnic Institute, went on all of the visits with his son. Meanwhile, Marcus spoke often about the recruiting process with his mother, who is the head cross country coach at College of the Holy Cross in Worcester. Stephanie Reilly previously coached at Bryant and Providence.
"They helped me a lot through the whole process," Reilly said of his parents. "For the most part, they wanted me to find the program that I thought fit. But whenever I needed something from them, I always asked them. It was super helpful to have them, but at the same time, they wanted me to make the decision for myself."
Paul Reilly said he was impressed with each of the colleges Marcus visited, as they were all known for athletics and academics.
"They're all incredible," he said. "You go to each of those schools, and the coaches are great, the places are fantastic, they're all strong academically. I don't think you could make a bad decision regardless of where you go ... It's a privilege and a great spot to be in, but at the same time, it could still be tough for a 17 year old to decide where they want to go to college for the next four, five, six years, depending on what they do for grad programs."
Marcus Reilly had similar comments about the programs he visited. At Michigan, he felt a kinship with Sullivan, as well as his future teammates, some of whom he already knows.
The Wolverines' incoming sophomore class has two distance runners from Massachusetts in Kyler McNatt and Myles Liss-Riordan, while another Massachusetts native, Nathan Lopez, is enrolling this fall as a freshman. Reilly also met two incoming Michigan sophomores who won their events at the Pan American U20 Championships this month in Caleb Jarema (3,000m steeplechase) and Riley Flemington (1,500m).
Besides the coaching and training partners he'll have, Reilly says he was drawn to Michigan because of the academic programs it offers.
He's not sure what he wants to major in, but he knows he'll have plenty of good options.
"I'd love to go pro in running someday, as most people would, but I know running isn't gonna last forever," Reilly said. "It would be great to make a living off of it, but if not I need to be able to find other things that I can pursue academically...Michigan is a really well rounded program. They take importance in their academics, their athletics, the whole thing. I really want to run super fast on the track, but at the same time I want to make sure that I'm studying hard and hopefully setting myself up well for the future."
Related Links: