NCAA
The USTFCCCA National Coaches Poll: Preseason Top 25 Women's Teams
The USTFCCCA National Coaches Poll: Preseason Top 25 Women's Teams
The preseason top 25 is out for the NCAA women in cross country, and here are which teams made the list.
Aug 31, 2023
by Cory Mull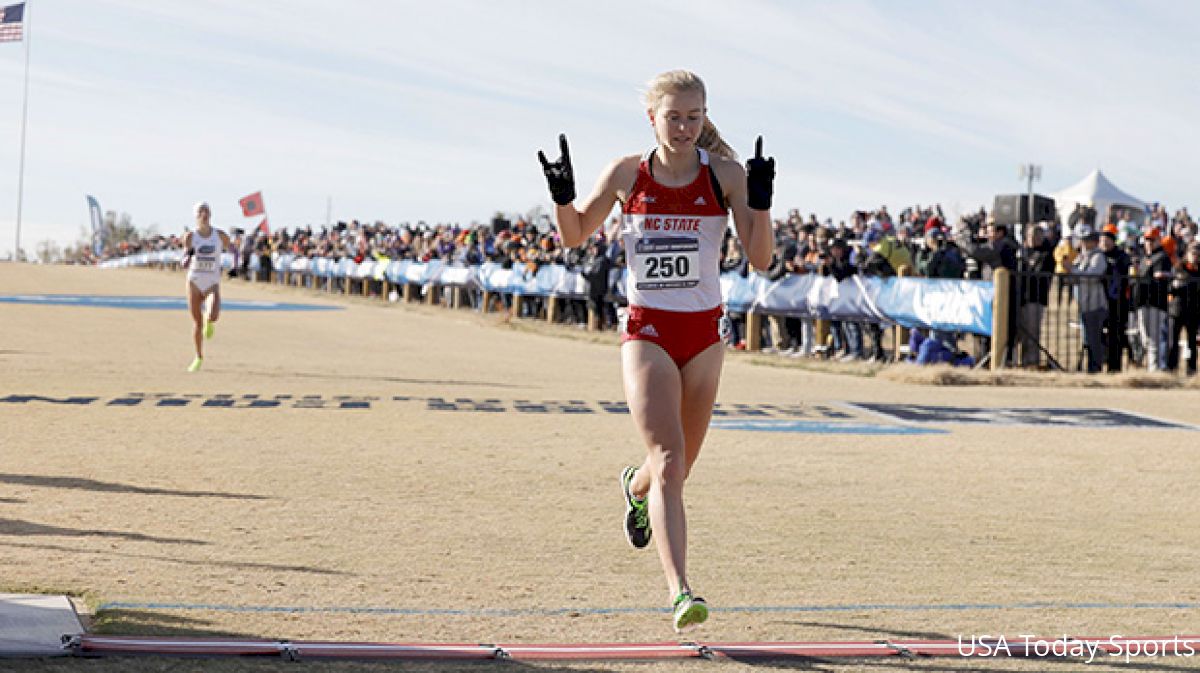 The U.S. Track and Field and Cross Country Association released its preseason NCAA Division I national coaches poll for the top 25 women's programs in America for cross country.
No surprise, North Carolina State, the reigning NCAA champions, are out in front.
Looking to capture their third straight win, the Wolfpack feature a dangerous group headlined by national champion Katelyn Tuohy, All-Americans like Kelsey Chmiel and Samantha Bush and pivotal transfers like Amaris Tyynismaa (Alabama) and Abby Loveys (Princeton).
Northern Arizona, which finished the year sixth at NCAAs, begins at No. 2 while Oklahoma State is No. 3, Notre Dame is four and Colorado, which welcomed a few key additions, begins the year at No. 5.
---
The FloTrack XC Preseason Rankings: Men's List l Women's List l Individual Men's List l Individual Women's List
---
The National Coaches Poll: The Preseason Women's Top 25
| Rank | Teams | Points | 2022 NCAA Finish |
| --- | --- | --- | --- |
| 1 | North Carolina State | 329 | 1 |
| 2 | Northern Arizona | 315 | 6 |
| 3 | Oklahoma State | 300 | 4 |
| 4 | Notre Dame | 273 | 7 |
| 5 | Colorado | 269 | 11 |
| 6 | North Carolina | 266 | 5 |
| 7 | BYU | 257 | 8 |
| 8 | Stanford | 242 | 13 |
| 9 | Florida | 235 | NA |
| 10 | Oregon | 233 | 14 |
| 11 | Virginia | 220 | 9 |
| 12 | Georgetown | 220 | 10 |
| 13 | Alabama | 205 | 3 |
| 14 | Providence | 193 | 16 |
| 15 | Washington | 185 | 17 |
| 16 | Ohio State | 182 | 15 |
| 17 | Michigan State | 134 | 20 |
| 18 | Wisconsin | 122 | 19 |
| 19 | Arkansas | 121 | 21 |
| 20 | Oregon State | 118 | 24 |
| 21 | New Mexico | 112 | 2 |
| 22 | Utah | 79 | 12 |
| 23 | Florida State | 73 | 18 |
| 24 | California Baptist | 68 | 29 |
| 25 | Michigan | 67 | 22 |