NCAA Recruiting
This Oregon Commit Is Hoping To Compete In Both Track AND Football
This Oregon Commit Is Hoping To Compete In Both Track AND Football
Brayden Platt has aspirations to suit up for Oregon in two sports, and to also one day reach the NFL and the Olympics.
Sep 6, 2023
by Tim Casey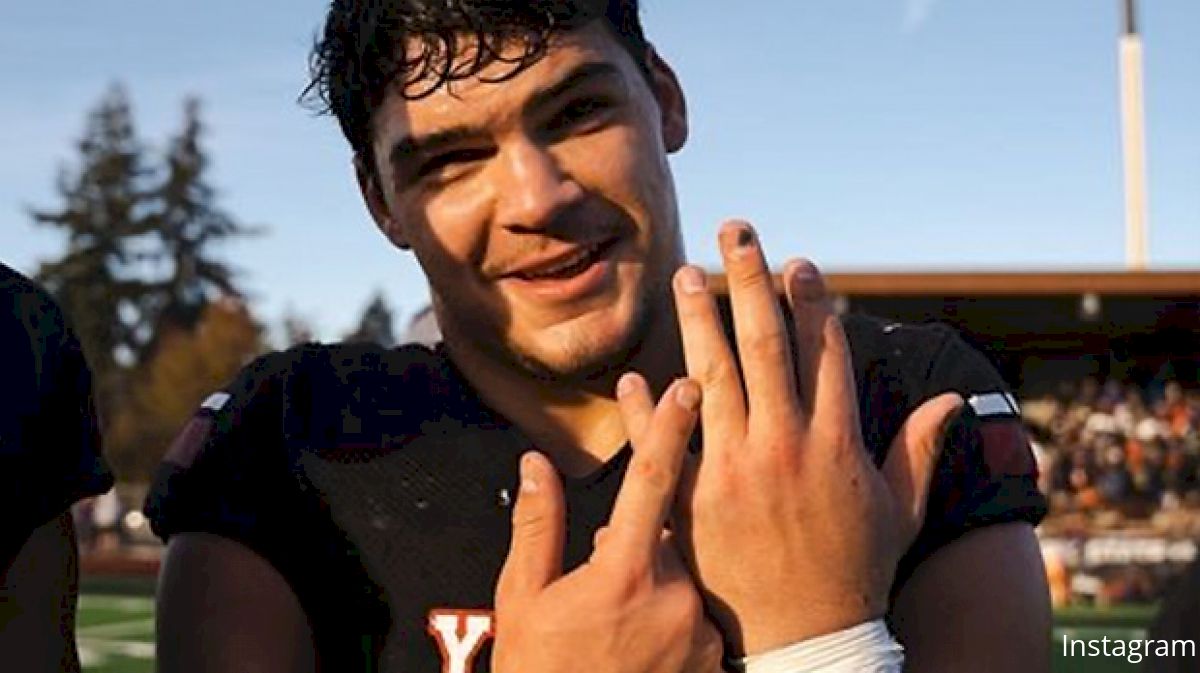 On June 5, 2022, Brayden Platt posted a message on Twitter outlining his goals: "I will be ... throwing in the Olympics and be in the NFL #Patience."
Those are lofty ambitions, especially for someone who was finishing his sophomore year at Yelm (WA) High School.
Still, if anyone can achieve both things, it might just be Platt.
On Monday night, Platt committed to the University of Oregon, where he will be a thrower on the track and field team and a linebacker in football.
Platt, whose other finalist on his recruiting board was the University of Oklahoma, is expected to make an immediate impact in both sports.
Platt is MileSplit's No. 23 boys recruit in the Class of 2024. The 6-foot-2, 240-pound senior is also the No. 72 football recruit in his class, according to 247Sports.
He is Washington's top recruit in each sport.
In track and field, Platt is among the most versatile throwers in high school. At Nike Outdoor Nationals in June, he won the javelin with a throw 228 feet, 1 inch; it was the longest throw for a U.S. high schooler during the outdoor season.
Leikel Cabrera Gay threw 228-4 at the AAU Junior Olympic Games in July, but Gay went to school in Cuba before moving to Miami recently.
Also at Nike Indoor Nationals, Platt was second in the hammer throw (174-4.25) and fourth in the shot put (64-0.25). Those were both personal bests and U.S. No. 18 and U.S. No. 6 throws in the Class of 2024, respectively.
In May, Platt won the shot put and was second in the javelin at the Washington Class 3A state championships, one year after winning the shot put and placing second in the javelin and discus at the state meet as a sophomore.
Platt is also fast for someone his size, running 11.09 seconds in the 100m in April. He's also displayed that speed in football, where he plays linebacker and running back.
As a junior last fall, Platt ran for 1,242 yards and 24 touchdowns on 132 carries (9.4 yards per carry) and caught 12 passes for 227 yards and a touchdown. He also had 69 tackles for a Yelm High School team that finished 14-0 and won the Washington Class 3A state championship.
Yelm opened the football season last Friday with an 8-7 victory at Camas (WA) High School; Platt scored on a 30-yard touchdown run and then ran for a two-point conversion, accounting for all of his team's points.
At Oregon, Platt would ideally focus on defense. Oregon is ranked 13th in the Associated Press poll under coach Dan Lanning, who is in his second season. Lanning was previously Georgia's defensive coordinator.
While football takes up a lot of time for college athletes, Platt insists he will continue to throw at Oregon, which has a well-known reputation as a track hotbed and open to two-sport athletes.
Oregon's freshman class this year includes Rodrick Pleasant, who was an elite sprinter and defensive back at Serra (CA) High School.
At Oregon, Platt could continue to improve with the help of Brian Blutreich, the Ducks' veteran throws coach. Blutreich was an All-American at UCLA and competed in the discus at the 1992 Olympics.
During the past 25 years, Blutreich has coached at Arizona State, Washington and Oregon and helped athletes win 28 NCAA individual titles.
Five throwers he's coached have thrown in the Olympics, including Jorinde van Klinken, who represented her home country of Netherlands two years ago. She competed for Arizona State for Platt and then transferred to Oregon last year and won the past three NCAA Outdoor Championships in the discus.
At Arizona State, Blutreich also coached Maggie Ewen, who won the women's shot put at the U.S. Outdoor Championships in July, and Turner Washington, who finished second in the men's discus at that same meet.
Both Ewen and Washington threw at last month's World Championships.
If Platt is some day to compete in the Olympics and the NFL, he would join rarefied company. Only a few people have ever accomplished both goals. As NFL.com noted, most of them are sprinters, jumpers or decathletes.
Those who have been throwers and NFL players include Michael Carter, a three-time Pro Bowl selection with the San Francisco 49ers and the silver medalist for the U.S. at the 1984 Olympics.
Carter still holds the U.S. high school record in the shot put (81-3.5), which he set in June 1979. No other high school has come within five feet of Carter's record.
Related Links: