NCAA Recruiting
Christian Miller, Nation's Top Sprint Recruit, Deciding On These Programs
Christian Miller, Nation's Top Sprint Recruit, Deciding On These Programs
MileSplit named Christian Miller as its top recruit in the Class of 2024. With recruiting season in full swing, here are his top six schools.
Sep 12, 2023
by Tim Casey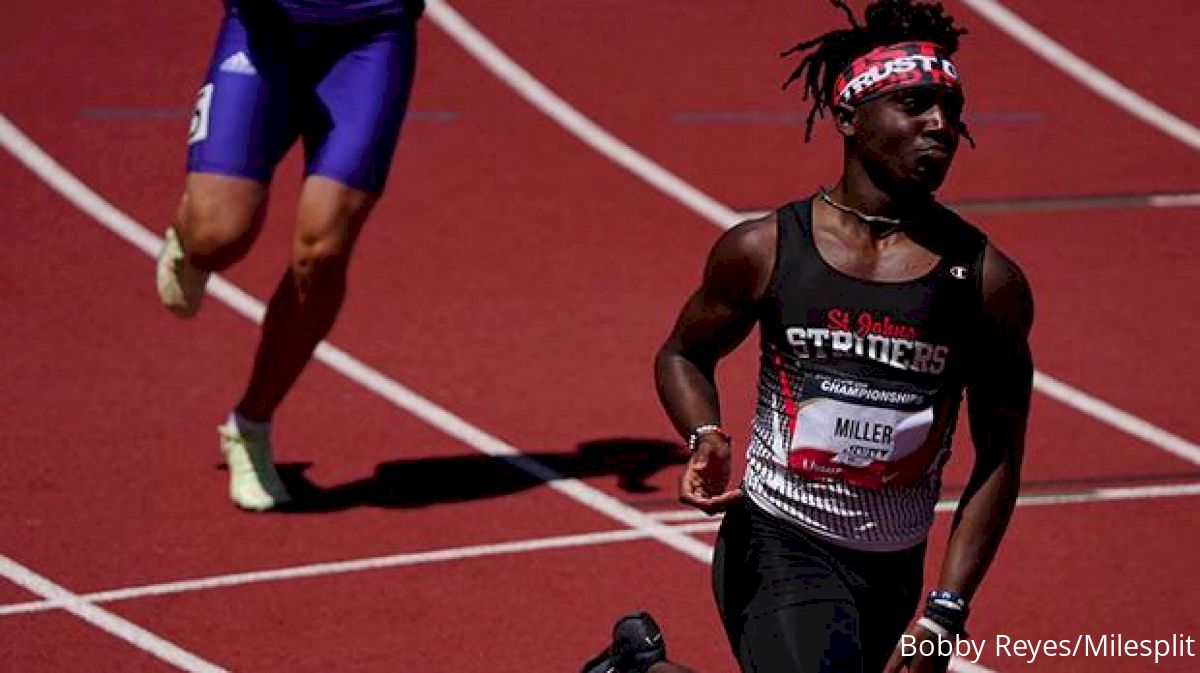 The U.S. usually has a bevy of talented sprinters who are among the world's best. At last month's World Championships, for instance, Noah Lyles won the gold in the 100m and 200m, while 19-year-old Erriyon Knighton won the silver in the 200m.
Christian Miller isn't there yet. But the senior from St. Johns Creekside (FL) is currently the No. 1 boys recruit in the Class of 2024 and is the reigning USATF U20 champion in the 100m (10.06) and 200m (20.51).
Those were both personal-best times and U.S. No. 2 and No. 4 performances over the 2023 season, respectively. His 100m time was a junior class record and the fourth-fastest in high school history.
As one would suspect, college coaches are already clamoring to sign Miller to a National Letter of Intent. Miller recently narrowed his college choices to six, all which are located in the Southeast.
Below, we take a look (in alphabetical order) at the programs Miller is considering and how he would fit in with each school. The 2023 National Letter of Intent signing period for track and field and cross country athletes opens on Nov. 9.
University of Florida
---
For the second consecutive year, Florida won the NCAA outdoor men's title, thanks to its sprinters. The Gators scored 47 of their 57 points in the 100m, 200m, 400m and relays.
The 4x100m team of Ryan Willie, Jacory Patterson, Pjai Austin and Robert Gregory finished second (38.26), while Gregory was fourth in the 200m (19.89) and Austin placed fifth in the 100m (9.97).
Meanwhile, Florida had the first, second and seventh finishers (Emmanuel Bamidele, Ryan Willie and JeVaughn Powell) in the 400m. Those three also teamed with Patterson to win the 4x400m relay in 2:57.74, setting an NCAA record and clinching the national title.
Miller would fit in perfectly at Florida, a program that has thrived under the leadership of Mike Holloway, the head men's and women's coach since 2007. Holloway was the men's head coach at the Olympics in 2021 and coached Team USA's sprinters and relays at the 2012 Olympics.
Florida State University
---
The Seminoles are the only school in Miller's top six that is not part of the Southeastern Conference. FSU competes in the Atlantic Coast Conference and its campus is about three hours west of his hometown.
At the NCAA Championships in June, Florida State finished tied for 15th and scored 17 points, including a third-place finish (and six points) in the 4x100m relay. The Seminoles' foursome of Jo'Vaughn Martin, Taylor Banks, Amir Willis and Ismael Kone was only 0.03 seconds behind Florida and 0.24 seconds behind LSU.
If Miller signs with FSU, he will work closely with Ricky Argro, the team's associate head coach who coaches the men's sprinters. Argro graduated in 2006 from Florida State, where he was an All-ACC sprinter.
He joined the coaching staff in 2015 after coaching at the First Academy, a private high school in Orlando.
University of Georgia
---
Since arriving at Georgia in 2021, Caryl Smith Gilbert has made her mark as a recruiter. The Bulldogs' Class of 2023 included elite sprinters Micah Larry of Montverde Academy (FL), Mekhi Gammons of Hialeah-Miami Lakes (FL) and Brody Buffington of Catoctin (MD).
Adding Miller to the mix would give the Bulldogs a chance to compete against other SEC schools that dominate the sprints. Georgia did not score any points in the 100m, 200m or 400m at the NCAA meet in June, but the Bulldogs' roster last year had some sprints talent in Matthew Boling (a multiple-time All-American) and Elija Godwin (second at the SEC meet in the 400m).
While Boling and Godwin are no longer running for Georgia, the Bulldogs seem to be in a good spot with Smith Gilbert at the helm. Shortly before accepting the Georgia job, Smith Gilbert led the USC women to the 2021 NCAA outdoor title and the Trojans' men to a fifth-place finish at that meet.
The Bulldogs also have two elite sprints coaches in Deanna Hill, a former All-American at USC, and Karim Abdel Wahab, who joined the Georgia staff in July after four years at South Carolina.
Louisiana State University
---
The Tigers are another team with a storied sprints program.
In May, the LSU quartet of Brandon Hicklin, Dorian Camel, Da'Marcus Fleming and Godson Oghenebrume ran 37.90 in the 4x100m relay, setting a collegiate record. The next month, that foursome won the NCAA outdoor title in 38.05. Oghenebrume and Fleming also finished second and fourth, respectively, in the 100m.
Since head coach Dennis Shaver took over in 2004, the LSU women have won two NCAA outdoor titles (2008 and 2012), while the men won the outdoor national championship in 2021. The Tigers have had four men and five women win NCAA 100m titles, too, under Shaver's tutelage.
LSU sprints coach Bennie Brazell is among the nation's most accomplished assistants, as well. Since joining the staff in 2012, Brazell has coached numerous stars, including two Olympics gold medalists in Michael Cherry and Vernon Norwood, who were both members of the U.S.'s winning 4x400m relay team at the 2021 Olympics.
University of South Carolina
---
The Gamecocks made a splash on the recruiting front in February, signing elite sprinter and football player Nyckoles Harbor. Having Miller and Harbor on the same team would give South Carolina an impressive one-two punch for the next few years.
In June, South Carolina hired Tim Hall as head coach, replacing Curtis Frye, who had been head coach for 27 years. While Hall has never led a program before, he is accustomed to working with elite sprinters.
Hall has spent the past five seasons as associate head coach at Kentucky, where he coached and recruited sprinters. He has held similar roles at Tennessee and Clemson. Hall's former athletes include three who won the prestigious Bowerman Award: Kentucky's Abby Steiner (2022), Tennessee's Christian Coleman (2017) and Brianna Rollins (2012).
University of Tennessee
---
As North Carolina A&T's head coach, Duane Ross turned the Aggies into a national power, including eight, top-10 finishes at the NCAA Championships. Since coming to Tennessee last summer, he's made an immediate impact, particularly when it comes to recruiting.
This year's Volunteer's freshman class includes two of the top Class of 2023 high school sprinters in Zyaire Nuriddin of Montverde Academy (FL) and Nigel Ancrum of Spring Valley (SC).
At the NCAA Championships in June, Tennessee tied for 22nd with 11 points but didn't score any points in the sprints. But if the Volunteers sign Miller and team him with Nuriddin and Ancrum, they will have a core of sprinters who could make a big impact at the college level.
Ross and current Tennessee assistant coach Ron Garner have a track record of working with elite sprinters. When they were together at North Carolina A&T, the team won a total of nine individual NCAA titles in the sprints.
Related Links: