2023 Prefontaine Classic
Noah Lyles To Defend His Throne, Crouser Back, And Is Warholm Beatable?
Noah Lyles To Defend His Throne, Crouser Back, And Is Warholm Beatable?
Storylines abound for the men heading into the Diamond League final this weekend at Hayward Field in Eugene, Oregon.
Sep 14, 2023
by Cory Mull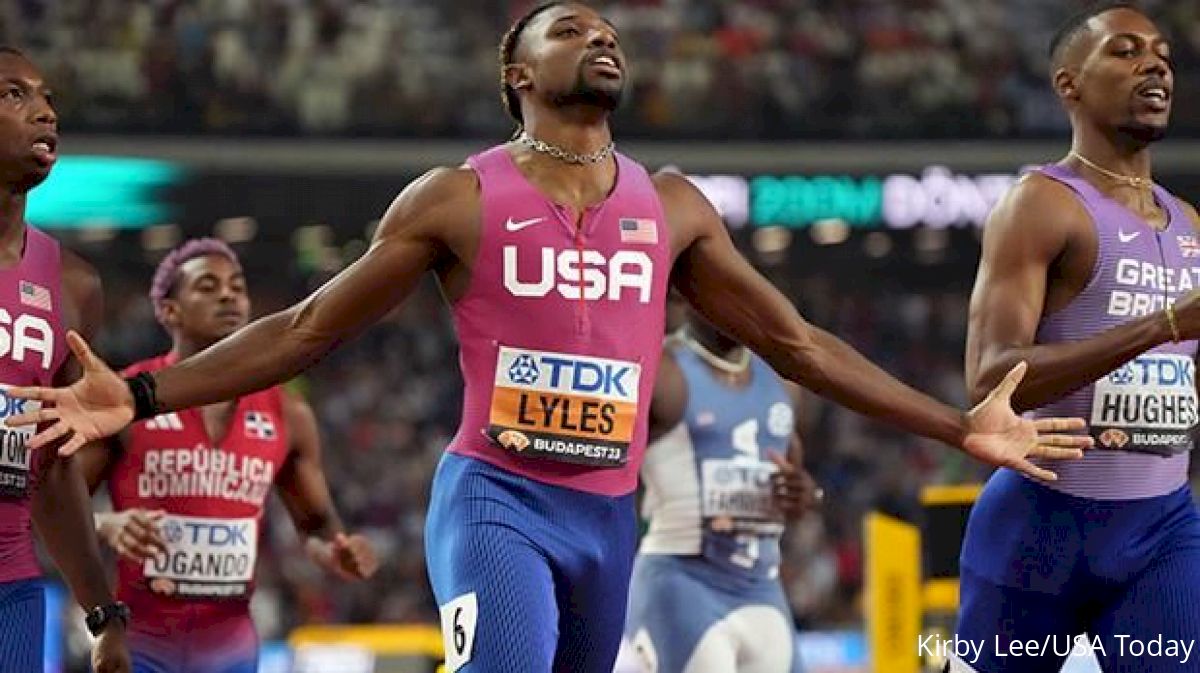 The final Diamond League meeting of the year is upon us this weekend in Eugene, Oregon, as the Prefontaine Classic kicks off at Hayward Field.
World champions, fresh off title-wins and brilliant moments, will come back for encore performances as the best of the World once again descends in the Pacific Northwest. This will mark the first time since the Diamond League's inception in 2010 that its final will be held on U.S. soil.
But the stakes couldn't be higher, as winners of Diamond League finals will win $30,000. Below, we broke down the top men's storylines to watch out for this weekend in Eugene.
The 100 Meter King Defends His Throne
- - -
The hardest task for a champion is to defend, especially if it comes just weeks after you've actually won the biggest race of the season. There's a reason why champions don't play after the Super Bowl.
But Noah Lyles is up to the challenge in the men's 100 meter Diamond League final and the defending World champion is entered with a season best of 9.83 seconds. Is he unbeatable?
In the 100 meters, anything can happen. But with the way Lyles is running, full of confidence and bravado, you would have to think the chances are pretty slim. American Christian Coleman, who finished fifth in that race, enters with an SB of 9.83.
Botswana's Letsile Tobogo, who's pulling the 100m-200m double, was second to Lyle at Worlds and has run 9.88. Kenya's Fredinand Omanyala is in fine form and has run 9.84.
WILL WARHOLM GO DOWN AGAIN?
- - -
Few could have expected the men's 400 meter hurdles Diamond League final to be that interesting.
After all, Norway's Karsten Warholm, the World record-holder and Olympic champion at 45.94 seconds, had sliced his way through competition ever since his disappointment at Worlds last year (where he finished a disappointing seventh); he went on to win seven straight races, including the World Championship in August in a time 46.89.
But on Aug. 31, just a week later in Switzerland, he lost to Kyron McMaster by three hundredths of a second.
So the DL final might not be so cut-and-dried as we originally believed. Warholm enters with the fastest SB (46.51), though last year's World Champion, Brazil's Alison Dos Santos (47.38), will be eyeing up another upset, along with American Rai Benjamin (46.62) and McMaster (47.26), who's looking to make it two in a row against Warholm.
McMaster was second at Worlds, Benjamin third.
- - -
More Highlights:
Men's High Jump - Start List
American high jumper JuVaugn Harrison finished second at Worlds, clearing 2.36m. With no Gianmarco Tamberi, Harrison seems to be the favorite in the field. Three men enter with season best clearances of 2.33m -- Hamish Kerr, Sanghyeok Woo and Luis Enrique Zayas.
Men's Pole Vault - Start List
Mondo Duplantis, the world-record holder, enters as the favorite. He's cleared 6.12m. American KC Lightfoot is one of only two other vaulters in the field who has achieved a 6 meter jump this season. The World silver medalist, Ernest John Obiena; bronze medalist, Kurtis Marschall; and U.S. pole vaulter Chris Nilsen, fourth at Worlds, are all entered.
Men's 110mH - Start List
Grant Holloway could continue his season-long tour of victories and enters with the top time of 12.96. Five Americans are in the field, including Daniel Roberts, who was third at worlds, and Cordell Tinch, who has ascended up the U.S. pecking order in 2023.
- - -
THE JAKOB INGEBRIGTSEN SHOW IS BACK
- - -
Fresh off a 2K world record, Norway's star man, Jakob Ingebrigtsen, will be front and center in the Diamond League final, with entries into the men's mile and men's 3K.
What can't Jakob do?
Well, the vital question here will be whether Ingebrigtsen will have the tactical finesse to win the mile after coming up short in the men's 1,500m final in Budapest. The Norwegian will end the year with the fastest time in the world (3:27.14) at the distance, but he finished second in the final to Great Britain's Josh Kerr, who overpowered Ingebrigtsen in the final meters to win in 3:29.38.
The men's mile on Saturday is star-studded, with Ingebrigtsen (3:46.46) and Americans Cole Hocker (3:50.97) and Yared Nuguse (3:53.24) also entered, but there will be no Kerr. Great Britain's George Mills (3:49.64), Spain's Mario Garcia (3:53.36) and Australia's Stewart McSweyn (3:48.37) are also in the field. The event is the final one during Saturday's action.
On Sunday, Ingebrigtsen will double-back less than 24 hours later in the 3K. He is the world leader at 7:24.00, though he'll face Ethiopia's Berihu Aregawi (7:27.61 SB) and Selemon Barega (7:27.16 SB), along with Americans Grant Fisher (7:33.32) and Woody Kincaid (7:38.81). Guatemala's Luis Grijalva (7:40.90), a Northern Arizona University legend, is also in the field.
CROUSER DOUBLING BACK AFTER HEROIC MOMENT
- - -
You can't quite top a moment like the one Ryan Crouser had at the World Championships in August.
In many ways, it's still every-bit-as-dramatic as it was then. With two blood clots in his left leg, the Oregon native waved off caution and drilled down on the execution, finishing with a new World Championship record throw in the men's shot put with a mark of 23.51 meters. It was just five centimeters off his world record.
On top of all that, he achieved the feat on his sixth and final throw of the series.
Crouser will get a chance to finish his season with another win on Sunday in the men's Rambler Sparkling Water shot put.
He'll face World silver medalist Leonardo Fabbri (22.34m) and fellow American Joe Kovacs (22.69m), along with Tom Waslh (22.58m), and Payton Otterdahl (22.11m).
KNIGHTON AND TEBOGO SET TO SQUARE OFF
- - -
Few events on Sunday will offer a glimpse into the looking glass like the men's 200 meters, which will feature Erriyon Knighton, the 19-year-old American silver medalist from the World championships, and 20-year-old Letsile Tebogo, the bronze medalist from Botswana. It's the second-to-last event of the Diamond League final, directly preceding the women's race.
The World champion Noah Lyles has stepped aside here, and perhaps it's a fitting, because these two young sprinters may be the future of the sport.
Knighton ran 19.75 at Worlds and owns a PB of 19.69, currently the World U20 record. Tebogo, meanwhile, pocketed a time of 19.81, though he ran 19.50 in London, finishing only behind the Olympic and World champion Lyles.
This race will stack up with these two young forces. American Kenny Bednarek, who finished fifth at the World Championships, will be in the field, along with Andre De Grasse, who owns a season best of 19.89.
Former NCAA champion Joseph Fahnbulleh, who competes for Liberia, is among those entered, along with Kyree King, Alexander Ogando and Aaron Brown.
Related Links: