2023 NCAA DI XC Championships
Official List Of 2023 NCAA Cross Country Championships Men's Qualifiers
Official List Of 2023 NCAA Cross Country Championships Men's Qualifiers
The USTFCCCA has released the official entrants for the NCAA Championships on Nov. 18 in Charlottesville, Virginia.
Nov 14, 2023
by Cory Mull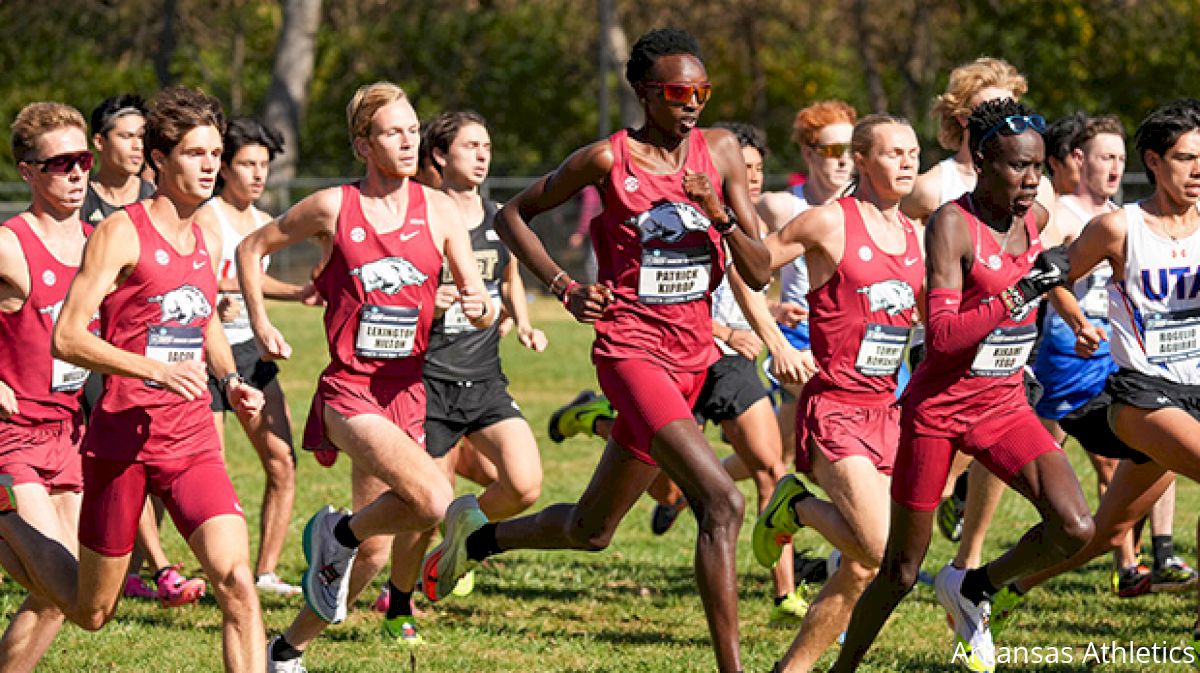 The official 31 qualifying men's teams and at-large individuals have been selected for the NCAA Cross Country Championships.
After 18 automatic team qualifiers were solidified during the regional championships, 13 at-large picks were made to fill out the field.
Check below for official selections.
---
2023 NCAA Cross Country Championships Men's Qualifying Teams:
Arkansas
Butler
Brigham Young
Eastern Kentucky
Florida State
Gonzaga
Harvard
Iona
Iowa State
North Carolina
Northern Arizona
Oklahoma State
Princeton
Stanford
Tennessee
Texas
Villanova
Wisconsin
Air Force
California
Baptist
Colorado
Georgetown
Michigan
Montana State
NC State
New Mexico
Notre Dame
Portland
Syracuse
Virginia
Wake Forest
---
2023 NCAA Cross Country Championships Qualifying Individuals:
---
GREAT LAKES:
Timothy Chesondin, Akron
Andrew Nolan, Kent State
Tyer Wirth, Cincinnati
SOUTH:
Hillary Cheruiyot, Alabama
Victor Kiprop, Alabama
Jason Bowers, East Tennessee State
Brian Kiptoo, Middle Tennessee State
Vincent Yegon, Middle Tennessee State
Cruz Gomez, Ole Miss
MID-ATLANTIC:
Murphy Smith, Navy
Luke Henseler, Pittsburgh
MacCallum Rowe, La Salle
Taonga Mbambo, La Salle
SOUTH CENTRAL:
Bradley Makuvire, Tulane
Jack Jennings, Tulane
Eric Casarez, Texas A&M
Victor Neiva, North Texas
MIDWEST:
Chandler Gibbens, Kansas
Max Murphy, Iowa
Jack Roberts, Illinois
Chris Devaney, Loyola Chicago
SOUTHEAST:
Dylan Schubert, Furman
Nickolas Scudder, Charlotte
Carson Williams, Furman
Nicholas Kiprotich, Liberty
MOUNTAIN:
Victor Kibiego, UTEP
Gideon Kiplimo, Texas Tech
Titus Cheruiyot, UTEP
Peter Visser, Weber State
WEST:
Nicholas Russell, Santa Clara
Davis Bove, Cal Poly
Elliott Cook, Oregon
Joe Hudson, Boise State
NORTHEAST:
Michael Morgan, Providence
Benjamin Godish, Northeastern
Abdel Laadjel, Providence
Sean Kay, Yale