Emma Coburn KWIK-E
Emma Coburn KWIK-E
Jun 10, 2010
by Tony Casey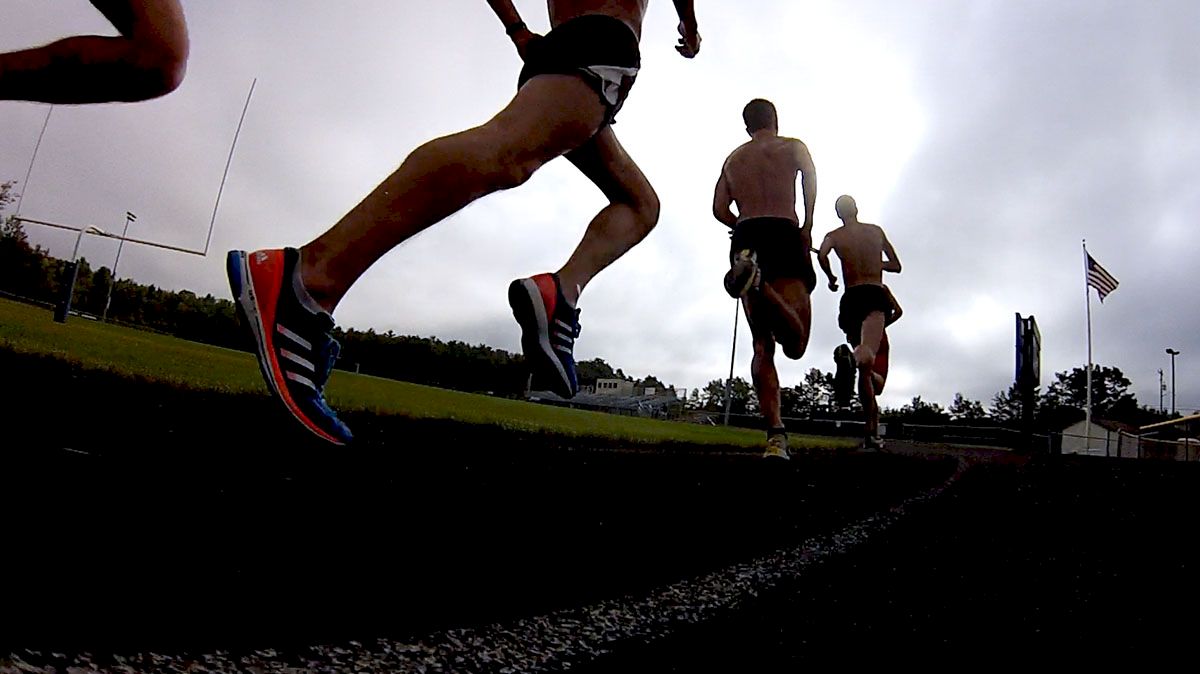 Colorado Buffalo sophomore Emma Coburn has been to NCAAs for the 3,000-meter steeplechase before, but she's never been an All-American. This time around she's got goals of being an All-American and finding her spot on the podium. After taking second at the NCAA West Regional Meet, Cowburn is heading to Eugene with her teammate, freshman Shalaya Kipp, for a steeplechase battle royal with the rest of the top-notch NCAA field!
How's your Sunday going? Did you get your long run in?
Yeah, well, we did an abbreviated long run today. We only did like an hour easy, just getting ready for nationals.
Are you on a big taper right now?
I only 60 miles a week, so it's not like I'm coming a ton down. I guess today is the first easy, taper-like day we've had. Our race is only four or five days out.
When do you actually head out?
We leave Tuesday morning and race prelims of the steeple on Thursday night, I think. Then the finals are Saturday afternoon.
You've been there before, what's the feeling right now? Are you nervous or sleeping easy every night?
I'm a little nervous. I'm really excited. I think it's going to be fun! Having done it once before, I'm a lot less nervous because I know a little bit more of what to expect. I raced over half the girls throughout the season a lot. I know what to expect from the field and that's a little reassuring to have had raced a lot of people before.
What kind of race are you looking for?
I don't know. I think I want a fast race. Obviously the prelims are just going to be strategic. I hope they're not super fast. I'm hoping the finals will be fast, just because I haven't really had a race—well, I had a race at Mt. SAC where it was a big, hard effort for me to run my 56. But, since then, my training has gotten a lot better and I think I'm ready to run a lot faster than I have. I haven't been given a real chance to run another fast race. I'm hoping that the finals are fast and I think I'm ready to run a fast time. I'm ready for that.
I've got to press you: what would you consider to be a fast time?
In the 9:40s. I'm looking to break into under 9:50. Maybe 9:45 or something. That would be really great for me. At the same time, if it was 9:50...that would be good just because of the PR. At this point, anything under 9:50 I'd be really happy with.
Do you know when you should be seeing those heat sheets?
Oh, yeah! I don't know when they're coming out! I'd say Tuesday or Wednesday maybe. I haven't seen anything yet and I'm really anxious to see who's in my heat and if I'm going to get in the heat with my teammate or not. It would be nice to be in the same here.
How you two talked strategy yet?
Not quite yet. We kind of talk last minute about the strategy. I kind of like that because I don't have to think about it too much and worry about it too far out. We haven't talked of any big strategy yet. I don't think we really will until we get there.
How does your 60 miles a week break down? How many doubles are you doing?
I don't necessarily always double. Maybe it's once a week, but it's usually all in singles. It depends if were on the track twice a week and two longer weeks during the week. It depends on if those track days were quick sessions and if I need a little more mileage or if they were pretty long sessions. If I were to double, it would only be once a week. Probably once every other week or so, I double.
Are you going into NCAAs 100%? Is that what your body is telling you?
Yeah, I think so. I think everybody at this point in this part of the season has a little bit of soreness and tightness and I think that's just natural. Nothing out of the ordinary at this point. I'm ready and I feel good. My training has been going really well. I think I'm ready to PR and run a good time and hopefully be on the podium, up high.
How close to the University of Colorado did you grow up?
I grew up in a town called Crested Butte. It's a ski town about four or five hours out West of Boulder. Only 1,500 people live in the town and it's a pretty small community, but I love it there. It's really nice!
You grew up with the effects of altitude?
Crested Butte is at 8,800 feet, but the ski mountain where I would do a lot of runs was like 9,000-10,000.
You basically grew up as a with altitude like the Kenyans.
(Laughs) I guess. I guess you can say that, but I ran like 15 miles a week in high school, that was definitely different. I wasn't doing much running at elevation, but it definitely must have helped.
How was that transition from 15 miles per week to 60 in college?
I handled it really well, I thought. Mark and Heather talked with my high school coach Trent Sanderson to see what my training was like. They were actually really surprised to see that. I would always say, "yeah, I'm really low mileage" and they hadn't actually heard a number until the summer when I can in and they talked to my coach. They handled it pretty well. I did track and cross country in high school and then did basketball and volleyball. Hours-wise I was still working out. Instead of just doing volleyball, I would run five more miles. It didn't feel too difficult and they transitioned me really well. I was at 45 my freshman fall and then 50 and then this year 60. It hasn't been too abrupt.
With some of the mileage that the Buffaloes of yester-year were doing, when Mark saw your mileage, his job must have dropped!
(Laughs) Yeah, I know. They were really, really surprised. I don't think they've had many people run that low.
Did you grow up skiing a lot?
Growing up in middle school and elementary school, one day a week, we'd get to go skiing in the afternoons and have a "ski day". I didn't think it was anything out of the ordinary, but I realize that I was pretty lucky to get to do that. One of our gym classes in high school, we got to go skiing twice a week. We'd get to ski on the weekends and then get to go once or twice a week at school too. I ski and snowboard and do both. I think it's really fun. I got injured my junior year of high school and my senior year, I wasn't really allowed to ski and snowboard as much. I've been a couple of times since then, but I haven't really been a "skier" or a "snowboarder" since my early high school years.
The skis and snowboard spend a lot of time in your attic these days?
I lend them out. My sister gets good use out of them. At least someone is using them. When I go home for Christmas, I'll go a couple of times. At this point, I'd way rather run and be healthy and not go off a jump on a snowboard and break myself and ruin my season.
Did you look to go anywhere but the University of Colorado or was your mind made up?
I didn't think I was good enough to go to CU, to be honest. My high school times were nothing, they weren't impressive at all. I was really only decent at the steeplechase. I didn't think that I was good enough to go to CU. I was looking at going to other places. I was looking at going to the University of Virginia and the University of Michigan, which are both good programs. Then when CU started recruiting me more and more and more and once I took my visit, I knew that they were serious about me, my mind was definitely made up. I lived in Boulder until I was eight years old and I still have a house here. My grandparents live here and my aunts and uncles and parents and two siblings have all gone to CU. It's kind in my blood to be a Buff. If Colorado wasn't interested, I would have gone to those other places, but it worked out perfectly that they wanted me. I was happy.
You'd grow up and get presents like, "Running With the Buffaloes"?
(Laughs) I didn't think I was going to run in college. I never got that as a present, but I've read it since. I'd get CU t-shirts and CU everything and always go and watch football games when I was little. I'm from a CU family.
Have you ever run Bolder to Boulder?
I did it when I was a little kid running here. I was probably seven or eight years old. I haven't done it since because it's always the same weekend as the high school graduation. I can never come and run it. Hopefully 10 or 20 years from now, when I'm slow, I can go and do it for fun with some friends or something. It's a good race.
How do you feel about running the longer distances?
I like shorter things a lot better. I like 1,500s and steeples much better than I like cross country or 10Ks. The older I get and the more miles per week I run, I'm getting more accustomed to running longer races and slowly liking them more and more. I could see me...eventually liking 10Ks, but at this point, I like the mid-distances and steeple better.
The steeplechase is kind of a weird event. What about it appealed to you in the first place?
It's kind of funny. Me and my high school coach and some teammates of mine went to this meet, The Great Southwest, in Albuquerque, New Mexico. I was going down there to do an 800 and we didn't want to drive the 10 hours or whatever it was to run one 800. My dad looked at the meet schedule and saw that the only other event on another day was the steeplechase. I'd never done it and only seen it run once. I didn't know how many laps there were or how many hurdles there were. I knew nothing about it. There was a college nearby, so I practice it literally once. We just went down there and did it for fun. I ended up doing well in it and qualifying for nationals in it. I did it at nationals—and this is all my junior year. I did that set of meets my senior year. It's kind of random how I fell into it, but I liked it because it breaks it up and it's fun. You get to jump over things and it's not just monotonous running. I think that's why I liked it originally and now it's just...the more you do an event, the more you love it. I've done it more and more and more. Now it's my favorite, but it in high school, it was just this weird, random thing that I chose to do one meet.
Is there a "Jenny-void" to be filled with you being a steeplechaser at CU?
I don't think so. I think all the girls on the team now, and the coaches, knew Jenny and knew that she was this whole different animal, this whole different unique talent. She could just run super-fast at any event. People joke around and kid around on the team, but I don't think anybody seriously expects me to take her place and fill her shoes and run the times that she ran. She's a good friend of mine, so I want to try to do the things she did. I don't think...maybe, to the extend that she did them. I don't think anyone expects that of me, which is kind of nice. There's not a lot of pressure for me from my team or coaches.
Will you talk to her before NCAAs and maybe get some advice?
She's in Colorado Springs now, which is about an hour-and-a-half from Boulder. When she was living in Boulder, we'd see each other all the time. Now that she's in Colorado Springs, we don't get to see each other as much because she doesn't come up that much. We talk once in a while. Once a week or whatever. We'll talk before nationals. She'll wish my good luck and we'll talk, but I don't think I need to ask her for her input on race tactics and strategy because her running experience was way different than mine. Her tactic was to go out hard and strong and run 9:25 and not worry about the other people in the race. We have a little different plan anyway. I don't think she'll try to hand out any advice on that.
If you could have one meal, prepared by anyone, what would you have and who would make it?
I actually don't know who the person is who makes it, but there's this restaurant in my hometown, called "The Secret Stash". They make this pizza called the "Figalicious". It's my favorite thing in the whole wide world. I literally dream about it! It's a pizza with—and this might sound a little weird—figs and prosciutto and truffle oil and a bunch of random stuff. It tastes so good. I know the woman who owns the restaurant, Helena, but I don't know if she actually cooks the food. If I could have that for thre rest of my life, I'd be happy.
I'm a huge fan of prosciutto. Is there cheese on it?
There's cheese on it, but I'm not sure which kind. I think it's magic cheese.
Can you give me a crazy-running related story?
No one has ever shot at me, but my freshman at our cross country camp up in Grand Lake, Colorado, the senior on our team, Chris Pannone, he was running and we were following behind him. There was a big moose on the trail and he was huge. We were talking about how moose can chase you if you go into the water. And we were right by the lake. We were between the moose and a lake and we didn't know what to do. He was being a baby for being the big, bad senior on the team. All of us had to just tip-toe around it.
About the Running Warehouse:
My KWIK-Es are sponsored by runningwarehouse.com, located on the California coast in the small community of San Luis Obispo. The folks over there include one of the owners, Joe Rubio, a two hour, 18-minute marathoner and current head coach of the Asics Aggie RC. Jonathan Spiros oversees footwear buying and served many years as assistant coach at College Park High School helping Lindsay Allen. Erik Dube is in charge of accessories and helps with footwear buying. Erik has finished the Western States 100-Mile Race several times and was assistant coach at San Ramon Valley High School helping Scott Bauhs through high school. Erik's wife, Tera, is in charge of customer service and is an ultra marathoner and former track star at Campolindo High School, where her brother Chuck Woolridge is currently head coach. The entire online and phone customer service representative staff at the Running Warehouse, including the staff listed above, have spent considerable time working the retail floor. This, along with the coaching and personal athletic experience, enables the company to have a unique perspective of understanding the needs of every level of runner from beginner to All-American. Check them out when you get a chance!