In what has evolved into a multi-billion dollar industry, the collegiate sports system in this country seems to be at an apex in popularity. From the maddening NCAA basketball tournament to the ever-controversial BCS championship games, the NCAA has assembled a lineup of events that rival any the professional circuit can offer.
So with such popularity and an always expanding stream of revenue, there has been increasing intrigue and discussion about whether these college players need to start getting paid for their services.
Absolutely not.
It is unbelievable to me that this seems to be the hottest topic right now. With so much greed, corruption, educational shortfall and scandal at too many major Division I schools, are there not bigger fish to fry? And if we are intent on dwelling on this topic, then I would ask: Are the athletes not receiving any benefit from attaining a (completely free in many cases) education? Is that not deemed to carry any value?
The answer, in too many cases, is: not really.
The focus in the "revenue generating sports", i.e. football and men's basketball, has devolved at most top schools to the point of attaining athletic excellence at any and every cost. The cost here being a complete failure to promote or encourage academic achievement, whatsoever.
(Uconn men's team ... probably discussing a group project for school)
Take these recent men's NCAA basketball champions, the Connecticut Huskies. They have continually been lauded for their gutsy, determined and focused play in the last several weeks of the season and their unlikely run to a national title. Only one problem...
They don't go to class!
In a recent study, Uconn's men's basketball program was found to graduate 31 percent of their athletes. 31 percent! And before one throws the old "Well, a lot of their players leave early for the NBA" argument out there ... this study doesn't take those players into account. Meaning, this number might be more like 20 to 25 percent if it did! (Arizona, a fellow Elite 8 team this year, boasts a graduation rate of a whopping 20 percent. Do you think they hit the books during the 2-3 weeks they just missed for the tournament?)
Meanwhile, what is the graduation rate of Uconn's overall student-athlete population? 83 percent. The women's basketball program? 100 percent. Yes ... One hundred percent. Good work, Maya Moore.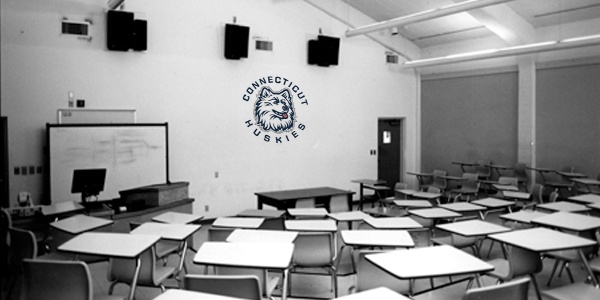 (Attendance at a Uconn men's basketball team study hall)


What has long been apparent to many of us track & field fans is that many (or most) of our football and basketball counterparts at major Division I programs don't give two cents about academics.
The fact that the conversation continually shifts back to paying these same athletes baffles me. I bring up "these same athletes" because only the sports deemed "revenue generating" would probably receive any sort of monetary compensation. Basically, "If you make us loads of money we will give you a cut ... it doesn't really matter if you go to class." This would absolutely send the message that graduation rates, academic achievement, and the like are not important to the NCAA.
While athletes in sports like cross country and track & field traditionally excel academically, promote a positive view of student-athletics, and typically graduate at near-perfect rates ... they wouldn't see a dime.
Furthermore, how would the money be distributed? Would each player on a college football roster (which often exceeds 100 players) get paid? Just the starters? Or would it be based upon performance? Do different schools pay out differently, which is really the only way it could happen? That's a scary thought.
Athletes choosing colleges strictly based on financial payouts, only the very top programs able to get any top recruits, endless financial debate and potential corruption. It would essentially be professional athletics.
Perhaps most importantly here is this implied notion that a full-ride education is of no worth. You always hear advocates of "pay for play" pointing to the fact that many collegiate players come form poor areas, and have little money while in college.
First, unlike most track & field athletes, these athletes are almost exclusively on full-rides. With that, these players are not "scraping by" any more than the average student who is building up thousands of dollars in loans while attending college. Quite to the contrary, they are receiving completely free educations and a monthly stipend of spending money on top of it.
Whether or not they make tons of money while in college, they will have the opportunity to leave after 4 years with absolutely no loans, a terrific education (worth well over $150,000 in many cases), and a huge head start towards financial success in the future. Isn't that better than paying them a little now for their play, but in turn further promoting a culture that neglects academic achievement and only cares about revenue generation?
Second, it is not like these athletes are getting no returns for their contributions. An out-of-state full-ride to the University of Connecticut is worth well over $41,000 annually. This is an invaluable opportunity to receive a top-notch education, made possible by collegiate athletics. It is then an individual's responsibility once in college to value the opportunity given and to work hard to earn a degree. A degree that can be parlayed into future successes, financial and otherwise.
I understand this topic being debated. Obviously, when you look at some of the numbers being generated (CBS just paid the NCAA $6 billion to hold the men's tournament for the next 11 years), and the fact that players don't really get much of a cut ... I get the hard feelings. But the focus needs to be shifted. These are college sports for a reason. They are not professionals.
Work hard in the classroom, get your education, and you will have every opportunity to make plenty of money soon enough.