Maddie Meyers and Lukas Verzbicas are the defending adidas Dream Mile champions, and are the two fastest milers in the country this year. They sat down with us to talk about their track seasons so far, their expectations this year, and looking ahead to the Dream Mile. Maddie and Lukas will look to defend their Dream Mile titles on June 11 at the New York Grand Prix.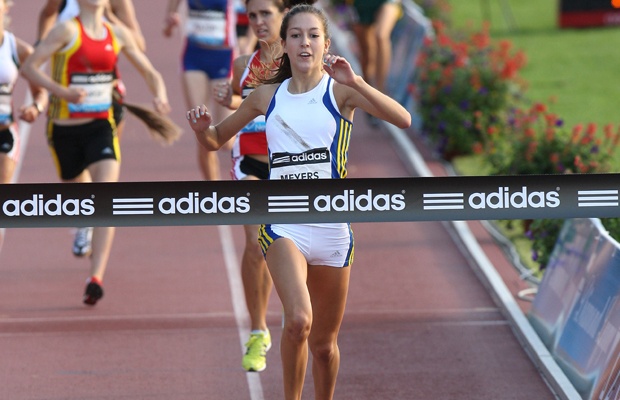 MADDIE MEYERS
Q : Opening up the indoor season at the Brooks meet you were only 8th in the mile. Did you have some worry at that point in the season, or were you confident you'd have a good race in the next few weeks?
A : After the Brooks meet, I was slightly upset and did get a little worried about how my outdoor season was going to go. I try to not let the worried thoughts get in my head, but it is hard to not have any at all. But at the same time, it made me want to race again and push myself harder to prove to myself that I could race faster. I came away from the Brooks Invite learning some valuable lessons and racing techniques.
Q : You had an awesome Pasco Invite this year running 10:18 and 4:49. Did you expect coming in that you were going to run times that fast?
A : Going into Pasco, the first thing I wanted to do is just race the best I could. I knew that the mile was going to be pretty fast because there were so many speedy girls signed up to race. Since Pasco was going to be the first time running a double, I just wanted to try my best in the 3200 but also thought that beating my PR would be pretty great. It was pretty windy at times so Katie Knight, Kendra Weitz and I decided that for all of us to race our best we would switch off pacing the first couple of laps. This helped a lot and we were able to stay on a pretty good pace. I was hoping for a fast time, and was really surprised and excited to end up running a 10:18.
Q : You and Amy Eloise Neale have developed quite the rivalry this year. Do you like having an in-state rival or does it put a lot of added pressure on you?
A : I think having Amy Eloise in-state has helped me a lot. Having someone in your races who is really strong and fast might mean that you won't win them all, but it definitely pushes you to do your best and usually will help you run faster times. I'm actually pretty thankful that there are so many strong competitors in Washington like Amy, Katie, Kendra, Baylee Mires, Tansey Lystad and many more!
Q : Tell us a little bit how your training's been, and maybe what a typical week of training looks like for you.
A : Usually my training slightly changes each week, but will usually include around the same things. One week will most likely have a longer interval, a speed, and then a race pacing workout. On the other days we will have a strength/circuit training, then a couple recovery days. My coaches will always come up with new things to do at practice to always make it fun.
Q : What are your goals for this season? Maybe a specific time you'd like to run, a record you'd like to break, or a meet you'd like to do well at.
A : This season I would really like to reach my PR in the mile. But most importantly I want to just do well at State and the races that are after the school season. As long as I race the hardest I think I can race, I will be happy.
Q : You've been invited back to the Dream Mile for a second straight year. We've got a good field assembled, talk a little bit about your experience at the Dream Mile last year, and your expectations this year.
A : Last years Dream Mile was an experience of a lifetime! I had such a good time going to New York and meeting so many new people. Running through Central Park and at Icahn Stadium was amazing and I am so excited to go back. Anytime you get a chance to race the best runners in the country is an experience that you might get only once in a life time, so I cannot wait. I will never forget the feeling of crossing the finish line and finding out that I had PR'ed by so much. Everyone at the race was extremely nice and I made friends who I will probably get to see and race for many more years to come. Also, meeting Jim Ryun and watching all the other professional runners was the topping on the cake! This year I'm hoping to make even more friends and just have a fun time in New York. I hope that I will race my best and hopefully most of us girls will be able to run PR's!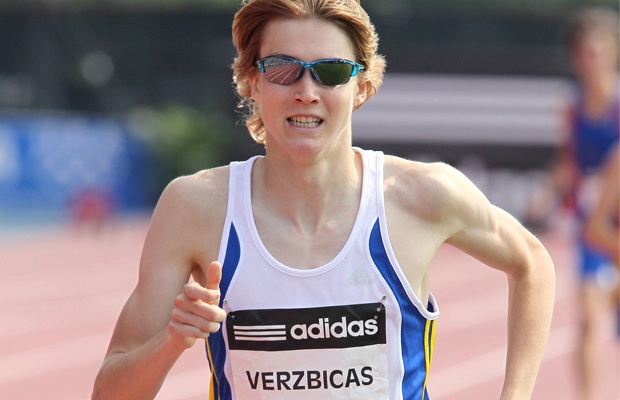 LUKAS VERZBICAS
Q : Lucas, you had a great indoor season, did you accomplish everything you set out to do?
A : Yeah I think I accomplished everything I set out to do, the triple at New Balance was awesome and it's just been a great year overall so far.
Q : Do you like being unattached from your high school and being able to run whichever meet you want during track season?
A : Yeah, it's nice to be able to come out and run in races with the pros like I'm going to do tomorrow (Boston Road Mile). I get to sort of choose my own schedule and pick which meets I want to compete in, so that's always nice.
Q : Will you bump up your training from here or just maintain your fitness?
A : As of right now I'm just going to focus on maintaining my training, even from cross country season I had a great base, so right now just keep training and trying to stay in good shape for that Dream Mile.
Q : Have you been paying attention to what the other high school milers are doing like Elias Gedyon, Jantzen Oshier, and Ammar Moussa?
A : I definitely pay attention to what those guys are doing. Jantzen and Ammar have both been running well lately. It looks like a few of them are getting close to that sub 4:05 barrier so that's really exciting. I think that will make for a fast race in New York.
Q : How was your overall experience at the Dream Mile last year?
A : My experience at the Dream Mile last year was awesome, adidas did a great job and I've never been treated that well at a meet before. I'm definitely excited to come back this year.
Q : What do you think needs to happen to get under the 4 minute barrier?
A : I think for the race to go sub 4 we're definitely going to need some good rabbits. The rabbits last year took it for 600 which was nice, I think this year we just need a group of guys all working together, all trying to break 4 and we could do it. It should be my last High School race, so it would be exciting.


--- For more on the adidas Golden Stripes visit flotrack.org/goldenstripes ---