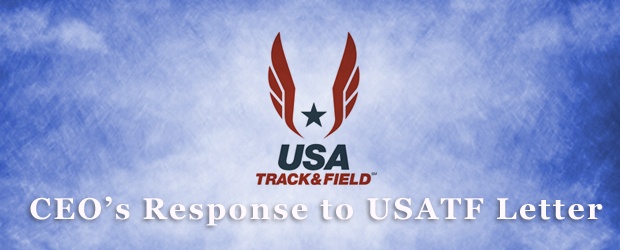 Flotrack reached out to USATF after Mark Misch's letter went out and was seen by the community. USATF Interm CEO, Mike McNees, provided a response to Flotrack to share with the community. His response is below, followed by the original post by Misch.


USATF Response to "Letter to USATF " of July 3, 2011
The open letter to Flotrack by Mark Misch touches on an issue that affects many USATF coaches, volunteers and athletes around the country, the entry process and qualifying standards and for USA Championships and Olympic Trials. Broadly described, it is a system with two standards, designed to provide hard-and-fast qualifying standards while allowing for some flexibility regarding special circumstances as described below.
For the USA Indoor and Outdoor Championships and the Olympic Trials, a USATF committee of statisticians derives qualifying standards for each event intended to provide both for an appropriate field size and high quality competition. For nearly every event (except the men's marathon in the 2012 Olympic Trials, for which there is a single standard), there is an "A" standard and a "B" standard. Every athlete achieving the "A" standard in his or her event is guaranteed entry into the meet.
The "B" or "provisional" standard exists to help fill the field if needed. Only for the Olympic Trials is there a prescribed "desired" or "minimum" field size, which is published well in advance of the Trials. There is no minimum or guaranteed field size for typical USA Championships. Ultimately, how many "B" standard athletes are allowed to compete is at the discretion of the USATF Men's and Women's Track & Field Committees, respectively. (Currently, the chairs of those committees are John Chaplin and Sue Humphrey.)
In addition to determining how many "B" athletes make the field, the chairs have the discretion to make exceptions for allowing athletes without the A or B standard to enter the meet. These exceptions typically are granted to accomplished athletes (i.e. past national champions, national team members or medalists) who may be coming back from injury, maternity or other exceptional circumstances. In one instance, an athlete who had been serving in the military overseas and who therefore hadn't had a chance to post a qualifying mark was allowed into the meet. It is also true that not every "A" standard athlete toes the line every year, and scratches are not always known far in advance. That is the chip some are playing when they choose to attend with only a provisional mark in their pocket.
In the case of the men's 800 meters at the 2011 USA Outdoor Championships, I spoke with Mr. Chaplain directly once the field had been set to get his perspective on that process for the 800. I will not substitute my judgment for theirs, or second-guess where the committee ultimately drew the line, but I can say that in my opinion the committee took into account all of the relevant variables on number of heats, athletes, competitive balance, etc. and made a judgment call that they believed best served the meet and the athletes competing for a spot on Team USA for the World Championships .
I can also say that had I been one of the athletes that traveled to Eugene and was unable to compete, I would have been sorely disappointed, regardless of whether I knew in advance that I hadn't run the "A" standard and was therefore traveling at my own risk. Many argue that one, hard standard would be preferred, and would prevent this type of thing from happening. Many others argue that some discretion is far better than a hard, bright line, to allow for special circumstances that inevitably occur.
Clearly neither system is ideal, and whichever system is in place when the gun goes off the next athlete on the list, and the next, is on the outside looking in, feeling disappointed or even angry. To these individuals, the "system" may appear not to be a system at all, but rather a string of arbitrary decisions.
USATF regularly looks at our entry systems, team selection process and other administrative functions. I can assure you that we very much value the input of committed individuals like Mr. Misch, and we will carefully consider points raised by him and others regarding our entry system. In the same way qualifying standards get lower and longer over time, it is only fair that our constituents look for the same continuous improvement in how we administer the sport as well.
Mike McNees
Interim Chief Executive Officer
USATRACK&FIELD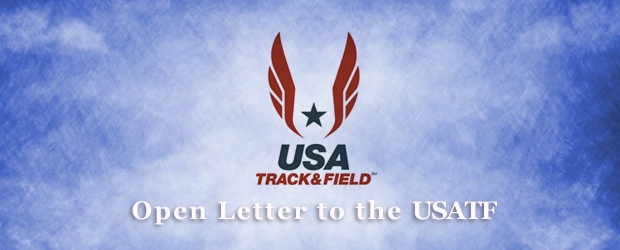 Mark Misch coaches cross country and track & field at the University of Colorado at Colorado Springs, an NCAA Division II program. He has no ties to Flotrack and his views do not necessarily represent those of Flotrack. This is simply a letter provided to us by a user that we felt was necessary to run, as conversation about the sport is the biggest vehicle toward improvement upon the sport we all love.
USATF doesn't care to recognize the efforts of the people working their way up in the sport the right way, the one's that volunteer their time, money, energy and put their lives on hold to pursue a dream or help someone else make their dream a reality. All of whom without, there would be no sport.
After seeing what happened to the three men who were denied entry in the 800m at the last USATF Championships (despite the five open lanes) as well as a few other athletes I've heard from, I've just come to the point where I can't stand it anymore. I am currently coaching a couple post-collegiate athletes who I can see being in the very same position next summer and I can't put them or myself through the process again. It's heartbreaking and can ruin a person's spirit and passion for our great sport.
The greatest thing about our sport is it's supposed to be cut and dried, an even playing field where people have the same opportunity to prove themselves with a time, a place, a mark, etc. You're supposed to take the politics and judgement calls out of it. I simply don't understand why the USATF can't just be honest, set a clear standard and say whoever achieves this set standard is qualified for the meet regardless of the numbers. That way EVERY athlete knows where they stand. Who cares if there are 23 or 27 or 33 athletes qualified for an event, just set a single standard and leave it at that, that's what heats and rounds are for, what do they think it's like at the Olympics or World Championships? The heat sizes vary year to year based on the number of entries and they always end up with the same number of athletes in the finals. Why can't the USATF simply do the same thing? Is it really that hard?
As it is, a lot of our athletes are held hostage in "qualifying purgatory" every year, not sure if they're in or out of the national championships/trials. The amount of time, money and emotional energy that is wasted on travel, planning, etc. is something you can't even quantify. It's like competing in a professional sport and not knowing what it takes to qualify for the playoffs. That's crazy!

So what do we have to do? How do we get a real voice about these issues? How do we get this process changed for the better? I don't have any allegiance to a shoe company, or a club that's sponsored and I'm not paid to coach the post-college people that I do so I have nothing to lose as a small college coach by openly sharing these concerns and frustrations that many people in our sport have. I'm just tired of seeing good, hard-working people get the shaft because we have such a poor process in place. How do we get things changed for 2012? How do we get people in place who care about the athletes and restore the integrity of the process and even more importantly restore the confidence of the athletes and coaches in a fair and just qualifying system regardless of their affiliation.
I'll leave you with the following to consider. We were told by the head of the selection committee (a very well known and controversial man) in 2008, that the guys at the bottom of the declaration list didn't matter, that no one cared about them and that they weren't going to make the USA team anyway. Well in 2008, they allowed 30 men to compete in the 800m. A pretty decent runner named Alan Webb scratched from the event, thus allowing the next man on the list to enter the meet. That man's name was Christian Smith. Christian not only qualified for the semi-finals, and the finals, he finished third and made the US Olympic Team! I guess it's a good thing that the committee was in a good mood the day Webb scratched and they decided to let Christian Smith compete, otherwise he never would've been an Olympian.
….If you run the time then you deserve to be on the line!